A comprehensive guide to SellerApp's advertising Overview
The Overview page is designed to give you a comprehensive macro understanding of all your Amazon advertising campaigns. Once you set your target ACoS, advertising budget, and seller type, SellerApp will automatically track your return on advertising spend (RoAS) and return on investment (ROI).   
To navigate to the Overview feature you need to: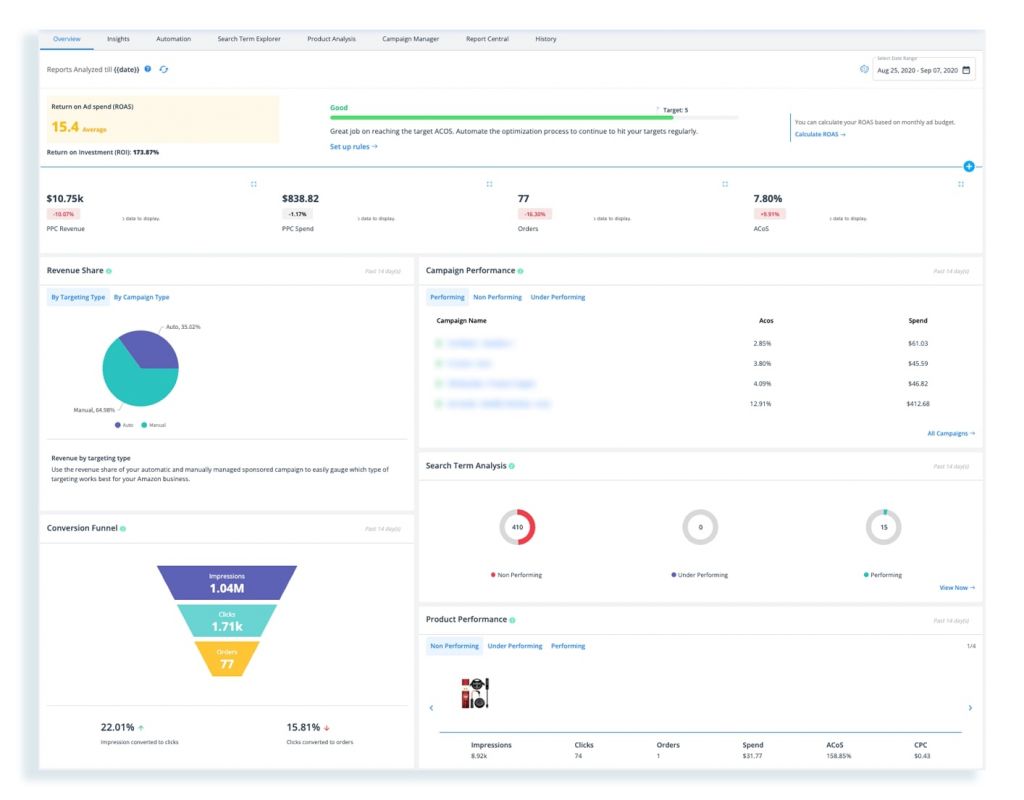 How to set your targets
You can get started by clicking on the Calculate RoAS button, which is highlighted in figure 1. The following screen will pop up.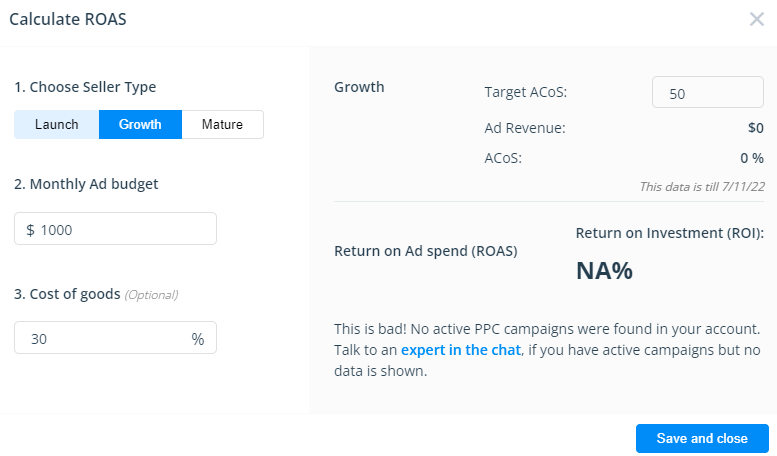 Here, you can enter the relevant details: Monthly ad budget, Cost of goods, Target ACoS. You will also need to choose a seller type.
You have three seller types to choose from – launch, growth, and mature.
Launch: A new seller who has recently launched products on Amazon. Impressions and visibility are more important at this stage.
Growth: An intermediate seller with a few sales under their belt. Sellers in the growth stage require balanced campaigns targeting visibility and conversions. 
Mature: An experienced Amazon seller with an established product line. PPC campaigns are all about efficiency and maximizing ROI.      
Want to find your ideal ACoS? Use SellerApp's ACoS calculator!
Monitoring KPIs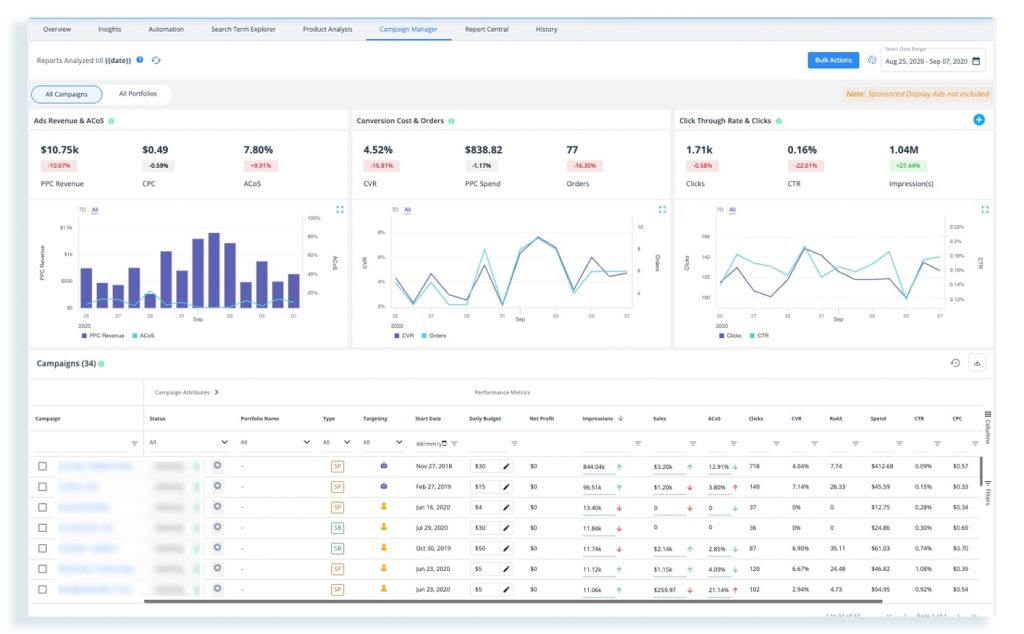 Like all the other features, the date range of the given data can be adjusted by clicking on the calendar icon on the top right. The default is data for the last two weeks.
Once you select a range, you can get clear data visualizations for key PPC indicators. 
PPC Revenue: Total revenue generated through your PPC campaigns.  
PPC Spend: Total money spent on PPC campaigns.
Orders: Total numbers of orders placed for your product.
ACoS: Money spent on each dollar of revenue generated. The metric is used to measure the profitability of your campaigns. The lower the ACoS, the more profitable the campaign.
Impressions: The number of times your ad was viewed by a customer. 
Clicks: Total times your ad was clicked by a customer.
CPC: The average cost-per-click of all your campaigns combined
CTR: This is the average click-through rate of your campaigns. It is defined as the number of clicks per number of impressions. 
Read more: Introduction to CTR
Note: You can only have four cards active at a time.   
You can choose your cards by clicking the 'plus' sign on the top right of figure 3. You can also expand each card by clicking on the button highlighted in the figure. 
Understanding revenue share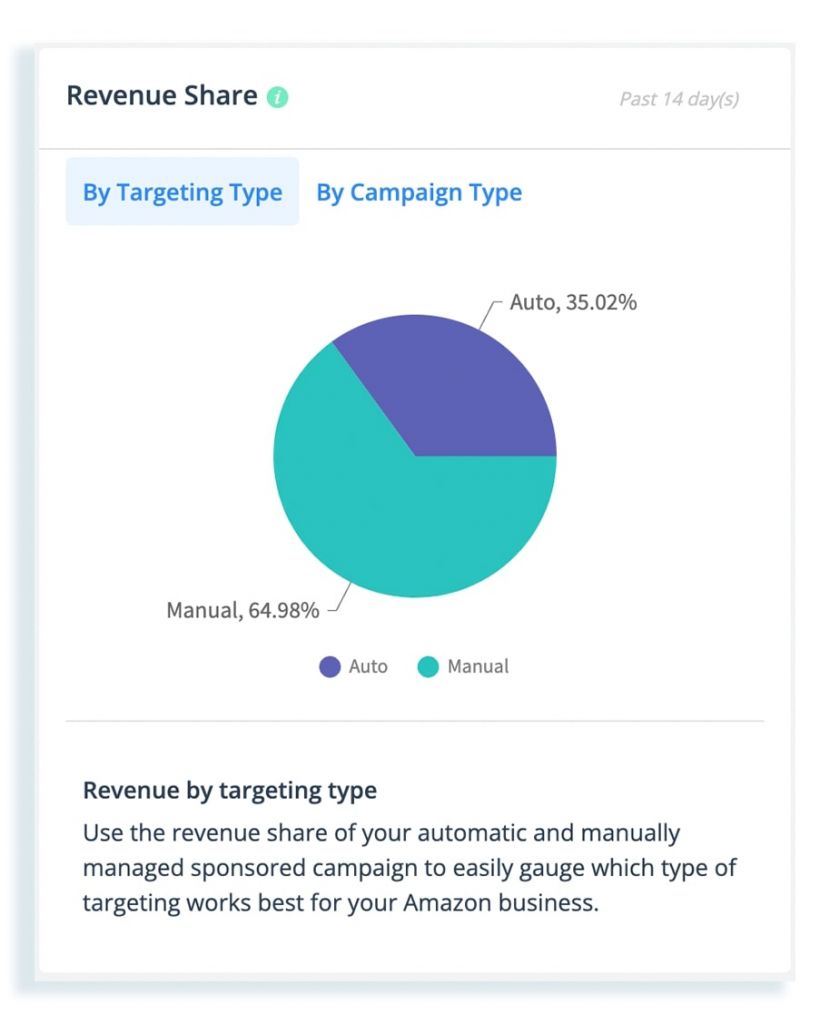 As the title suggests, the Revenue Share pie chart is designed to give you an overview of how and where your ad revenue is coming from. The pie chart is created taking into account data from the last 31 days. 
You can sort the pie chart by:
Targeting Type: The share of the revenue from automatic campaigns and manual campaigns. 
Campaign Type: Revenue share of Sponsored Product, Sponsored Brand, and Sponsored Display campaigns. 
Note: The Revenue Share pie chart does not take into account ad spend. It is only an indication of revenue generated. A higher revenue share does not always imply more profitability! 
Read more: Automatic campaigns vs manual campaigns
Campaign Performance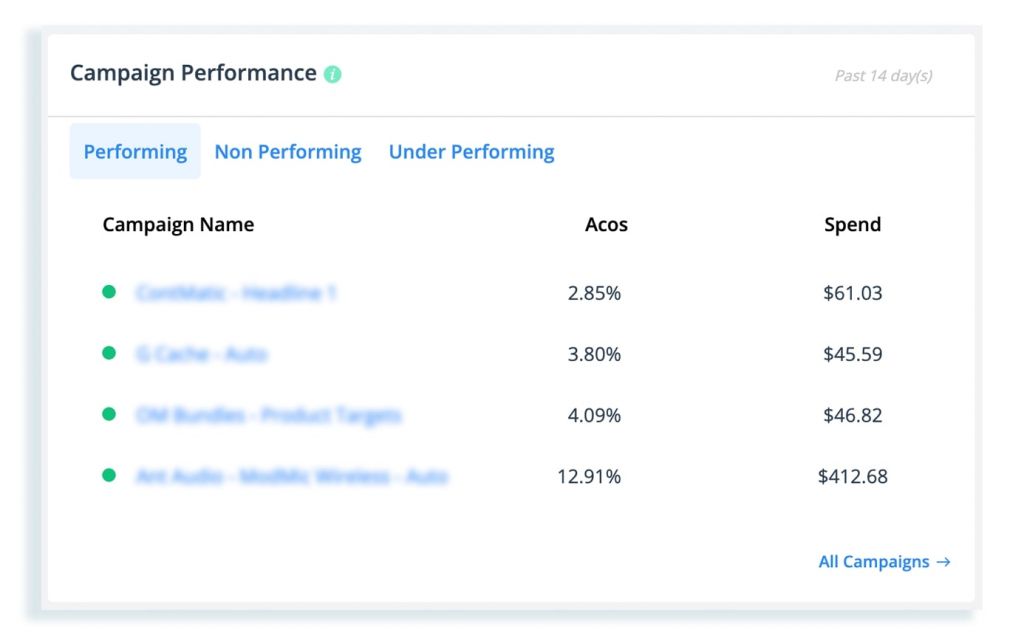 The Campaign Performance table will give a quick overview of your best-performing and under-performing campaigns. This will help you prioritize your efforts to help you meet your ACoS targets.
You will get ACoS and ad spend data for each campaign highlighted. 
Search Term Analysis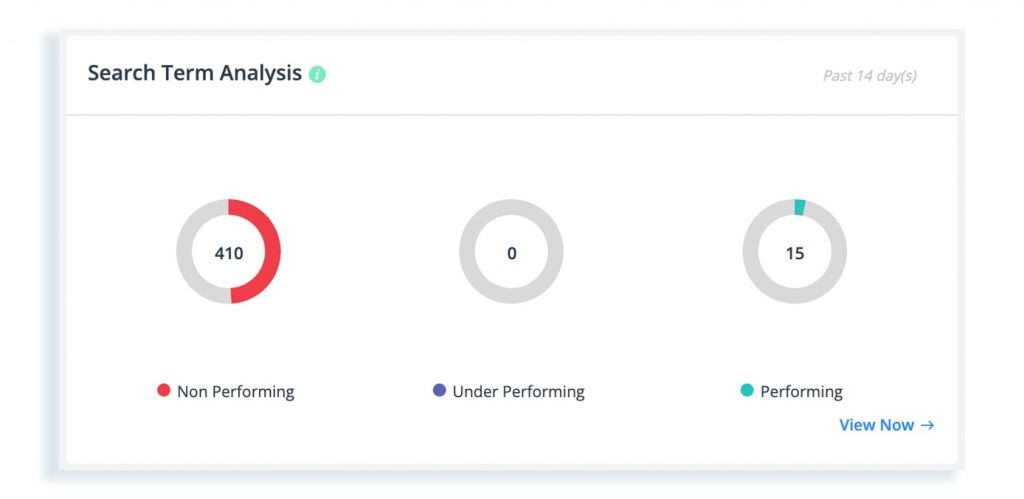 You can get an overview of keyword performance by checking out the Search Term Analysis feature. It shows the number of keywords in three performance buckets: 
Performing: Keywords with the best conversion rate, low ACoS, and high sales. These are your most profitable keywords, so consider bidding more aggressively for them. 
Under-performing: Keywords that drive clicks, but with little to no conversions. It is an indication that bidding needs to be optimized for these search terms. 
Non-performing: Keywords that are losing you money. Consider marking them as negative or adjusting for optimization.
Product Performance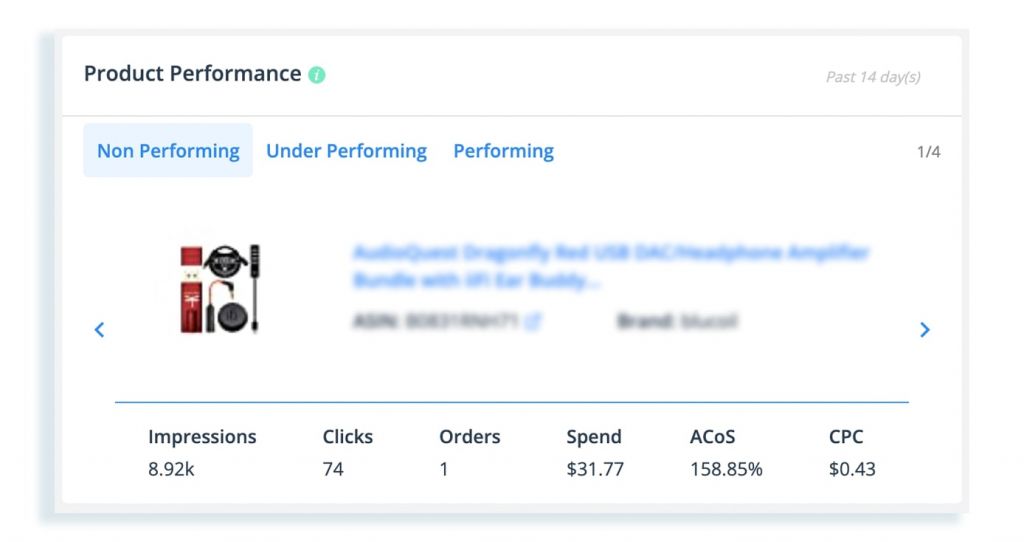 Similar to Search Term Analysis, the products are classified into three buckets depending on their KPIs – performing, under-performing, and non-performing. Along with the ASIN, you get the following data for each of the products highlighted: 
Impressions
Clicks
Orders
Spend 
ACoS
CPC 
Conversion Funnel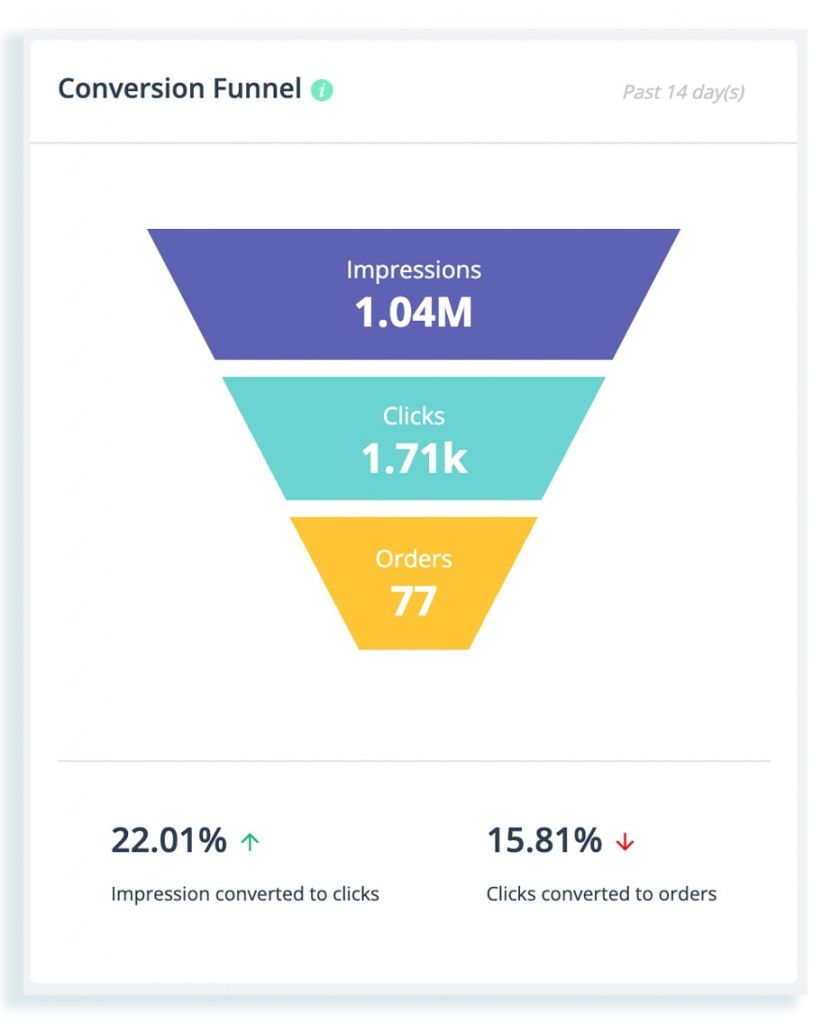 The Conversion Funnel gives you a visual representation of your impressions, clicks, and orders. It also gives you compiled data on your click-through rate and conversion rate. Additionally, you can also easily gauge whether these indicators have increased or decreased over the past 14 days.
Want to learn more?
Amazon SEO Guide – for Search Rank Optimization
Optimize Backend Keywords for PPC