How to do Keyword Analysis for Amazon PPC?
Effective keyword management is essential for Amazon PPC campaigns. Finding the top-converting keywords, holding the underperforming ones, and lowering your ACoS while increasing your conversion rate is harder than it seems to be. However, SellerApp's Advertising feature makes it super easy to get an easy hold on this data.
Let's discuss keyword analysis in this article.
Where do you find this feature?
Go to SellerApp dashboard → Advertising → Insights
In the Insights section, you will find:
Negative keywords 
Positive keywords
Auto to manual
Target improvement
Bid optimization
Positive ASINs
Negative ASINs 

Since we are talking about keyword analysis, let's look at how we can use 'Negative keywords' and 'Positive keywords' for PPC optimization.
Before we get on to what to do with the data, let's skim through the basic understanding of the negative keywords and the top contributing (positive) keywords.
Negative keywords
Negative keywords have a high click-through rate (that's money!!), but no sales. If classified and filtered correctly, negative keywords can help you reduce the ACoS of your product.
Eg. The image below contains a week of PPC data, keyword1  has around 567 clicks and would exhaust your ad budget easily if they are not added to your negative list.

Top converting keywords
A good balance of impressions, CTR, and order rates are the top contributing keywords of your PPC campaigns. These keywords bring you substantial sales without costing you a fortune.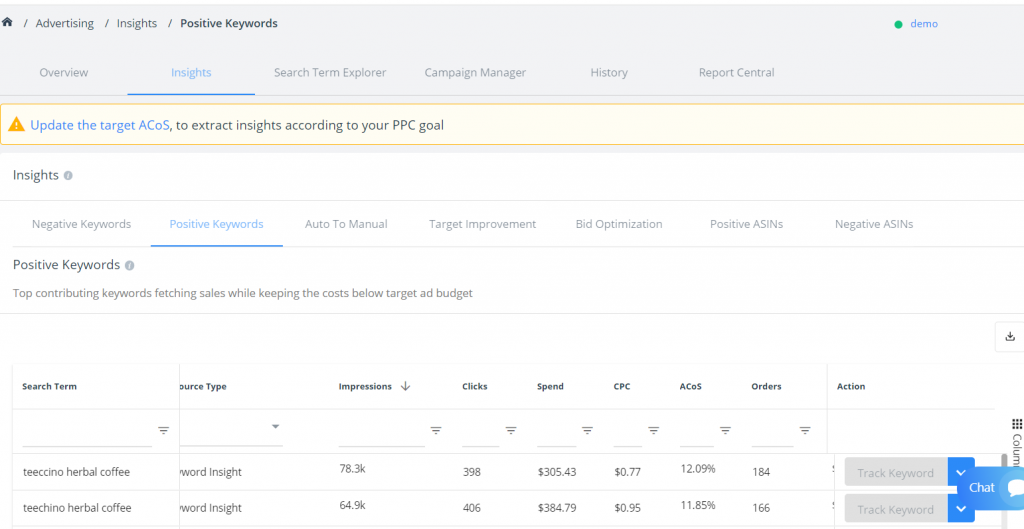 What to do next?
Now, you need to start optimizing your negative and top-converting keywords.
Negative keywords
Keywords with low ACoS and high sales are the preferred keywords for PPC campaigns. However negative keywords are the exact opposite. Identifying and tracking the keywords that have a high click-through rate, but zero to little sales, help cut down unwanted costs in PPC campaigns.
Amazon negative keywords are a great strategy to optimize your Amazon PPC, drive in quality traffic and increase your ROI. They can be used to remove weak search terms that drive in a lot of traffic with very poor conversion rates. You can also use negative keywords to remove less relevant terms or the keywords that you do not want to associate with your product.
Negatives are an integral part of every PPC campaign, but if overdone negative can hurt your account and kill your impression volume. 
Top Contributing Keywords
Track the performance of these keywords for a specific period of time to ensure that they are worth further research. If the keywords are positively influencing your PPC campaigns, you can use them further to revitalize the product listing page and make the best use of them in the PPC campaign.
Use these keywords on the product listing page in highlighting sections like the product features or the bullet points. If they have good search volume, you can even experiment by including them in the title.
Generate more keyword ideas that are relevant and similar to the high-performing keywords. Add them to the listing or in the backend search terms to increase visibility.
Aimlessly generating new keywords and testing them in your PPC campaigns will lead you nowhere. Carefully analyze and trace out the keywords that are performing well. Track down and record their data for over a month to ensure that the keywords are constantly bringing you good sales.
How to find converting keywords for Amazon PPC?
The backbone of any successful PPC campaign is keyword research – choosing the best keywords to bid on that are most likely to result in clicks and conversions. Finding the best keywords is partly science and partly art. Check out this video that explains techniques to shortlist keywords.