Fact: 79% of brands say that PPC is the primary driving factor for their business.
With over 300 million shoppers actively browsing on Amazon, ready to buy, there is no better platform than Amazon to advertise your product.
If you have been selling on Amazon, you must have heard about Amazon PPC advertising.
It's the most powerful and cost-effective way to get your products in front of customers and drive sales.
Now, if you are a newbie, you might wonder what Amazon PPC is and how does it work?
Freight not!
In this detailed guide, we'll cover all the basics of PPC and guide you to properly set up your first PPC campaign so you don't burn your advertising budget.
So, let's get started.
Quick Overview
What is Amazon PPC?
Amazon PPC is an advertising model that helps sellers and brands amplify their product sales online. Sellers can create ad campaigns for their products. And each time a potential customer clicks on the ad, Amazon charges a small fee to the seller.
How does Amazon PPC Work?
Before we delve deeper into Amazon PPC, it's essential to understand how it works and what are the key terms and features of PPC.
Here's a top-level overview of how Amazon PPC works:
Shopper search on Amazon for "water bottle."
Amazon gathers all the relevant ads for the keyword "water bottle."
Sellers bid on the keyword, and the highest bidder wins the auction.
Amazon displays the winning Sponsored Product ad on the top of search results and the product details pages.
When a shopper clicks on the ad, the seller has to pay a small fee to Amazon.
Why is PPC important for Amazon sellers?
Now that you understand Amazon ads, let's understand why it is important for your Amazon business.
"Amazon had 2.4 billion organic traffic as of May 2022. "
As more and more consumers are shifting their shopping activities online, e-commerce giants like Amazon and its sellers have immense opportunities to grow their revenue. However, the growth potential also brings together the problem of visibility.
Since Amazon is a retail platform, users coming here are actively looking to make a purchase.
But, if they don't find your product on the first page, 45% of buyers say they wouldn't bother scrolling through the rest of the pages.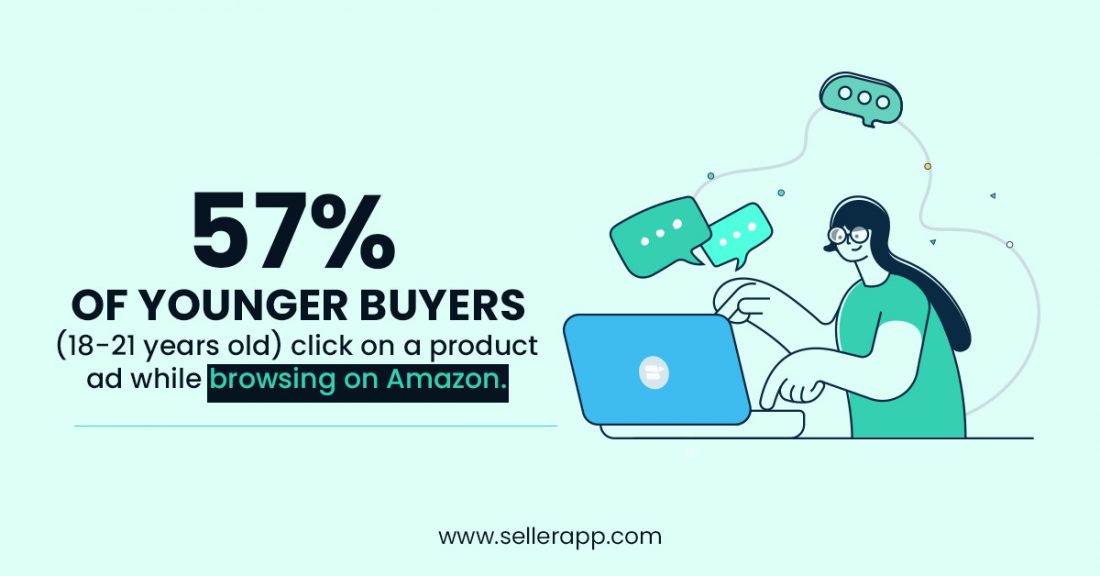 Amazon PPC ads help sellers bring their product to the top of the search result page, which otherwise might end up buried among a sea of competitors.
This leads to more sales and, in turn, improves the organic ranking of the product on Amazon for each well-performing keyword.
Amazon PPC: Key Terms and Features
Here are some key metrics of Amazon advertising you should track:
ACoS: ACoS measures the efficiency of an Amazon PPC campaign. It is the ratio of attributed ad spend to ad revenue.
For example, if you spend $5 on advertising and get $20 attributed sales, your ACoS will be (5/20)*100 = 25%.

Impressions: Ad impressions are the number of times your PPC ad is shown to shoppers, regardless of whether they click on it.
Clicks: These are the number of times buyers have clicked your ad.
Click-Through Rate (CTR): A click-through rate (CTR) is the ratio of clicks to impressions for an ad. For example. If your ad gets 100 impressions, and only one buyer clicks on the ad, your CTR will be (1/100)*100 =1%

Cost Per Click (CPC): This is the amount sellers pay to Amazon when a potential buyer clicks on the ad. The amount can range from $0.05 to $10 per click for PPC campaigns.
Attributed Sales: This is the total amount of sales that your ads generate within a period of time from clicks on your ad. The sales data can take up to 48 days to show up in the report.
Amazon PPC Ad Types
While creating your first PPC campaign, you'll see three ad types Amazon offers.
Sponsored Products
Sponsored Brands
Sponsored Display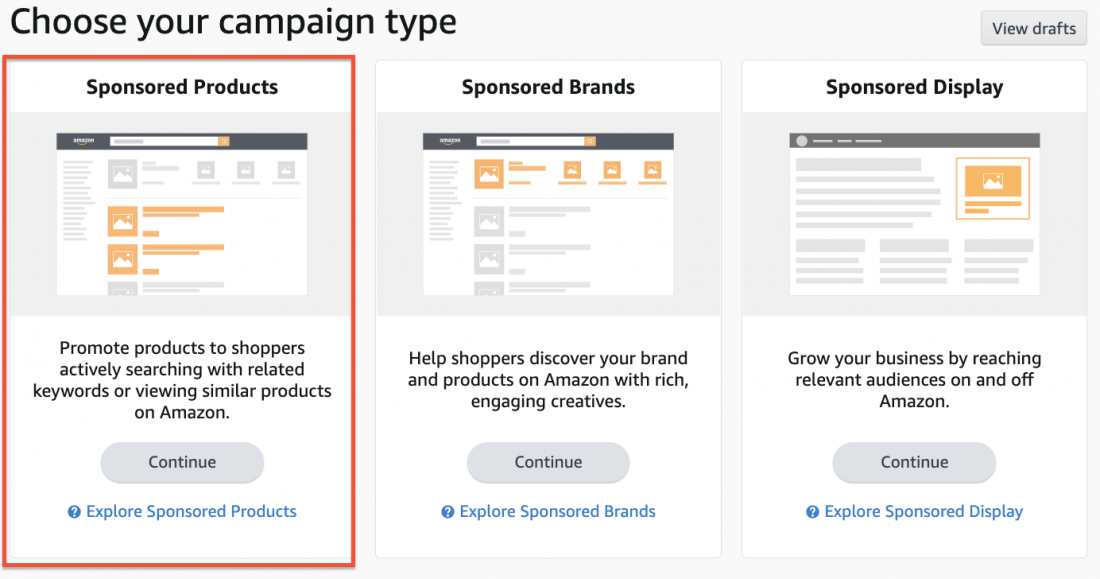 Each ad type has a different purpose depending on your goals.
Sponsored Product Ads
Sponsored Product Ads are the most common ad type used by sellers on Amazon.
Typically, these ads appear on top of the organic search result page, throughout the search results, and on the product listing page.
On the Amazon search result: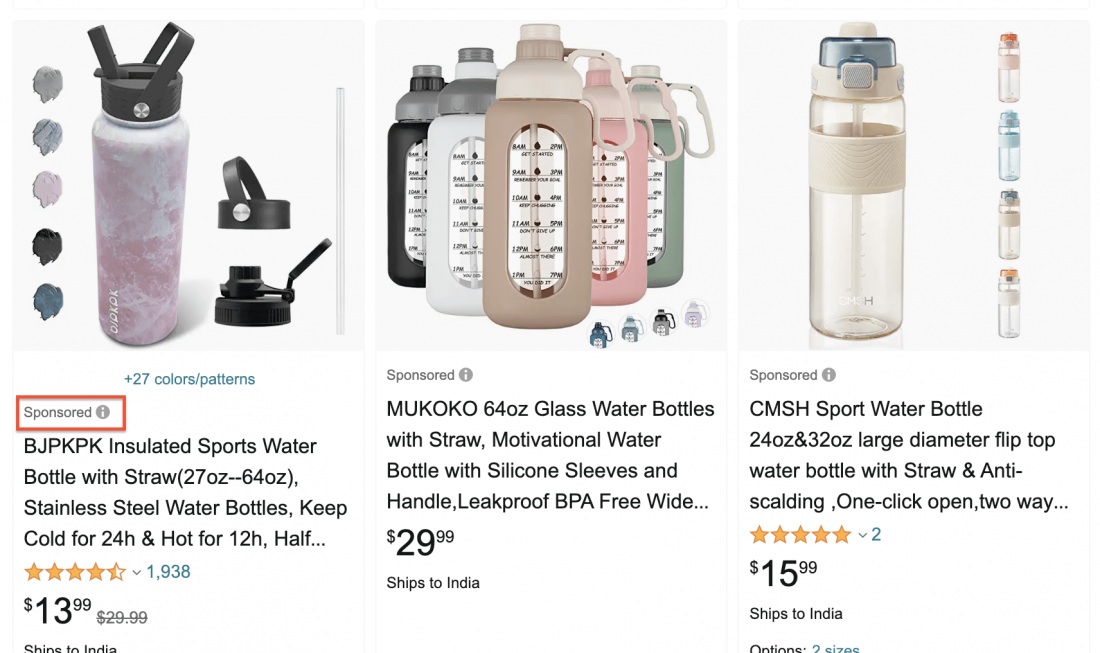 On the product listing page:

You can see a small "Sponsored" tag on the products. These are all Sponsored Product ads.
This is the most common type of Amazon PPC ad, used by 70% of third-party sellers.
Benefits of Using Sponsored Product ads
Using Sponsored Product Ads has multiple advantages.
Sponsored Product ads easily intermix with the organic search and do not hamper buying experience.
With the proper Keyword research, Sponsored Product ads can give instant visibility, drive sales for your newly launched product, and drive the BSR ranking.
While creating a Sponsored Product ad, sellers can use two types of targeting options.
Automatic Targeting
Manual Targeting
Let's explore what each one is:
Automatic Targeting
Amazon uses automatic targeting to decide which keywords to target based on the keywords in your listing. Amazon gathers data from the shoppers' behavior and adjusts the bids over time to improve targeting and maximize conversion.
Automatic targeting is the best option if you've just launched your product and don't have any keywords to target.
However, there are some drawbacks. You have less control over your campaign since it relies on the Amazon A9 algorithm to find keywords. With automatic targeting, you're bound to spend more at the cost of gathering relevant data. 
Amazon has different targeting groups for automatic campaigns:
Close match: Your product ad appears when a buyer search with a closely related search term. For example, if you're selling running shoes, Amazon shows your ad to the shopper if they search for "sprinting shoes."
Loose match: Your product ad appears when a shopper search keyword loosely related to your product. For example: for the running shoe product, your ads may also be displayed for the search term "athletic gears."
Substitutes: Your product ad appears when a shopper search for a similar product from another brand. For example, if you're selling running shoes, and the shopper searches for "Nike shoes," your product may be displayed to them.
Complements: Your product ad appears on a complimentary product listing page. For example, your product ad may show up on the product details page of socks.
Manual Targeting
The manual targeting option gives you greater control over your ad campaigns. You can pick keywords from automatic campaigns or find high-volume relevant keywords to target with the SellerApp keyword research tool. You can even set custom bids on each keyword.
Manual targeting can be further broken down into keyword and product targeting. We'll talk more about those later in the article.
Sponsored Brand Ads

Sponsored Brand ads, formally known as "headline search ads," are advanced Amazon ads only available to brand-registered sellers and vendors.
These ads help businesses increase brand awareness and drive sales by showcasing products with creative ads on relevant Amazon shopping results.
These ads generally appear at the top, side, and bottom of the Amazon search result and include the brand's logo, tagline, and a few products from the brand.
Benefits of Sponsored Brand Ads
Here are some benefits of Sponsored Brand ads:
Sponsored Brand ads can generate better ROAS by bringing the shoppers directly to the brand storefront or a custom landing page with zero competition.
It also allows sellers to promote complementary products and encourages buyers to add more items to their carts.
With Sponsored Brand ads, there are three types of formats sellers can choose from.
Product collection
Store spotlight
Videos
Product Collection

The product collection ad format allows you to promote up to three products at once. You can also drive traffic from the ad to your custom-branded Amazon storefront or a dedicated landing page displaying only the three products in your ad.
It's a great option if you want to bring traffic to products that you want more visibility and conversion.
Store Spotlight

This ad type is excellent for brands that sell different kinds of products across multiple categories or subcategories. Instead of promoting numerous products, sellers can promote all three product categories in their store spotlight ads.
From the previous example, instead of advertising three different products, the brand shows three different categories of products in one ad. Once you click on any of the categories, it directs you to the Amazon storefront subcategory page.
Sponsored Brand Video Ads

Amazon Sponsored Brand ads also show videos.
Since videos stand out more than images, video ads can give a huge boost to the brand's visibility over the competitors.
However, before creating a video ad, make sure you go through the Amazon Sponsored Brand video ad guidelines.
Here are some best practices to follow to create Amazon Sponsored Brand Video ads:
The video length should be between 15 – 30 seconds.
The video should be informative without unnecessary filler content.
The videos autoplay without sound. So ensure you add informative texts and captions.
Avoid using unnecessary introductions at the beginning of the video. Show your product directly at the beginning.
Sponsored Display Ads
Sponsored Display ads allow sellers to engage with shoppers throughout the buying journey and boost conversion.
These ads can appear anywhere, such as on Amazon affiliate sites, mobile phone apps, Netflix, Facebook, and even on Google.
Note: Amazon has recently launched video creatives for Sponsored Display ads. With these, you can get shoppers excited about your products on and off Amazon with attractive visuals.

Benefits of Sponsored Display Ads
Sponsored Display ads are one of the best ways to re-engage with potential customers and convince them to purchase your product.
It uses shopping signals to target high-intent audiences both on and off Amazon and engages new customers.
It targets shoppers outside of Amazon and brings them back to your listing.
It Improves sales on high-priced products with longer sales cycles
Sponsored Display Ads Targeting Options
With Sponsored Display ads, you can not target keywords. But Sponsored Display ads can target specific buyers based on their shopping behavior.
For example, if a shopper views a product in the past on Amazon, it'll show those products to the same shoppers repeatedly in different places so that they return to the product listing page and make a purchase.
For product display ads, there are two targeting options to choose from
Contextual Targeting
Amazon Audiences

Contextual Targeting
With contextual targeting, sellers can show ads to shoppers who have visited a particular product or product category. The ads appear on the Amazon search result page, product details page, Facebook, Twitch, and third-party websites.
Audience Targeting
With audience targeting, you can choose the specific shopper audience you want to show the Sponsored Display ads.
There are three types of audience-targeting strategies you can choose from
Views Remarketing
With views remarketing, sellers can retarget audiences that have visited their product's listing or similar products' listing and categories but haven't made a purchase within a specific lookback window. You can choose between different lookback window options, from 7 days to 90 days.
Views remarketing helps sellers drive awareness during new product launches, guide shoppers through the consideration phase, and re-engage with shoppers to convert missed sales.
Purchases Remarketing
With purchases remarketing, sellers can show display ads to audiences based on their purchase behavior in a specific window.
With purchase remarketing, sellers can re-engage old buyers, improve brand loyalty, and reach audiences who have purchased similar products in the past.
Compared to views targeting, purchases remarketing has a longer lookback window, from 7 days to 365 days.
Amazon Audiences
Amazon audiences help sellers reach newer prospective buyers by targeting thousands of prebuilt audience segments.
Sellers can choose from 4 different audience strategies.
In-market: This strategy allows sellers to target audiences who are recently shopping for products in a given category.
Lifestyle: It targets audiences who show a range of shopping and viewing behavior, including shopping on Amazon, video streaming, browsing on IMDB, etc.
Interests: This strategy allows sellers to raise awareness about their products to prospective buyers based on their frequent browsing and buying history.
Life events: It allows sellers to show relevant products to audiences based on their recent life events.
Sponsored Display ads are a comparatively new type of PPC campaign on Amazon. However, as a seller, you must know all three types of PPC campaigns to target customers at different stages of the marketing funnel.
However, since Sponsored Product ads are most popular among sellers in general, in the next section, we'll go over how to set up a Sponsored Product ad campaign from start to finish.
Amazon offers some other advertising types like Amazon DSP and OTT Ads.
Amazon DSP
Amazon DSP is a demand-side platform (DSP) offered by Amazon. It allows advertisers to programmatically bid on and purchase advertising space from various websites and apps through a single, unified platform.
You can provide a powerful shopping experience to your shoppers with Amazon DSP.
Amazon OTT
Amazon OTT (over-the-top) ads let you reach shoppers with video on Amazon's websites, mobile apps, and the Fire tablet wake screen.
These ads allow brands to communicate their stories effectively and provide an engaging experience to the customers.
How to Create Automatic – Targeting Sponsored Product Ads
Step 1: Create a campaign: Go to Amazon Seller Central and navigate to Advertising > Campaign Manager.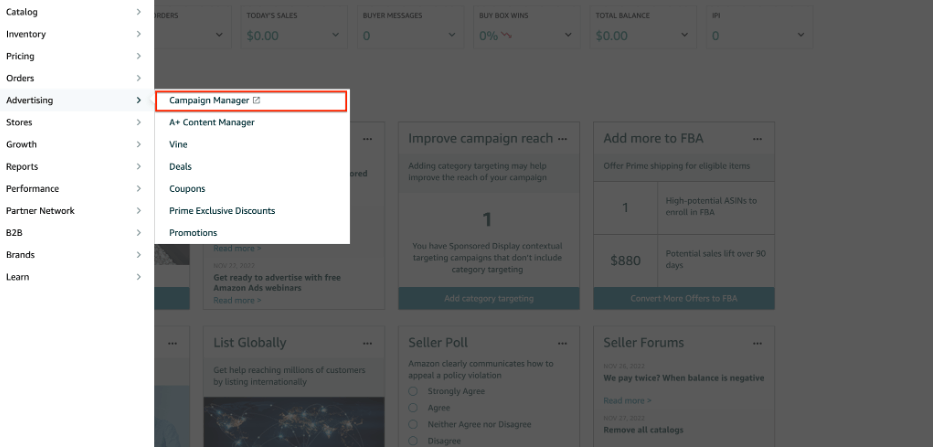 Here, click on "Create a portfolio." Give a portfolio name.
Portfolios help you group multiple campaigns under one name. You can create a portfolio by product categories, brands, advertising strategies, or by any name according to your goals.
You can also add a budget cap to your portfolio to ensure you're staying within budget for the specific portfolio.
Next, scroll below the graph and click "Create Campaign."

You will be redirected to the "Choose your campaign type" page, select Sponsored Product, and click "Continue."
On the next page, start filling out all the details.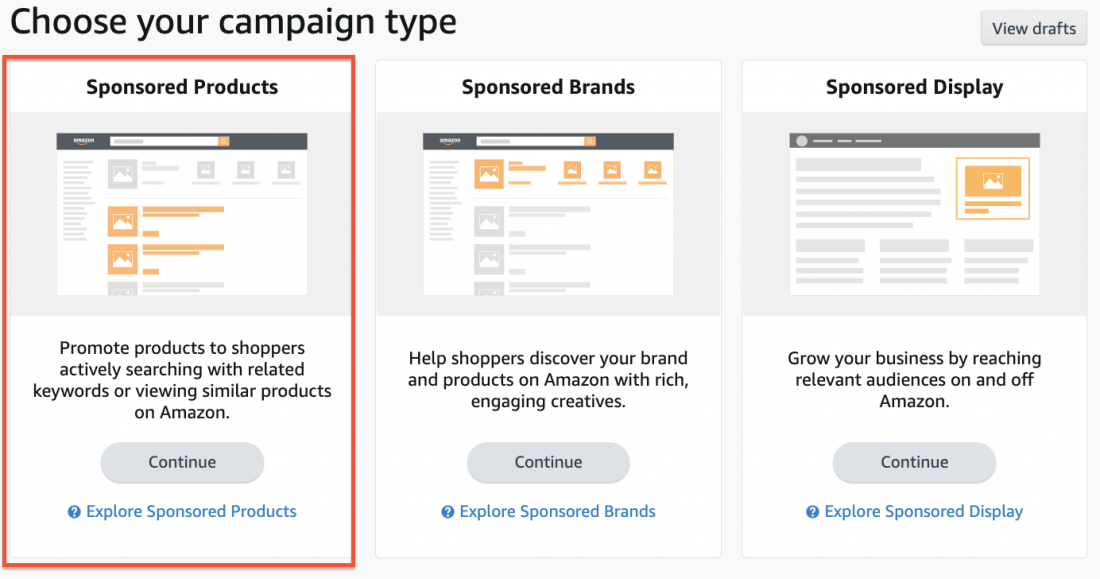 Step 2: Give a Campaign Name: It can be anything, but we recommend giving a specific naming convention to help you remember the strategy behind creating the campaign.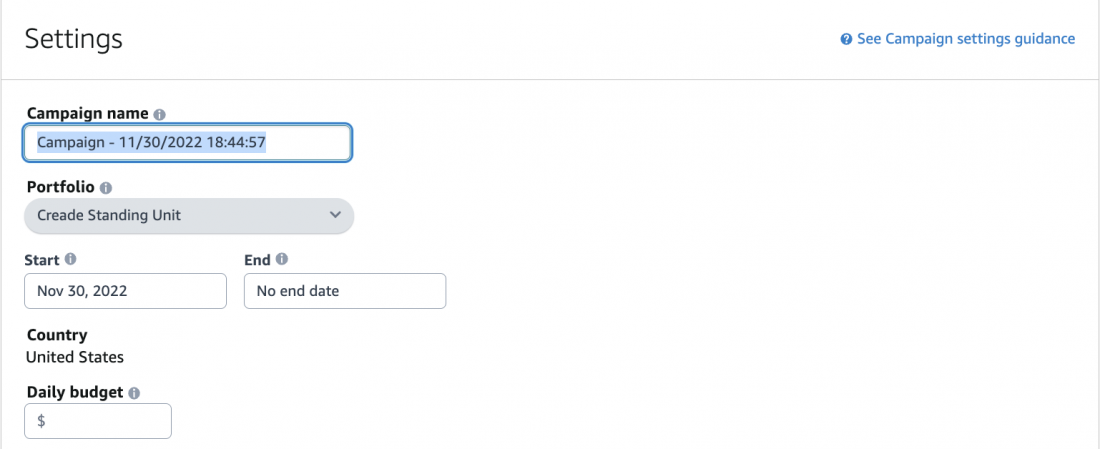 Naming Convention:
Campaign type – Targeting – Product name – attributes
Example:
SP_Auto_Water_Bottle_CM_LM
SP_Manual_KW_Exact_Water_Bottle
Step 3: Set Start and End Date: Next, select your campaign's start and end date. You can leave the end date blank if you want your campaign to run indefinitely.
Step 4: Set Budget: Now, set the maximum amount of money you want to spend on ads per day as the daily budget.
Note: When starting with a new campaign, set a daily budget of $50 or more for most categories. If you select a $10 daily budget, it'll quickly run out, and you won't get enough data out of the campaign.
Step 5: Create Ad Group: In the next section, create an ad group. Ad groups help you organize different product ads and track their performance within a campaign. Products placed together in an ad group share the same bids and targeting.

Choose an ad group name similar to the campaign name.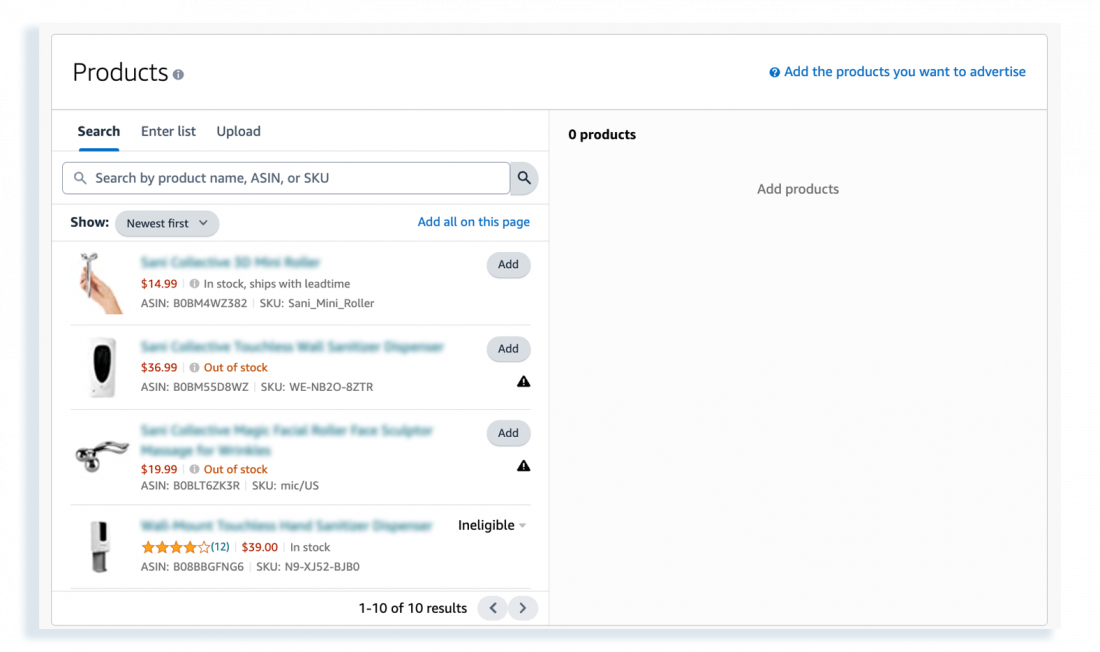 Step 6: Choose a Product: Next, choose the product you want to target. When starting out, we recommend adding one product per ad group.

Step 7: Choose Targeting Strategy: There are two targeting strategies to choose from, automatic and manual targeting.
Tips: We suggest you start with automatic targeting when you are starting out with your advertising campaigns.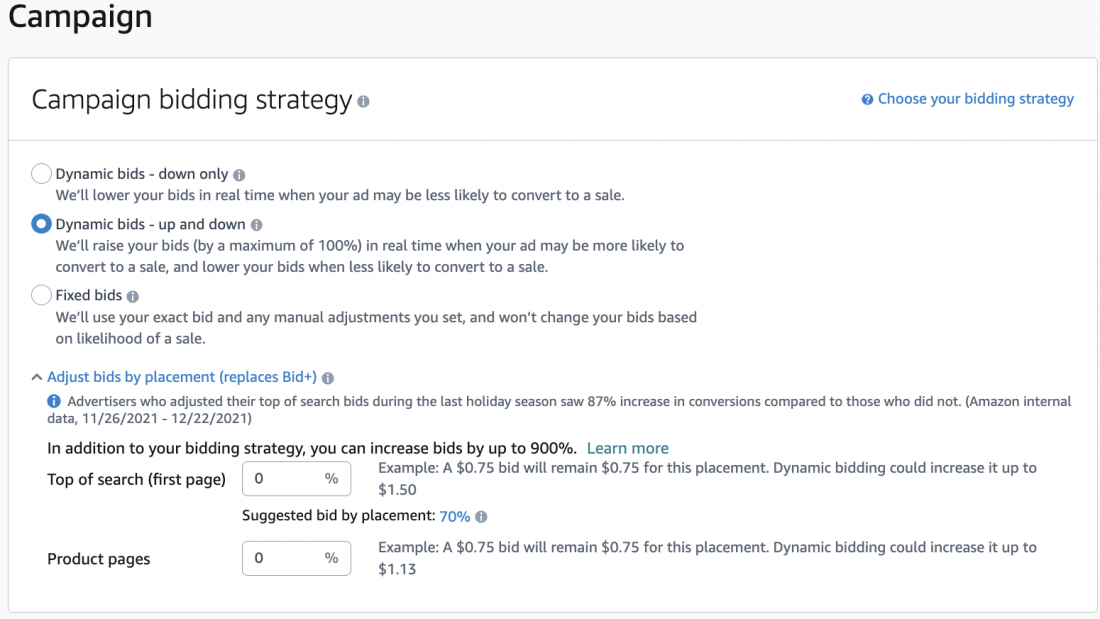 Step 8: Select the Bidding Strategy
A bid is how much you are willing to pay when someone clicks on your ad. However, you wouldn't spend the entire bid amount most of the time. It will be slightly higher than the second-highest bidder.
Let's say you target the keyword "water bottle for camping" and set the bid at $10. And the second highest bidder set the bid as $5.50. Since your bid is higher, you'll win, but you pay around $5.51-$5.75 for each click on your ad, a little higher than the second-highest bidder.
You can choose from three types of bidding strategies.
Dynamic Bid-Down Only: Amazon automatically lowers your bid if it understands your ad is less likely to convert into sales. This prevents your ad from appearing in searches for irrelevant products.
Dynamic Bid – Up And Down: If your ad is more likely to convert into a sale, Amazon may raise your keyword bid by up to 100% for the top of search results and 50% for all other product placements. Similarly, if the ad is less likely to convert, it automatically lowers your bid.
Fixed Bids: Here, Amazon does not change your bids. Your bids will stay the same until you manually change them.
Rule-based Bidding: Amazon also has a rule-based bidding strategy for Sponsored Product ads. Here, you can set up a target ROAS. Amazon then adjusts your base bid with each impression to achieve the targeted ROAS.
If Amazon can't match the target ROAS in 21 days. It automatically reverts the rule-based bidding strategy to the previous bidding strategy.
We recommend setting the ROAS higher than your current campaign ROAS. For example, if your current ROAS is 3, set the rule-based ROAS as 3.5 or more to get the maximum result.
Step 9: Set Your Bids
You can set your bids for automatically targeting Sponsored Product ads in two ways.

Amazon gives a default bid of $0.75. But we recommend starting with $2 – $3 to ensure easy wins in bids.
Set Bids by Targeting Group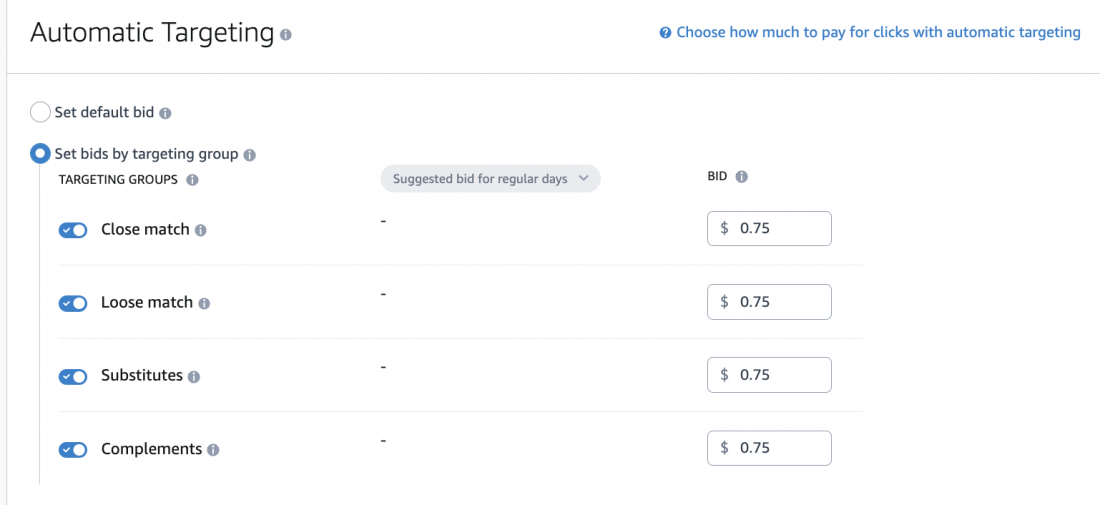 If you want advanced options, you can set bids by different targeting groups. Amazon offers four target groups:
Close Match
Loose Match
Substitutes
Complements
You can set different bids for each group depending on your requirements.
Step 10: Select Negative Keywords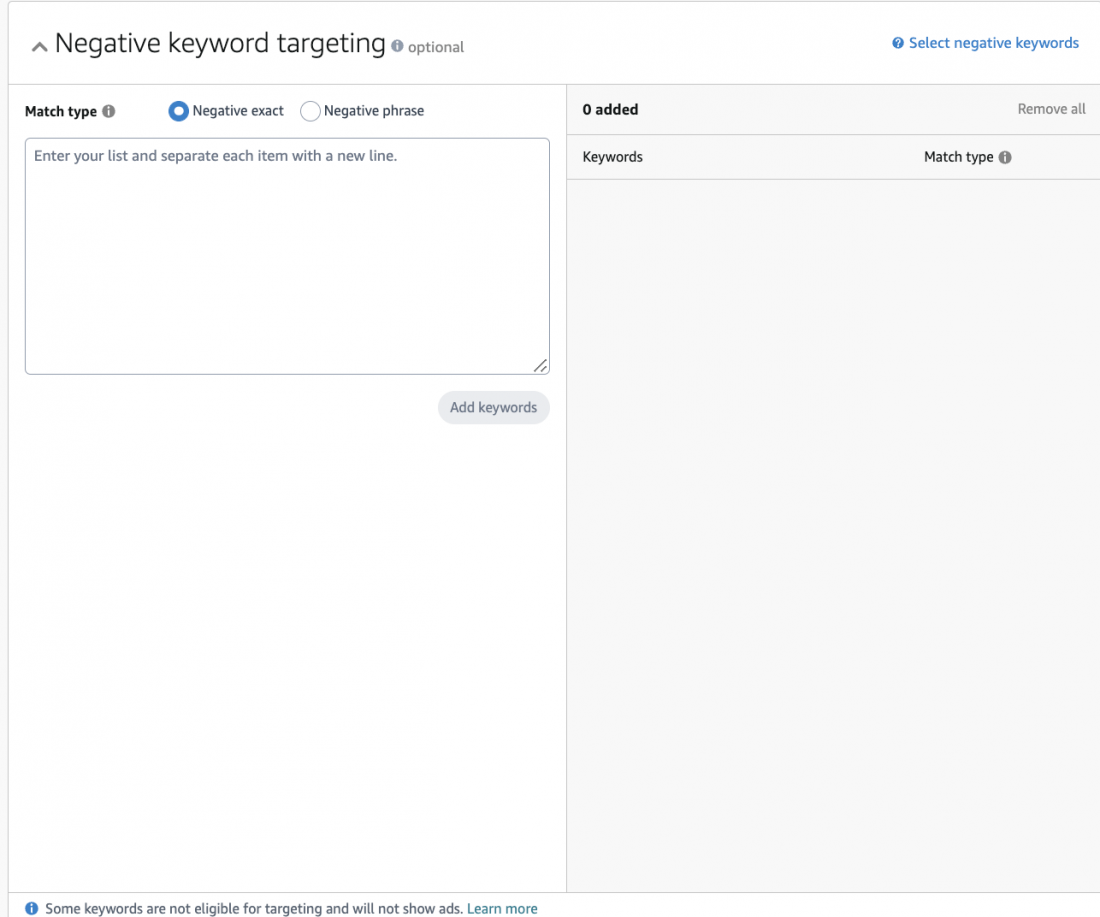 If you want your ads to not show on Amazon for certain irrelevant keywords or phrases, you can add those as negative keywords.
For example, if you launch an automatic campaign for a whey protein product but don't want your ads to show up for "high protein milk powder," adding it as a negative keyword will be helpful.
However, we recommend leaving it blank when launching your first campaign to reach more customers and gather more data. Both are equally important for a newly launched product.
Step 11: Launch the Campaign
Once you complete all the information, double-check again to confirm. Once you're satisfied, click on the "launch campaign" button at the bottom.
It usually takes somewhere between 30 minutes and an hour for your ad to appear on Amazon.
How to Optimize Automatic-Targeting Sponsored Product Ads
We recommend running the automatic-targeting ads for at least two weeks before making any changes.
Once the campaign ran for two weeks, go back to your campaign manager within your advertising account, and select the campaign > ad group you want to monitor.

Here, you can see a broad summary of your campaign, including your total spend, ad sales, total impressions, ROAS, and the ACoS.
Create a Search Term Report
After you review the broad-level data, you can create a search term report to dive deep into analyzing the Automatic campaign.
It provides information to help you understand which search terms are performing well and which are not. You can optimize the automatic and manual campaigns with this data to reduce ACoS and increase sales.
Go to Measurements & Reporting → Sponsored Ads Reports
Click on "Create Report."
Select Report Category: "Sponsored Products,"
Report type: "Search term."
Time unit: "Summary."
Report period: "Last 30 days."
Name your campaign.
Give me your email address and schedule for now.
Hit the run report button.
After some time, you can download your advertising report from the "Sponsored Ads Reports" dashboard.
Reviewing Search Term Report
In the search term report, we'll focus on the following three metrics:
Customer Search Term: These are the exact phrases Amazon shoppers use to find your product
Total Advertising Cost of Sales (ACoS): It's the percentage of the ratio of advertising costs to total sales
7-day Conversion Rate: It's the ratio of the number of sales to the number of clicks on the ad in the same time frame from the keyword.
Find Low-Performing Keywords
First, calculate the break-even ACoS for your product to understand which keywords you're losing money for.
Your break-even ACoS is where your cost of selling the product + advertising cost is equal to the profit margin. A higher ACoS than the break-even point means you're losing money.
Next, filter the search term report to find keywords that are performing poorly.
For example, find keywords with 10+ clicks but higher ACoS than the break-even ACoS or low conversion rate.
Once you find underperforming search terms, add them to the negative-targeting list in your automatic campaign.
Find High-Performing Keywords
Use the same search term report to identify high-performing keywords. For example, these high-performing keywords should have at least 10 clicks and the ACoS lesser than the break-even ACoS.
Once you shortlist high-performing keywords, create a manual campaign targeting these keywords.
Simultaneously, add these high-performing keywords to the negative targeting list under the automatic campaign.
You don't want to target the same keywords in automatic and manual campaigns and ruin your ad spends.
Sounds exhausting?
Use the SellerApp Advertising dashboard to get all these advertising insights at your fingertips.
Go to SellerApp dashboard > Advertising tool > Insights. Here, get all the positive and negative search terms and ASINs from your campaigns based on your target ACoS.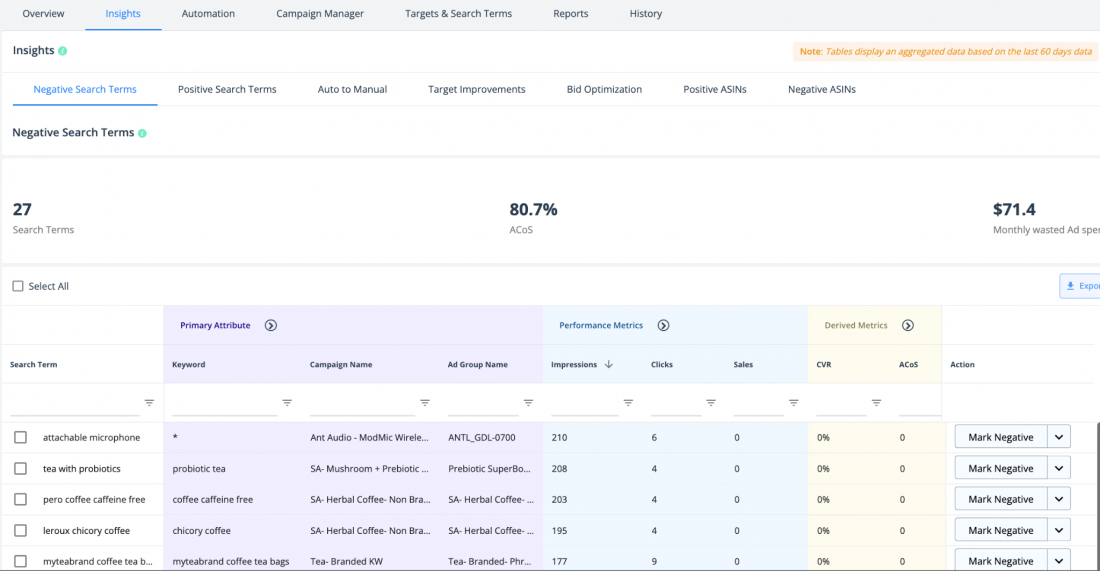 The best part?
Directly take action on the search terms and optimize your campaigns. It also gives you the ability to check the history of your actions to make necessary changes if needed.
How to Create Manual -Targeting Sponsored Product Ads
Now that you've some data to begin with start creating a manual ad campaign for your product. But first, you must do keyword research to find relevant, high-performing, and high-volume keywords.
Step 1: Keyword Research
Use the SellerApp keyword tool to find relevant, high-volume high-converting keywords for your advertising campaigns.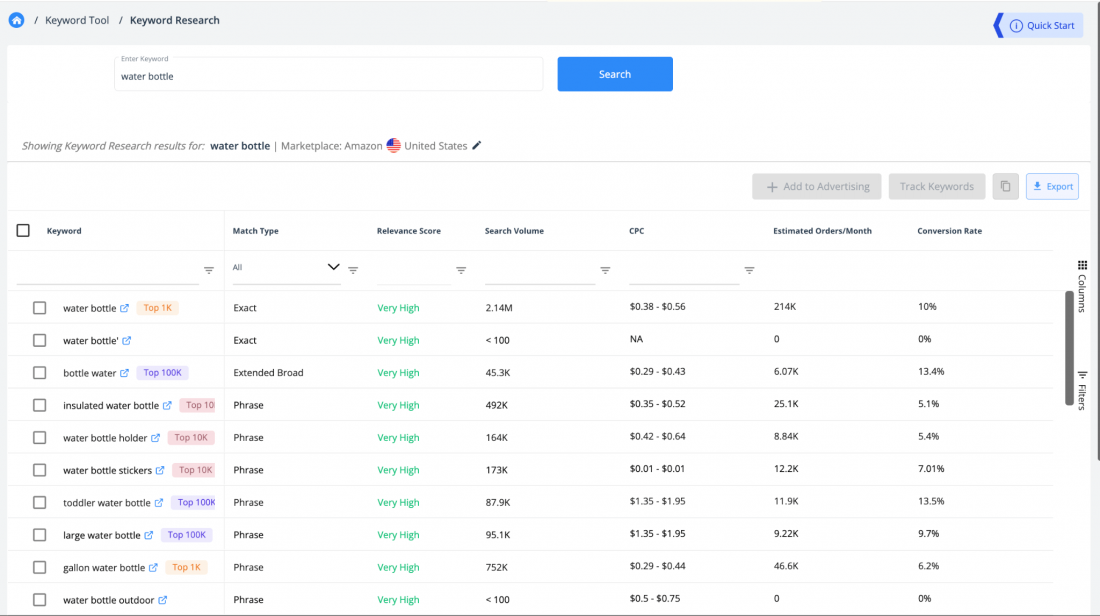 Step 2: Create the Ad Campaign
Return to your campaign manager and repeat the same procedure for creating your automatic campaign until step 6.
Here, instead of choosing automatic targeting, choose manual targeting.

Step 3: Set Targeting
Within manual targeting, you'll also find two types of targeting strategies.
Keyword targeting: With this strategy, you can bid on relevant keywords to gain the top position on Amazon search results.
Product targeting: Use this strategy to bid on the same brand or competitors' ASINs to get your ads to appear on relevant product details pages.
Keyword targeting has three match types:
With broad match keyword targeting, ads may appear for all the search terms and closely related variants and synonyms related to the keyword. For example, if you target the keyword "shoes" with a broad match, your ad can appear for the search terms "shoes" and even "sneakers."
To help refine the broad match feature, Amazon introduced the Broad Match Modifier Sponsor Brands and later in Sponsored Product ads.
It allows advertisers to ensure that certain keywords are always included in search terms.
For example, targeting "+sport +shoes" in broad matches will ensure that both "sport" and "shoes" are included in all search terms. However, targeting "sport shoes" in the broad match may trigger the ad for search terms like "rock climbing shoes" or "sneakers" as well.
In summary, broad match keyword targeting is a great way to increase the reach of your Amazon PPC campaign, but the broad match modifier gives advertisers more control over the search terms that trigger their ads.
With phrase match, your ads come up for search terms containing the exact same phrase or with additional words before or after the phrase. For example, if you target the keyword "coffee mug" with a phrase match, your ad can appear for search terms like "coffee mug," "red coffee mug," or "coffee mug for hiking."
With exact match, your ads appear for search terms that exactly match the keyword. For example, if you target the keyword "coffee mug" with an exact match, your ad can appear only for the search term "coffee mug" or "coffee mugs."
In this guide, let's create a keyword-targeting manual campaign.
Step 4: Add Keywords to Target
On the "Enter List" tab, add the relevant keywords you've generated using the SellerApp Keyword Research Tool.
Step 5: Adjust Bids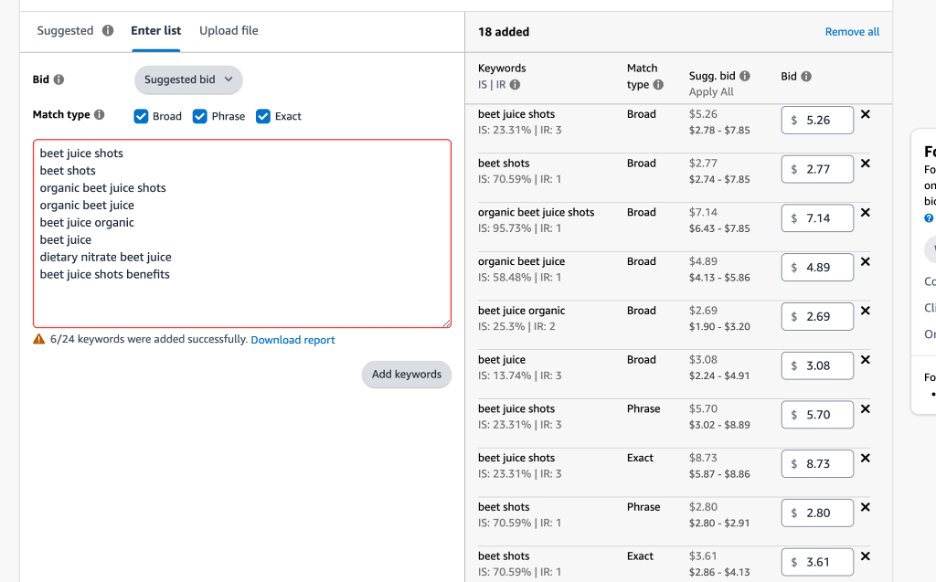 After you add the keywords, adjust the bids on the keywords as you see fit.
When starting, we recommend adjusting your bids by 30-40% more than the Amazon-recommended bids to get more visibility and early sales. You can also fine-tune the bids based on impression, sales, and ACoS data from the automatic campaigns.
Step 6: Add Negative Keywords
Use the search term report to add the low-performing keywords from the automatic campaign to the negative keyword targeting list, so you can save money.
Step 7: Launch Campaign
Double-check all the information and click on the "Launch campaign" button to launch the campaign.
It may take up to 30 minutes to one hour to get the ad live on Amazon.
How to Optimize Manual-Targeting Sponsored Product Ads
Optimizing manual campaigns is different than automatic campaigns.
Step 1: Once you have filtered the high-performing keywords from the automatic campaigns, add those keywords in your manual campaign as exact match keywords since you know these keywords have performed well. This is called keyword harvesting.
Step 2: Download the search term report after two weeks of running the manual campaign.
Step 3: Calculate your break-even ACoS. Let's say your break-even ACoS is 30%; then, you don't want to spend more money than that.
Step 4: Sort the keywords in descending order based on ACoS. The goal is to reduce spending on low-performing keywords and increase spending on high-performing keywords.
Step 5: Go through each keyword in your campaign, and adjust the bids accordingly.

Lower the bids for exact match keywords with ACoS higher than the break-even ACoS.
Lower or pause bids for keywords with high clicks but low sales.
Add search terms with high ACoS to negative targeting keywords.
Add search terms with good sales and low ACoS as exact match keywords.
Increase bids on keywords that have low impressions but high conversions.
Monitor your campaign periodically and repeat the process depending on your business goals.
Final Thoughts
We believe this Amazon PPC guide has helped you understand different Amazon advertising types and how to create a PPC campaign.
We have featured a lot of actionable information in this guide, so make sure to bookmark it and refer to it when creating your first PPC campaign.
Want some help with creating a successful PPC campaign? Take a look at SellerApp PPC Managed Services.
Our team of dedicated experts has helped 20,000+ brands like yours create and manage PPC campaigns worth $1.8 billion. And we can do the same for you!
If you have further questions about Amazon PPC, schedule a call with us, and our experts will connect with you and resolve your doubts.
Happy Selling!!
Was this post helpful?
Let us know if you liked the post. That's the only way we can improve.