What Is Amazon PPC? How the Amazon PPC Auction Works
Diving into the world of Amazon PPC (Pay Per Click) Advertising can be intimidating. However, it can get a lot messy and eat up your budget if you do not think over it and have the right campaign strategy.
The guide is designed to not only walk you through set up on Amazon PPC and how Amazon PPC advertisement works but ensure you have the necessary assets in place to run successful campaigns. Beyond the basic stuff, we'll also review keyword research and creative tips and tricks in the future articles.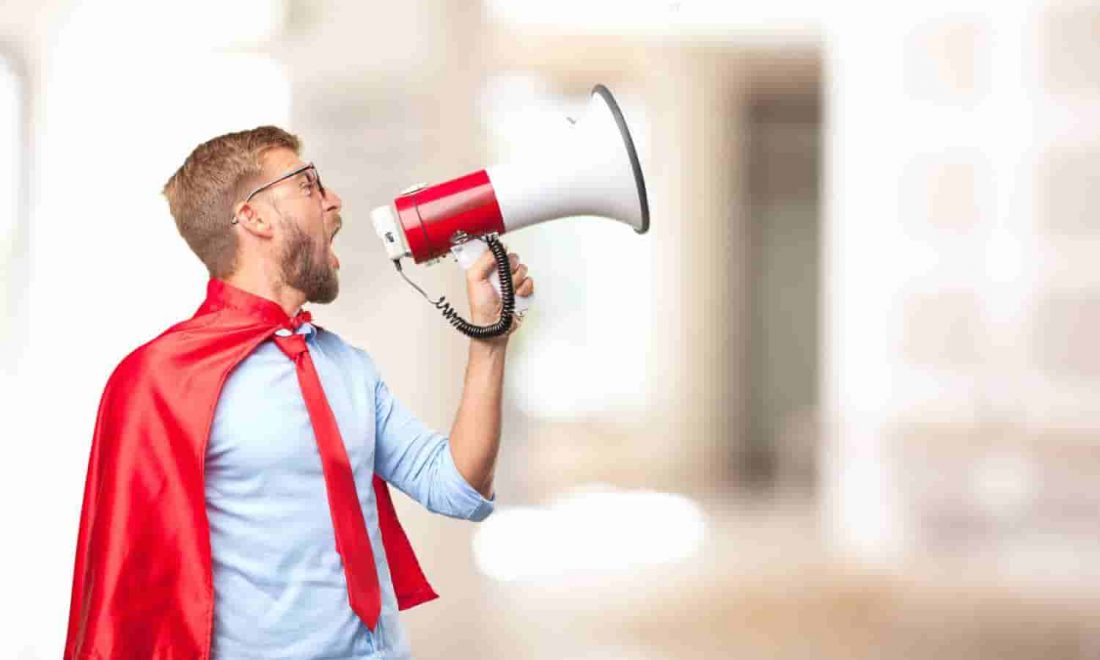 These are the main points covered in this article. If you are here looking for something specific, feel free to click on any section that interest you the most.
What is Amazon PPC?
PPC is the abbreviation of Pay per click, simply meaning you pay each time your ad is clicked on. Correctly managed Amazon pay per click campaigns can drive more sales, boost the visibility of a product, build brand awareness for a newly launched product, and even increase the potential for more reviews.
5 Reasons to give Amazon PPC a try
Though you have a product that is making pretty decent sales, you might want to consider running PPC campaigns for a variety of reasons. The most common reasons why sellers and vendors run PPC campaigns for their products are listed below.
#1
It boosts sales for a product
Running PPC campaigns is one of the easiest ways to bring in sales. Increasing sales is, of course, the long-term objective of all sellers running PPC campaigns for their products.
#2
Increases the organic ranking of extremely competitive keywords
There might be keywords in your listing which are too competitive to rank in an organic search. Running PPC campaigns for such keywords help to build the visibility. Having the first-page result for those keywords not only bring in sales, but they also increase the organic ranking of your product for the keyword over a period.
#3
To creat
e

brand awareness for new product launches

Products that have the most sales are automatically on top of the search results. New products have great difficulty in ranking high for keywords. Low ranks result in fewer sales. Running PPC campaigns is an ideal method by which the product ranks high and also gets an increased sale potential.
#4
To avoid competitors snatching top positions and sales
Over a period, best selling niches and categories see saturation in the number of sellers. Though your product ranks high in organic searches and has good deals, they can be easily outrun by competitors running PPC campaigns for their products. Most top-ranking brands run PPC campaigns to safeguard and retain the top ranks and positions in Amazon searches over competitors who also run PPC.
#5
To
i

ncrease the visibility of products for seasonal trends

Amazon Sellers see the biggest and the maximum sales during seasonal trends like Christmas, Mother's day, Halloween, etc. The same goes for the end of season sales and the Q4 quarter. Depending on the product, Amazon Ads can be a great way to generate sales by increased customer interest as a result of seasonality.
Did you know that the top 4 ads on Amazon page get 45% of the clicks?
Adpositions play a massive role in deciding the profitability of PPC campaigns. Often it is the first results; products in the case of Amazon, get the maximum clicks, irrespective of whether they are sponsored or organic results.
Ad types in Amazon PPC
There are three main types of ads on Amazon
Sponsored product ads

Headline ads

Product display ads
Sponsored products ads
This type of ads always best friends with conversions and click-throughs. They are the most beneficial ad type as they mimic the organic search results and intermix with them. Sponsored product ads appear below the search results, on the right-hand side of the search results page and product detail pages (sponsored products related to this item section).
Sponsored product ads work well if you have done your keyword research homework and knew the right set of keywords to target.
Headline search ads
Headline search type ads are the keyword targeted cost per click search ads just like sponsored product ads and appear at the top of the 1st page of search results on desktop and mobile. With headline ads, you can show off multiple products at the same time customize the landing destination and the ad copy.
This ad type in Amazon PPC offers the largest range of customization you can decide where everyone who clicks the ad lands. You can choose from your brand pages, product pages, search result pages or a custom URL. You can also choose the text and images shown in the ad.
Product display ads
Amazon Product display ads are product or interest targeted cost per click ads that appear on the related product details page.
Each ad type has its screen placement section, budgets, and differ greatly in the conversion rate and the click-through rates influences.

Are you all set to run PPC Campaigns?
There a few things you'll need to start running Amazon PPC campaigns. Review the checklist below to ensure that you are all set to drive more traffic and bring more sales to your Amazon product.
Basic requirements for running Amazon Ads
An active Amazon professional seller account.

For Headline Search Ads, enrollment in the

Amazon Brand Registry

.

Products must be new

Ability to ship to all US addresses.

For Sponsored Products, eligibility for the Buy Box. If you create a Sponsored Products ads for a product listing that is not eligible for the Buy Box, your ad will not display to Amazon shoppers. Headline Search Ads will be shown to shoppers regardless of who is winning the Buy Box.

The product must first be considered relevant for that keyword. The keyword is in the product information (for example, in the title, bullet points, etc.)
Factors affecting PPC placements
If there is more than one relevant product for the search term, then you'll compete for placement. Two factors decide the placement position,
Amazon CPC:

The CPC price is the highest a bidder is willing to pay for a keyword.

Quality factor:

The quality of Amazon ads is measured by the probability of a customer clicking on it. This takes into account the ad's applicable click history, as soon as it's been active for a while.
The higher your Amazon CPC bid, the higher your ad will be placed when you're competing with advertisements of the same quality. Regarding the quality, the higher the quality of your ads, the lesser you'll need to bid for your ad to appear in the first position.
Basic Terms used in PPC
Customer Search Terms and Keywords
Though the terms keywords and search terms are used interchangeably, they are two different things when it comes to Amazon PPC.
Search Terms
Amazon search terms are the exact terms that the shopper types in the search box for which your product Ad is displayed. It may be misspelled, out of order or have other words tacked on to it, or conversely, it might be identical to the keyword.
Amazon Keywords
Amazon Keywords allow sellers to decide which customer search terms they want their ads to appear on Amazon. If the seller's keyword matches the customer's search term, then the ad will be displayed on Amazon.
Search queries are a broader set than the keywords, and by looking at the search queries, you can identify new keywords to target in your PPC Campaigns. Search Term querying can also be an excellent way to determine negative terms that are eating up your PPC money. Amazon decides whether or not to display your product depending on the keyword and the opted keyword match type.
Refer Amazon PPC terms glossary for understanding all the terms in your Search Term report.
Campaign Types in Amazon PPC
For every product, Amazon offers the option to run automatic campaigns or manual campaigns or both. Automatic campaigns are extremely useful in identifying new keyword opportunities whereas Manual campaigns can offer optimized precision targeting.
Amazon Automatic campaigns
Automatic campaigns are where Amazon makes the decision of displaying your product ads depending on the search terms typed by the shopper. Amazon makes this decision based on the keywords in the product listing page.
Automatic type of campaigns see overwhelming visibility rate, impressions and click-through rate, however, the percentage of sale conversions and revenue generating click-throughs are comparatively lesser. However, this campaigns can uncover keyword opportunities and search terms which might be great sale converters.
Amazon Manual campaigns
Manual campaigns are where the seller defines the exact keywords to be targeted and the search terms for which the product ads must be displayed. This campaigns have an optimized target audience and invite precision clicks. However, the impressions and click-through rates are restricted compared to automatic campaigns.
Manual type campaigns also offer you the choice of matching the keyword types. The keyword match types empower you with the ability to decide between Phrase match, broad match and, exact match.
The basic difference between manual campaigns and automatic campaigns are that manual campaigns are precisely targetted whereas automatic campaigns help you reach a wider audience. Manual campaigns give you the ability to decide your search terms and the bids; they give you greater control over the target keyword. Automatic Campaigns help you understand the search terms used by potential customers. Therefore they require no efforts regarding the keyword research, whereas, manual campaigns require precise efforts in keywords.
Amazon Keyword Match Types
Let's take this example; the search term is benches. The search intent is quite apparent. However, Amazon displays a "baking tool" as the first sponsored product.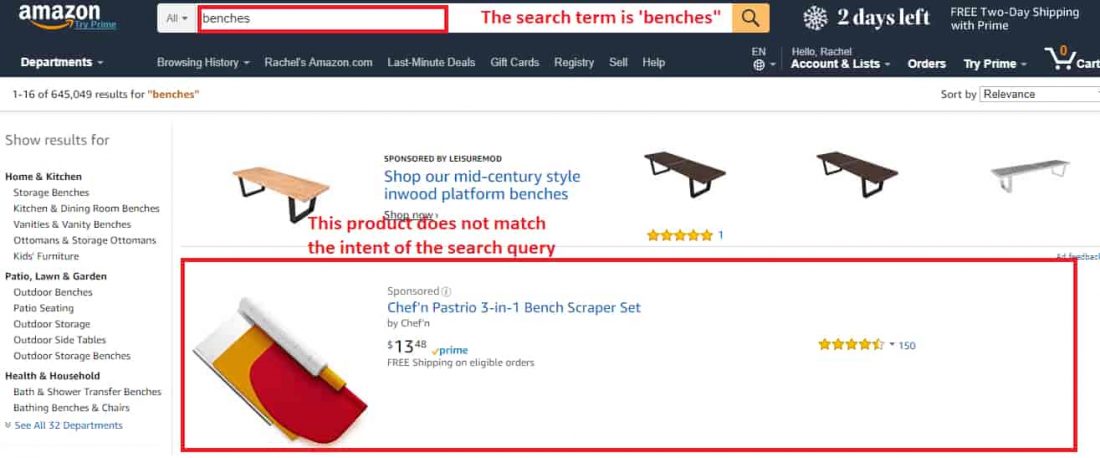 Avoid such instances of irrelevant ads by choosing the 'Keyword Match type.'
With Keyword match type, you can decide when to display your product and, based on the matches of the search term with your keywords. You can choose for an exact search term match, terms padded before and after the search terms, make restrictions on the order of search terms, etc.
For each campaign that lets you choose the keyword type, there are three categories to consider,
Amazon Keyword Match types Differences :
1. Broad Keyword Match
Search terms that not only match your keyword but are also related to your keyword. Your advertisement may display regardless of the order of keywords and also for additional words. This might include synonyms, misspellings, and variations of your keyword.
Pros and cons of Broad Keyword Match
Broad match targets an extensive range of search terms including abbreviations, acronyms, and synonyms:
This usually means higher visibility and sessions for these keywords, as shoppers can use a broader combination of search terms to trigger your ad
Broad match can turn out to be extremely expensive and can drain your money inviting clicks from irrelevant ads and search terms, like the example illustrated above

Broad match is a great way to target more people and get more visibility for your listing
You could run a broad keyword campaign for a specific period, analyze the data and then fine tune the keywords according to the search terms.
2. Phrase Match
The phrase match is where you specify a phrase and the keywords are matched with terms before or after. The critical feature of phrase match is that it allows you to control the word order. Variations may include misspellings, singulars, and plurals, stemming;
Example: skiing gloves, ski gloves, abbreviations, and acronyms.
Pros and Cons of Phrase Match Type
Phrase match displays the ad only when the search term is the same as the keyword, but additional words can be added before or after the keyword
The target group of the ad is a medium range and can be triggered by both short search terms as well as broad search terms

You still enjoy high visibility for your product, however few unnecessary clicks that were generated in the case of broad term match are avoided

This is a good middle ground between broad and exact match, as you have slightly more control over when you ad displays
3. Exact Match
By the exact keyword match, you can narrow down to the customers who are searching exactly for your product. Exact match targeting allows only your exact keyword (plus plurals, singulars, and misspellings) to trigger your ad.
Pros and Cons of Exact Match Type
The target group of the ad is very small yet quite precise.

Exact Match takes a toll on the number of impressions compared to the other ad types as the ad is displayed to people who are typing the exact search term as your keyword.

Exact match is a great way to ensure you get the right clicks and target the audience who are precisely looking for your product.
Amazon PPC Management is a great way to drive in sales. However, it is also a process that requires a lot of research and analysis to pull it off in the right direction. Amazon offers many choices to PPC sellers and campaigns, and if worked in the right direction, Amazon PPC is a great way to make enormous profits.
Was this post helpful?
Let us know if you liked the post. That's the only way we can improve.
Customer Success Head at SellerApp
Customer success leader with expertise in coordinating between cross-functional teams in product development and strategy, professional services, sales, marketing and content to deliver excellent customer experience and accelerate growth within the company by ensuring clients' success.