SellerApp Campaign Manager – Advertising Feature
Compare key performance metrics of your PPC campaigns with SellerApp's campaign manager. Get insights at all levels of the hierarchy – campaign level, ad group level, and keyword level. 
Evaluate the performance of your sponsored ad campaigns
The campaign manager is divided into two sections.
The first section consists of intuitive graphs to help you understand your account-level performance. The second section will guide you through your campaign-level insights.
Account-level performance
Here's how you can evaluate the performance using the graphs.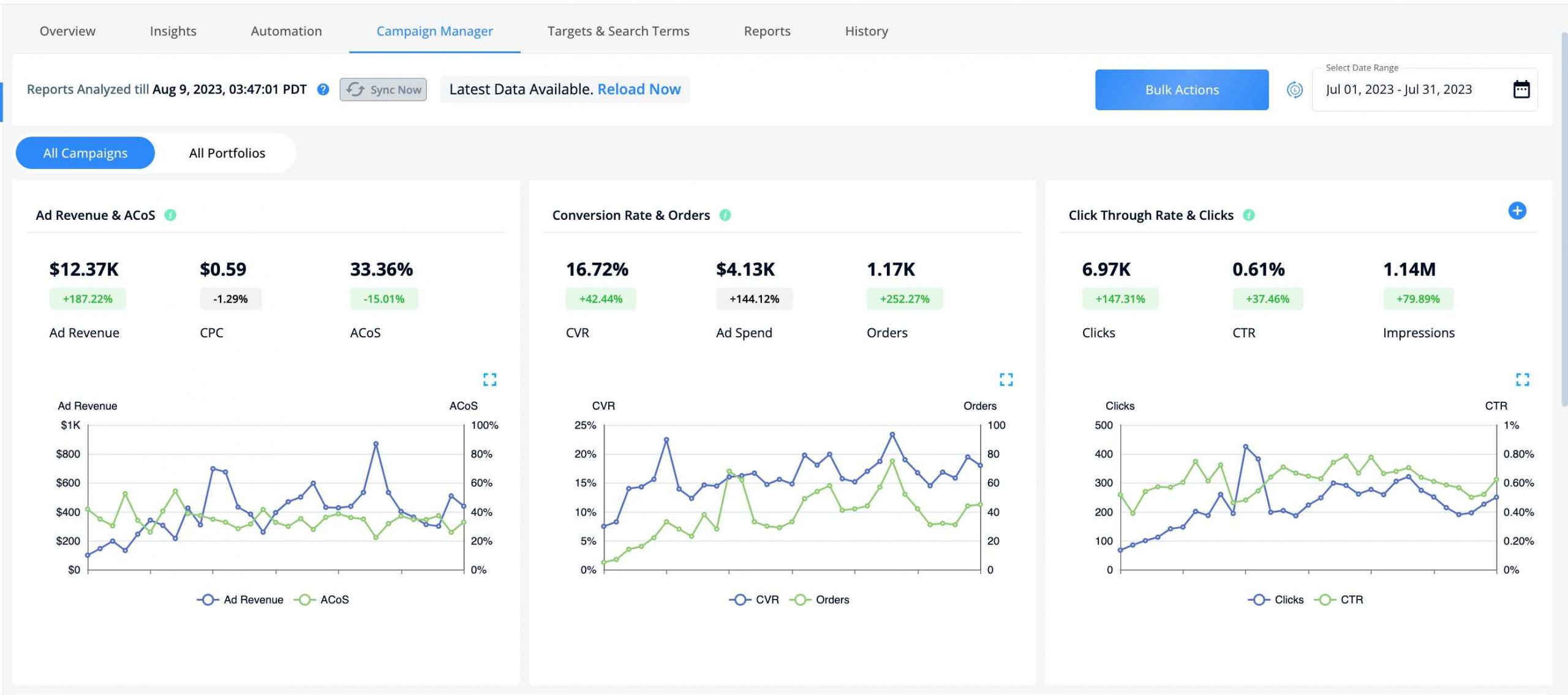 PPC Revenue vs ACoS
Revenue generated from your ads and the advertising cost incurred to generate a sale
Orders and conversion rates
Get a peek into the total number of orders generated and the conversion rate of your campaigns.
Clicks vs click-through rate
How many people are clicking on your ad? Do you have a good click-through rate? If not, you need to optimize your keywords. 
Brand conversions 
This graph will help you estimate the cost to acquire new customers and grow brand awareness.
Brand change
The percentage of orders and sales from new-to-brand shoppers versus total orders and total sales generated by return customers. 
Campaign-level performance
The second half of the campaign manager has the table to help you understand campaign metrics and performance attributes. You can also edit the campaigns according to your business goals. 
Note: Update your target ACoS to see how your campaigns are performing. 
You can view the campaigns in the similar structure you've organized it in your Amazon seller central account. SellerApp's Campaign Manager gives you a detailed look into the structure of the campaigns and the overall performance of each structural unit of your Sponsored ad.

Campaign – This is the name of your campaign. Click on the campaign name to get individual insights into your campaign metrics and ad groups. 
Status – This shows the status of the campaign. Click on the green button to edit your campaigns.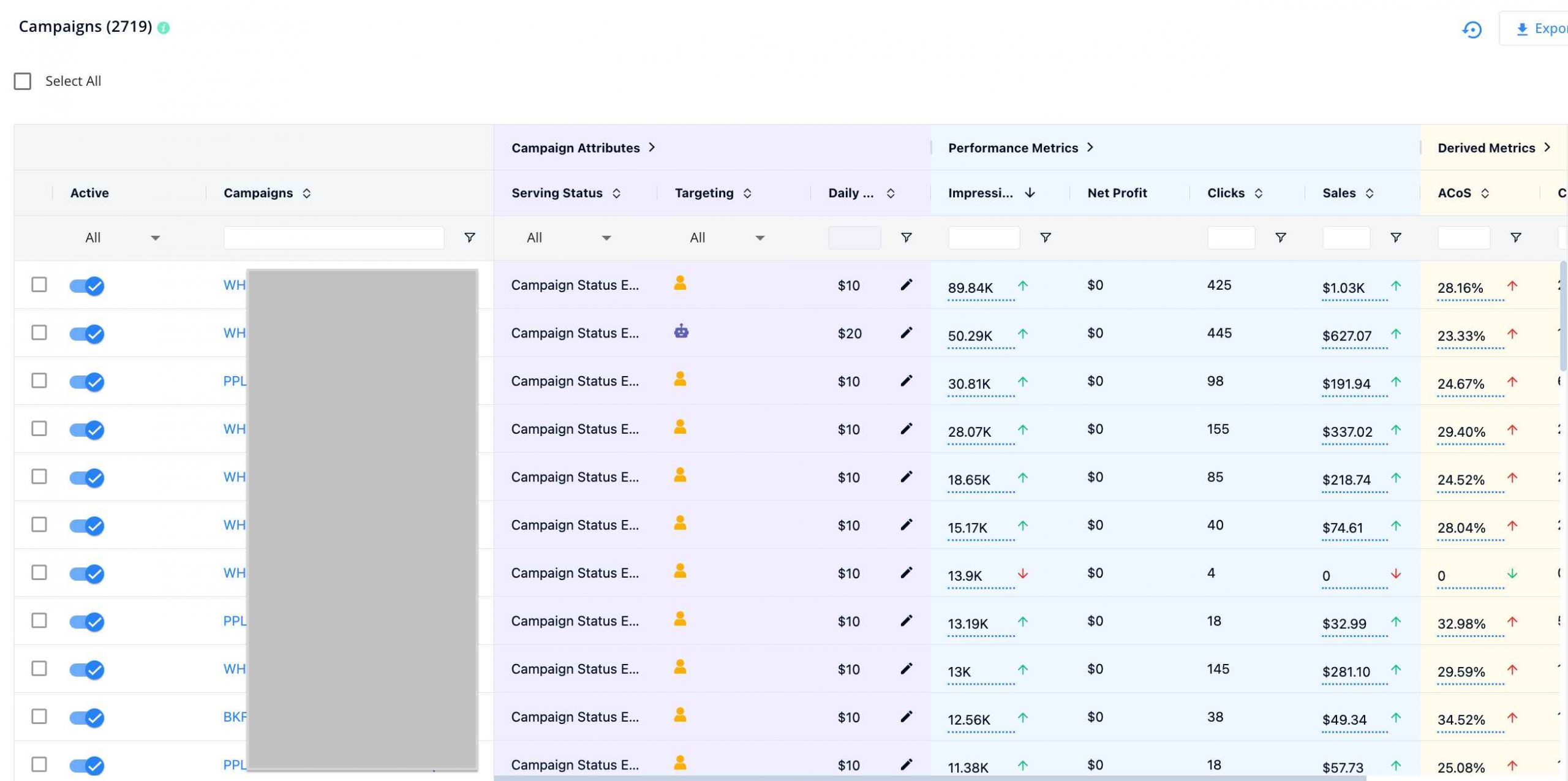 You can also edit the campaign status, budget, bidding strategy, target ACoS, and more. 
Using the Data Export feature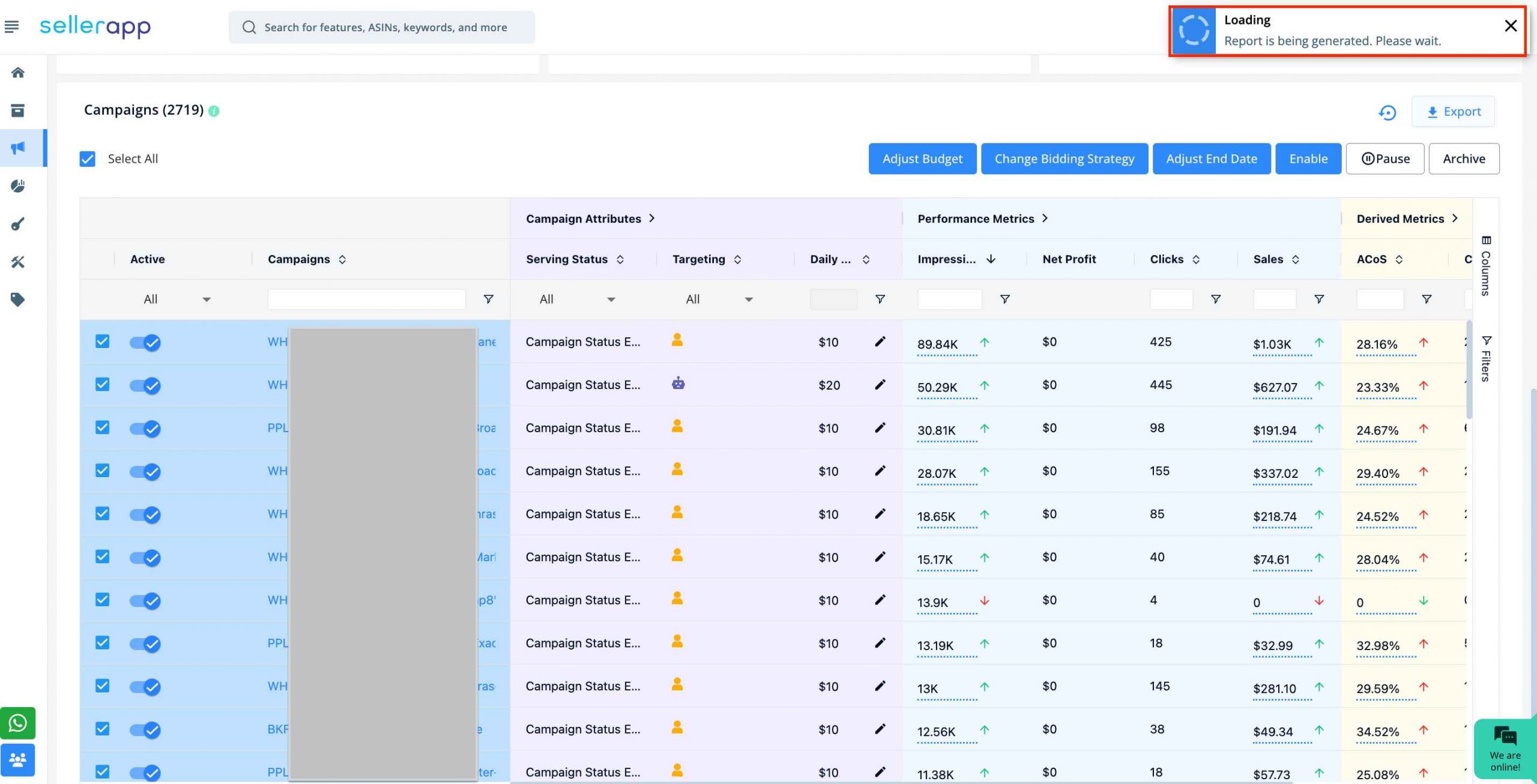 Use the download button next to the table to export the results for a specific time period and perform a complete analysis of your account. Review the campaign subsets to see how they are trending toward your goals. Not all campaigns have the same goals, so use the relevant metrics to evaluate performance. 
Additional Resources
Check out this guide to learn more about Amazon PPC