SellerApp's Campaign Manager gives you a detailed look into the structure of the campaigns and the overall performance of each structural unit of your Sponsored Ad.
The Campaign Manager puts up the info in the same structure you've organized your ad campaign. The metrics to the right side of each campaign helps you analyze the effectiveness and the profitability of each individual unit in the Sponsored Ad.
Here's an article about Amazon PPC and optimization best practices
The Campaign Manager summary reflects the overall performance of all the ads – the critical information to help you get to the PPC performance.
.
Clicking on each of the campaigns opens up all the ad groups under it.
Click on the ad groups to reveal the keywords under each ad group
Identify the high performing keywords and the underperforming keywords. Also, identify keywords that have a low CTR rate. If there is an increase in the underperforming keywords and keywords with low CTR, the campaign probably needs a refinement to identify the keywords that have a negative impact.
Setting up and Organizing Ad campaigns
PPC is something that looks extremely complicated. However, it is pretty easy if looked at and organized this way.
Amazon PPC Campaign Structure
For each product ASIN, you could run  Automatic campaigns, Manual campaigns or both.
Automatic Campaigns
In Automatic Campaigns, Amazon identifies keywords from the title, description and other sections of the product listing to display ads for relevant search terms. Automatic Campaigns require fewer management efforts and keyword research, however, the ad targeting is very poor, therefore the ROI is also poor. However, you can mine gold from Automatic campaigns by analyzing the high performing search terms and converting them into Broad matched manual campaigns.
Bid low for Automatic Campaigns as it may lead to higher costs due to irrelevant impressions and non-converting clicks.
Manual Campaigns
Manual campaigns require efforts in terms of keyword research and bidding but have a precise target audience, i.e. they drive more sales.
A manual campaign consists of one or more ad groups. Each ad group contains ads and keywords that relate to each other.
The keywords that you create for a given ad group are used to target your ads to potential customers.
Check out this article which compares and brings out the differences between Automatic and manual campaigns, and the advantages and disadvantages of each
Amazon Automatic Vs Manual Campaigns
Ad Groups
Under each campaign you can have ad groups where you target the keywords and define the keyword match type; Automatic, Broad, Exact or phrase match. Link to keyword
Match types
Each ad group can have different objectives based on the advantages offered by each match type.
Eg. The broad match type can be used to mine for keyword opportunities to add to phrase match or the exact match campaign, whereas the exact keyword match can be used for a targeted ad placement to drive more sales and better ROI. link to ROI page The phrase match can be used when you want to optimize PPC keywords at the same time search for more data.
Keyword Match Types
Manual Campaigns also let you decide the keyword match types
Exact Match
Broad Match
Phrase Match
Other than specifying the keywords for the campaign, Amazon also lets you match the different types of searches – Keyword Match Types. You can decide to display your product ad based on the matches of the search term with your keywords for exact search term match, terms are padded before and after the search terms, make restrictions on the order in which the search terms are displayed, etc.
Here's the complete breakdown of the different keyword matches allowed on Amazon
BROAD MATCH
Your keyword(s) will be matched to search terms that not only match your keyword but are also related to your keyword and your advertisement may display regardless of what order the keywords appear in or what additional words are added. This might include synonyms, misspellings, and variations of your keyword.
The broad match keyword type indeed helps you in getting a larger audience reach, however, the click-through rate might not be very optimal. Shoppers might see your product ad for irrelevant search terms and might click your ad, these costs quickly add up and might not be a very optimal conversion rate set-up.
Let's take this example, the search term is "benches", the search intent is quite obvious,
however, Amazon displays a "baking tool" as the first sponsored product.
However, the broad match keyword in PPC can help you identify potential keywords. You could run a broad keyword campaign for a specific period of time, analyze the data and then fine tune the keywords according to the search terms.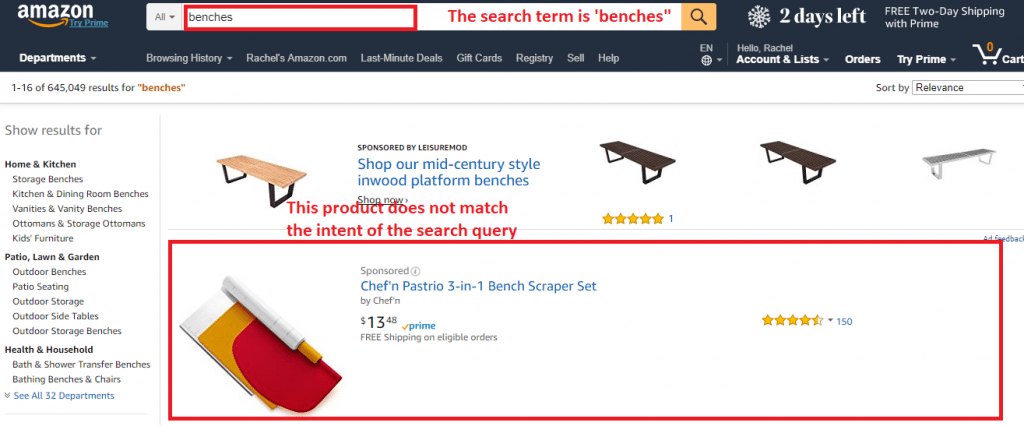 PHRASE
The phrase match is where you specify a phrase and the keywords are matched with terms before or after. The key feature of phrase match is that it allows you to control the word order.
Variations may include misspellings, singulars and plurals, stemming; eg, skiing gloves, ski gloves, abbreviations, and acronyms.
EXACT
By the exact keyword match, you can narrow down to the customers who are searching exactly for your product.
Just as with phrase match, customers may have used a close variant to your keyword (misspellings, plurals, singulars, etc.), but with no added words before or after your keywords nor a synonym will be used. An exact match will certainly lower the number of individuals who see your ad, reduce the traffic and can have a drastic impact on the frequency in which your product gets displayed but those who see your ad are much more likely to click on your ad (because they are search exclusively for your keyword)
Customer Success Head at SellerApp
Customer success leader with expertise in coordinating between cross-functional teams in product development and strategy, professional services, sales, marketing and content to deliver excellent customer experience and accelerate growth within the company by ensuring clients' success.