How to create a 2 step Super URL for Amazon
Increase the effectiveness of the traffic you send from outside Amazon by using the Amazon Super URLs.
What is the Amazon Super URL? 
The Super URL is created by Amazon when someone searches for a particular keyword while buying products.
Its suggested to use these super URLs in Giveaways, blog posts, YouTube videos, media buy campaigns, social media mentions, and all other places you can think of. It makes Amazon believe that you have searched for the keyword and then clicked on the listing. A much beneficial practice instead of directly sending people to the product listing.
How to create Amazon Super URL?
Click on your storefront URL
Use the main keyword in the search box to find your product.
Note: Do this even if you have only one product on your storefront. It helps to increase the ranking of the keyword.
The URL you copy will look similar to the one below
https://www.amazon.com/s/ref=nb_sb_noss?url=me%3DYOUR-STORE-FRONT-ID&field-keywords=YOUR-KEYWORDS
The images below illustrate a step by step method to easily create  the Amazon Super URL
1. Open your Amazon Product Listing and click on your store. This will lead you to the feedback page for your storefront.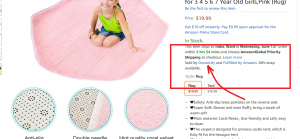 2. From the feedback and overview page for your store. Click on the link that leads to all of your products.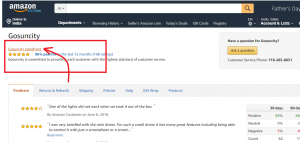 3. Search with the main keyword in the you want to rank for. Once the product comes up after the search, copy the URL and use it for all the traffic you bring off Amazon.