How to cancel your SellerApp subscription
We'll be sorry to see you go!
In order to cancel your subscription, head over to your  Billing page and initiate your subscription cancellation.
My Profile > Billing > Cancel Subscription 
You'll be asked to confirm the cancellation and for feedback about your experience.  We'd really appreciate any detail you can share on how we may have missed the mark or why we didn't meet your needs.  We're trying to build a world-class experience for our customers so your feedback on how we may have missed the mark will help us get there.
Your account will remain accessible through the end of your current billing cycle and you will not be charged again.  We hope you'll consider SellerApp again in the future!
Please note that if you have already been charged for the next billing cycle, we cannot refund you for the subscription*.
We do not offer refunds on subscriptions for the remainder of the cycle at this time. We also do not offer refunds on the remaining credits. 
Pause SellerApp Subscription
If you simply need a short break from SellerApp, you can pause your subscription until you're ready and you'll be able to pick SellerApp back up whenever you decide to be back, with all your data intact.  Or feel free to shoot us an email at support@sellerapp.com with a message about what's going on.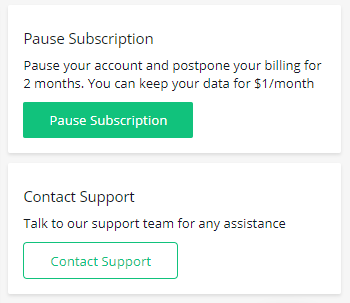 Move to a different SellerApp plan
For any changes in the subscription plan, visit the Billing page or, shoot us an email at support@sellerapp.com.