Optimize Amazon PPC campaigns: SellerApp's Automation Edition
Amazon sellers often find managing PPC campaigns challenging and time-consuming.
Constant monitoring and bid adjustments are crucial to reduce wasted ad spends and improving conversions. However, this can take away your valuable time spent on finding new products, improving existing ones, and increasing brand awareness.
That's where SellerApp's Advertising automation feature comes in. With our automation rules, you can easily manage Amazon PPC campaigns. The self-learning algorithm takes away the complexity of bid management, allowing you to focus on other important tasks.
SellerApp's automation feature manages your entire campaign for you without any further input. Just set up rules based on your advertising goals, and rest assured that your campaigns are being optimized to achieve your desired results.
Let's see how to use the SellerApp advertising automation feature.
A Quick peek into the article:
How to find the Automation tool
Log in to SellerApp Dashboard, and connect your Amazon Advertising account with SellerApp. You can do it easily with this guide.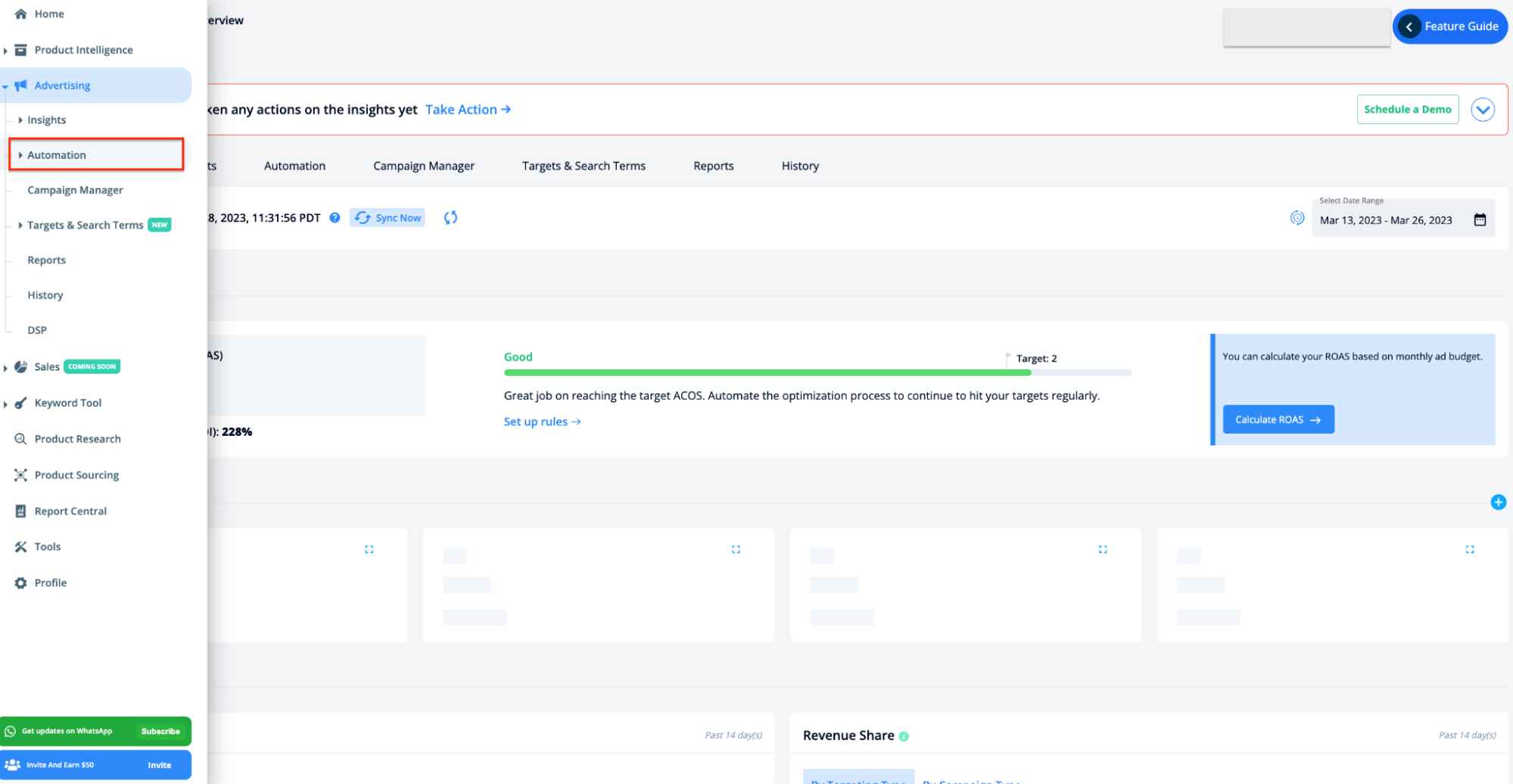 Once you connect your advertising account, navigate to Advertising → Automation from the left sidebar.
What are the metrics in the SellerApp Advertising Automation Overview section?
The Automation Dashboard provides a comprehensive summary of essential metrics, including
Total number of automation: It refers to the total number of automation rules that you have created for your campaigns, which includes both running and paused campaigns.
Total actions executed to date: It refers to the total number of actions that have been executed by all of your campaigns combined.
Total money saved: It's the total amount of money that you would have had to spend if you were to hire an account manager to execute all of your rules manually.
Total time saved: It represents the amount of time that you would have had to spend if you were to perform all the actions that have been taken manually.

Additionally, the dashboard shows you the list of all the automation rules you have set previously. For each rule, you can access the following details:
Rule Name: The name you gave to the automation rule when creating it.
Campaign Type: The type of campaign for which the automation rule was created. You can choose between Sponsored Products (SP) or Sponsored Brand (SB) campaigns, and this metric will reflect your selection.
Action: The specific action set for the automation rule.
Sources Associated: The number and type of campaigns the rule applies to. For example, "All Campaigns" indicates the rule is set for all campaigns, while "Manual-20" implies that the rule is set for 20 manual campaigns.
Date Created: The date the rule was first created.
Status: Indicates whether the automation rule is currently active or deactivated.

Furthermore, you can enable, disable, edit, and delete rules directly from this section.
Pre-set rules in SellerApp advertising automation
SellerApp offers a range of advertising pre-set automation blueprints that can help sellers achieve different campaign goals. These pre-set rules include:
Keyword Harvester
ROI Optimizer
Money Saver
Dayparting
Keyword Harvester
The Keyword Harvester rule is designed to increase visibility and generate more impressions and conversions for your campaigns.

SellerApp provides two pre-set rules for this:
Bid optimization for visibility – If ACoS is less than 30.0 and Orders are more than 10, increase search term bids by 2% until they reach $4.
Bid optimization for visibility – If Impressions are less than 5000, increase search term bids by 2% until they reach $4.
You can go ahead and modify the template and values depending on your requirements.
ROI Optimizer
The ROI Optimizer rule also aims to increase visibility but with the specific goal of achieving a target ACoS or ROAS.

It has only one default pre-sets:
Bid increase for higher conversions – If ACoS is less than 34% and Orders are more than 5, increase bids by 2% until they reach $4.
Money Saver
The Money Saver rule helps sellers reduce wasted ad spend from low and non-converting search terms. This rule allows sellers to optimize their ad spend and reach their target ACoS.

SellerApp provides three pre-set rules for this:
Negative targeting – irrelevant keyword – If the search term has 0 orders and more than 20 clicks, then set these search terms as negative.
Negative targeting – irrelevant keyword – If the search term has less than 5 orders, and ACoS is higher than 80%, then set these search terms as negative
Bid reduction for low conversions – If ACoS is greater than 34%, and clicks are higher than 20, then decrease bids by 2% until the bid reaches $1.
Use this rule if you have a fixed budget and you want to optimize your ad spend.
Sellers can also modify these pre-set rules according to their campaign goals.
Dayparting
Apart from these rules, SellerApp offers another essential feature, dayparting.
It allows you to adjust the advertising budget on Amazon for certain times of the day to maximize the efficiency of the ad campaigns. By default, the ad campaigns on Amazon run 24×7. But with dayparting, you can fine-tune your campaigns for different times of the day to get more conversions.
For example, if you observe from past data that the CVR is maximum from 8 pm to 10 pm and lowest from 2 am to 7 am for your product, you can set a high ad budget for 8 pm to 10 pm to get more sales. Similarly, you can reduce the ad budget from 2 am to 7 am to avoid unwanted ad consumption.
How to set up an automation rule in the SellerApp advertising automation tool
If you're looking to set up an automation rule in SellerApp's advertising automation tool, follow these steps:
Go to the "Automation Blueprint" tab. Select a rule template based on your advertising goal.
If you want to modify the rule, click on "click and modify template." If you want to create a custom rule from scratch, click on "+Create from blank."

Give a rule name
Give your rule a descriptive name. A good naming convention will help you easily understand what the rule is doing at a glance. For example, "Black Friday – 30 days – reduce ACoS" or "Bid Reduction – 30 ACoS – 10 Order – Bid 2% – $1." This is also helpful when looking at the changes made in the "History" feature.

Besides, this helps you to look back at the changes you made by referring to the 'History' feature.
Select source
Next, select the campaign type and targeting type. Do you want to apply the rule for sponsored product campaigns or sponsored brand campaigns?
After that, choose the targeting type. For Sponsored Product campaigns, choose between Manual Targeting and Automatic Targeting. For Sponsored Brand campaigns, there's only Manual Targeting.

Both targeting types have the following options:
All Enabled Manual/Automatic campaigns – Includes all the active campaigns from your advertising account
Select manually – Allows you to select specific campaigns manually
You can select "All Enabled" for the generic rules, like targeting negative keywords (or Money savers). For other rules, manually select the campaigns for which you want to apply these rules.
Note: Click the checkbox "Include future campaigns to this automation" to include all of your future campaigns in this automation. This is only applicable when you are applying this automation for all enabled manual campaigns.
Rule application
After you choose the source, select where to apply the rules.
SellerApp offers two options.

Search Terms: If you select this option, the automation rules will be applied to Search Terms only. The applicable actions on Search Terms are – Increase Bid, Decrease Bid, and Negative Targeting.
For Increase and Decrease Bid actions, a new target will be created corresponding to the Search Terms that qualify the set conditions.
Targets: Targets have two options. ASIN target and Keyword target. If you select any of them, automation rules will be validated for the selected target.
The applicable actions on Targets are – Increase Bid, Decrease Bid, and Pause Target.
Analysis duration
This option lets you set the time duration to analyze the advertising metrics and validate automation rules after discounting a 72-hour attribution period.
SellerApp offers 7 days, 14 days, 21 days, 30 days, and 60 days analysis duration.
It means if you set the automation on the 15th of a month, it will consider the last 7/14/21/30/60 days of data, starting from the 12th, to check advertising metrics and validate your rules.
Note: The attribution period is the number of days to skip from your last sync date in order to minimize errors due to Amazon attribution. By default, the attribution period is set for 72 hours. But you can change the attribution duration from the tool. Click on "Advanced Options" on the right side. And then, select a custom attribution period from 3 days to a maximum of 14 days.
Set conditions
In this section, you have the option to set different conditions for your rules from the drop-down menu:
Bid
Impressions
Clicks
Orders
Spend
Sales
ACoS
RoAS
Click Through Rate (CTR)
Conversion Rate (CVR)
CPC (Cost Per Click)
You can even set multiple conditions for one rule with "AND" or "OR" logic so that when the campaign meets the criteria, some actions are triggered.

Note: If you choose to modify a template, then you can only edit existing conditions but can't add more rules. On the other hand, if you create a custom rule, then you can add as many conditions as you want.
To add more conditions, simply click on "Add More Conditions" option.
Additionally, click on the "Add Another Block of Condition" button if you want to add another block of rules.

You can also switch between 'AND' and "OR" by simply clicking on them.
Once you set conditions, choose an action to execute when these conditions are met. SellerApp offers three different actions to choose from:
Pause: Pause the targets that meet the conditions to reduce wasted ad spend and lower ACoS.
Increase bids: Increase the bids on your high-performing Keywords/ASINs when the conditions are satisfied. If any target's existing bid is higher than the ceiling bid, it will reduce to the ceiling bid.
Decrease bids: Decrease the bids on your low-performing Keywords/ASIN targets. If any target's existing bid is lower than the floor bid, it will increase the bid to the floor bid.
Let's understand this with an example. Assume your goal is to increase sales and visibility. So, you can set a condition like: "When the campaign ACoS is less than the target ACoS and orders are more than 10, increase keyword bids by 10% until the bid amount is $5. Assuming your target ACoS is 20%, the condition will look like this:
ACoS < 20% AND Orders > 10 → Increase Keyword Bids by 10% up to $5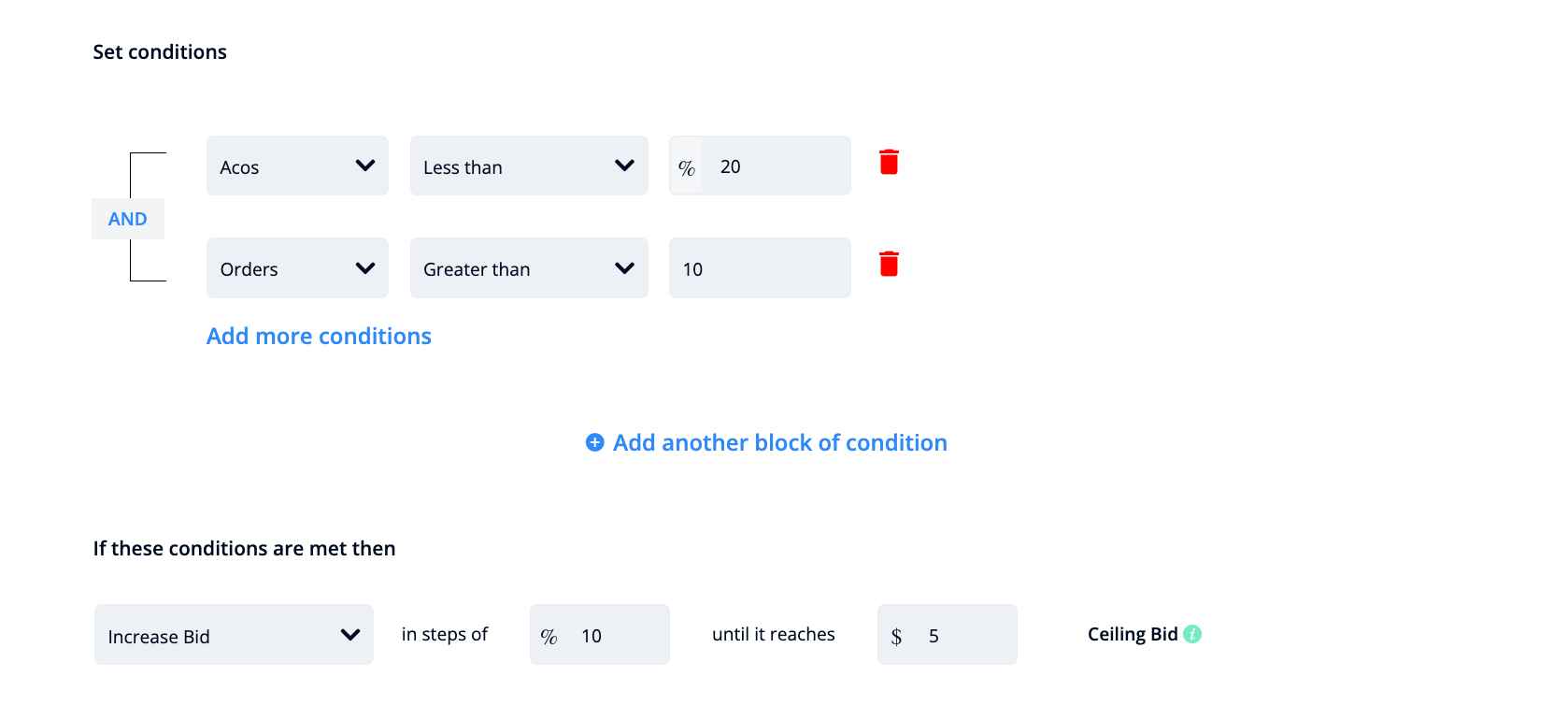 Exclusions
Once the conditions have been set, you can add some search terms, words, or phrases to the exclusion list to prevent the automation rules from being applied to those terms.
This feature provides two options:
You can exclude search terms that include certain words or phrases, or
You can exclude an exact match search term from the automation rule.
Example: Let's say you have an automation rule applied to your campaign. However, you don't want this rule to apply to the search term "cheap running shoes." You can add the search term as exact in the excluded tab to prevent the automation rule from being applied to that specific search term.
Furthermore, suppose you want to prevent the automation rules from applying to any search terms that include the word "cheap." In that case, add the word as an exclusion with the "contain" condition to avoid the automation rule being applied to any search term that contains the word "cheap."
How to set up dayparting with SellerApp
Go to SellerApp Dashboard → Automation → Dayparting.
Select 'Create blank Dayparting rule.'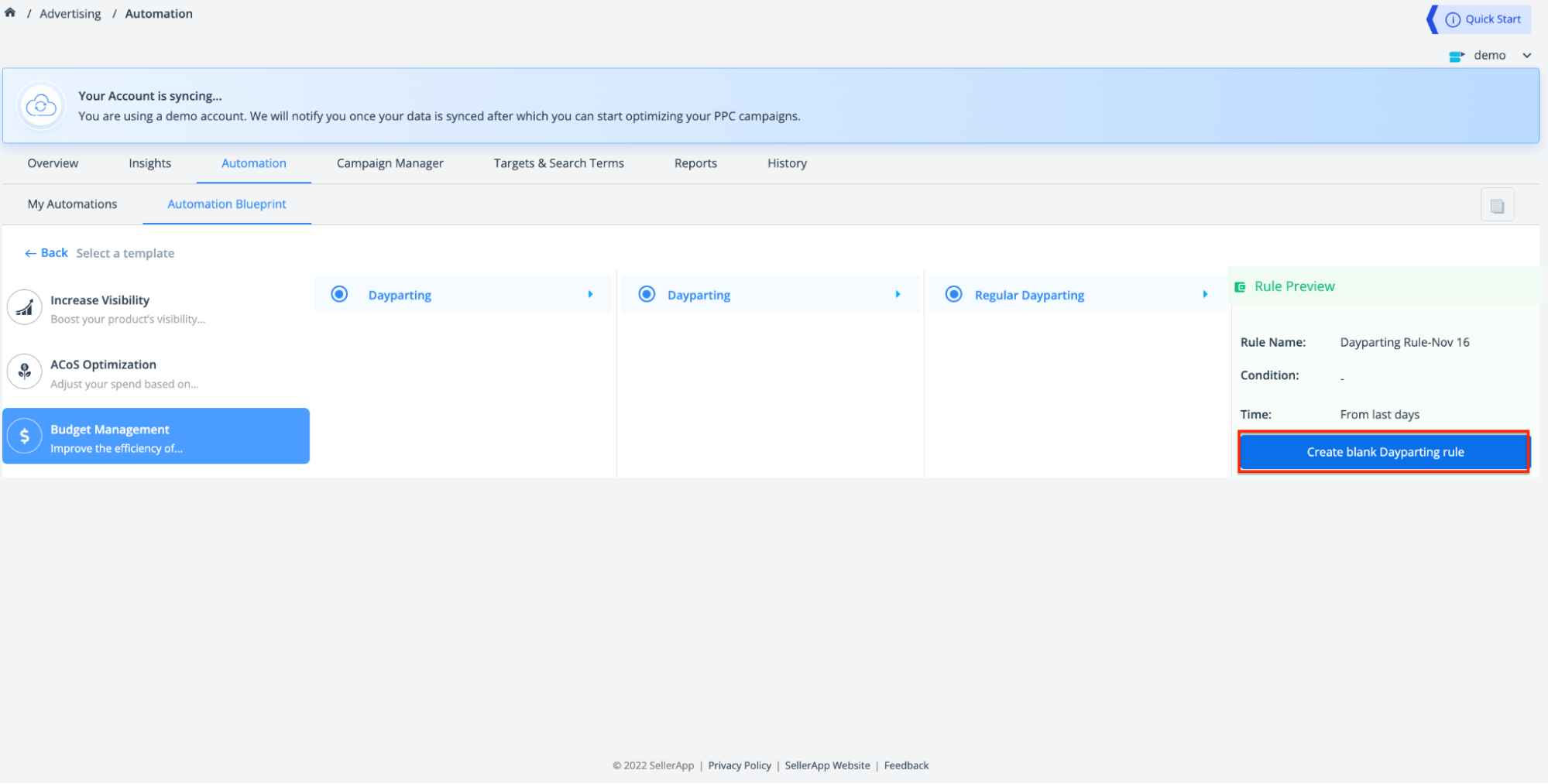 Add a nomenclature that works for you.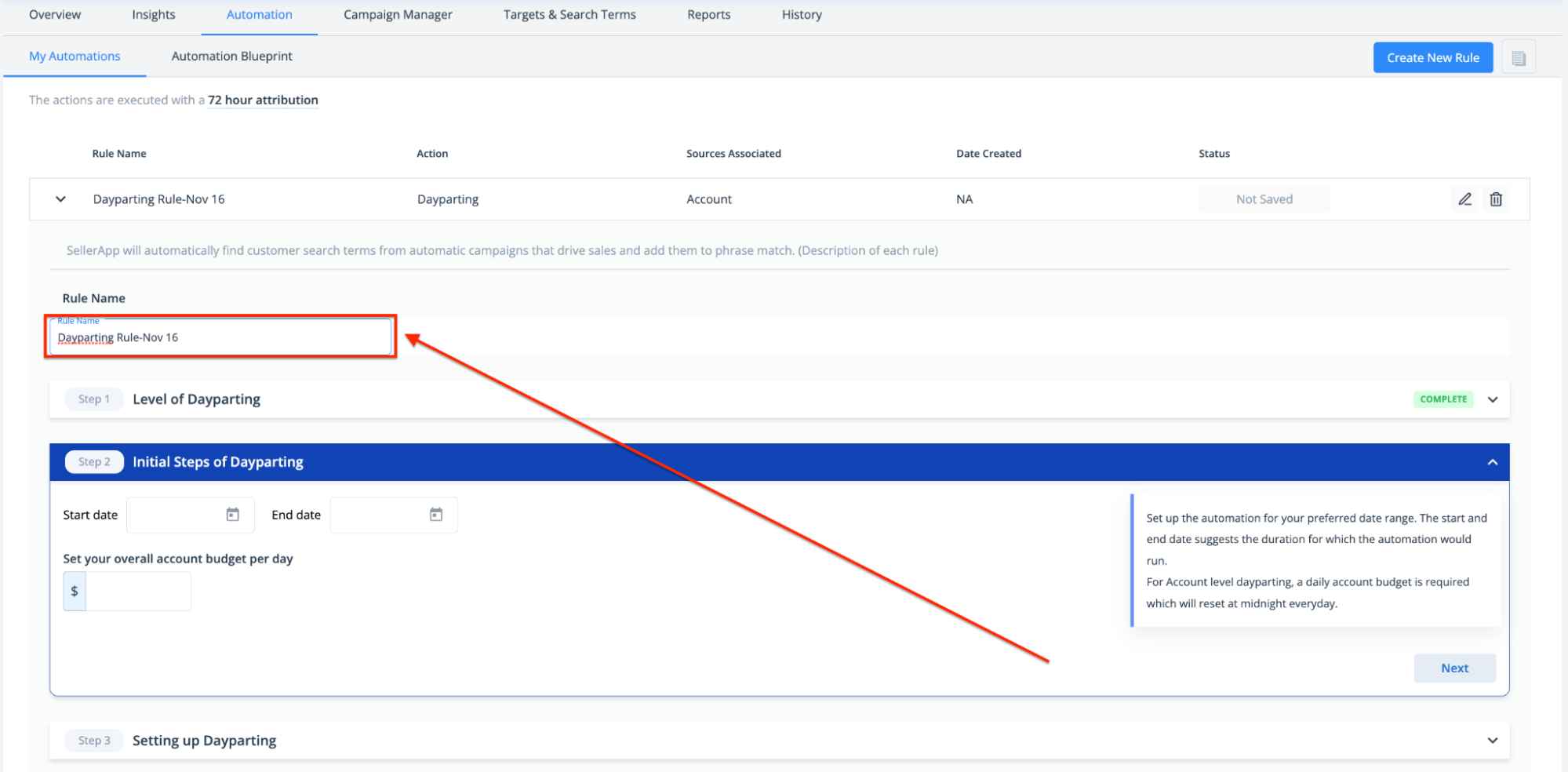 Further select if you want to do an account-level dayparting or a campaign-level dayparting. If you select "Account level," the dayparting will be applicable to all your sponsored campaigns.
Alternatively, if you select "Campaign level" dayparting, it will open up two more options. Choosing "All Campaigns" will set dayparting for all active Sponsored Product and Sponsored Brand campaigns.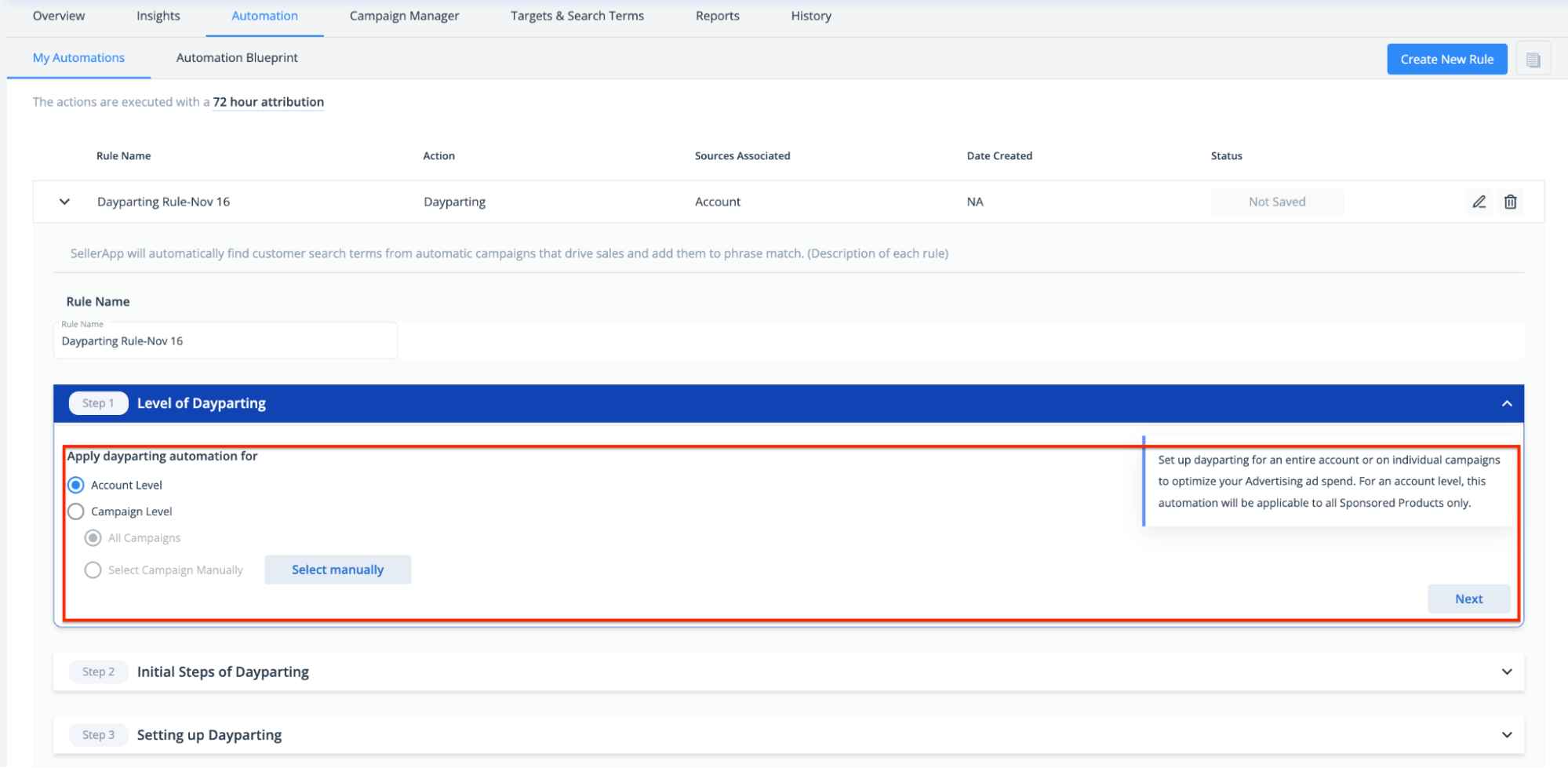 You can also choose "Select campaign manually" and then select the campaign you want to set up dayparting for. The best part is you can set custom daily budgets for each campaign manually for better control. Click "Next."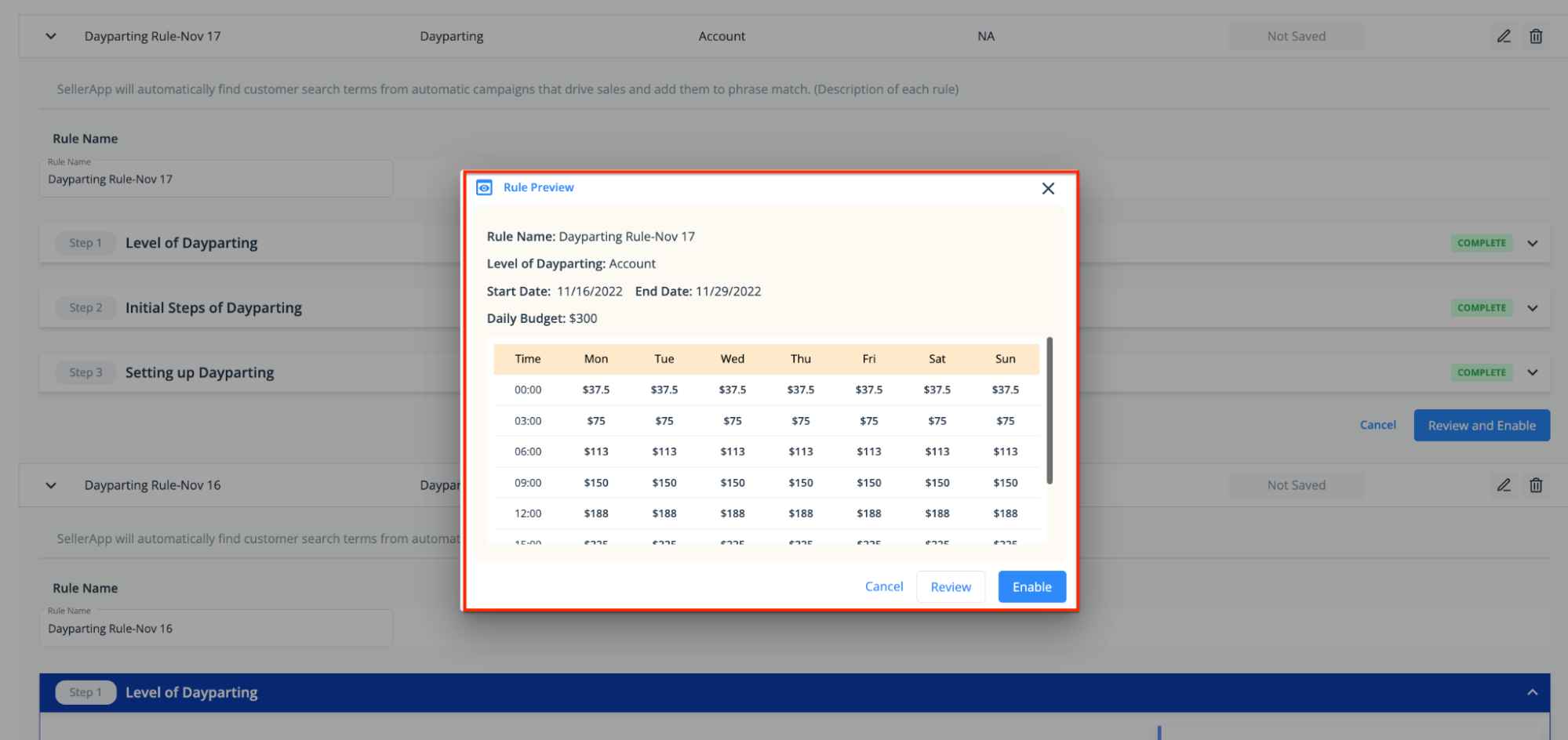 On the next step, enter the start and end date and give a daily account budget, which will reset every day at midnight → Click "Next."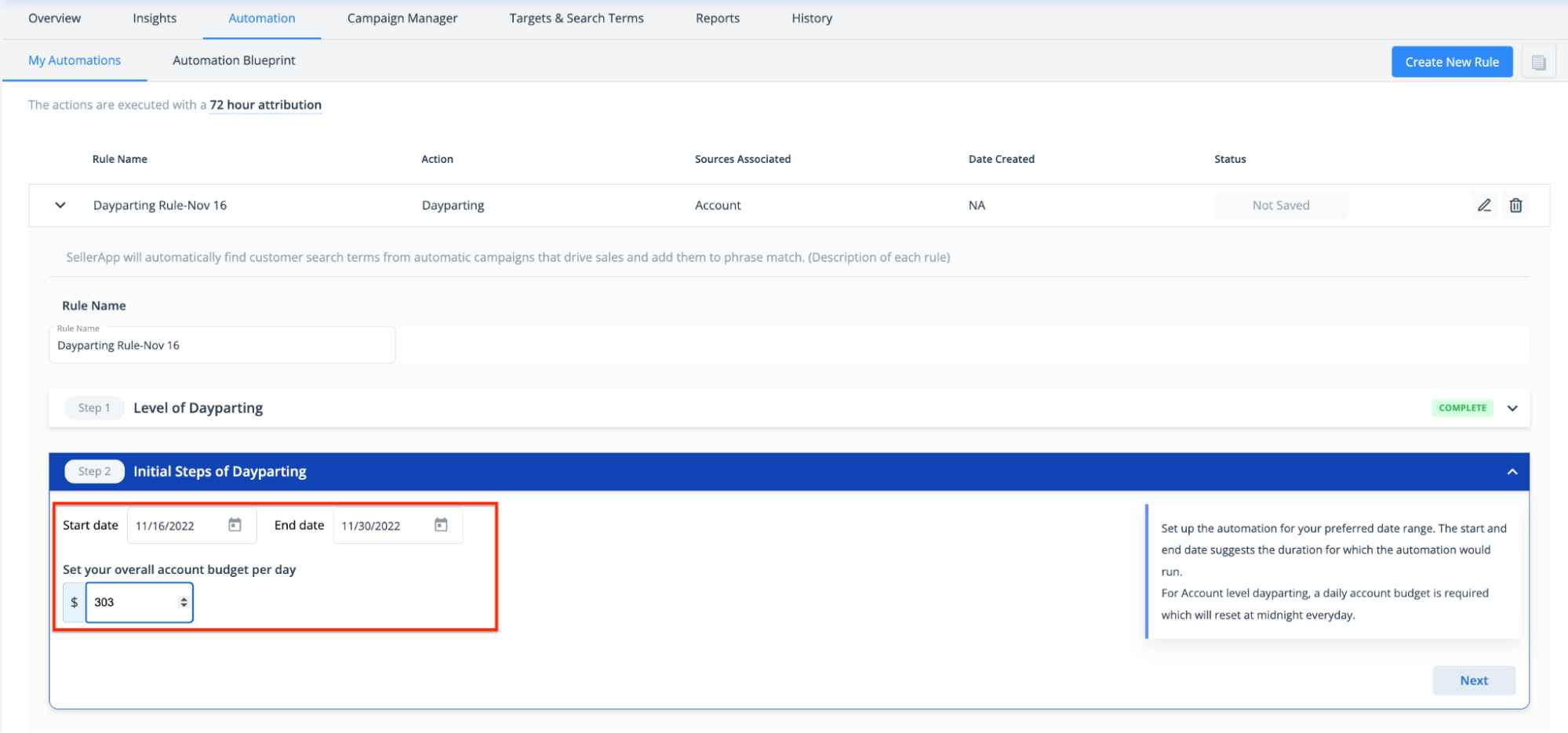 Now, we have come to the most exciting part of the campaign. Here you can split the daily account budget into different slots according to your requirements.

Select the time of the day and add a specific budget for that hour. Add multiple times to set different ad budgets for different hours.
You can also click on "Advance Settings" if you want to get more control over the dayparting campaigns.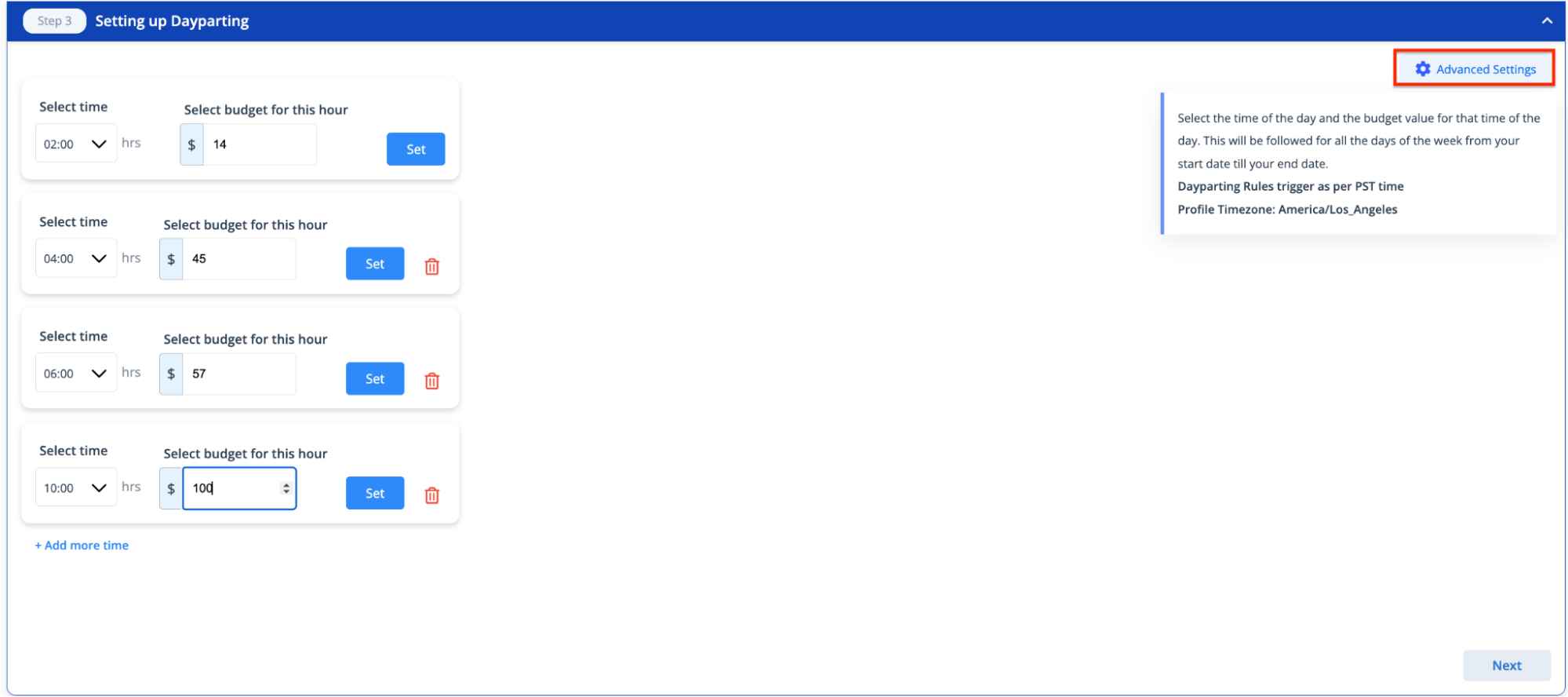 This feature is especially useful for experienced sellers who analyze their historical sales patterns and understand which day of the week and at what time they get more sales.
First, you can set up whether you want to have the budget control in terms of percentage or absolute in $.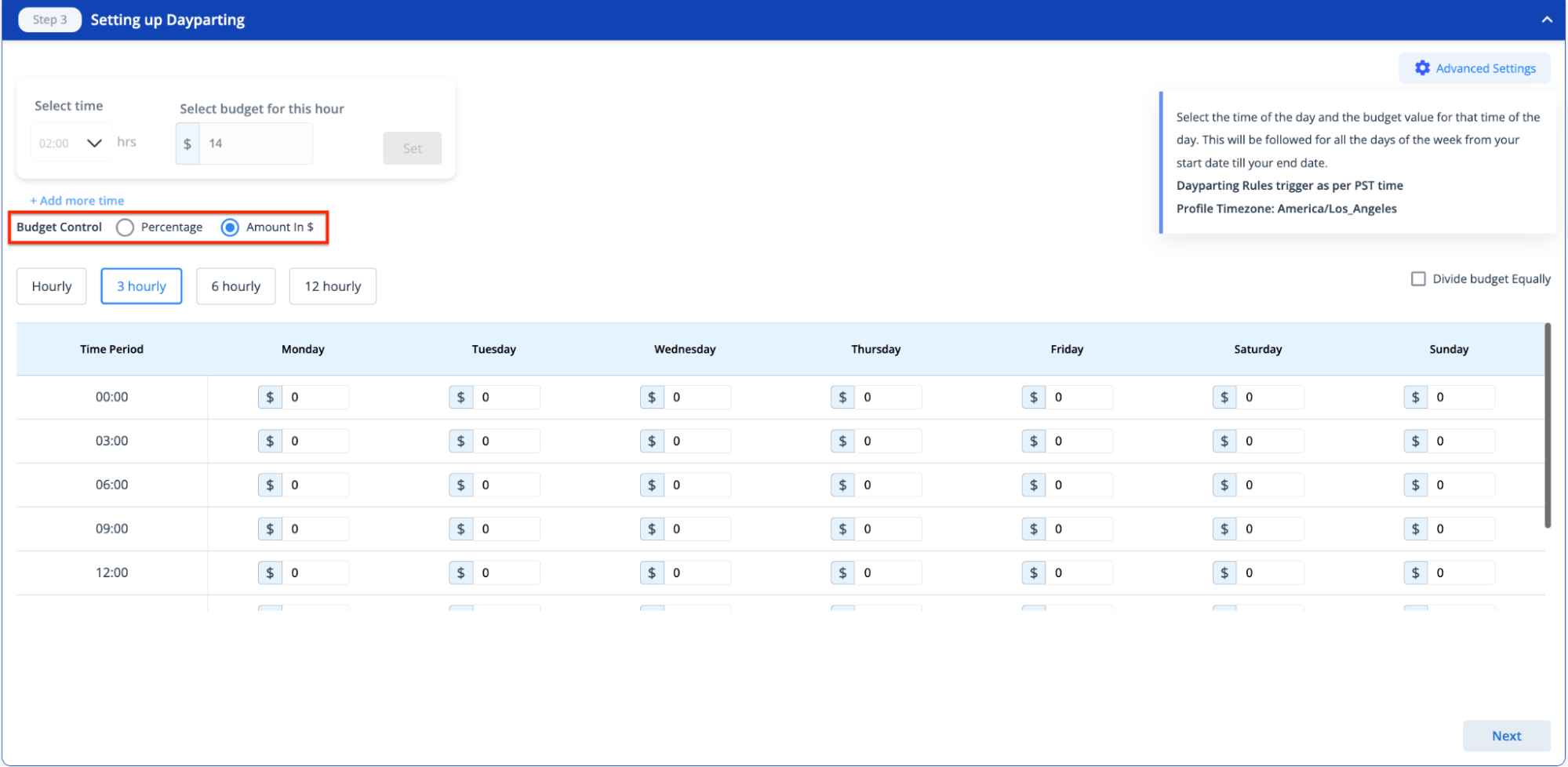 Next, select if you want to change the dayparting rules hourly, every three hours, every six hours, or every twelve hours.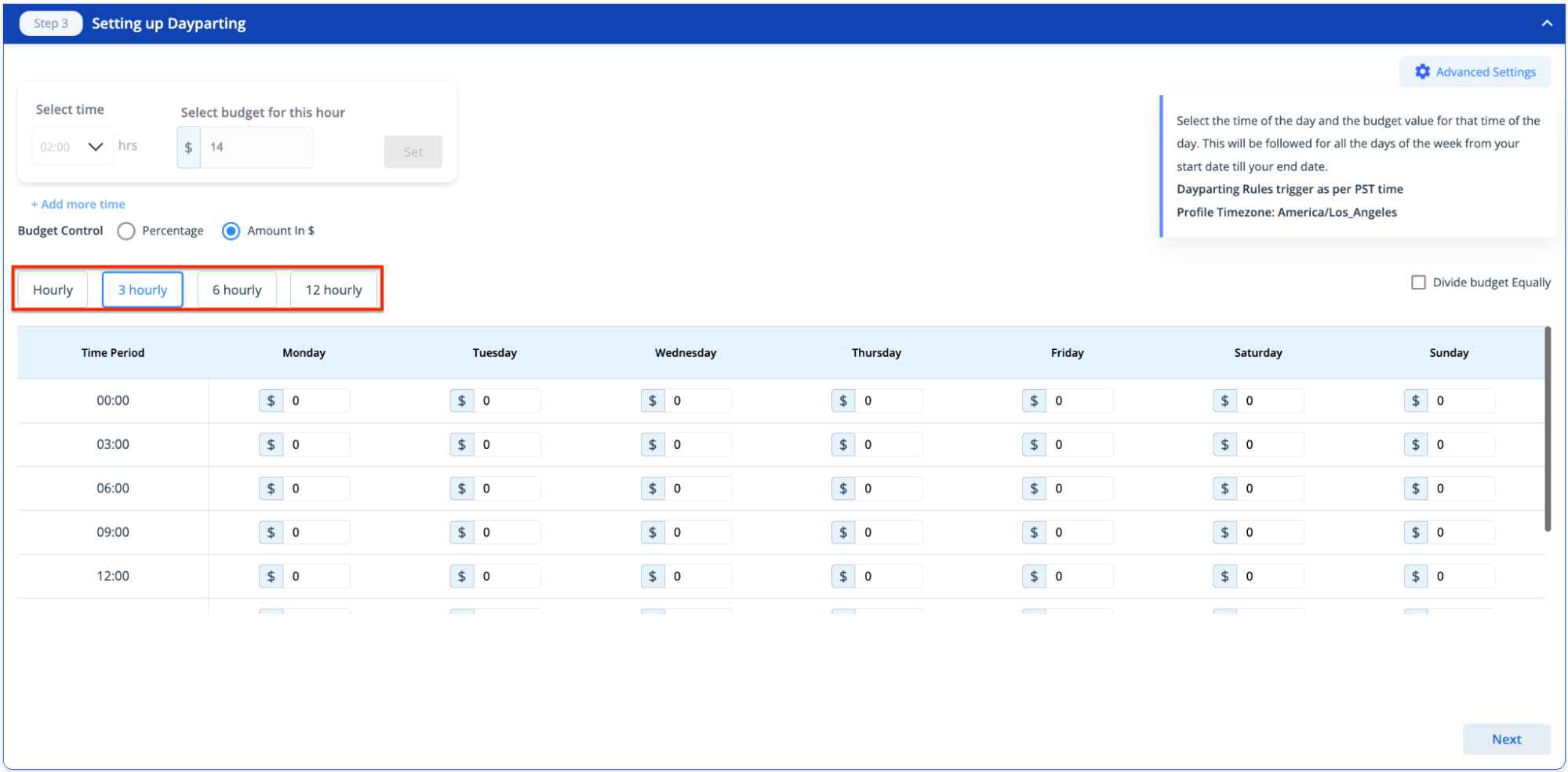 Now, in the next section, manually add the budget for different times on different days of the week.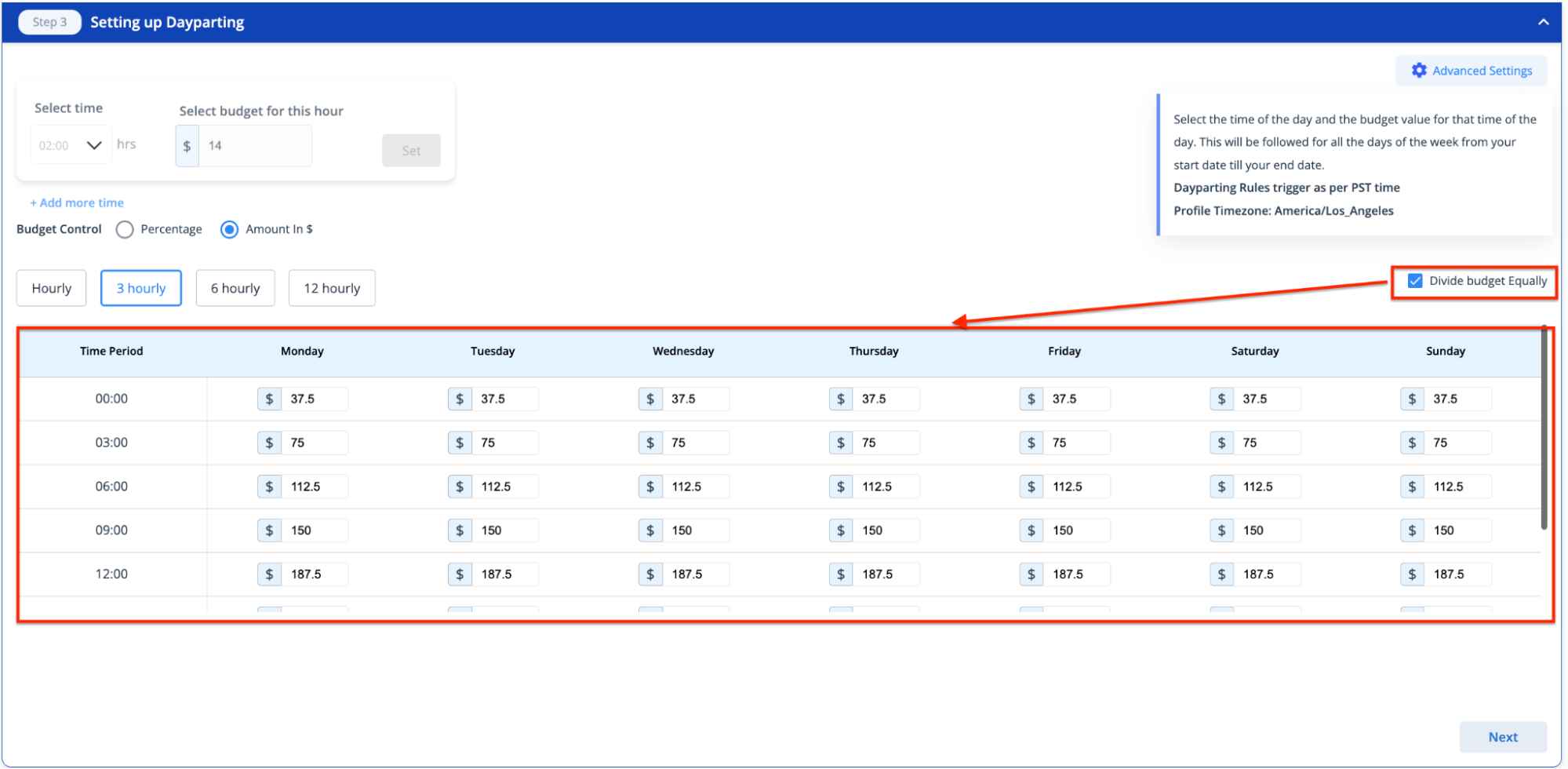 Alternatively, you can toggle the "Divide budget Equally" option on the right. It'll divide the previously-mentioned daily account budget equally throughout the week. You can then tweak the budgets according to the historical data from the business report for the past six months.
Once you fill in all the details, click 'Review and Enable.' Double-check the rules, and click "Enable."
Congratulations! You've successfully launched your first dayparting campaign.
Now, all is left for you to review the campaign performance periodically and review the campaign budgets based on sales velocity on different days to maximize conversions and campaign performance.
Final Thoughts
Adjusting your campaigns manually can affect the automation rules you set. So limit manual changes to your ad campaigns and keyword bids while automation is running.
Still have doubts about creating automation rules for your PPC Campaigns?
Schedule a call with us, and we'll tell you everything you need to know about automating your advertising campaigns to maximize conversion.