For Amazon sellers, managing PPC campaigns is the most important yet time-consuming task. This is largely because you need to monitor your keyword bids regularly and track what's working and what's not.
If bids are not properly optimized, your ACoS will increase and you will lose sales to your competitors who outbid you.
How do I automate my PPC campaigns with SellerApp's Automation feature?
With SellerApp's automation, you can now create custom rules and edit the predefined rules based on your campaign goals. Our automation rules will help you achieve a high RoAS (Return on Ad spend) and save you hours of manual work.
How to create custom automation rules with SellerApp?
Here's how you can create custom rules on SellerApp:
Log in to the SellerApp dashboard → Advertising → Automation
Click on Rules Blueprint
Now, click on "Create from blank" if you want to create the rule from scratch or click "Choose from template" if you wish to choose and modify an existing template to proceed with the automation rules.
Create from blank
If you click on "Create from blank", these are the steps that will follow:
Rule Name:
Naming your rules is an important part of rule creation. This might seem like a small thing, but naming the rule with proper convention will help you while reviewing or analyzing the campaigns.
For example, if you want to pause the campaigns during the weekends, you can choose a proper name like 'pause campaigns_weekends' or you can also add events' names like Black Friday, or specific dates as a suffix.
Having a naming convention will allow you to make the best use of automated rules. Besides, this adds to your advantage if you want to look at the changes you made by referring to the 'History' feature.

Select Source
First, choose between Manual Targeting and Automatic Targeting. Both targeting types have the following options:
All Enabled Manual/Automatic campaigns – Includes all the active campaigns from your AMS account
All Manual/Automatic campaigns – Includes all the existing campaigns in your AMS account
Select manually – Allows you to select specific campaigns manually
You can select all the campaigns for the generic rules like targeting negative keywords (or Money saver). For all the other cases, you can manually select the campaigns for which you want to apply these rules.

Click on 'Select manually,' and you will find the list of PPC campaigns under your AMS account. Select all the campaigns for which you want to apply this rule, and click 'Add to Rule.'
Set Conditions

In this section, you can set conditions for the custom rule. There are 11 different conditions to choose from the drop-down menu:
Bid
Impressions
Clicks
Orders
Spend
Sales
ACoS
RoAS
Click Through Rate (CTR)
Conversion Rate (CVR)
CPC (Cost Per Click)
You can define the rule criteria so that when the campaign meets the criteria the rule starts running and takes the necessary action you define.
Let's say I want to increase my sales and visibility so I'll set a condition: When my ACoS is less than my target ACoS and orders are more than 10, I want to increase my keyword bids by 10% until the bid amount is $5, i.e. if ACoS < target ACoS (20%) and after 10 orders, increase the bid by 10% with a maximum bid of $5. This condition is ideal if you want to increase your sales and ad visibility.
Click on "Add More Conditions" if you want to add multiple conditions or click on "Add Another Block of Condition" if you want to add another set of conditions. You can also change the 'AND' link to or between any two blocks of conditions by simply clicking on it.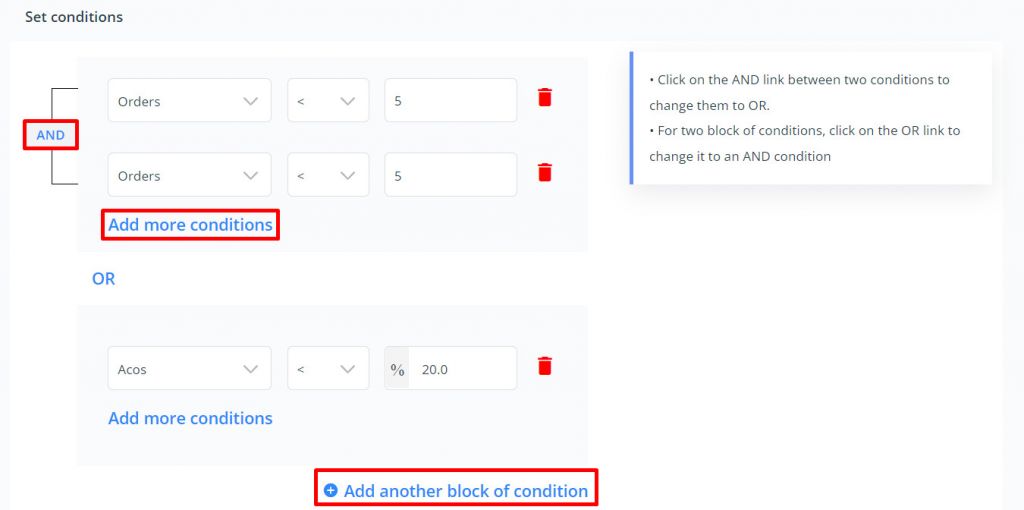 After you have set all your conditions, the next section is "If these conditions are met then". Over here, you can choose to take an action from the 3 different options available in the drop-down menu:
Mark Negative
Increase Bid
Decrease Bid

In this section, you can also choose from Advanced options for keyword target and ASIN target match types.
Next, there is the Exclusions section where you can enter what search terms you want to exclude.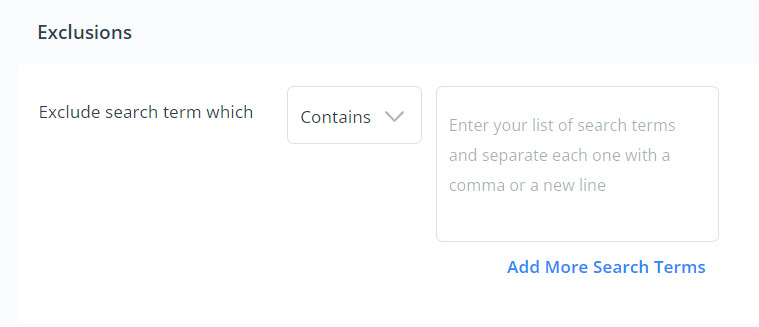 The last step involves entering the Frequency which denotes the days of the week on which you want your custom rule to be executed or run.

Once you set the rule, click on 'Review and Enable.' This will allow you to review your custom rule before applying it. If everything looks good to go, click 'Enable" and you would have thus easily created a custom rule.
Your rule will start running once it is reviewed by SellerApp experts.
Choose from template
If you click on "Choose from template", you will be presented with three pre-defined rule sets to choose from: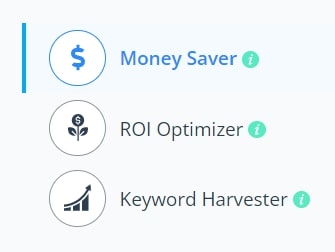 Money Saver – Money saver allows you to reduce wasted ad spend from low and non-converting search terms. With this automation rule, you'll be able to reach your target ACoS by improving negative targeting.

ROI Optimizer – Use this rule to target a specific return on investment for your campaign. All you need to do is set a maximum target ACoS or a minimum RoAS and let SellerApp do the magic. Our machine learning algorithms will target your ACoS/RoAS benchmark and actively explore potential keywords in the campaign. The software automatically changes bids to reach your campaign goals.

Keyword Harvester – This rule works towards increasing your visibility and conversions. SellerApp's algorithms will allow you to optimize your bids to reach more potential customers and thus improving your conversion rates.

You can modify each of these templates as per your choice by clicking on the 'Create and modify template' option.
Potential rules you can create using SellerApp Automation
Now that we know how to set up the automated rules, let's look at a few conditions in which you can use these rules.
Use the rules when you want to adjust your bids during the holiday season or special events like Amazon Prime Day, Cyber Monday.
Adjust your keyword bids based on the conversions.
Increase keyword bids to reach a larger customer base by increasing impressions. This would be beneficial if you want to boost your brand visibility or launch a new product.
Adjust bids for certain hours of the day. For example, using day-parting, you can avoid bidding in the early morning hours during which you won't experience many conversions/clicks.
Extend the budget throughout the day.
As you familiarize yourself with the automation rules, you can create custom rules. Reach out to us at support@sellerapp.com if you'd like to set up custom rules for your Amazon PPC campaigns.
If you're a new seller willing to automate your Amazon sponsored ads, check out our 7-day free trial.