How To Set Business Alerts With SellerApp
Get smart business alerts and keep notified of the changes that affect your product sales. Automate your Amazon business with SellerApp's business alerts.
Where to find this feature?
Login to SellerApp Dashboard > Tools  > Business Alerts (from the navigation bar on the top)

How to set business alerts?
Select the Amazon product from the drop down. 
If you don't find the product in the drop down. Add the product's ASIN to track it.

SellerApp lets you set alerts for Price, Listing, Rating, Buybox, and Reviews.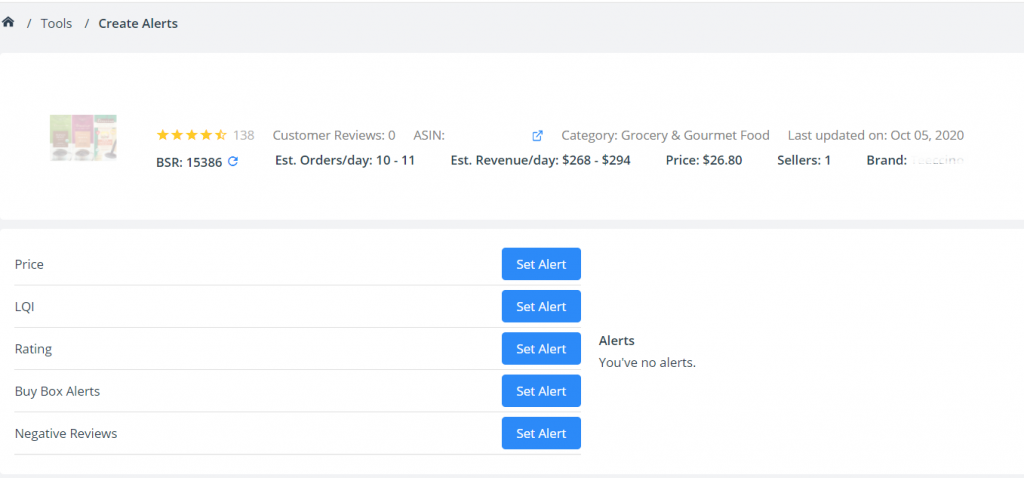 Price – You can set an alert when a competitor lowers or raises the product price. 
LQI – Set an alert when the listing quality of your product or your competitor's goes down
Rating – Use this alert to find when you get a low rating.
Buy Box alert – Set an alert when you or a competitor loses Buy Box.
Negative Reviews – Use this alert when you get a negative review from a buyer. Set this alert to send a timely response to your customer.
Click on the Set Alert button
Select a suitable range and threshold
The alert notifications are sent to your mail inbox every day.
If you have set alerts for your Amazon product, take necessary actions each time there is an alert that may lead to loss of sales. If there are alerts from your competitor products, take counter actions to make the best use of your competitor product alert.
Read Next:
Want to learn more?
How to Respond to Amazon Negative Reviews