How to create a Facebook Promotion from your Facebook Business Page.
Log into Facebook Business Manager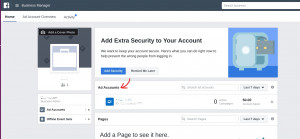 Click on "Create Campaign"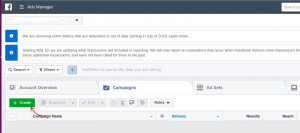 Select the "Traffic" and turn on the "Offer" toggle switch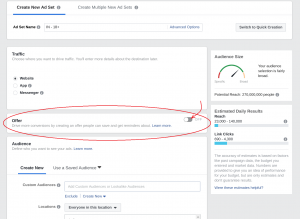 Select the "Create Offer" button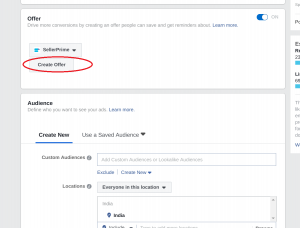 Create the offer, give it an exciting title and description. Set up terms and conditions if there are any you'd want to specify.
Choose an End date and time for the campaign.
Under the Offer Redemption section, choose 'Both'
In the URL section, use the Super URL you created.
Under 'Type of Promo Code', select 'Unique Codes'
Choose the number of units you want to give away per day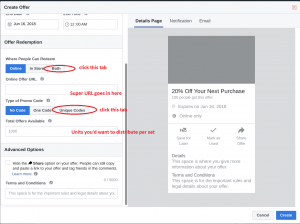 Under Upload coupon codes, select Download CSV template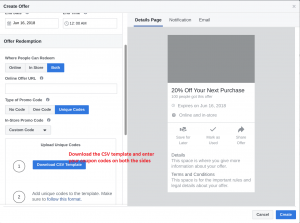 Upload the coupon codes to both the columns, save the file in CSV format
Upload the saved CSV file to facebook
Choosing the Audience category for the Ad
Under the Select Audience section, select the target gender, location, etc. It is best suggested that you also choose Interests > Online shopper and click Continue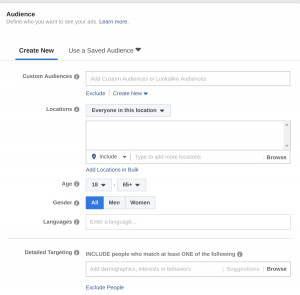 Create and upload an eye catchy image for the ad
Check the Edit the placement button
Under Device Types choose All devices
For Platforms, facebook > Feeds
Review the ad created, then click on Continue
Wait for Facebook to confirm your Ad.
Note:
If you want to distribute only a certain number of units per day, then you can duplicate the ads
Ad sets > Duplicate
Click on Edit and change the date, number and the coupons of the ad set.
Click on save and change the start date as well
It takes some time for Facebook to approve ads, therefore FB requires that you set up ads at least 48 hours before the scheduled time.
Related Interesting Blog Post
Amazon SEO Guide To Boost Your Amazon Sales
How to Download Amazon coupon codes