Amazon Listing Quality Analysis
SellerApp's Listing Quality tool weighs product listings. Evaluate how optimized your Amazon listing is, and how it can be improved. The Listing Quality grader can also be used to weigh the strengths and weakness of competitor product listings too. This can help you find products with low listing quality that can be optimized.
What is the listing quality analysis or the LQI?
SellerApp's Listing Quality Checker compares each Amazon Product listing against standard Amazon best practices and assigns a logical score to each section, which combined together puts up the listing quality score.
Where to access the feature?
Click on Product Intelligence
Navigate to Listing Quality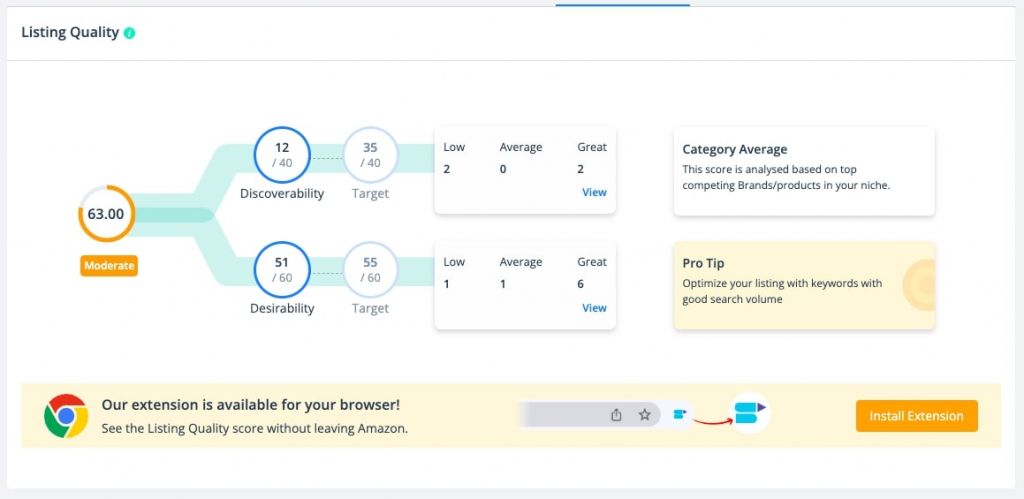 SellerApp Listing Quality Checker
How does LQI help me?
You can use this feature for three major advantages
Understand where your product listing stands. A lower LQI score means your product listing is not very efficient. An LQI above 80 can be considered to be a good quality product listing.
Track your competitor products and sellers, analyze the strengths and weaknesses of their product listings.
You can also use LQI to find products that have a good selling potential but a lower quality product listing. You can start selling these products and obviously get better sales by putting up a better product listing and using keywords that are better than the current listing.
An SEO optimized listing might not necessarily be optimized for the shopper. Often people tend to focus on one factor – the search engine or for the shopper.
Amazon Listing optimization, as well as the size of your profits, depend on two things.
Getting found
Converting the people that find you into buyers
At the core of Amazon optimization, discoverability and desirability are not two independent concepts. There is a virtuous cycle between them. They are the most important factors to increase the sessions and sales of your Amazon product. Therefore they are the best components to decide the quality of a product listing.
SellerApp weighs product listings and assigns the Listing Quality Score based on these two components, Discoverability and desirability.
Let's dig in a little deeper and understand desirability and discoverability and their importance on Amazon.
Discoverability
Discoverability relates to how easy a product listing can be found on Amazon.
Amazon is seller agnostic, focussing on the SERP for a product rather than the sellers of the product.  If customers cannot find your product you risk being left with an extra inventory sitting in a warehouse and a loss of potential revenue.
As a seller of a given product, you have an incentive to increase the overall number of sessions to a product detail page. Discoverability is the biggest influencer for driving in traffic.
There are various factors that influence the Discoverability of a product. Keywords and search visibility and being the most important amongst them.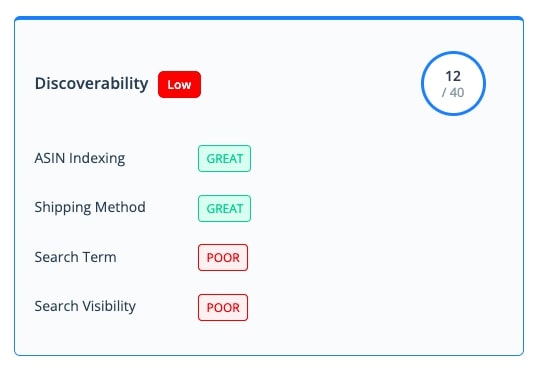 The easiest path to the page is to put the ASIN in any Amazon search box. Typically all products on Amazon, that have a unique product listing are ASIN indexed. Type in your ASIN in Amazon's search and check if you pop up.

Are you there? Cool.
If not, you might want to verify whether your listing is merged with a similar product. The best way to approach this issue is to take it up to Amazon Seller Central.
Fulfillment method
Prerequisite:
Connect your MWS Seller Central Account to sync the data with Amazon SellerApp. This helps to identify the fulfillment method used.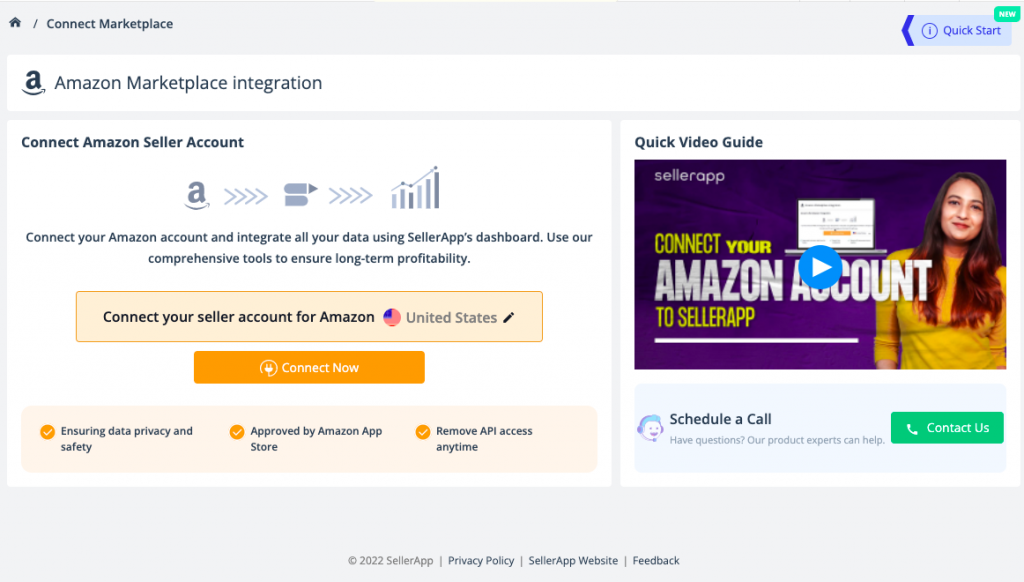 The variable that has the highest impact on the Buy Box is the product fulfillment method. Amazon considers itself to have the best metrics in the fulfillment methods. Using Amazon FBA servicers is the easiest way to increase the chances of winning the Buy Box. Shoppers also trust Amazon fulfillment services more easily.
That does not mean you use FBA services, ignoring your profits. Check the profit margins with the FBA calculator. Compare Merchant fulfillment with the FBA services. If the difference is marginal, it is always better to choose FBA.
Search Visibility
On Amazon, users tend to 'search' rather than scroll for products. Making keywords the strongest influencers in increasing the discoverability of the product. The Page Rank, as well as the Search Position, play the factors to drive traffic to the detail page.
SellerApp takes into account the top 5 keywords of the product to calculate the Search Visibility for analyzing the listing quality.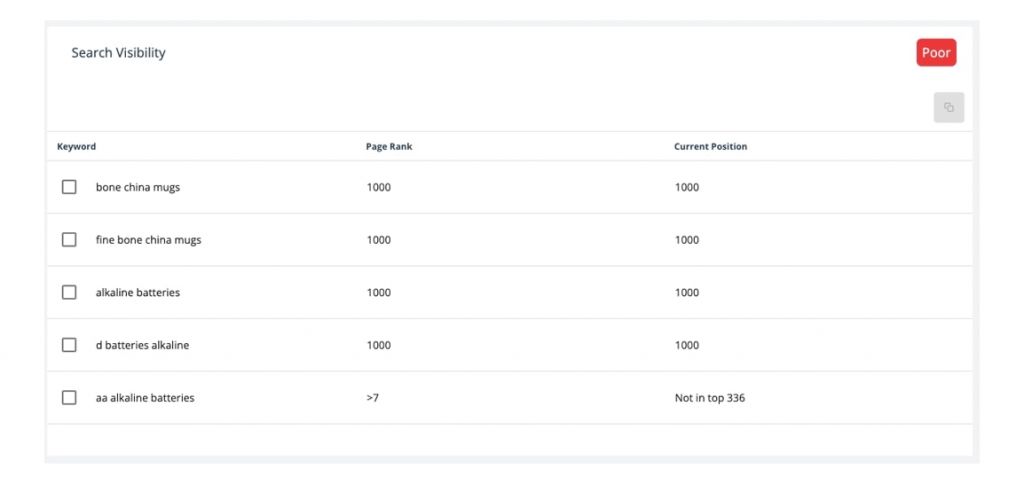 Prerequisite:
Pick at least 6-7 highly relevant keywords for your product and add them to Keyword Tracking.
SellerApp's – Amazon Keyword Tracking cuts out the manual work in tracking keywords. For each tracked keyword, it keeps you updated of the page rank and the search position. Also, it calculates the search visibility of each keyword over the period of time. This helps you understand the keywords that are experiencing a high or low in search trends on different days.
Amazon Keyword Tips:
Choose keywords with high search volume that are commonly used by shoppers. Use the Amazon Keyword Search Tool or your PPC Search Term Report to see your ranks for common buyer keywords.
Backend Keywords
Most people assume for successful listings on Amazon, they'll only need to focus on the visible sections of the product listing. However, backend search terms play a big role in keyword search optimization and therefore play a big role in improving the listing quality of your product.
Prerequisite:
SellerApp considers the backend search terms in the Index Checker to calculate the strength of the Backend Search terms for weighing the listing quality.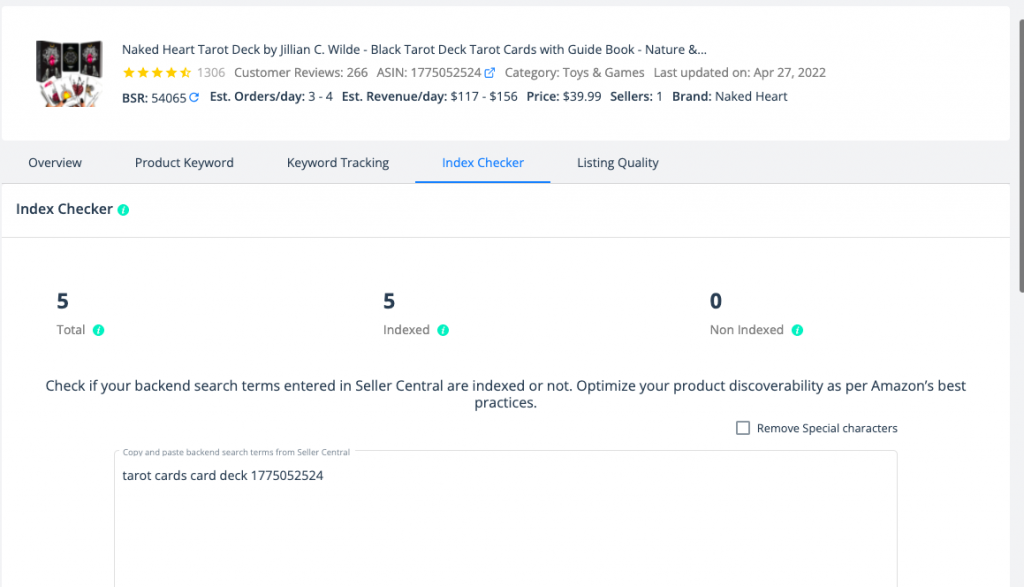 Go to your Seller Central Account. Copy the Search terms added to your Amazon Product and add them to the Index Checker. The Index Checker helps you understand the keywords that are getting indexed or the ones that need a push or probably a change!
SellerApp's Index Checker reduces the time-consuming process of checking the indexing of keywords and maintaining a record of the data for your Amazon product.
Check out this guide for the best practices for providing backend search terms.
Desirability
Once a shopper finds your product and is on your product detail page, Amazon shows them similar products in all the other sides. If your listing lacks the ability to hold the attention of a shopper, he leaves, resulting in a loss for you.
Desirability involves the factors that influence the conversion rate on your product detail page.
There are various factors that influence and persuade a shopper to buy a product. The title, images, bullet points, reviews, ratings and the product description sections of your listing page.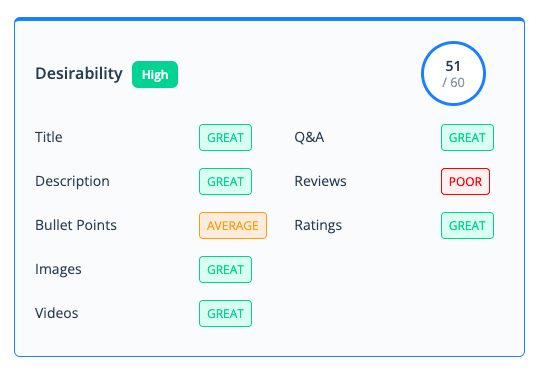 The title is possibly the most important part of your product listing. Crafting a readable title is as important as ensuring that all the main keywords are in the title. The title has a value in influencing user experience as well as the SEO.
There are various standards Amazon mentions for specifying titles, one of the commonly followed structure is shown below.
Product Brand
Product line
A material/ key ingredient
Color
Size
Quantity
Also, include top three search terms with a good search volume in the title. Head to the Keyword Research Tool, type in the product name and identify the top search terms for your product. This helps to optimize the title for Amazon SEO Guide. Also, it invites more clicks as shoppers identify your product to be closer to the product they are searching.
Image Count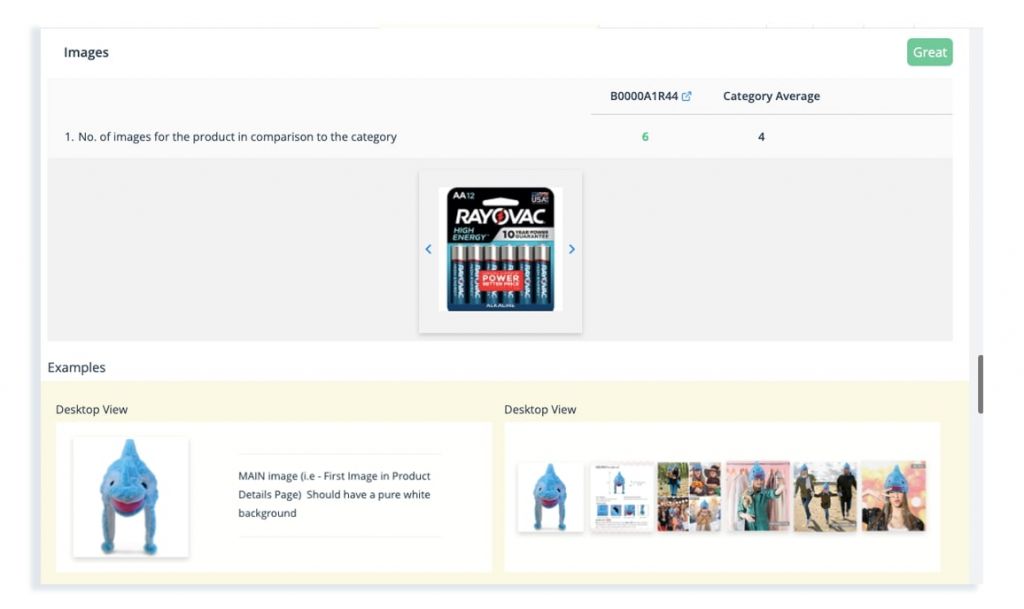 Effective product images stimulate a customer's imagination and inspire them to buy your product. Images are the first thing that impresses a shopper after they click on the search results. Images, therefore play a huge role in converting people.
Have 6+ HD images
Have a white background for the main product page
Throw in images that capture your product from every angle or even a lifestyle image that captures your product in action.
Amazon also has the Enhanced Brand content to. The EBC lets you create attractive product detail pages, and include videos and sections to portray your brand story.
Refer to this link for more information on Enhanced Brand Content
Amazon Keyword Tips:
Choose keywords with high search volume that are commonly used by shoppers. Use the Amazon Keyword Search Tool or your PPC Search Term Report to see your ranks for common buyer keywords.
Bullet points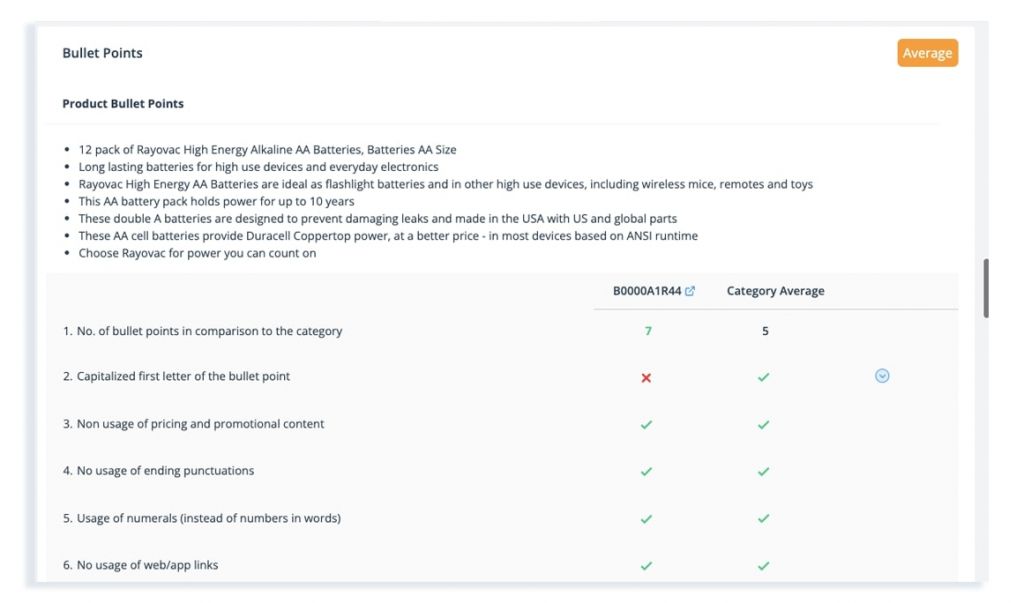 Bullet points are the first things that a potential buyer reads with attention. Add features that highlight the differentiating factors in your product. Also, include subtle conversion points in the product features section.
Check out this guide for the best practices for creating Amazon bullet points.
Reviews
Consumers are increasingly reliant on reviews for buying decisions. The more reviews that people see for your product, the more likely they are to buy it. Reviews are a social proof of the product.
Increasing the number of reviews is, therefore, a very important task for buying in the confidence of the shopper.
Have an email follow up strategy
Invest in Amazon early reviewer program or the Amazon Vine for gathering reviews for a new product
Understanding the psychology of customer reviews is also an important aspect of making smart business decisions, winning the Buy Box and overall setting a strong foothold in online business.
Product Description
Though Amazon gives comparatively lesser importance to product descriptions, they can help you connect to the shopper. Include a lot of keywords and can explain the benefits of the product.
Amazon's rules and regulations for product Descriptions are pretty simple.
Include only product-related information.
Write clearly and concisely.
Make sure the description matches your product images.
No testimonials or quotes of any kind allowed
No promotional messages
No promoting other products except the product itself.
Tips on writing product descriptions for Amazon
Make it easy to read; crisp 150 + worded description
Often you see confusing, long product descriptions. Most shoppers don't even put an effort in trying to read these long sentences.
Amazon does allow some basic formatting in your product descriptions. Make the best use of the allowed formatting. Though there is plenty of arguments about what is allowed and what is not allowed in product descriptions. You can take a look at the tags and formatting allowed on Amazon that is on Amazon's website.
Keeping in mind HTML can be a little techie and time consuming, SellerApp has created the Free Product Description Editor to create readable and well-formatted product description.
Talk about the benefits of the product
How often haven't you heard of the words 'best', 'top- quality', and similar words. People just ignore them if they are the only highlighting features of the product description. Product Descriptions is where you can include the benefits of using the product. Since most of the benefits will be buyer search terms they strengthen your listing value.
Most people talk about product features in the descriptions too. It is rather beneficial to include them in the bullet points.
Ratings

Amazon differentiates between customer reviews and seller feedback. Feedback rating is also one of the factors that influence a buyer's decision. For each transaction made, a shopper has the option to rate a seller. Though there are many other metrics to weigh a seller's value, ratings are equally influential on Amazon.
Ratings affect buy box decisions
Ratings can influence Non-buy box orders
Check out this guide on Amazon that lists a few more examples and actual reviews that were provided to sellers. –
What to do next?
A good product listing has value only when it includes all the necessary keywords to reach its potential buyer. Buyer keywords bring you the best profits.
Find the most profitable keywords for your Amazon Product under Product Keywords and Keyword Research. Add the product to the Tracked products category, head over to Product Keywords to find the most profitable keywords with high search volume among Amazon auto-suggested keywords and trending keywords. Find the best keywords by filtering only the best keywords on the basis of Search volume and CPC rates.
Advanced Amazon Listing Quality Report
Want an advanced report by running your listing over 12 advanced checkpoints? Login to get your complete report.