How to Add Video to Amazon Listing
If a picture is worth a thousand words, a product video could very well be worth a thousand sales
There are currently more than 2 million sellers on Amazon, so even the most specialized categories see a lot of competition. The old days when someone could keep one of these niches all to themselves – and enjoy considerable profit margins in the process – are long gone. If you want to succeed as an Amazon seller, you need to take every competitive edge you can get. If you are an FBA seller, who is eager to enhance your listing and add videos to Amazon listing, you are in the right place.
Videos are hotter than ever today, and one of the best ways you can promote your product, increase the conversion and connect better with your customers.
The first time a shopper sees enhanced content, they are going to stop scrolling. Shoppers will automatically halt mid-scroll – even if for just a moment – because they're seeing something new and want to assess how it can benefit them.
3 ways to add videos to Amazon Listing
There are three different methods for adding videos to your product listing pages.
A+ Detail pages
Enhanced Brand Content
Ask customers to leave video reviews
1. A+ Detail Pages
Amazon Vendor Central and A+ detail pages are something you would have heard already.
Amazon Vendor Central was the only way of adding enhanced content and getting access to A+ content previously.
Though it looks to be pretty easy, it is the most difficult amongst the three methods. Getting an invite to Amazon Vendor Central is the most unfriendly part in this. Sellers who have outstanding metrics, higher than $1M in sales and amazing customer reviews can be considered as candidates for Vendor Central.
An example of A+ Detail Page – Amazon Echo Product Page.
It is the most advantageous of the three methods. However, it is a costly affair. Amazon charges around $1,500 to build one page. It covers one ASIN variation family.
2. Enhanced Brand Content (EBC)
Amazon Enhanced Brand Content is a new feature Amazon has provided to its third-party sellers.
EBC or the Enhanced Brand Content is a lite version of the A+ detail pages in Vendor Central. Though a low key affair, it is available to all private label sellers registered in the Amazon Brand Registry program.
3. Ask customers to leave video reviews
Though it might take a few requests, it will not only will it impress your future customers, but it might even encourage them to leave video reviews for you.
In this article, we'll cover the last two methods in detail, Enhanced Brand Content, and Video Reviews.
Enhanced Brand Content
Enhanced Brand Content is an opportunity to associate with your customers— To convey the identity of your brand,  and the reason for the existence of your brand – all with the sole purpose of differentiating your brand from your competitors and to connect to the shoppers' vibe and keep them coming for more.
Prerequisites
Approved as brand owners through Amazon's Brand Registry process.
How to create EBC Detail Pages
To create Enhanced Brand Content (EBC) for your product, follow the steps below:
In your Seller Central account, click on 'Advertising', from the drop-down click on 'Enhanced Brand Content'

Enter the SKU representing the ASIN of the product you want to use EBC

Select your desired template and fill the text and image slots

Follow the onscreen prompts to upload the following, 

Video file

Image thumbnail

Video title 

Video description. This will not show to customers but will be used for categorization.

Save your changes or click

Submit to send the content for validation and approval

Verify if the content is published or make changes by clicking Edit for a specific SKU
Usually, the review can take up to a week. After the review, the status will be reflected on the Enhanced Brand Content home page. If your content does not get approved, you can view the rejection reasons by clicking Edit for a specific SKU.
Here's the link to Amazon's rules and regulations for creating Enhanced Brand Content.
Where will it appear?
Once the video has been approved, it will appear in the following sections of the product detail page.
Main image block – the video will show at the bottom of the image thumbnails in the upper left-hand corner of the detail page
Product Description Section – The video will appear in the Product Description under 'From the manufacturer.'
Videos as Customer Reviews
Amazon asks for feedback following a purchase, but it's a generic email with nothing special. Instead, send personalized review requests; ideally, you want to send them shortly after they've received your product, so its awesomeness is still fresh in their minds. Make it easy for users to leave a review by including a link.
Chances are, the folks subscribed to your newsletter and your fans on Facebook already like you, so why not ask them to create video reviews?
Here's a walkthrough of the steps to add the crucial Amazon video reviews
Go to the product detail page for the purchased item on Amazon.com.
Click 'Write a customer review' in the Customer Reviews section.
Rate the product
Start writing the review

Once you start writing text in the box, the option to add video or photos to the review will appear.  This option will be invisible until this.

Upload your video or photos to the review.  Just click that grey button, select the files from your computer and click submit when you are finished.
Click Preview your review to make sure your review appears as intended.
Click Publish review to submit.
Where will it appear?
Related video shorts  – the video will be added to the "Related video shorts"  below the Product Detail section.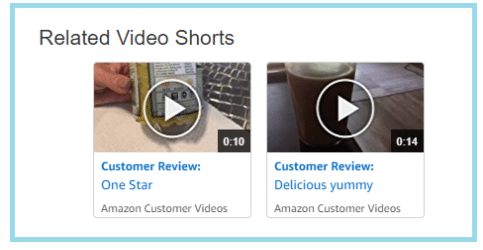 Conclusion
55% of online shoppers start their product searches on Amazon Keeping that in mind, approach your Enhanced Brand Content and videos from the position of a shopper. What do you need to see from a brand? What would compel you to buy? What information or inclusions would make you buy one product over another? Anticipate customer desires and address them proactively using your product detail storyboard and videos.
Related Blog: