A comprehensive guide to SellerApp's advertising Overview
Make PPC optimization quick and simple using the SellerApp advertising dashboard. It covers a range of functions designed to help sellers easily manage, track, and optimize their Amazon sponsored campaigns. Now you can seamlessly manage all your Amazon PPC profiles from across marketplaces using SellerApp's advertising suite.
These are the major tools and features you can find on the advertising dashboard:
Campaign Manager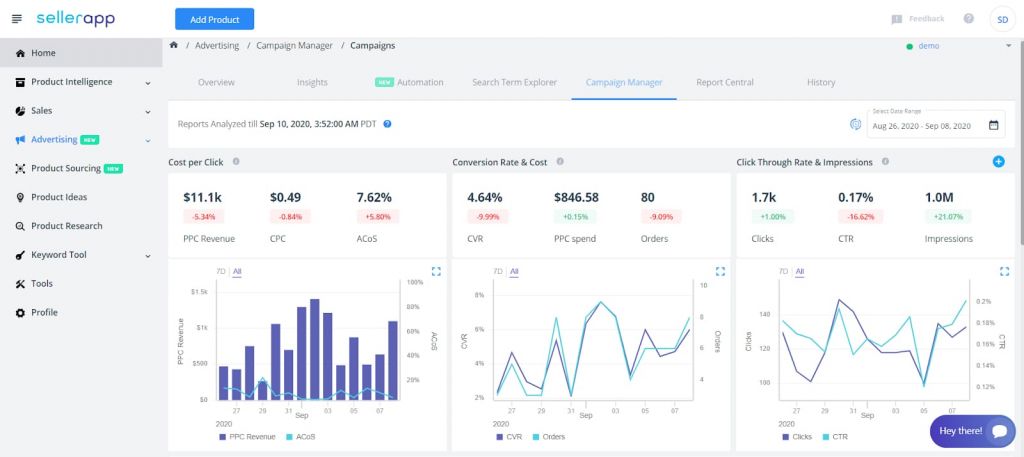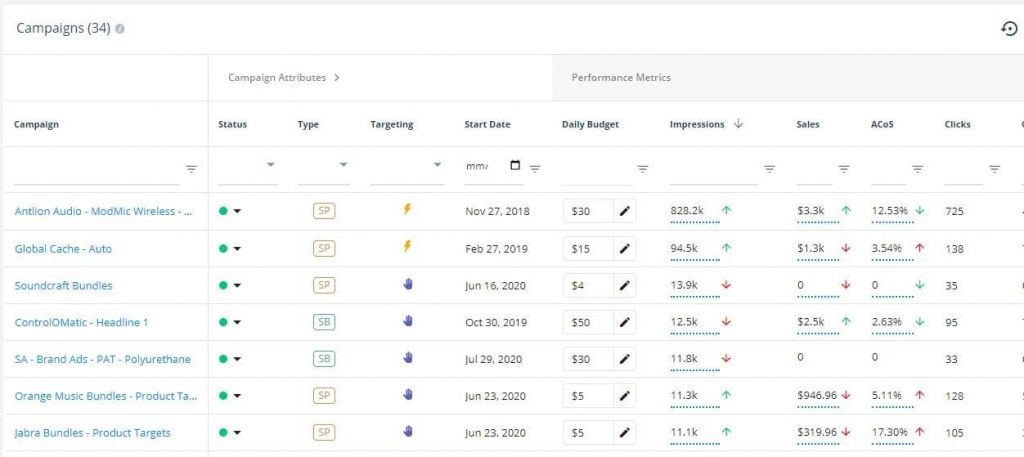 Review the overall performance of your campaigns with visual aids to help you easily keep track of key performance indicators. You can also monitor the performance of each keyword or targeted ASIN and edit the daily budget allotted to them. You can also view the net profit generated through each keyword or targeted ASIN.
You can also create a custom date-range to review performance over a specific period of time. You can check when your PPC data was last updated on the left corner of the page.
There may be discrepancies due to Amazon attribution. Some customers click on an ad but only buy the product later. That is the attribution window. This time lag between the click and the purchase causes PPC costs and sales data to fluctuate. These delayed sales are routinely updated along with other PPC data.
Generally, SellerApp takes 24-48 hours to update your PPC data. A part of the delay is due to the data transfer so make sure you take the last few hours of data with a grain of salt. Besides, the experts suggest looking at data ranges for at least two weeks to get sufficient data to analyze.
Insights
The insights part of the dashboard is all about campaign optimization. From keyword harvesting to bid optimization, the insights tab has 7 key features powered by SellerApp's machine learning algorithms. 

Negative Keywords
Reduce wasted ad spend by identifying non-performing keywords (based on your target ACoS) and marking them as negative. There's no need to go through your search terms report – our proprietary algorithms will automatically detect and highlight potential negative keywords. 
Positive Keywords
Track high-performing keywords to monitor their impact on organic ranking. Make data-informed keyword decisions by keeping an eye on keyword performance over a period of time. 
Auto to Manual
Effortlessly harvest positive keywords and ASINs from your automatic campaigns. SellerApp's algorithms discover positive keywords and ASINs for you – all you need to do is select the destination campaign and ad group, and click 'Move to Manual'.
This is a pivotal part of PPC optimization, helping you improve your keyword targeting and consequently, your conversions and sales. 
The keyword will also be marked as negative in the automatic campaign by default. This setting can be manually changed. 
Target Improvement 
Refine your keyword targeting using our machine learning technology. We parse through all your advertising data to identify the perfect match types targeting for a specific keyword. It's quick, easy, and effective. 
Relevant reading: Find and leverage keywords for Amazon sponsored ads
Bid optimization
Update and optimize the bids of all your campaign keywords and targeted ASINs. Data-informed 'suggested bids' will help you derive optimal outcomes from your campaigns. You can also set your own bid, right down to the cent. Once you're happy with the bid amount, just click 'Update Bid' and you're done! 
Negative ASINs
Reduce wasted ad spend by identifying non-performing targeted ASINs and marking them as negative. Just like in Negative Keywords, our proprietary algorithms will automatically detect and highlight potential negative ASINs. 
Positive ASINs
Track high-performing targeted ASINs to monitor their impact on organic ranking. This feature is similar to Positive Keywords, the only difference being that the algorithm identifies high-converting targeted ASINs.
Automation

Automate bidding and negative keyword targeting using the rule-based automation feature. You can easily create rule-sets based on the existing templates by editing the necessary values. Once you create a rule, it will be verified by a SellerApp expert before it goes live. 
The tool will enable sellers to effectively optimize their campaigns without spending hours of their precious time. To learn more about our automation feature, read the following article.
Search Term Explorer
The one-stop-shop to monitor all the keywords being used in your campaigns. You can also directly track or mark a search term as negative through the Search Term Explorer. 
The advanced filters will let you narrow down your search while analyzing the performance of your keywords. To learn more about the feature, read the following guide.
Overview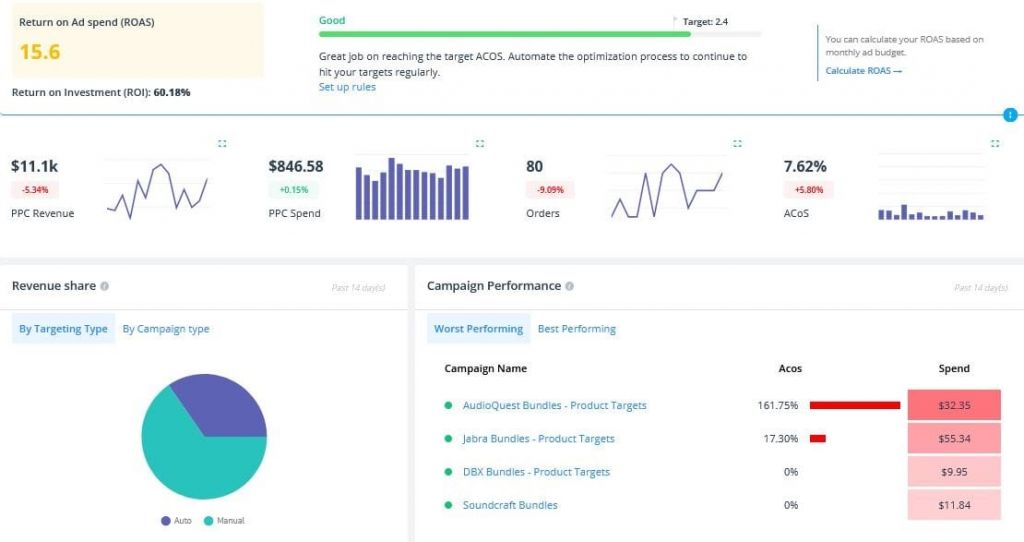 Get a macro view of your advertising strategy and your return on advertising spend (RoAS). Set your ACoS target, advertising budget, and seller type to instantly discover your ideal RoAS. Like all the other features, the date range of the given data can be adjusted by clicking on the calendar icon on the top right. The default is data for the last two weeks. 
For a given range, you can also view the total:
PPC Revenue 
PPC Spend
Orders
ACoS
Impressions
Clicks
CPC
CTR
Additional information: SellerApp's Advertising Overview
The Overview tab is designed to give you a more holistic view of your Amazon sponsored campaigns. To quickly identify what is working, and what isn't, we have the Campaign Performance table. You can instantly find the Best Performing and Worst Performing campaigns to help you identify gaps in your advertising strategy. 
The Revenue Share pie chart can be used to gauge what types of campaigns are working well for you. The pie chart can be toggled to get revenue share based on campaign type or targeting type.   
Along with these larger PPC trends, you can also get an overview of keyword performance using the feature. Search Term Analysis shows the number of keywords in three performance buckets: 
Performing: Keywords with the best conversion rate, low ACoS, and high sales.  
Under-performing: Keywords that drive clicks, but with little to no conversions.
Non-performing: Keywords that are losing you money.
There is also a Product Performance section. Similar to Search Term Analysis, this section divides the products being advertised into three categories – performing, under-performing, and non-performing.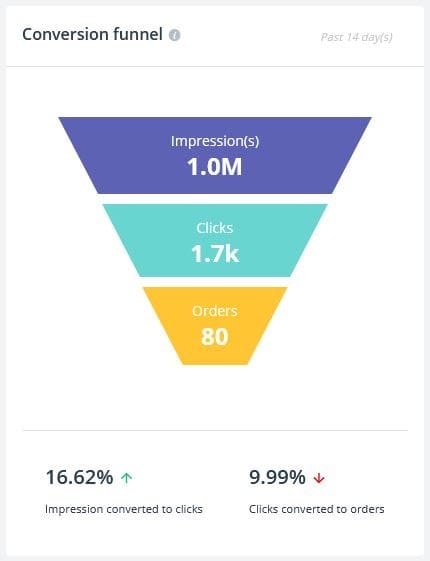 The Conversion Funnel gives you a visual representation of your impressions, clicks, and orders, along with your CTR and conversion rate.  
History
SellerApp. This will make it easier to track and measure the impact of major optimization changes.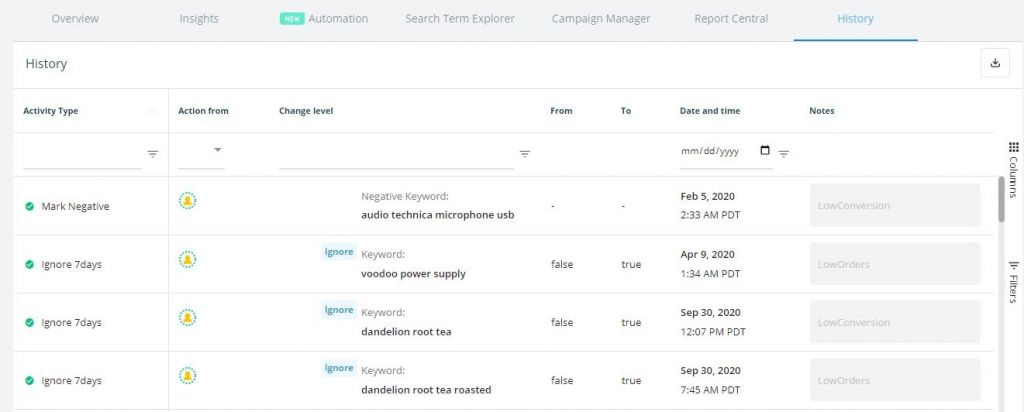 Report Central
You can download product, campaign, and search term reports directly from SellerApp. Why go anywhere else when all the key ingredients for a successful sponsored campaign can be found in one platform. You can view and access previously downloaded reports from the All Downloads tab.