Listing Quality Analysis –  An In depth glimpse.
When you are listing a new product on Amazon, it needs to be optimized to two specific requirements. One concern is the shopper and the next is the Amazon Algorithm. 
Optimizing Amazon product listing content with the necessary keywords in their description and bullet points is an important step. From a ranking standpoint, it will bring you very good results. But good ranking does not every time be a buy click from the customer. To tackle this, it is important to strategize a plan to include the reader's best interest and the Amazon algorithm. 
How will SellerApp tackle discoverability and desirability in one go? 
With the support of SellerApp's Listing quality analysis, your products desirability and discoverability will never fall behind on rankings. 
Let us now look at "discoverability" and "desirability" in detail. 
1. Discoverability
Discoverability relates to the ranking of your product on Amazon. If your advertisement does not rank, it then increases the Acos. To understand more about discoverability, let us look at the factors that decide the discoverability of a particular listing.
Product indexing
This feature checks whether your ASIN (Amazon standard identification number) is registered on the Amazon database and is available once the customer searches for it. Sellers can enter the ASIN and check whether the product is visible on the Amazon search results.

Shipping Method
Shipping method refers to whether it is fulfilled by the seller or it is fulfilled by Amazon. FBA (Fulfilled by Amazon) is given more preference over FBM (Fulfilled by merchant). For FBA sellers, Amazon provides storage and delivery services to vendors that want to sell their products on Amazon with warehouse and logistical assistance. The listings for the FBM – (Fulfilled by Merchant) are also a possible technique for sellers on Amazon. The merchant is responsible for all logistics, including storing, dispatching, and delivery.

Search Term
Backend keywords are keywords that are exclusively available to Amazon sellers. These keywords aren't visible to users, but they are a means for Amazon's algorithm to know that a given keyword is important to your item. This allows merchants to target keywords that aren't available on the product page. Sellers can now target keywords that are not available on the product page by adding backend keywords.

Search Visibility
Search visibility is a measure that estimates your product's visibility on Amazon for specific keywords. The average rank of all collected keywords determines the percentage estimate of search visibility. Search visibility takes into account all of the product's monitored keywords and then assesses where the product is visible. The search visibility is calculated using the page rank and the search position in the display results. The page rank and the current position metrics display the value of the search term.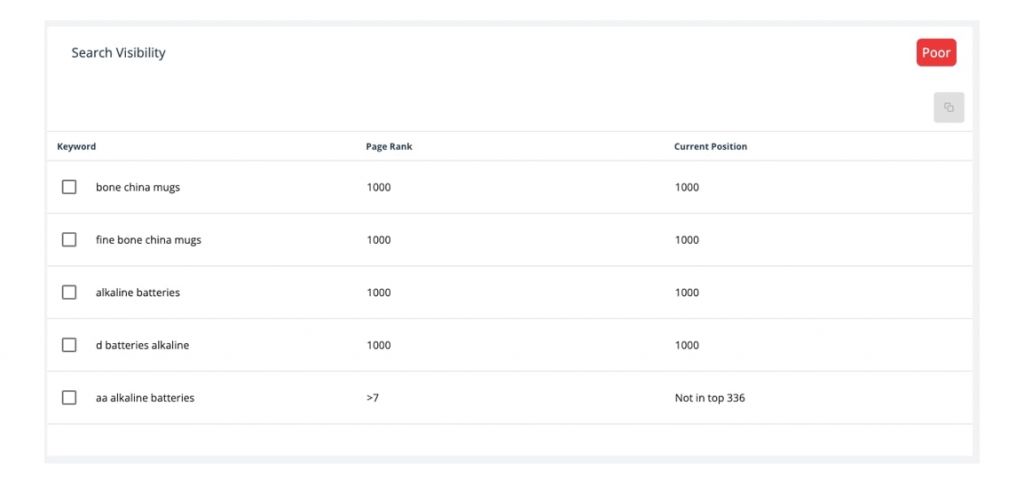 2. Desirability.
Desirability connects to how a product listing page can relate to personal requirements and influence the buyer to make a purchase. Once the buyer lands on your product listing page, it is the desirability factor that plays the lead role in whether you get an "Add to cart" click. Let us visit the desirability factors.
Title
This feature cross verifies the strength of your product title. It shows you if different parameters were met by you or not in the checklist below. A few best practices for creating the best Amazon title are – The recommended character count is 80. This function double-checks the quality of your product title. The length of a good strength title should be around 200 characters. For the best results, make sure to include high-value keywords in the title. Don't use too many keywords. The appropriate method is to use three high-ranking keywords. Include the product's brand name, as well as the amount and size of the product. This delivers clarity as well as a high ranking.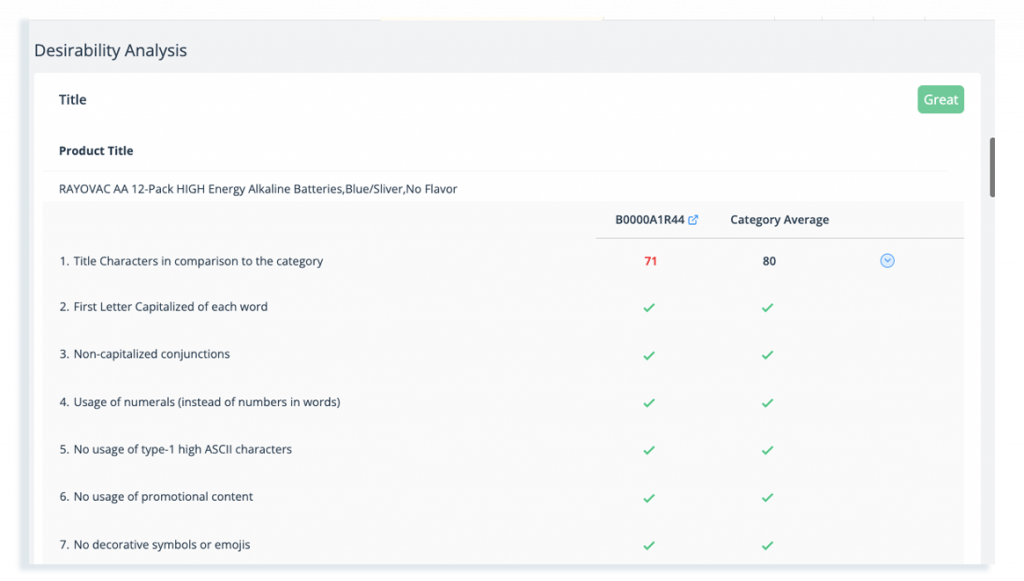 Description & Bullet points
The content created to describe your product is analyzed here. SellerApp cross-verifies the different Amazon guidelines to see whether the content is healthy to be published on Amazon. A few things to keep in mind while stating the description and the bullet points are – The mandatory number of bullet points are 5. Do not include any promotional statements or quotes. Make it clear and concise for the reader. Since there is a 2000 character limit, optimizing the content with the most important features would be recommended.  
Keywords should be included in as many relevant places as possible. Keep in mind that the listing will also be seen on a mobile device, so don't put too much information there. In the first bullet, list the product's most important features, and then go over them in detail. In appropriate spaces, insert keywords. You can describe how it solves a customer's problem. Include both factual and emotional explanations for why your product is better.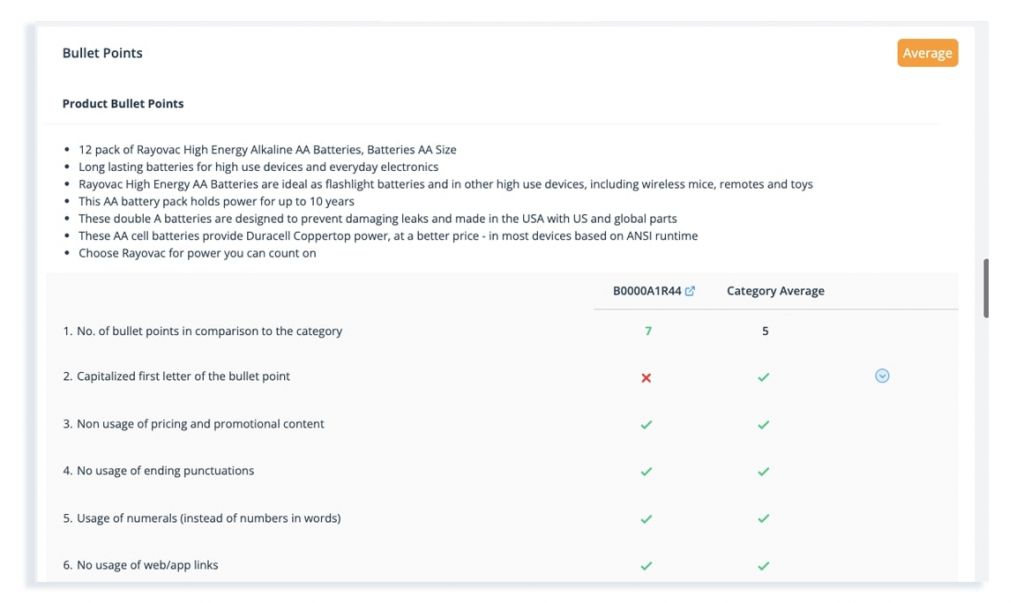 Images
This assesses the images used for your advertisement on Amazon. Once the images for your product detail page are uploaded, they are checked for quality. They are also shown to you how they appear while viewing on Amazon. A few best practices to take care about images are – Your logo should be 600×180 pixels and 72dpi in order to get the best score. Have 6 and more high-definition images ready for upload. The images you post should be at least 1000 pixels on the longest side and 500 pixels wide on the shortest side. On the longest sides, the image should not exceed 10000 pixels.
The product should constitute 85% of the image. Images should not be drawn and should have a pure white backdrop. It also shouldn't include any images of accessories. All of these factors are taken into account by the SellerApp's image section when assigning a rating to your images. You can then make any necessary adjustments to increase your image rating.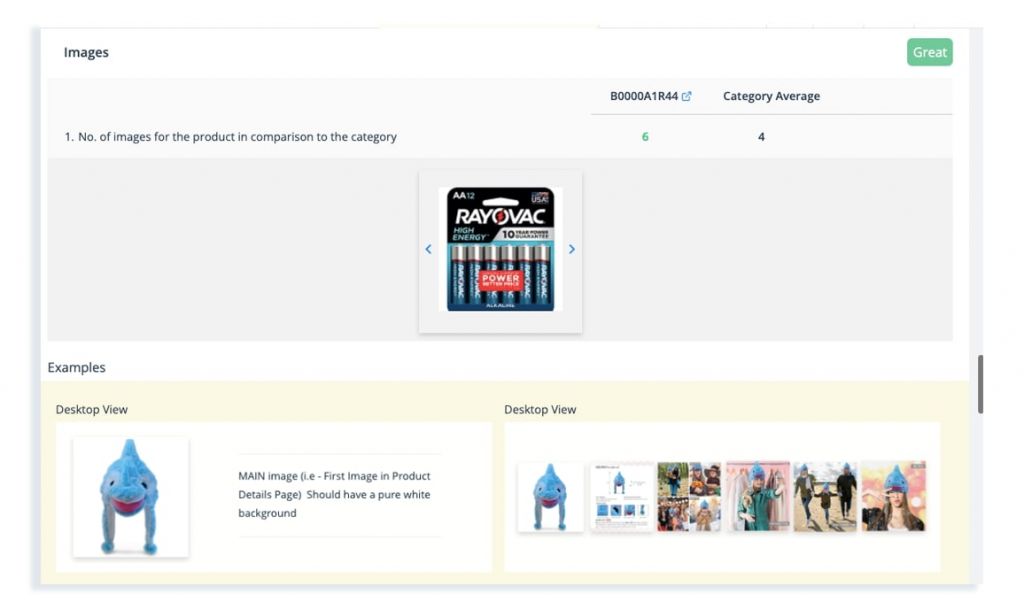 Q&A
This contains the analysis of the questions and answers used to educate the customers more about your product. It also shows you if there are any answers that have not been addressed. Always keep an eye out for these. Every answer increases your customer engagement and creates an impression of quick response from you as a seller. The below scenario relates to a question not being answered and hence the assessment for the respective ASIN becomes "Average". The minimum number of questions should be 10.

Videos
Once you have a video uploaded to the platform, this section shows you the category average. A few quality points to check for the video are given below. Another important aspect of the video is that it should be in 720p resolution. This will provide the optimum viewing experience for your advertisement's readers. The video may include emotional storytelling to assist clients in making a "purchase" decision. Make sure there are no pricing or discount indications in the video. There should be no mention of any specific health claims or other types of false claims.

Reviews
This feature rates the reviews you have received for your products. This section shows if your product has enough reviews compared to the same products in the category.  You also get to see a comparison of positive to negative reviews for your product listing. One of the most significant aspects that will enable your product listing page to be seen by more customers is reviews. Always respond to reviews promptly. 
To obtain a review, Amazon automatically sends out an automatic email following a sale asking for a review. If there is no response, you can use the "Request a review" button if the consumer does not answer. On the Amazon order page, this option is provided as a one-time response.

Ratings
Once you have received ratings for your products on Amazon.Provides a comparison of your ratings to those in the category. Good ratings and reviews pave the route for a niche's top seller. Customer feedback influences the ratings. The best strategy to improve your ratings is to deliver the best products to your customers. Take action and come up with a suitable remedy if there are any negative ratings.

Listing quality Analysis is an extremely important component for any seller on Amazon. It helps you manage your on-page optimization easily with the help of different metrics. With the help of listing quality optimization, you can increase your brand's discoverability and desirability. From images, titles, videos and content, listing quality analysis provides you every chance of product listing customization.