Feature highlight: How to leverage Product Keywords to boost visibility
Using relevant keywords for your products is the only way to ensure that you get the right traffic. You need them to optimize your product title, bullet points, product description, and backend keywords. 
Unfortunately, many sellers miss out on high-converting and high-volume keywords due to shoddy research. The easiest way to ensure that you are keeping pace with your competition is by analyzing their strategies. You can effortlessly identify your competitors' keyword strategies using the SellreApp Product Keyword tool.
The tool will automatically display all the keywords that are present in a product listing. This helps track and monitor keyword performance on a listing level.  
Getting started with Product Keywords
Login to the SellerApp dashboard
Navigate to Product Intelligence
Click on Product Keyword and select a product that you are tracking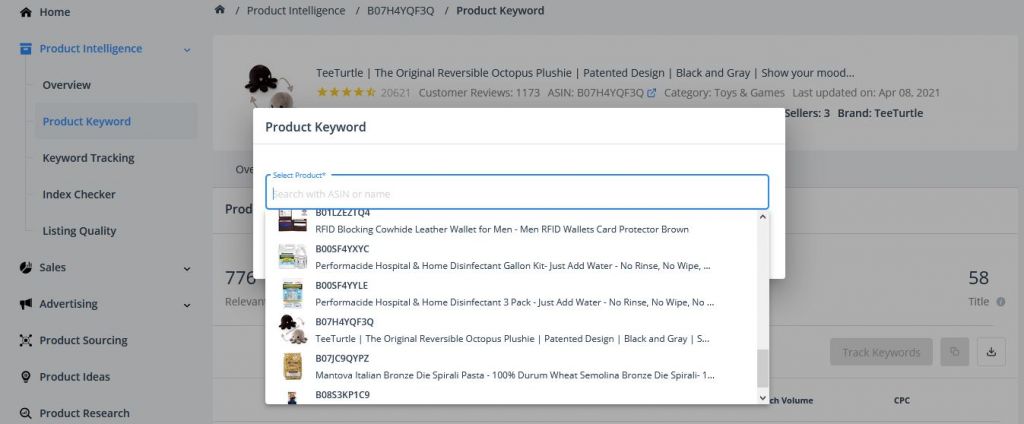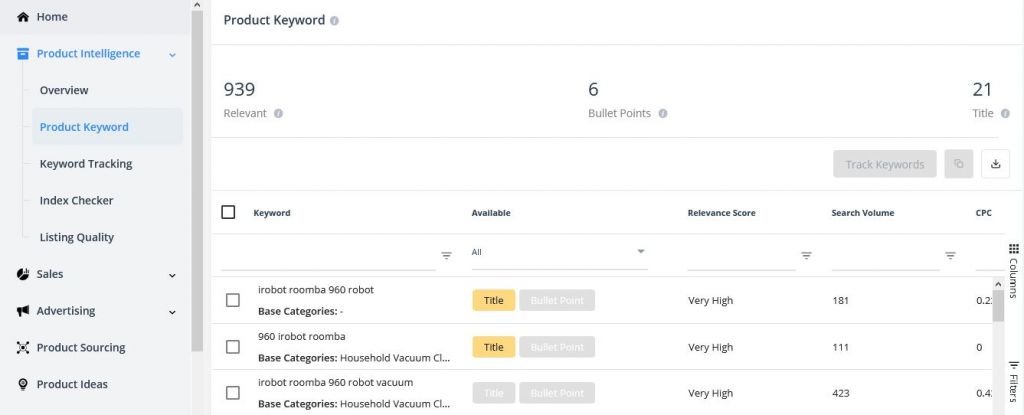 Now all you need to do is analyze the results. For each keyword, SellerApp provides:
Relevance score: Our advanced algorithms estimate how relevant a keyword is to a listing. Using highly relevant keywords is important to drive traffic. 
Search volume: The number of times the keyword has been used on Amazon in a month. 
Cost-per-click (CPC): The amount Amazon charges whenever a customer uses this search term and clicks on an Amazon PPC ad. The metric can be used to gauge the competition for a keyword. 
Along with these metrics, you can also find out whether the keyword appears in the listing title or bullet points. You can use this information to optimize your listings as well. 
You can also directly track relevant keywords to monitor their performance over time. Just select the required keywords and click on the Track Keywords option.   
How to track a product on SellerApp
Before you can use Product Keywords, you need to track the listing. On SellerApp, the process is simple. 
After you log in to the SellerApp dashboard, click on Add Product (Highlighted in the image below)
Enter the corresponding ASIN or product page URL and click Track Product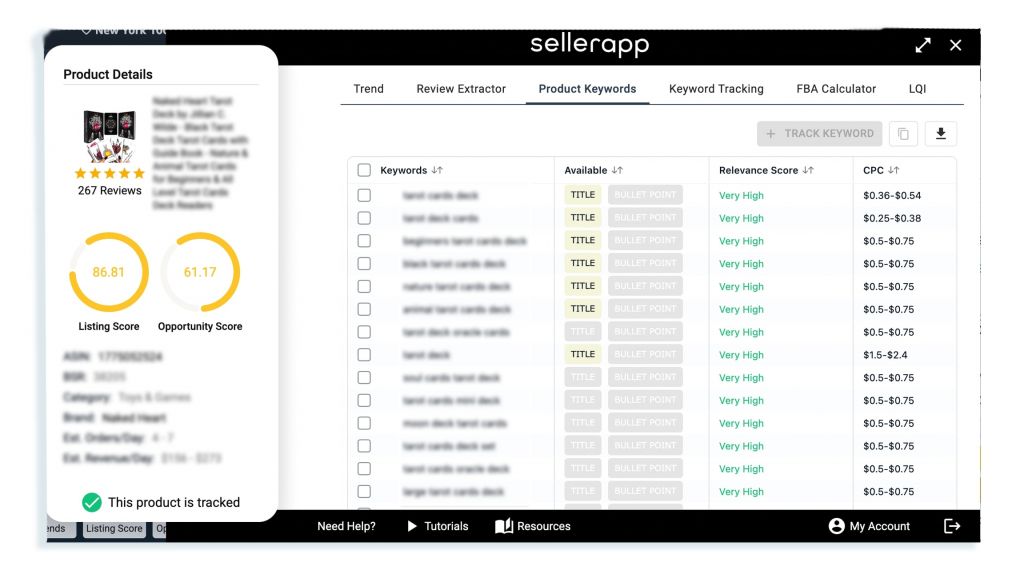 Leverage the SellerApp Chrome extension
You can use the same features mentioned earlier while you are browsing Amazon! While you are on a product page, open SellerApp's Chrome extension. In the overview, you will have an option to track the product. 
After you click on Track Product, SellerApp will analyze and display relevant keywords when you select Product Keyword. It may take a few seconds for our algorithms to pull up the information after you track a product. 
Just like on the dashboard, you can also directly track keywords that you want to monitor. 
How to utilize product keywords
Product Keywords is the perfect tool to analyze competitors' listings. You can quickly discover the primary keywords that they are using and identify gaps in your listings. Once you discover potential keywords, track them. This will help you monitor keyword trends and identify whether the search volume is consistent. Evaluate whether the keywords are profitable for your listings or backend search terms. In short, check if they boost visibility and consequently, sales.
You can deploy this method to narrow gaps in your keyword targeting and capture your competitors' market share. 
You can also use the keywords you discovered to optimize your Amazon PPC campaigns. 
Recommended reading:
Product listing optimization 101
Still, have questions?
Hit up our team to find the perfect solution.