SellerApp Pricing and Plans
SellerApp Pricing and Plans
This article covers common billing and payment questions.
SellerApp offers a
7-days Free trial
with full access to all the features. All of the four subscription plans have close to the same features available, except the Basic Plan, which is for a new seller, in the very stages of Amazon selling. What differentiates the plans from each other is the number of products that can be tracked. The Basic allows tracking up to 25 products, the Professional allows up to 100 products while the Business and the Enterprise plan allow tracking up to 250 to 500 products.
Included in all plans
24x7 support,
6 hours average response time
Live Chat Support
Profile Consultation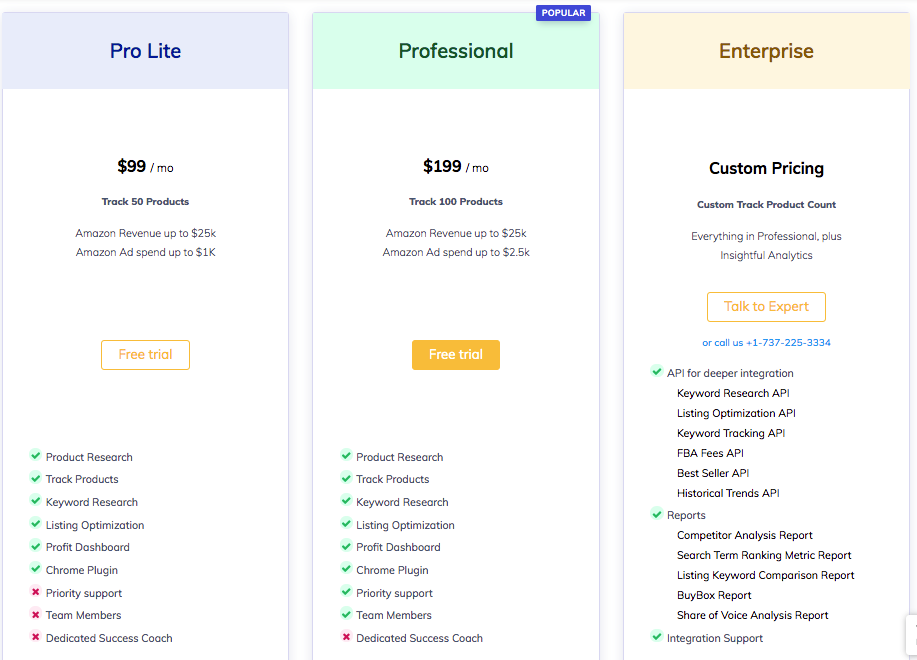 Mail us at support@sellerapp.com or contact us on chat to know more.
FAQs ( Frequently Asked Questions )
1. Is there a trial period?
   Yes, there is a Free 7-day trial. SellerApp lets you access all the features after which you can choose the best plan that is suitable for you.
2. Do I need to use my credit card for the trial?
   Adding the credit card details is not mandatory for the trial period. You can choose to skip adding it.
3. Are the subscriptions auto-renewed?
   Yes, the subscriptions are auto-renewed unless you manually cancel your subscription.
4. Is there a yearly plan? What do I save on the yearly plan?
Yes
, there is also a yearly plan along with the monthly. By using the annual subscription, you get an additional 1-month free usage of the platform. Pay for a year but use it for 13 months. The 13th month is on us!
5. Do I have to wait for 7 days to upgrade my account?
    No, not at all. If you have fallen in love with SellerApp you can upgrade immediately. 
SellerApp Free Tools
Fba Calculator
Amazon Keyword Research
Amazon Product Sourcing