Amazon Selling – Setting Monthly Targets
Monthly Target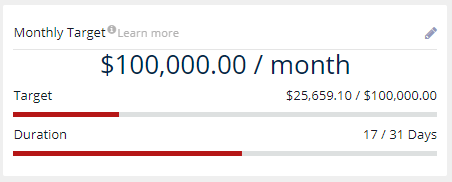 Harvard studies have found that goals increase motivation and at the same time, achievement. Goals let you build the confidence to build a successful Amazon store. They also help track your progress in achieving the larger goals, giving you more time to work with the right strategies.
SellerApp's Monthly Target helps to achieve your goal, by tracking the incremental everyday revenue income. Use the edit icon on the top right to edit set a monthly target.
How to decide on a monthly target?
Begin with the annual sales target. Figure your monthly sales goal by working backward from your annual revenue target. Once that target is defined, calculate how much you need to sell to per month to meet the revenue goal.
Related Blog: