How to Connect Your Amazon Seller Account with SellerApp
In order to leverage insights, forecasts, and recommendations on your sales and inventory data, you need to connect your Amazon Seller Central account with the SellerApp dashboard. By giving access to your Sales data, SellerApp can give you a clear picture of your business's profitability and performance. 
You can easily forecast when you need to restock your products so that you never run out of stock, especially during peak sales periods. You can also identify what products are underperforming, and which ones are receiving the least amount of orders and eliminate them from your inventory or take the necessary steps to rectify the errors. 
The first and foremost step is to connect your Amazon Seller Central account with the SellerApp dashboard. 
Here's what you need to do:
Log into the SellerApp dashboard with your credentials. 
Now you can connect your account in two ways. On the homepage itself, you will see a card asking you to connect your Amazon Seller Central account and you need to click on "Connect Now" which will take you to the 'Sales' feature option.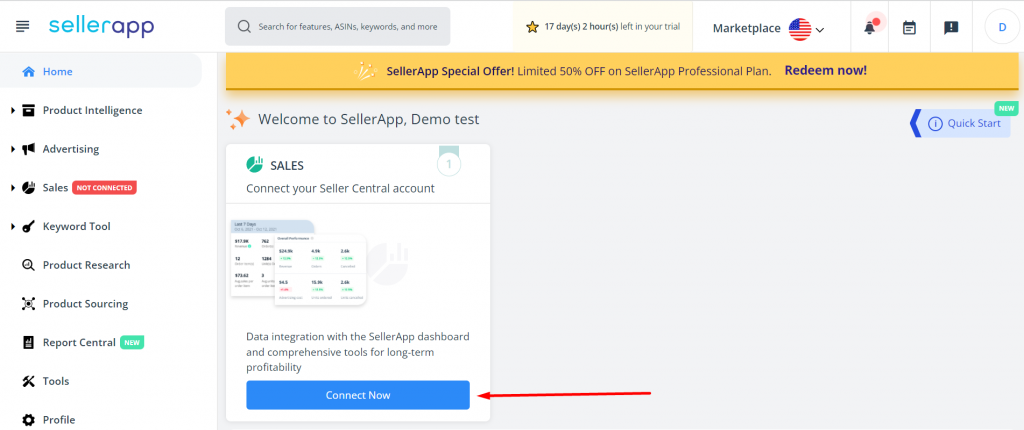 Alternatively, you can also directly click on the 'Sales' option from the menu on the left side and you will see the same "Connect Now" button. Click on it.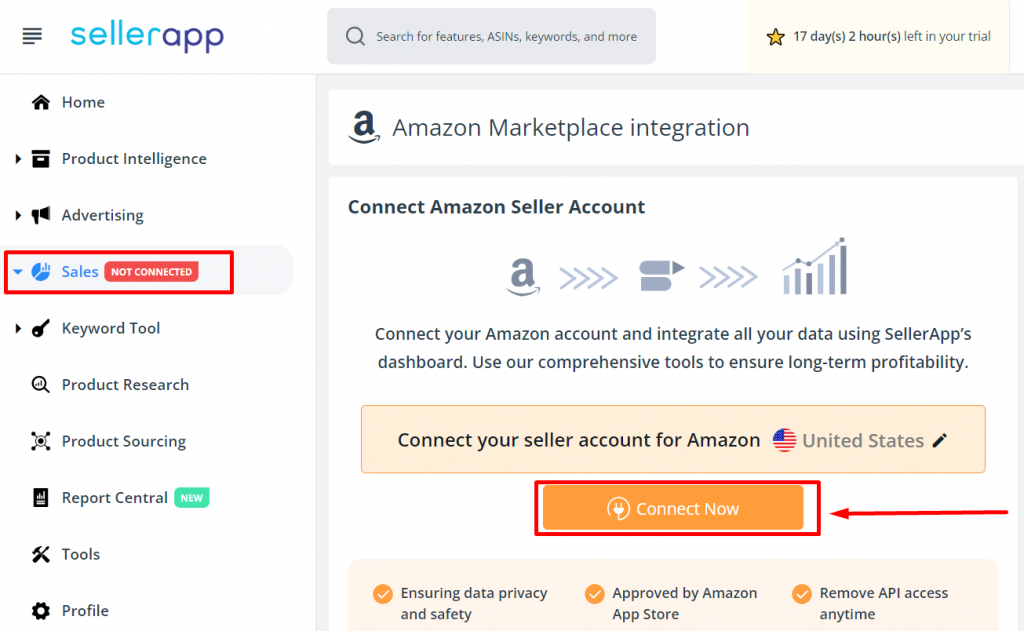 Once you click on the 'Connect Now' button, you will be redirected to the Amazon Seller Central login page. Enter your credentials and log in to your Seller Central account. 
Once you're logged in, you will be taken to a page where you have to give authorization to SellerApp. Make sure you read all the information carefully on that page and then check the box that states "I understand" and then click on 'Confirm'. Your account will now be connected with SellerApp
You will be redirected back to the SellerApp dashboard where your account data will be syncing with SellerApp and this may take some time. 
While your data is syncing, you can check out all the other powerful tools our dashboard has to offer like Product Research, Keyword Research, Business Alerts, and more. 
Once your data is synced you can begin using the platform for the most powerful insights and data-backed solutions for your Amazon business. 
Once synced, you can go to "Sales" and get a clear snapshot of your account along with your revenue, the number of orders placed, canceled, etc. 
You can find ways to improve your business under "Insights" and you can also do the following:
Track your sales performance of the last 7 days under "Sales" – get crucial insights like:

Gross Revenue
Ad spend
Orders
Orders canceled
You can also analyze your competitors under "Product Intelligence" – find important data on your last tracked product, such as:

Listing Quality Score
Opportunity Score
Demand
Competition
Profit Margin 
The SellerApp Sales dashboard is thus an easy and quick way to scan through your account health, identify what areas of your business require immediate attention, and stay on top of your business at all times.