Find and leverage keywords for Amazon sponsored ads
Keywords are the building blocks of most Sponsored ad campaigns. Extracting and exploiting the right keywords is an integral part of every PPC campaign. In this article, we explore how you can find, harvest, and use keywords for refined ad targeting, better conversions, and getting the organic advantage.
With the SellerApp advertising feature, you can harvest the top-performing keywords and search terms in your campaigns. The keywords picked up are profitable keyword opportunities with high conversion rates and low advertising cost of sale (ACoS).
Review and refine strategy
This strategy utilizes automatic and manual Sponsored product campaigns. 
Start by creating both types of PPC campaigns and adding the most relevant keywords to the manual one. In this system, automatic campaigns are used to harvest new, high-converting keywords, while the manual ones are used to refine targeting and to ensure bid optimization.
Tip: You can automate bid optimization using SellerApp's rule-based automation feature.
Once the campaigns are created, the optimization process is iterative. Regularly review both campaigns to discover the best keywords.
Keyword harvesting
Start with the best-performing ones from the auto campaigns. Log in to the SellerApp dashboard and navigate to the 'Advertising' section.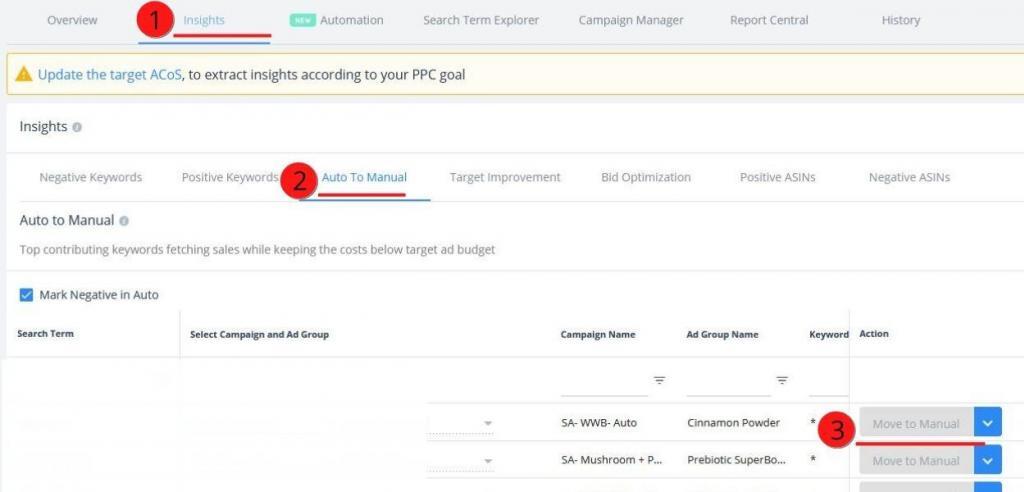 On the advertising dashboard, select the Insights option.
Click on Auto to Manual to get a list of all the top converting keywords in your automatic campaigns. SellerApp's self-learning algorithms regularly harvest top-performing keywords from your automatic campaigns.
Click Move to Manual to shift these keywords to your manual campaign for bid optimization and better targeting that is necessary to improve conversions and reduce ad spend.
Keyword targeting
When it comes to Amazon PPC campaigns, targeting optimization is also an iterative process. Fine-tuning your campaigns takes time. Amazon has three keyword targeting options for PPC campaigns – Exact match, Phrase match, and Broad match.
Assume your keyword is 'running shoes'
Exact match: Your ad will only be displayed for the exact search term running shoes. Exact match is not case sensitive.
Phrase match: Your ad will be displayed for search terms that include running shoes the keyword along with a suffix or prefix. For instance, your ad could be shown for the search term running shoes for men and size 9 running shoes.
Broad match targeting will display the ad if a search term contains your keywords. The order in which the keywords are used does not matter. For sponsored brand ads, you can 'modify' Broad match keywords by flagging specific keywords as mandatory. They are referred to as 'Modified Broad, match.
Generally, it is advisable to move all your relevant and high-converting keywords to Exact match to improve targeting and reduce wasted ad spend. Your product won't be advertised for irrelevant search terms with Exact match targeting. Minimizing wasted clicks is one of the best ways to reduce ad spend. This is not always the case, and your choices have to hinge on your business goals. 
Broad match is used to increase visibility and impressions, but it will not maximize returns. Refined and relevant ad targeting usually yields better returns. 
The SellerApp advertising platform allows you to seamlessly find relevant keywords and improve targeting. SellerApp automatically identifies keyword relevance and suggests a match-type targeting to improve campaign performance.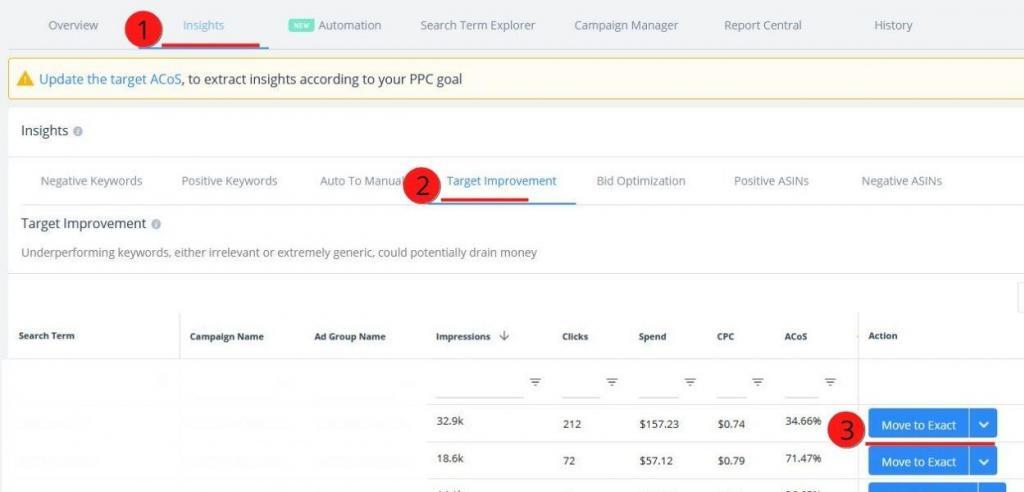 After you log in to the SellerApp dashboard, navigate to Insights under the Advertising dashboard.
Click on Target Improvement to open the list of keywords that require targeting optimization.
Click on the suggestion to complete the action. In the reference image given above, click on Move to Exact to enable Exact match targeting for the search term.
Driving organic traffic
You can use high-converting keywords in your Amazon PPC campaigns to drive organic traffic. If you notice a high-converting keyword for a specific ASIN, you can add it to your listing or as part of your backend keywords. 
To quickly find and track high-converting and relevant keywords, you can use SellerApp's Positive Keyword feature.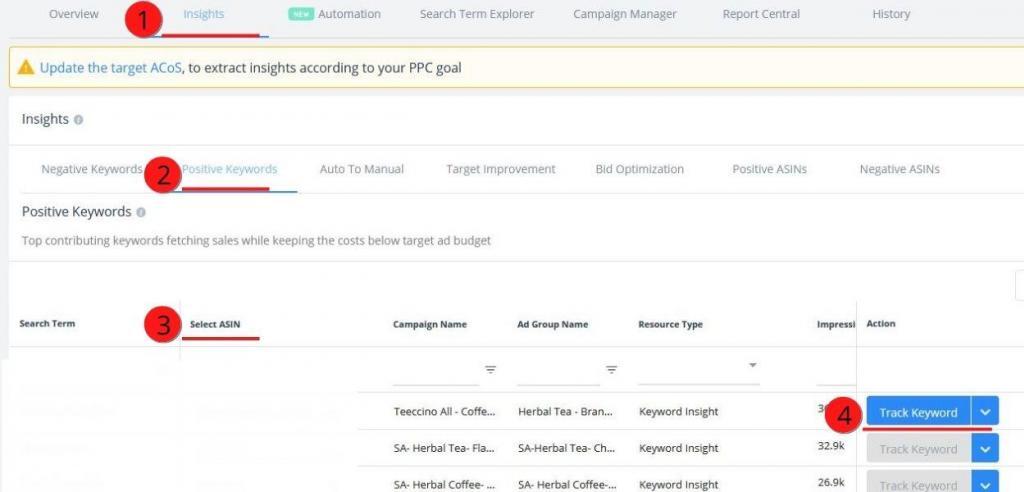 Open the Insights tab.
Select Positive Keywords to access all your high-converting keywords and their key performance indicators.
For a given keyword, select the ASIN you want to track under Select ASIN.
Click Track Keyword to start tracking a search term for that specific ASIN.
Once you track a keyword for a specific ASIN, you can check trends, the number of indexed products, page rank, and the current position of the ASIN for that keyword.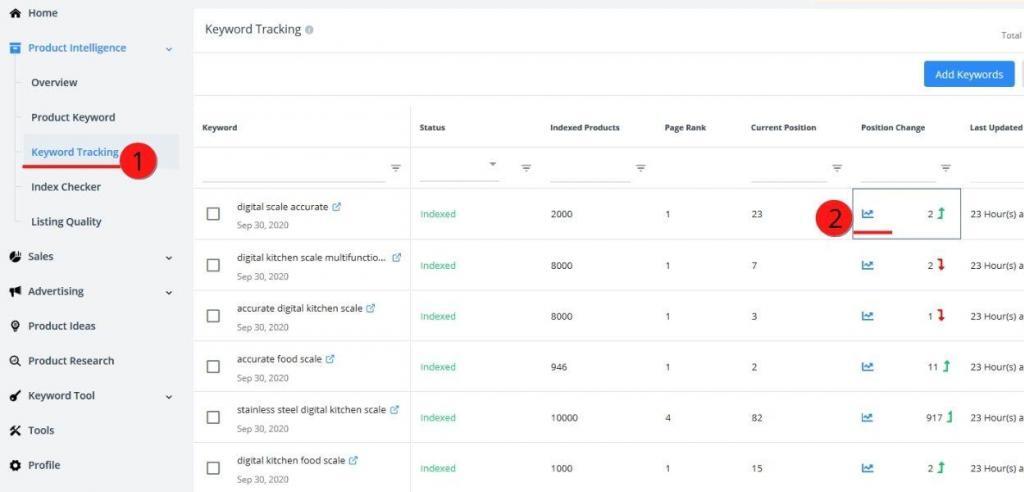 Under the Product Intelligence tab, select Keyword Tracking.
To view keyword trends, click the icon under Position Change.
After you move a high-converting PPC keyword to your listing, keyword tracking \will help you gauge its long-term impact on organic ranking. Moreover, it is also a great way to check whether that keyword is seasonal or whether it will ensure long-term profitability. Most customers don't scroll past the first search results page. So, it is necessary to regularly monitor whether your product is appearing on the first page.
Additionally, if a keyword is from an ad group with multiple listings, tracking it for individual ASINs will help you determine which product is converting and which isn't for that specific search term.
The Sponsored ad advantage
Sponsored ad campaigns also help improve a product's organic ranking. By improving metrics such as impressions, click-through-rate, and conversions, ad campaigns boost a product's relevance. These metrics directly affect organic search results – the better these metrics, the better your product's organic rank for a specific keyword.
Enabling this cascading effect of PPC on a product's organic ranking is a great way to ensure long-term profitability.
If you're a new seller trying to optimize your Amazon sponsored ads, try SellerApp's 7-day free trial.