How to use Bulk actions to manage your Amazon ad campaigns
Save time and achieve high operational efficiency with SellerApp's Bulk actions feature. 
The Bulk actions feature is a smart solution available on the SellerApp dashboard. It allows you to create, edit, and optimize multiple campaigns. Thus, it helps in saving time and minimizing the effort spent on campaign management. Let's look at this feature in detail.
Quick guide
Getting started with bulk actions
What actions can you take with SellerApp's bulk actions?
Things to keep in mind while working with bulk actions
Why you should use bulk actions
Guidelines to follow while editing the bulksheets
Final thoughts
Getting started with bulk actions
If you are someone who has multiple campaigns to manage, our bulk actions feature is the right option for you. This feature helps you save time when you want to make changes across campaigns, ad groups, keywords, and manage the campaigns at scale.
To access this feature, log in to SellerApp dashboard > Advertising > Campaign Manager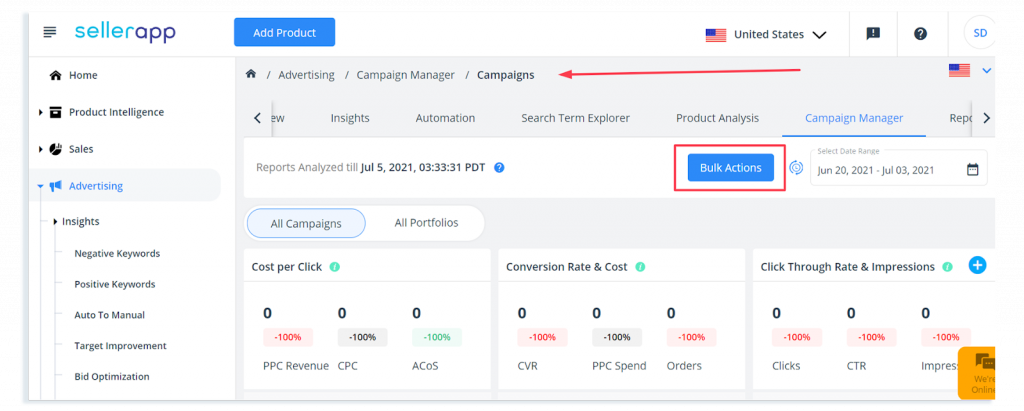 What actions can you take with SellerApp's bulk actions?
Within the Amazon Sponsored Products, bulk actions will allow you to make changes to your campaigns en masse and update them at a time. Here are a few changes you can make using our bulk actions feature:
Add or create new campaigns, ad groups, and keywords
Add SKUs to an ad group
Pause keywords, ad groups, and campaigns
Adjust placement bids
Change bids for campaigns, ad groups, and keywords
Things to keep in mind while working with bulk actions
Here is a list of things you should keep in mind while working with our bulk actions feature.
All the 'Status' fields are not case-sensitive
The 'Bidding Strategy' field is not case-sensitive as well. However, the campaign names are case sensitive. 
In a row, fields like Record ID, Campaign ID, and Record Type will not be required to update existing or create new tasks. For example, if you are creating a new campaign, you can leave out the columns like Record ID, Campaign ID, etc., as they will be auto populated once you submit the sheet. 
Creation/Updation actions will be based on entity names. 
Creation jobs will be executed only for an entity if an entity with no such name exists. For instance, a campaign will be created if no campaign with the same name exists. 

Why you should use bulk actions
This feature allows you to save time by allowing you to add or remove keywords and product attributes at a time. You can also adjust your bids and budget at scale using this feature. 
Besides, this feature allows you to work offline by editing your bulksheet locally. 
Bulksheets
Coming to bulksheets, it is a spreadsheet-based tool that helps you to simultaneously manage your sponsored ad campaigns. Sellers who are managing their ad campaigns can download the file, make edits to the metrics, and upload it to the SellerApp dashboard. 

Step 1: Download spreadsheet
Download existing campaigns into a bulksheet by clicking 'Create spreadsheet for download.' You can only download the bulksheets for the last 60 days.
Step 2: Edit and save
You can choose to edit the bulk sheets locally. A few guidelines for editing:
You can add up to 1,000 keywords and bids to an ad group
Make sure to apply the correct match type to your keyword
Step 3: Upload the spreadsheet
Once your bulksheet is ready, click or drag the file from the appropriate location where you saved the bulksheet. Supported file types are .xlsx and .xls. 
Guidelines to follow while editing the bulksheets
While editing the bulk sheets, ensure you follow these guidelines mentioned below:
Ensure that the downloaded and uploaded files have the same column headers 
While adding a new row, make sure you copy and paste the exact campaign name to avoid errors.
To avoid potential mistakes, make sure you don't make any changes to the Record ID, ad group, and other columns while editing the campaigns. 
In case of any mismatch between the uploaded file and downloaded file, bulk action will fail
When there are multiple actions within a row, SellerApp's algorithms will prioritize the actions depending on the below mentioned hierarchy.
1st priority: Campaign
2nd priority: Campaign by placement
3rd priority: Ad group
4th priority: Ad
5th priority: Keyword/Product targeting
6th priority: Products to advertise (SKU)
Let's say, you created a new keyword for an existing ad group. In this case, you enable or fill the ad group column with relevant details. Though this operation comes under keyword creation, it becomes an update under the ad group due to the hierarchy chosen by SellerApp's algorithms.  
Final thoughts
Using SellerApp's bulk actions is the best way to improve your operational efficiency while managing your campaigns, especially when you are an Amazon business with a large portfolio and multiple campaigns. If you need more help, send us an email at support@sellerapp.com, our experts are happy to help!