Be it PPC ads or product display ads, Amazon PPC advertising has now become bigger than before. In fact, Amazon's ad sales have surpassed 2 billion dollars in this quarter and according to reports, this is a new record.
Though Amazon has shown consistent growth every year, this quarter saw tremendous progress of 139%. While the advertising power keeps growing, many expert marketers have predicted that Amazon will happen to be the world's third-biggest digital advertising seller in the United States by 2020.
Amazon advertising is growing faster than before and with this, the competition is becoming even tougher. Therefore, to outrank your competitors in terms of sales and brand value, utilizing the right strategy is important.
Considering this, here is an in-depth article to help you comprehend Amazon PPC ads better.
Table Of Contents
This article will cover the following topics:
So, let's understand each in detail.
What Are Amazon Ads?
Amazon ads are none other than the advertisements that appear on Amazon's results page when you search for something. They are usually denoted with the word "sponsored." These ads are also known as sponsored ads and are paid mainly to third-party sellers.
Any third-party seller can create these ads via Amazon seller central and make appropriate payments for them through a plan called Amazon PPC.
What Is Amazon PPC?
Amazon sponsored ad uses an advertising system called Amazon PPC (Pay Per Click) where advertisers pay for the ad each time a buyer clicks on it and views the product.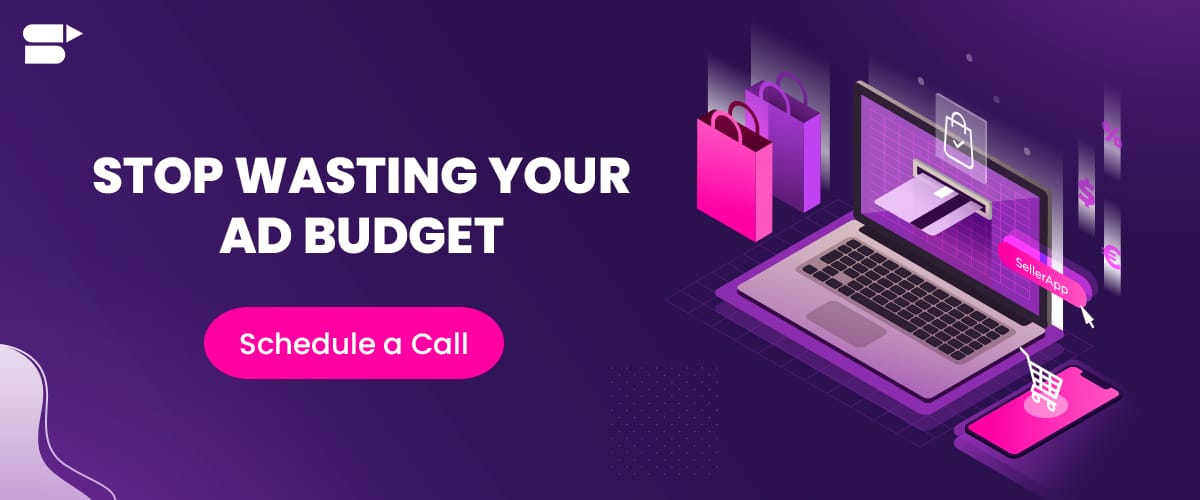 What Does An Amazon Ad Do?
Advertisers, who desire to acquire more visibility for their products, can bid for top ad positions on specific keywords. This, in turn, not only gives greater visibility in Amazon SERPs but also increases the overall sales and revenue.
Each time a buyer or a customer clicks on the ad, the advertiser is charged for it. Whether they clicked ad generates a sale or not, every click calls for a charge.
Amazon ads are seen everywhere on the website. In fact, they even appear on detailed product pages too.
Why Should You Advertise Your Products On Amazon?
Undeniably, Amazon is the best online e-commerce hub and when you advertise your products, it calls for five key benefits:
Greater visibility to the products

Generate bigger sales and revenue

Build a better reputation and trust

Reach out to a diverse clientele

Focus more on the targeted audience
Amazon Advertising and Marketing Services has come a long way and is still one of the excellent ways to help a product reach a bigger audience. Since Amazon hosts millions of products from different reputed sellers, it becomes a little difficult to hit the market.
As a seller, even if you do everything right and pick the ideal low-competitive/high-demand products to sell on Amazon, there is still that important phase hanging there – reaching out to the world.
If you miss this step, your product listings are just going to be there on the third or fifth page of Amazon SERP results, and you really don't want that. However, advertising with the help of Amazon PPC allows its search engine algorithms to recognize your product.
The concept is pretty simple. The higher the ranking, the bigger is the audience. With this ideology, more customers tend to see your product and this directly reflects the clicks. Finally, when the click rate is high, the sales are higher.
What Are The Benefits Of Using Amazon PPC?
Amazon advertising charges a very minimal fee for displaying ads. This, in turn, helps sellers to acquire greater visibility and maximum impressions.
But make a note that you pay for the ad clicks and never for its impressions. Therefore, you find it suitable to advertise your products using Amazon PPC/Pay Per Click/Sponsored Ads.
Though there are multiple benefits of using Amazon PPC, here are the key highlights:
Higher Ranking
It helps rank the product listings higher on Amazon SERPs.

It increases the visibility of products to a bigger audience.

It displays the products on the home page rather than having them below your competitors.
2. Boosts Sales
It increases the overall visibility of a product.

It multiplies the sales once you optimize the ad with keywords and start running them.

With the help of amazon advertising, a product tends to receive a bigger customer base.

The products listing shows up on the first page.
3. Influences The Organic Rankings
Amazon PPC ads have a positive effect on the product's organic ranking.

Since it is a vital part of

Amazon

Google Ads

, it enhances the product's sales history

. For those, who aren't aware, sales history plays a strong role in the rankings.

Whenever a product generates high sales, Amazon algorithms work in a way to automatically place that listing at the top of search results.

It also boosts the organic rankings for keywords, which were used for PPC ads.
4. Reach Buyers And Not Viewers
The product ad is displayed whenever a customer searches for a particular keyword.

The ad pops up along the targeted search. The customer can click it whenever he/she wants to. This saves time as well.
5. Only Clicks Are Charged, Not Impressions
Amazon PPC charges a fee only when an ad is clicked. It never accounts the impressions that the ad generates.

As soon as a seller reaches his or her credit ladder, it subtracts the amount instantly from the respective sale.

The transaction is hassle-free.
6. Global Reach
The campaign helps receive global impression and visibility.

It can help acquire millions of views within minutes.

The probability of generating sales is high.
7. Device-Friendly
Amazon PPC campaigns are device-friendly in nature.

The product links fit aptly on smartphones tablets, and the Amazon app.
How Much Does An Amazon PPC Campaign Cost?
The price or cost of a Sponsored Ad or Amazon PPC Ad is decided in a way that the advertisers receive maximum benefits.
In short, there are:
No activation costs:

Once you register for an Amazon PPC campaign, it is free. It does not require any activation fee.

No subscription fee: You can start the PPC Ad campaign anytime. You get to decide the amazon PPC budget for displaying your ads. There is no subscription fee for sponsoring your products via PPC mode.
How Does An Amazon PPC Campaign Work?
The methodology of Amazon ads is straightforward. You just have to focus on three simple steps to begin your PPC ad campaign:
Step 1: Choose a product(s) that you want to promote or sponsor on Amazon.
Step 2: Choose a few appropriate keywords (with decent searches) for the sponsored ad.
Step 3: Set the cost that you want to spend on your ad.
Whenever a customer searches for a product, the respective search gives two types of results:
The sponsored products are displayed in the following areas within the organic results:
Top

Side

Bottom

Combination of all the above
The "sponsored" or "paid" results are PPC (pay-per-click) ads. As explained above, sellers run these PPC campaigns to help get their products under the "sponsored" section for specific keywords.
Whenever you run a PPC campaign on Amazon, you pay only for the clicks that your product receives.
This literally means that the probability of generating a bigger ROI is higher.
If customers click on your ad, this means that they are interested in the product. So, once that job is done, it is the listing's work to get a product's click converted into sales.
Ideally, you don't pay for an impression but would want every impression to obtain a click. Then, you want the respective click to a sale.
Say, for instance, you have higher impression rates but lower click rates, then, it means that your product listing is not attractive enough for customers to make them click.
Well, this does not cost you much money on marketing, but it is truly a waste of time. Therefore, it is important that you're listing—particularly the title, photo, and price—is click-worthy and eye-catching.
On the other hand, if you receive a higher click rate but lower sales, it means that your listing is not converting. Now, this is something to worry about because you are being charged for clicks and not sales.
This is where the concept of "optimization" comes in, which is discussed in detail below.
How To Optimize An Amazon PPC Ad To Drive Sales?
It is imperative that your product listing is completely optimized in order to generate good sales. With thousands and thousands of sellers out there, there might be times when you doubt if your product could actually do good in the market.
Fortunately, there are some tricks that you could do to your product listing to outrank your competitors. You just have to follow the strategies of Amazon PPC advertising.
If you aren't aware, then here is a better insight to help you get started:
Set Up A Structured Ad Campaign
If you have already worked with Google Ads and Amazon advertising, then you know what probably this is. Utilize your skills to set your ad groups and campaigns in the right way on Amazon.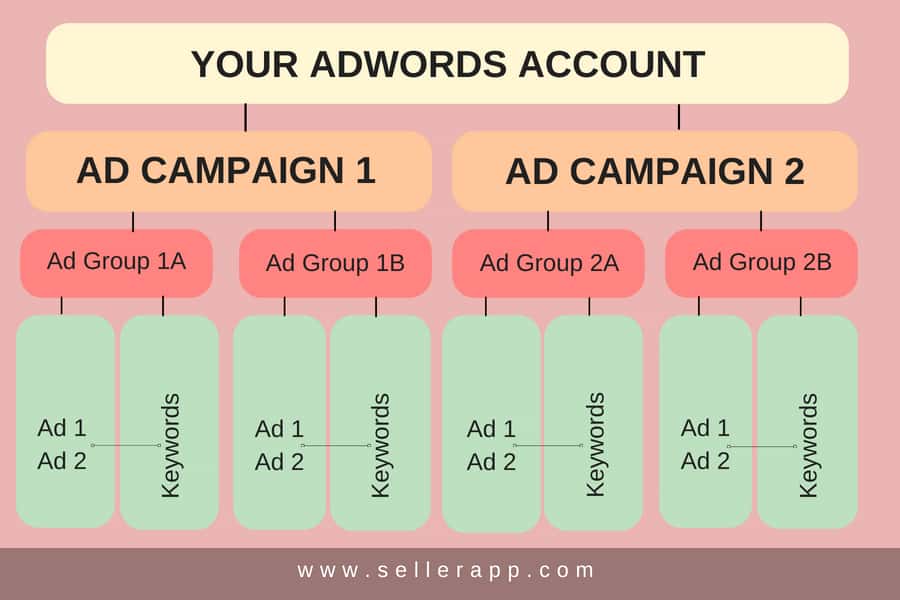 The ideal strategy is to create individual campaigns for each primary product category. Then, under every campaign, create specific ad groups.
Let's understand this with an example. Assume that you sell sportswear for women and consider that you are going to start ad campaigns for three of your high-selling products:
Women swimsuits

Women sports sunglasses

Women's track pants
Under every campaign, create individual ad groups that reflect specific categories. Let's say, in Campaign 1, you have 3 different ad groups – women swimsuit shorts, women swim cap, and women swim shirt.
Now, research a few significant keywords for every ad group (keep the list between 10 and 25 keywords for an ad group). Then, craft relevant advertisements for each group.
To garner the benefits, a proper account structure not only ensures that the ads are related but also helps you save a lot of money and increases the overall ROI drastically.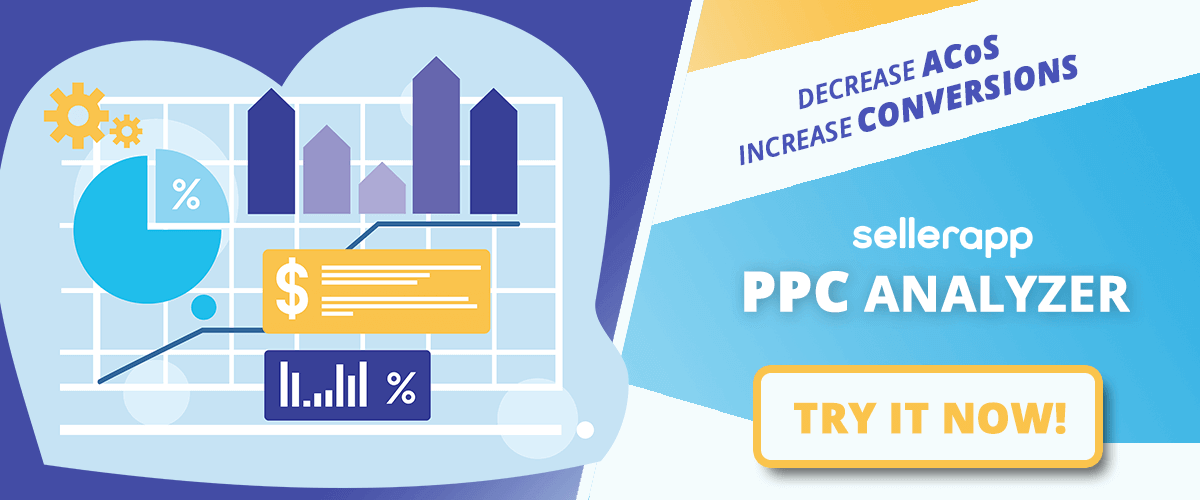 2. Come Up With A Convincing Ad
This is where you have to be creative at. Now, this can even make or break your marketing plan.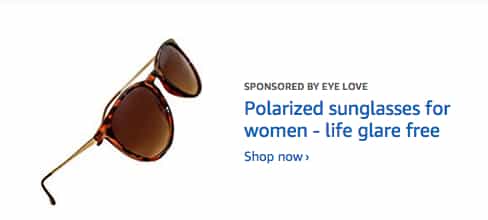 Make sure that the text you give for your ad is:
Accurate and without any mistakes

(read How to avoid Amazon PPC mistakes blog).

Clear with what the product is

Creative and unique
When it comes to ad text, you need to outstand from those cluttered results. Also, make a note that if you are running an awesome sale or a promotion, then it is wise to use words like "hurry up" or "urgent." Highlight the ad in a different way so that customers have an urge to click.
3. Be More Precise With Your Ad
Besides being creative, your ad should highlight the product precisely. It shouldn't be confusing or misleading to the customers.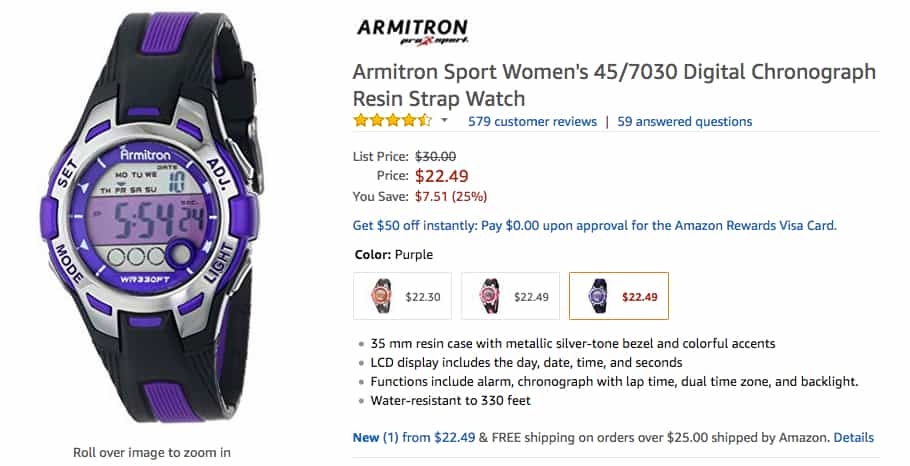 Be specific in defining the key terms about your product. Consider the above picture. It is a women's sports watch. Buyers searching for this product will want to know its primary features like the model number, the display information, type of strap, etc.
Therefore, it is vital to highlight that information. While it is difficult to add everything in the ad headline but be you can bring in a few key terms just like the one shown in the image.
4. Use Potential Keywords In The Title
As said earlier, keywords play a key role in generating traffic and converting them into clicks. You can utilize Amazon's Search Term Report to help comprehend the various terms that trigger your product category.
When we say "amazon keywords," make sure that you understand these 4 types:
Broad keywords

Phrase keywords

Exact keywords
Learn these key terms from the report and see which potential keywords can work for your ad campaign.
5. Add A High-Quality Picture
Another important feature of Amazon ad optimization is the product's image. They say that "a picture speaks for a thousand words" and is absolutely true.
A clear and high-quality picture makes the product listing even more attractive. It not only increases the brand value but also boosts the overall sales on Amazon.
Amazon gives an option to upload 7 – 9 images for a product and make sure to utilize all this space. Your product should speak by its picture.
Before uploading the images, have them:
Shot professionally with high-resolution

Look realistic
Finished with high quality
6. Create Enhanced Bids For Ad Groups
Group bids let you create default bids for all keywords in an ad group. Though you have the option to modify an individual bid manually, ensure to set a strong bid for the ad group. This helps to take benefit of auctions amidst the competition, even when you aren't actively maintaining or monitoring the individual bids.
7. Play Around With Your Ads To See What Works
Sponsored ads tend to yield the most visible and quickest ROI. However, it takes time to unveil the right trick.
It is worth experimenting to come up with a strategy that works the best for your products. As soon as your statistics paints a lucid picture, allocate a budget again based on your campaign results.
Amazon Wise Tips To Convert Clicks To Sales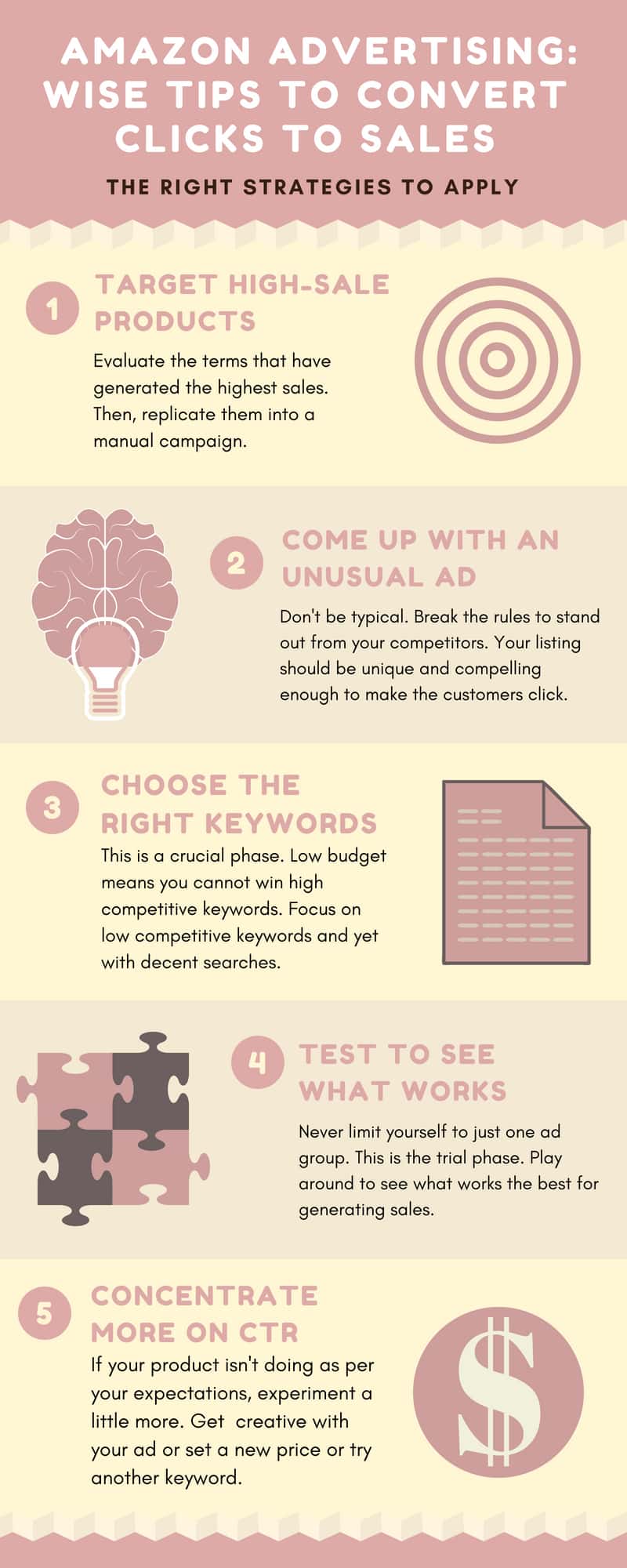 Additional resource:
Why You Should Outsource Your Amazon PPC Services.

Was this post helpful?
Let us know if you liked the post. That's the only way we can improve.