Amazon Enhanced Brand Content (EBC), now known as A+ content on Seller Central, is what represents your brand on Amazon.
Amazon claims that you can increase sales by adding A+ content to your product listings.
Presentation is everything and with seconds to impress and grab the attention of customers, sellers have to do everything that they can to make their product listings stand out.
Are you a seller who is unsure of what EBC is or how to engage in it?
Read on to learn about the whole shebang of Amazon Enhanced Brand Content.
Quick Guide
What is Enhanced Brand Content on Amazon?
In simple words, it is a feature offered by Amazon whereby you can add images with informative content to your product listings. It also includes the use of bullet points in product descriptions to present the data more neatly. Sellers who are registered on the Amazon Brand Registry can enhance their product descriptions and modify them.

When a customer is looking at a product on Amazon, some have A+ content while some may not but one is automatically going to gravitate towards those products that use EBC listings. This is because EBC or Amazon A+ content allows you to have explanatory pictures about the product and its features along with how and where to use it.
Enhanced Brand Content is the best way to decrease ACoS and increase conversion rates. This is because it plays a huge role in the optimization of your product listings. SellerApp's listing optimization services will assist you with everything that you need to make your EBC stand out – the title of your products, bullet points, and detailed, robust product descriptions. We will also ensure that your amazon photographs and videos are optimized to improve your visibility and drive traffic to your listings.
Amazon EBC, A+, and A++ content – All you need to know
In simple words, Amazon has now combined the features of EBC and A+ content into one.
There are two different types of seller platforms on Amazon – Seller Central that sells directly to consumers and Vendor Central that sells directly to Amazon. Both platforms needed content management so EBC was meant for Seller Central while A+ content was meant for Vendor Central.
The change is that now the A+ content manager tab is found in Seller Central rather than on the old EBC dashboard for Amazon sellers.
Another feature is A++ or Premium A+ content. This is an exclusive, invite-only feature by Amazon with accessibility only for the big players in the game like luxury brands or massive internationally known tech products. It is similar to EBC and A+ but has more features on offers like HD videos and more advanced product descriptions.
Differences between A+ content and A++ content
To summarize some key differences between A+ and A++ content on Amazon:
| A+ Content | Premium or A++ content |
| --- | --- |
| Free | Paid - Costs thousands of dollars |
| Available to vendors and sellers registered under Amazon Brand Registry | Access by invite-only |
| 5 modules product description per page | 7 modules product description per page |
| Images-970 pixels wide images that don't fit as wide as the whole page | 1464 pixels wide, images and videos fit the full width of the page |
| Suitable for products that need more description, more lenient character count. | Suitable for premium visuals that reduce character count |
Amazon EBC – Eligibility Requirements
Everybody wants to create rich content but first, you need to make sure that you meet the criteria set by Amazon.
Firstly, get yourself registered and approved on the Amazon Brand Registry. A vendor or seller with registered products on Amazon Launchpad and Exclusives is eligible. They can avail of the EBC or A+ content features for ASINs that are part of approved catalogs of their brand.
Steps to add EBC on Amazon
For any selected ASIN, once it is registered and meets all the requirements, you can follow these steps to start adding A+ content:
Start by logging into your Seller or Vendor Central account on sellercentral.amazon.com
Now, click on the Advertising tab and open A+ Content Manager from the drop-down menu.
Click on 'Start Creating A+ content'
After you have completed the following steps, you can customize and create whichever way you want. You can begin by entering the template name, language and start building your module.
Modules typically consist of pictures and infographics, keywords, and comparison charts. Enter titles and apply ASINs of products from your inventory. You can choose multiple ASINs or opt for the 'Bulk Upload' option when there are more than 1000 ASINs.
You can also update the EBC of already existing ones. At any point, you can preview what your EBC will look like on mobile as well as desktop.
The last crucial step is to ensure that there are no punctuation and grammatical errors or misspellings and unnecessary information. Ensure you follow prescribed guidelines before the final step which is 'Reviews and Submit.' Once that is done you have to wait for approval.
On the A+ content manager page, you can monitor the status of your content and stay updated. It can take 7-14 days to get approval for your content.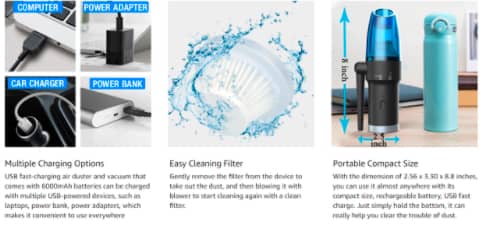 How much does Amazon Enhanced Brand Content cost?
Amazon EBC used to be a paid service earlier, but now Amazon does not charge vendors and sellers any fee to avail A+ content services for their listings. However, the cost of Premium A+ content is quite high. It can cost hundreds of thousands of dollars which regular, small-time vendors and brand owners cannot afford.
Premium A+ content or A++ content is an invite-only service as mentioned earlier and only those registered on Vendor Central can make use of it. The pricing starts at $250K and can go up to $500K for every product type, which is why only big, established brands can utilize it.
A+ content modules
There are about 15 modules that fall into different category types.
There are two types of text modules – standard and product description text, which provide plain text for the whole width of the page.

Modules in this category include standard images with overlays of dark text as well as light text. This is most suitable to showcase lifestyle products with images of the product in use. Image headers with text are part of this module that is used to draw attention to the unique features of a product.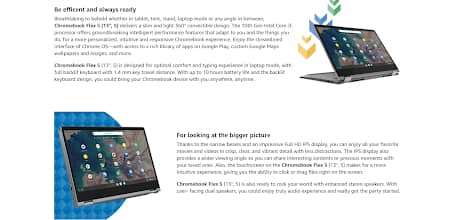 These types of modules include standard single left and right images, with sidebar, highlights fulfill, fulfills, and specifications. These are used in bullet point form to list features and information about the brand. It is the best way to present text-heavy information with images that make it easy for customers to understand what the enhanced content is all about.

Smaller images – Multiple
This category of modules includes standard three and four images, and text with quadrant as well as a multiple image module A.
Multiple images should be used with caution as they can very easily appear to be redundant. These modules can highlight features of your products in groups with visuals and text.

This type of module is the most effective way to showcase multiple versions of the same product that you own. You can help a buyer easily compare and buy the right version of the product by listing out the important differences between each so they can understand better.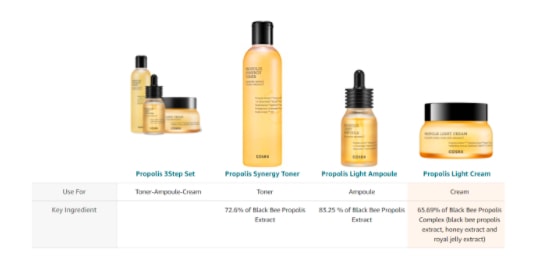 The different types of modules mentioned here have many similarities since on a general level, all of them provide varied combinations of text with images. So if you're having a hard time trying to decide how to choose and build a design then you have to first decide which model fulfills all your requirements. This will depend on what product features you want to highlight. After you decide that, you can create a complete layout by making a selection of different modules and putting them together to create an impressive, eye-catching design.
Dos and Don'ts of Amazon Enhanced Brand Content Design
You have submitted your A+ content for approval and now you're wondering why it's taking so long. You might even start worrying that it might not get approved at all.
At this point, it is time to reflect on how you went about your EBC and keep in mind the guidelines and violations so you can avoid making the same mistakes the next time.
Dos
Proofread and check grammatical errors, punctuations before submission
Content must be precise and concise
Use HD images and combine them with text
Make it information-rich and not just text-heavy
Make it mobile and desktop-friendly
Use correct dimensions and pixel quality to make the images EBC- compliant and ready.
The image resolution also matters even though it varies according to the chosen template.
Banners are beneficial to break the monotony of a product detail page and direct shoppers' attention to different areas and aspects of an item that can easily persuade them to ultimately buy the product.
Don'ts
Registered trademarks, copyrights, and symbols are not to be used as part of the content, whether it is your own or a competitor's
Avoid time-sensitive content including shipping
There should be no mention of warranty and guarantee
Avoid exaggerated, promotional claims that are not based on facts.
Watermarks and URLs must not be mentioned
Do not provide any contact information or reference yourself as a distributor, seller, or vendor of any sort.
Why does Amazon Enhanced Brand Content get rejected?
After following all the guidelines for creating EBC, your content might still get rejected. You can check the status of your content on the "Content Manager" page. If it has been approved, all you have to do is go to the product description section of that particular ASIN, and it will be displayed.
If it is rejected, the most probable cause is that according to Amazon's A9 algorithm, your content does not comply with Amazon's policies and practices. All the elements included in your content – bullet points, comparison charts, and images, have to fall within the requirements of that particular product category as well as follow Amazon's selling policies. 
Here are some specifics of why your EBC may have been rejected
As mentioned earlier in the "Don't" section of this blog, you are strictly prohibited from making pretentious, over-amplified claims that are non-factual. Claims related to the health and nutritional value of a product without an actual FDA approval should not be stated. Additionally, environmental claims on how a product is energy-efficient and non-harmful should not be stated without being backed by solid scientific proof.
A stamp saying "FDA approved" should not be used casually because that specific logo cannot be associated with private sector materials. So if a seller uses it without proper authorization, it is a serious violation.
The use of keywords has to be done appropriately because if your keywords revolve around restricted ones like prescription drug names, then your content will get rejected. Keywords that include terms like – CBD, free shipping Antibiotics and are all grounds for rejection.
Problems with your ASIN are another important ground. If the name of the brand listed on that particular ASIN is not the same as the one on Amazon's Brand Registry it could be a problem. Small things like hyphens, number of characters, spaces, etc. could make the names appear different.
Ensure that your GTIN which includes the numbers of the catalog, style, and model of the product is all an exact match. This can be monitored and fixed by going to Seller Central and using the "Manage Inventory" tool to then edit whichever ASIN.
When it comes to Stores on Amazon too you have to be careful with the content that you submit as it cannot consist of anything promotional in nature. If you try to include anything about attractive deals, free shipping, or reduced pricing, you will be rejected.
How to create effective EBC or A+ content
You can choose from a plethora of options to inspire your Amazon EBC design. Whether you sell lifestyle products or basic home and garden essentials, you can make your EBC tell your brand's story in the most innovative ways possible.
Easy, readable content: It is a well-known fact that mobile browsers only scan through content and have short attention spans. So your copy must help people understand the utility and application of your products with one glance. Do not formulate complex content. Fulfills
Stand out: Sellers have to make their products stand out. Emphasize the uniqueness of your products with content that will grab shoppers' attention and make them explore, make them feel like they need it. If you are selling lifestyle products, use images that show the product being used in an actual real-life instance. Demonstrate the unique features of your product and how it can resolve the common pain points that customers have.
Use visuals: Relevant images of the right quality and size can be used to draw in customers. Online shopping is all about the experience of making one feel the exclusivity of a product without actually engaging with it physically. Make your A+ content engaging enough to get them to make a purchase.
Your brand vs your competitors: Your EBC should tell the story of your brand. Use fonts and colors normally associated with the recognition of your brand. Also, analyze your competition and find out about their features that appeal to customers. Use those insights to your advantage by applying them to your brand and improving your brand image.
Conversion rate: The content that you create can act as a learning process for you to make improvements to your EBC in the future. If you're wondering how to take into consideration your conversion rate. If your conversion rate goes down, it is an indicator that your content is not performing well. It could be due to various reasons and analyzing this can help you better understand your target audience, so you can make changes to ensure a more effective EBC the next time.
Alt-Text: While uploading images as part of your content, there are keywords that you will have to submit as descriptions for those images. This works as an aid to those who are visually impaired. Placing these descriptions below images helps with providing more information of the product being displayed while also indexing your product for Google, Bing, and other popular search engines.
Benefits of Enhanced Brand Content
You may have followed all the above-mentioned steps and are waiting for your EBC to go live, or you may still be doubtful about how it can benefit you.
In that case, let me enlighten you on the fruitful benefits of this feature so that you don't lose heart.
First and foremost, it is the best way to attract attention to your product and build awareness and loyalty for your brand. As stated earlier, it also helps increase sales and ROI. By attracting attention, it is also the best way to show how your product stands distinguished from others belonging to the same niche.
You can reduce your bounce rate as well with the same techniques. Visually appealing A+ content will make customers stay and read the product description. Use comparison charts to show them that your product solves their problems. Highlight how competitive your pricing is as well as your features so that it will lead them to buy your product instead of choosing a competitor's.
Accurate information on benefits and specifications means that customers know exactly what they are getting when they buy your products. The accuracy of a product's description provided in the EBC can thus effectively reduce negative reviews and product returns.
Amazon gives you the option of organizing all your brand's products under one mini-store. Amazon Stores are beneficial in the sense that advertisements linked to store pages drive more sales than when linked to a page of product details. Since Amazon recently eliminated its predefined templates for A+content, brands now have more liberty. You can design attractive storefronts that define your very essence and use them to make people better understand and explore your products. Thus, there is the chance that it could lead to a better conversion rate.
Enhanced Brand Content on Amazon provides innovative options to connect bullet points with images. This lets you synthesize copywriting and design with colors that are associated with your brand, to create something distinctive and beautiful.
EBC also provides tools for mobile optimization so that you can use your content to communicate more effectively with your customers. There's more room to be creative and grow awareness for any brand.
Check out this guide to know how to communicate with Amazon customers.

Final thoughts
Following all the policies and guidelines mentioned above could be taxing for a seller. Keeping in mind all the restrictions and avoiding violating them might seem like a cumbersome task, but it is all extremely beneficial in the end. This is because EBC and A+ content not only help in projecting your brand and products but improve your ranking on search results as well.
SellerApp's SEO guide will give you all the information you need on how listing optimization with the help of EBC in turn helps with improving your presence on Amazon's SEO.
Sales, conversions, and returns are all dependent on A+ content as it can make or break buying decisions. Thus, it is important to come up with content that is of good caliber fulfills and work on it to make a high-quality product page.
Was this post helpful?
Let us know if you liked the post. That's the only way we can improve.