Amazon's marketing strategies have evolved and expanded in recent years and so have its SEO, PPC, and other advertising platforms.
Amazon is playing a dominant role in product advertising and helping sellers to accelerate their sales.
It is a huge retail giant—or let's say a marketplace, or a content & retail company, or perhaps, the most customer-centric corporation on earth?
Well, no matter how you categorize it, it is also one of the biggest digital ad powerhouses with swiftly growing revenues.
If you are not leveraging its marketing channels, you are missing a lot of sales.
So, let's understand what are the types of Amazon marketing channels and their strategies in detail.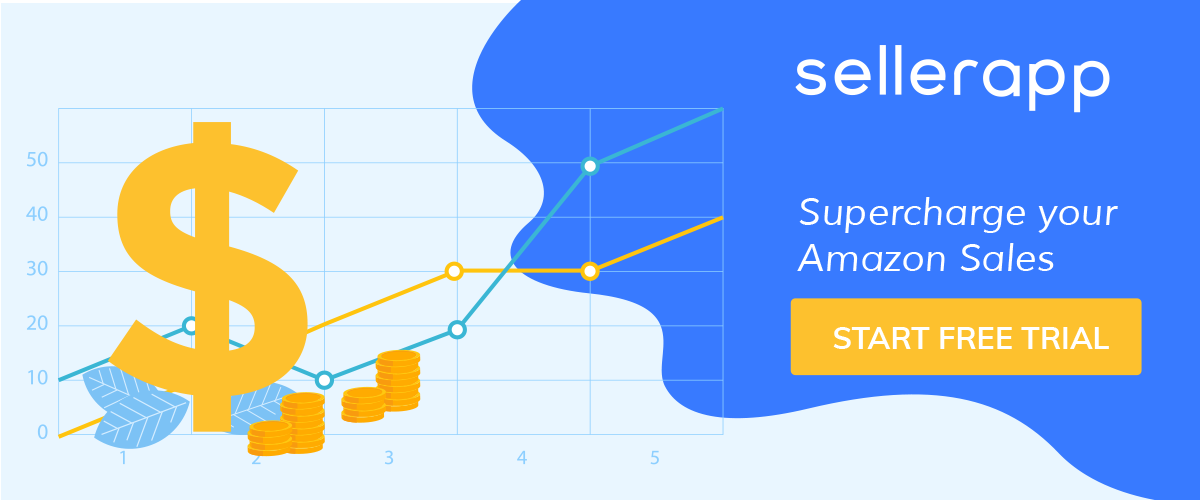 Quick Guide:
Before we get into the details, let's have a quick look at the recent stats.
Did You Know?
Amazon is now the third-biggest digital ad platforms in the United States. It is anticipated that the U.S. advertisers will spend about $4.61 billion just on Amazon's ad platform, accounting for country's 4.1% of overall ad spending. (Source)
Amazon's operating income from its advertising business will surpass AWS (Amazon Web Services) by the year 2022. The advertising income is anticipated to reach $16 billion compared to AWS's at $15 billion.(Source)
The advertising revenue of Amazon in the United States will incline to $3.19 billion in 2019 from $2.35 billion in 2018. (Source)
Recommended Post: Amazon Statistics (Seller, FBA, and Product) That'll Surprise You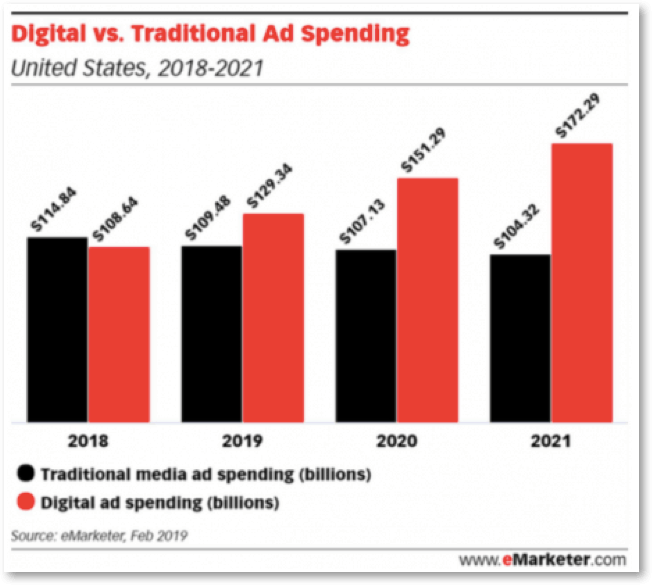 Introduction To Amazon Marketing
Its digital advertising platform has turned out to be the third biggest in the U.S. This shows that Amazon's ad momentum will tremendously grow this year.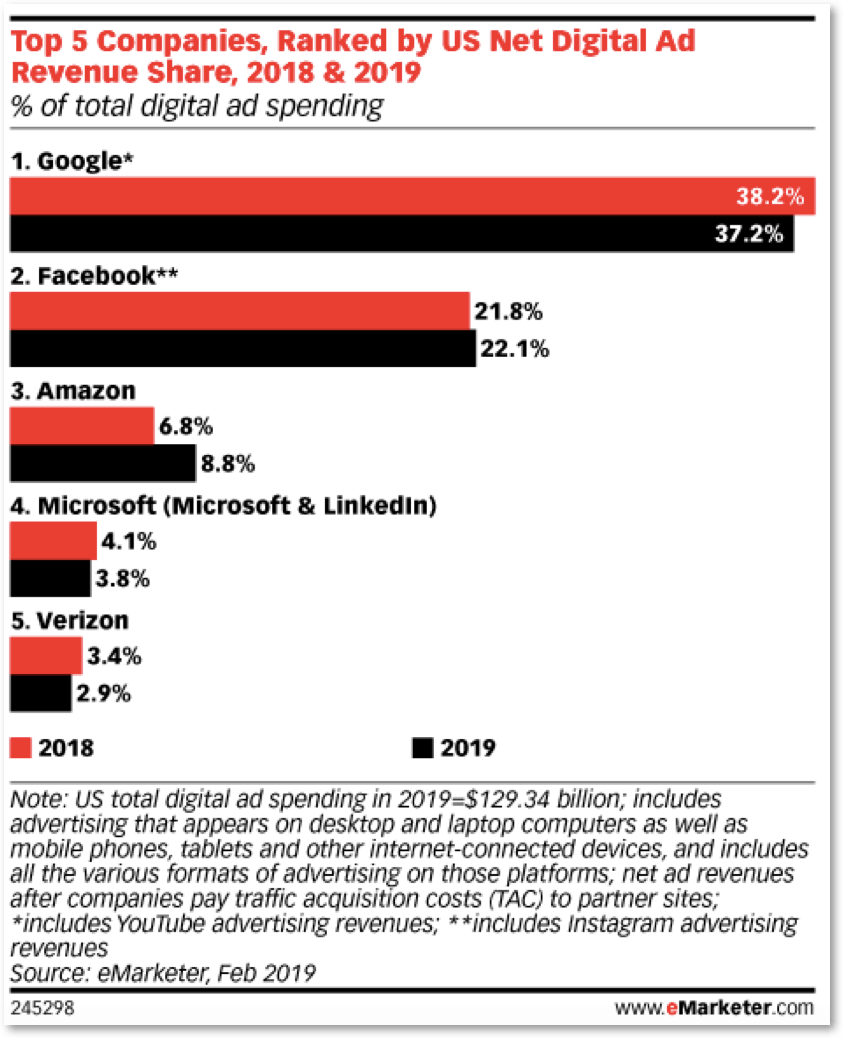 Ever wondered what Amazon's marketing strategies are? And how does it manage to pull off so effectively that it beats its record year after year?
Let's understand.
Amazon divides its market based on
Demographics
Psychographic
When it comes to psychographics, they influence and target every customer individually. They analyze their shopping preferences, buying behavior, and further, try to convert one-time visitors into regular, high-value, and long-term customers.
Besides publicizing its broad product range, Amazon also utilizes this data to focus on single customers, demographics, and geographies. Undeniably, this marketing strategy has turned out to be extremely successful for them and no wonder, they are at No #1.
Their targeted social media ads, Google Ads, and well-publicized sales together have played a key role in turning Amazon what it is today.
To retain its customers, Amazon ensures that they give the quickest delivery possible. With 55+ fulfillment centers, they are taking their marketing strategies to a whole new level.
The 4 P's Of Amazon Marketing Strategy
Amazon's marketing mix (or 4Ps) is created to take advantage of its e-commerce operations. Its four components enable international growth and competitiveness while Amazon.com innovates its other services.
Popularly known as the "Marketing Mix," Amazon analyzes a company or a brand that covers 4Ps, which include:
Product
Price
Place
Promotion
Here's a clear explanation of what each factor does.
1. Product
Though Amazon began its e-commerce journey with just books, today, it sells millions of products – grouped under various categories.
The best-selling product categories include shoes, jewelry, clothing, toys, home & kitchen appliances, electronics, books, outdoors, sports, car accessories, fine arts, etc.
Though Amazon offers items from independent businesses and retailers, it also promotes its private label products, more commonly known as Amazon Basics.
As this e-commerce giant continues to expand, more products are appended to its inventory regularly. So, diversity in products is the key reason why it stays ahead of its competitors.
2. Price
A company can use various pricing strategies to sell its products. Here are a few to make a note of:
Cost-plus pricing
Value pricing
Competitor pricing
Price discrimination
Amazon typically utilizes a competitive pricing strategy where it consistently assesses its competitors' price lists, serving as a base for its product pricing. It ensures that its prices are kept low while giving customers a broad range of selections.
Besides this, Amazon also uses other pricing strategies like:
Psychological pricing
Promotional pricing
Due to the nature of its business, Amazon can easily bring changes to the products in a single day. This happens to be its biggest strength, making it highly difficult for others to keep up with Amazon.
3. Place
In recent years, Amazon has expanded its online retail business in different parts of the world. This presence has made it convenient for customers across the globe to have access to millions of products.
Even shipments from the farthest locations reach you in a minimum time with Amazon Global. Its fulfillment centers and fast delivery time are yet other great reasons for its success.
4. Promotion
Promotion is all about communication and Amazon understands this. It communicates with potential buyers and customers through ads with the help of various tools.
For example, it executes regular ad campaigns on websites, newspapers, television, billboards, and social media. It also promotes via Amazon affiliate websites. Besides these, Amazon frequently offers discounts and sales promotions, which is a great way of branding.
Related Post : How to Beat Your Competition on Amazon – Strategies Revealed
Types Of Amazon Marketing Channels
If you are an Amazon seller, knowing the different types of marketing channels and ways to use them effectively, can make a big difference in increasing your sales.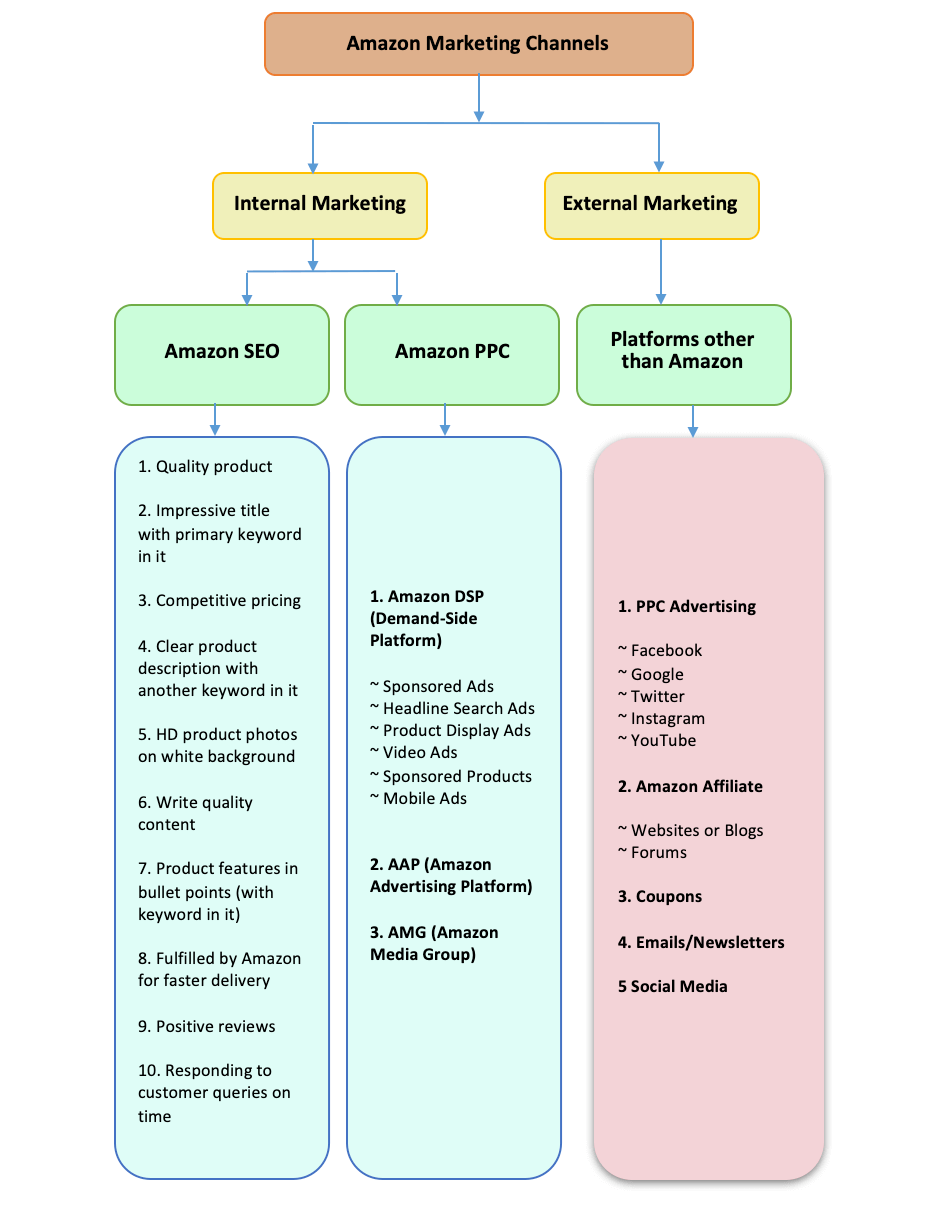 Amazon marketing channels can be grouped into two types:
Internal marketing
External marketing
The internal marketing comprises:
Amazon SEO
Amazon PPC
The external marketing comprises:
PPC advertising on Google, Facebook, YouTube, Instagram, Twitter, etc.
Forums and blogs
Let's understand each marketing channel in detail.
The article will mainly focus on "Internal Marketing," as that's highly important for Amazon sellers. External marketing is a completely different and huge topic. Since it involves other platforms, it requires more in-depth knowledge, time, and money to execute it. Since Amazon itself is a great way to generate sales, we will concentrate on how to get this done correctly.
1. Amazon SEO Marketing
Before you learn how to execute Amazon SEO, first you need to understand how amazon's algorithm works. Just like Google, even Amazon has its algorithm called the A9 algorithm whose job is to rank the product listings.
A9 is a subsidiary of Amazon, which is located in Palo Alto, California. The company develops search advertising and search engine technology. It takes development efforts in product search, visual search, cloud search, advertising technology, community question answering, and augmented reality.
Our work starts long before a customer types a query. We've been analyzing data, observing past traffic patterns, and indexing the text describing every product in our catalog before the customer has even decided to search. As soon as we see the first keystroke, we're ready with instant suggestions and a comprehensive set of search results. – A9.com
Though you know Amazon as a big eCommerce brand, technically, it is a search engine that fetches the best products on top results for its customers.
If your product listing has all the factors that convince the A9 algorithm, nothing can stop you from ranking on the top of Amazon SERPs (Search Engine Results Page).
A Quick Overview Of SEO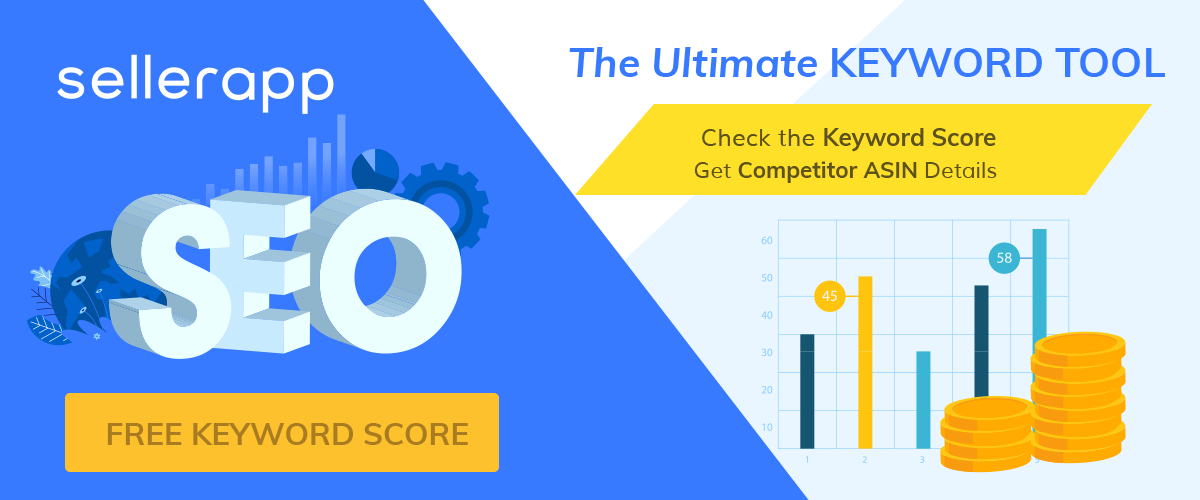 SEO is abbreviated as Search Engine Optimization, a practice followed by website owners to increase qualified traffic organically. When we say "organic," it means the traffic that is coming directly from search engines like Google, Bing, or Yahoo.
Let's make it simple. Say, for example, you are searching for something like this on Google – can you use essential oils on the skin directly? – and you will see the top 10 results. So, you might click on these results to read the information you are looking for. Now, you are one of these visitors to these websites.
The websites managed to get into the top 10 results page because Google's algorithm filtered with their ranking factors and listed them to be the best.
How?
Well, because they had:
Quality information
Great-looking images
Right keywords/search terms that people search for
Good domain authority
Optimized content
Now, when people use those "keywords" to search and click on these websites, they generate "organic traffic," meaning that the visitors are purely through Google, Yahoo, etc.
Apply the same scenario to an eCommerce giant like Amazon now. Instead of Google's search box, people (interested shoppers or potential buyers) directly search on Amazon's search box for products that they want to buy. For instance, best running shoes, porcelain flower pots, craft papers, bread knives, and so on.
Now, how is Amazon going to rank the bestsellers? Well, the factors to rank in Amazon SERPs differ a lot from Google because here, the top 10 results are not websites but rather product listings of thousands of sellers.
So, how does Amazon pull off the best list possible to its customers?
This is where the role of the A9 Algorithm comes to play. The algorithm is exclusively designed to ensure that a shopper is shown the best product possible. So, unless you don't have these factors in your listing, you are never going to make it to the top.
Unfortunately, no big company will reveal how their algorithm works because that's their secret and that's how they are making billions. However, by experimenting, most sellers and experts have come up with their versions of ranking on top.
So, here's what will exactly work to get you on the top results. Just make sure that your listing keeps up with these factors.
Factors That A9 Algorithm Looks For
Amazon SEO is one of the most important elements of Amazon's marketing strategy. So, just don't rely on advertising. Try to make your listings more search-friendly.
1. Product title with the primary keyword in it
When a potential buyer clicks on a listing, he or she sees two things first: product image and its title. Therefore, it is vital to keep them attractive and yet optimized.
Start by doing quick keyword research and come with the potential keywords or search terms that Amazon visitors use. Shortlist a few keywords, each with decent volume while keeping the highest-search-volume (and low-competitive keyword) as your "primary keyword."
This primary keyword is something you should use in your title.
In this example, the brand has wisely inserted the keyword "women's running shoes."
Ensure that your title has these:
Brand name
Quantity (if you are offering more than 1 product)
Pattern, color, or model number (if any)
Size (if any)
Keyword
Note: Though Amazon's product title allows 200 characters (with spaces), it doesn't mean you can overuse your keywords. No! Keep it simple, informative, and with just your primary keyword.
Amazon Product Keyword Tips:
Capitalize the first letter of every word.
Use between 50 and 80 characters for the title.
Never capitalize the whole title.
Never capitalize the conjunctions (and, for, or) and articles (the, a, an).
Never capitalize the prepositions that fall within 5 letters (with, in, over, on).
Use numerals (don't use "two" but rather use "2").
Never use special characters like ~ *! ? $
Never use Type 1 ASCII characters (©, Æ, ô, etc.)
Never use promotional texts like "Free Ship" or "Sale."
Never use subjective commentary like "Best Seller" or "Hot Item."
Neither should you keep your titles too long nor too short. Extremely short titles will not help you rank high. Too long titles will make it hard for potential buyers to figure out for a few seconds what you are selling. Doing both incorrectly will lead to low CTR (Click-Through Rates).
A rightly optimized product title entices the buyers to click your listing. So, ensure that the first 4-6 words of your title are clear, reader-friendly, and concise.
Play it right. Keep it informative, optimized, and simple. That's the key.
2. High-quality product photos
The saying – "a picture is worth a thousand words" – is so true. Unless you don't keep it attractive, your listing is never going to get that traffic. So, your product photo speaks it all.
Therefore, make sure that your product photography is done right.
Here is a good example of this.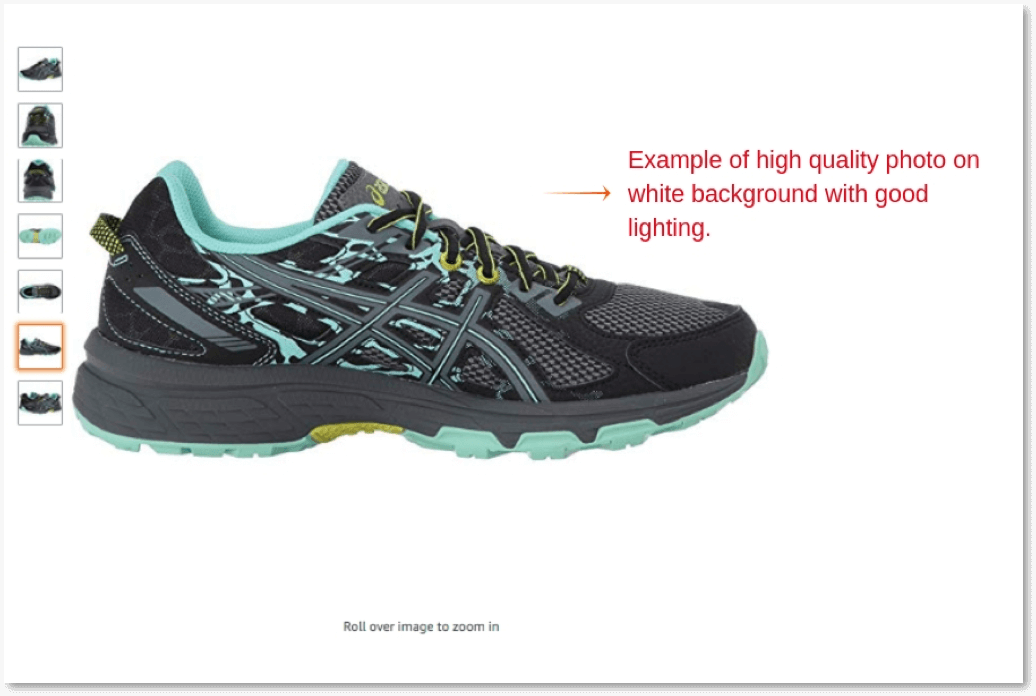 Make sure that your product's image is:
High resolution
Clicked under good light and with a plan, white background
Set with size 1000 × 1000 pixels / 1500 × 1500 pixels
Note: Amazon recommends sellers to use larger photos – at least 1000 pixels wide so that it looks great and clear when the "zoom" button is clicked.
Amazon Product Photo Tips:
Do not include any illustration or drawing as the product's photo.
The image file formats should be JPEG (.jpeg/.jpg), TIFF (.tif/.tiff), PNG (.png), and GIF (.gif).
The image file name should be the product's identifier (Amazon's ASIN, JAN, UPC, or EAN) followed by a "(.) period" and file extension (e.g. F00078956.jpg).
Never include photos that contain additional objects that you don't sell.
Make sure that the product is in focus with good lighting and professionally lit.
Make sure that the photos have a realistic color with smooth edges.
Books, Video/DVD, and Music images must be the front cover and should occupy 100% of the image frame. Promotional stickers, cellophane, and jewel cases are not permitted.
The background of the images should be in white (RGB: 255,255,255).
Make sure that the image doesn't contain any additional graphics, text, or inset pictures.
Offensive and pornographic materials aren't allowed.
3. Attractive features in bullet points
Now that you have attractive product titles to encourage potential buyers to click your product listings from Amazon search results, the next step is to write your bullet points section – in a way that it sells.
Know that a convincing bullet points section can turn your clicks into conversions. They play a key role in generating sales.
Note: Amazon vendors can have up to 10 bullet points whereas sellers can only have 5 bullet points.
Not many vendors know that they can include 10 bullet points because the Amazon product setup page allows only for 5. But a vendor can add the remaining 5 bullet points in Vendor Central on the "Edit Product" page.
Although a vendor can include 10 bullet points, he or she can only use fewer characters than a seller. Typically, a seller can use 500 characters for every bullet point whereas a vendor can only use 255 characters, based on the product category.
Make sure that your bullet points:
Has the primary keyword.
Starts with a capital letter or is in a "sentence case."
Does not include any punctuation marks in the end.
Uses semicolons for separating the phrases.
Does not include special characters.
Don't have all words in CAPS.
Here is a good example: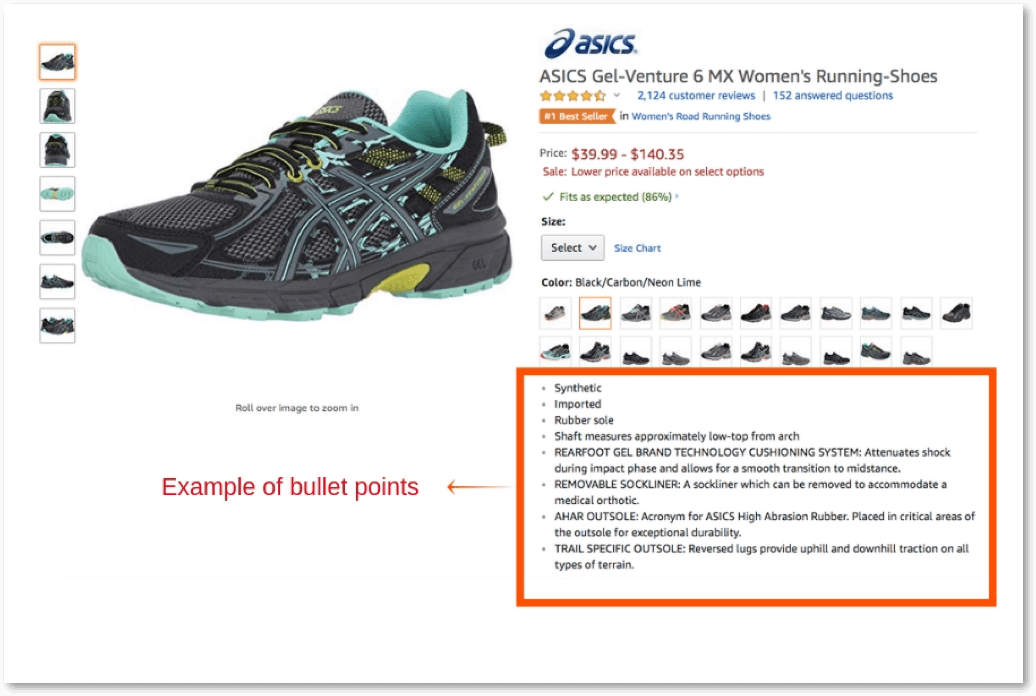 Tips:
Make sure that your every bullet point falls from 10 to 255 characters.
Never include website links or company details.
Include a keyword in this section.
Keep the content quality high and convincing enough for a buyer to make a purchase.
Write a point explaining how this product will benefit the buyers.
Do not include chunks of paragraphs.
Keep it organized and clear.
4. Clear and concise product description
If a potential buyer or shopper is convinced with your image, title, and price, he/she will look at the product description. If he or she scrolls and makes it to this section, then know that you have almost made it to the Buy Box.
Here is a good example:

Make sure that your product description has:
One of your keywords in it
Clear and concise information
Convincing content
Note: Product description is another important ranking factor that the A9 algorithm looks for. So, make sure to keep it clean, neat, and descriptive.
Tips:
Make sure that you use your keywords in the description.
Write the content from a sales and customer perspective.
Add something that shows how your product will help your buyers.
Focus on adding a few emotional elements.
5. Competitive product pricing
Pricing the item too high will not attract any customer and keeping it too low won't fetch you good profits. Product price is one of the key ranking factors on Amazon and hence, has to be set right.
Make sure that your product's price is:
Set reasonably and yet competitively
Tips:
Look at your competitors pricing.
Check for product's price history.
Pay attention to the sales rank.
6. Answer the customer questions
If you see Amazon's product listings, you will see a section of "answered questions." This is one of the key metrics that the A9 algorithm also looks for ranking.
Though they don't specifically say that they track. But, the data in this section is something they have access to. Since Q&A is highlighted at the top section of the product's page, it only means that it is crucial for conversions.
So, listings that have more number of answered questions, tend to rank better than others that don't.
Here's a good example of a listing that has a good number of answered questions.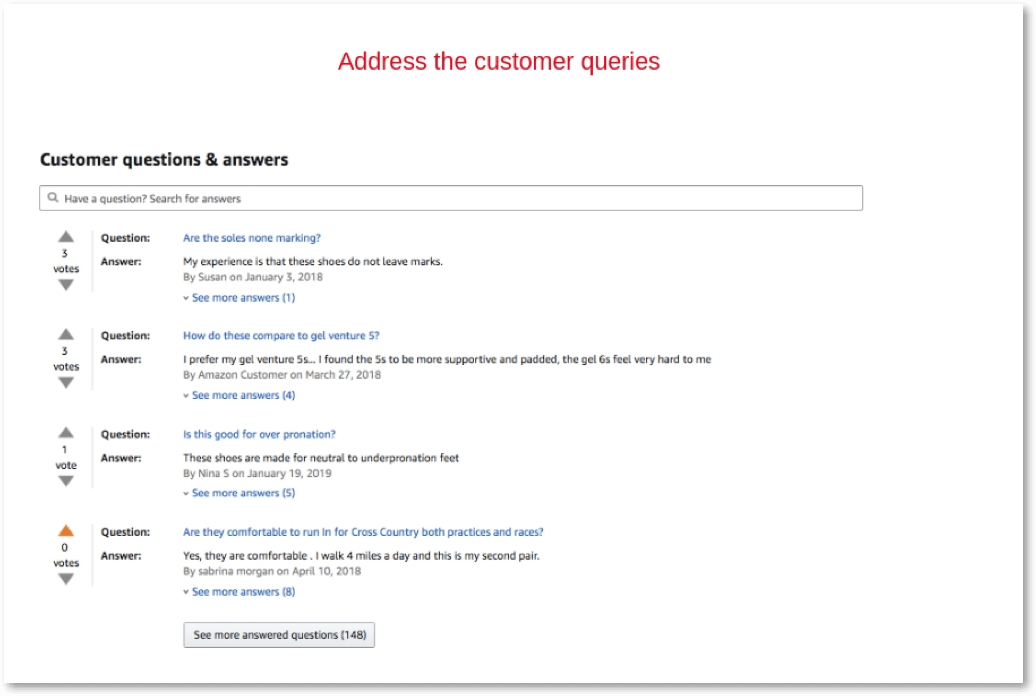 7. More positive customer reviews
Undeniably, customer reviews play a key role in ranking too. The more the number of positive reviews, the higher are the results. If your product is great and is helping your customers, then they will surely drop a review about it to spread it to others.
However, you can also encourage your customers to leave an honest review of your product after they use it. Like the way, this listing has done it.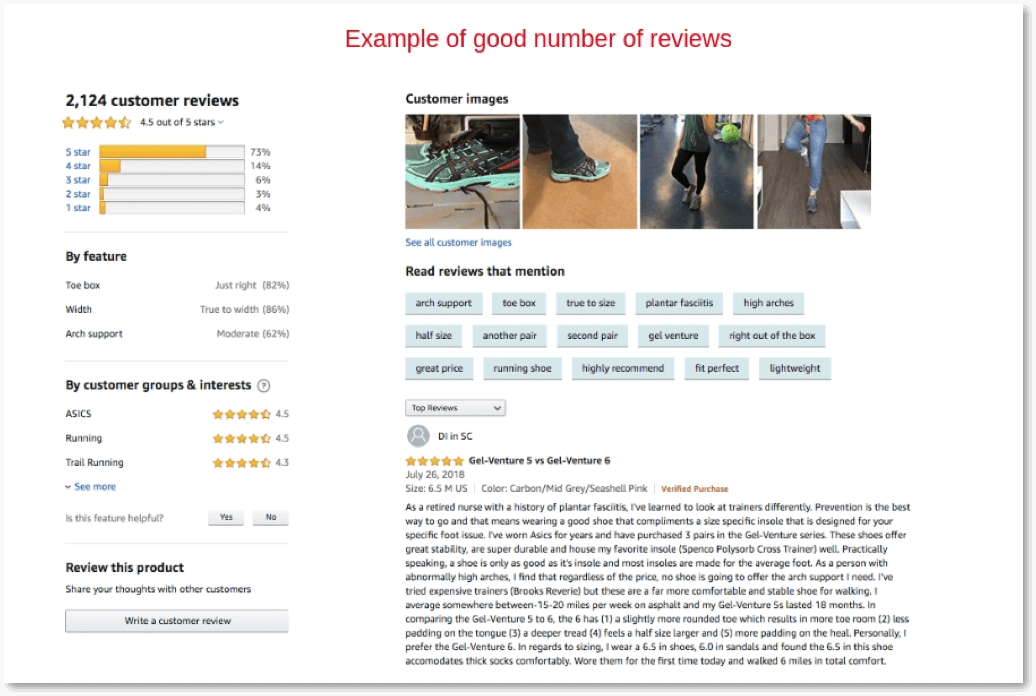 8. Higher customer ratings
Customer ratings are yet another important factor that Amazon's A9 algorithm looks for. Most people tend to buy a product by quickly applying that filter option of items with more than 4 stars. So, this means that you should have a killer quality product to increase your ratings.
9. Sales velocity
Amazon's A9 algorithm also sees how many sales and conversions you make. In short, the greater the sales, the higher the rankings.
After you optimize your product listing, evaluate it to ensure that it performs well on Amazon SERPs.
But how?
So, here's what we did to assess a product listing. We took a sample listing from Amazon and checked on the sellerapp tool to understand how it performed and what it missed.
This is the listing we took as an example to check how it did on Amazon.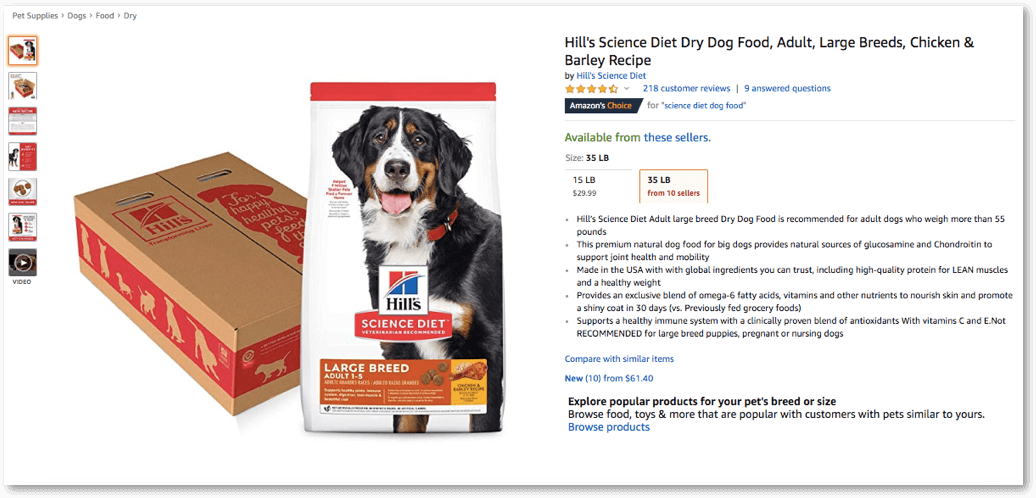 The outcomes were:
Upon evaluation, we found that the Hill's Science Diet made an estimated sale of 85 – 108 per day with revenue between $5.25k and $6.64k in a day for the current price it sold.

This sounds all great, right?
But actually, NO.
When we analyzed the listing a little deeper, we found that it missed a major part of sales, and we will tell you why.
First, we analyzed its listing quality. The results were quite surprising. The tool could analyze all its backend data and could pull off how exactly it performed on Amazon.
It scored a total of 68.47 out of 100 with 2 critical errors and 1 warning. However, it passed 8 other tests.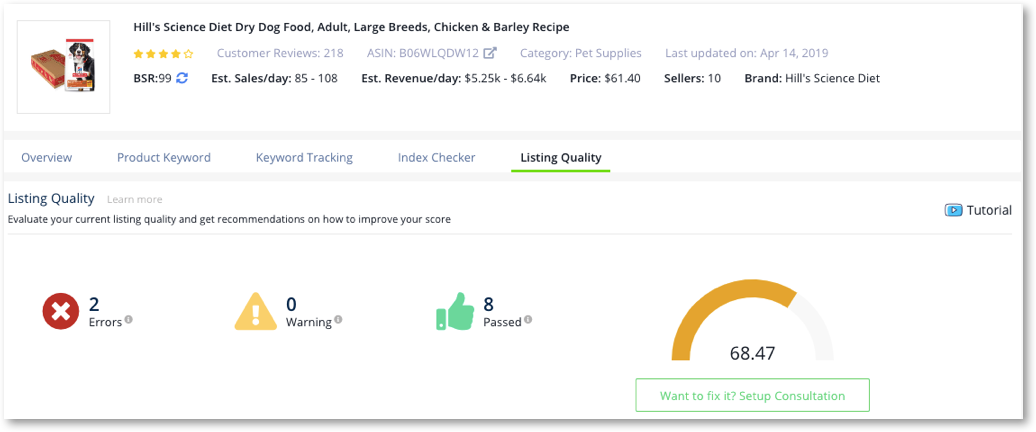 The SellerApp's tool gives a score to a listing based on two important factors:
Desirability
Discoverability

The discoverability factor will look for the following aspects and give a score accordingly. As far as this example listing is considered, here's what the tool found: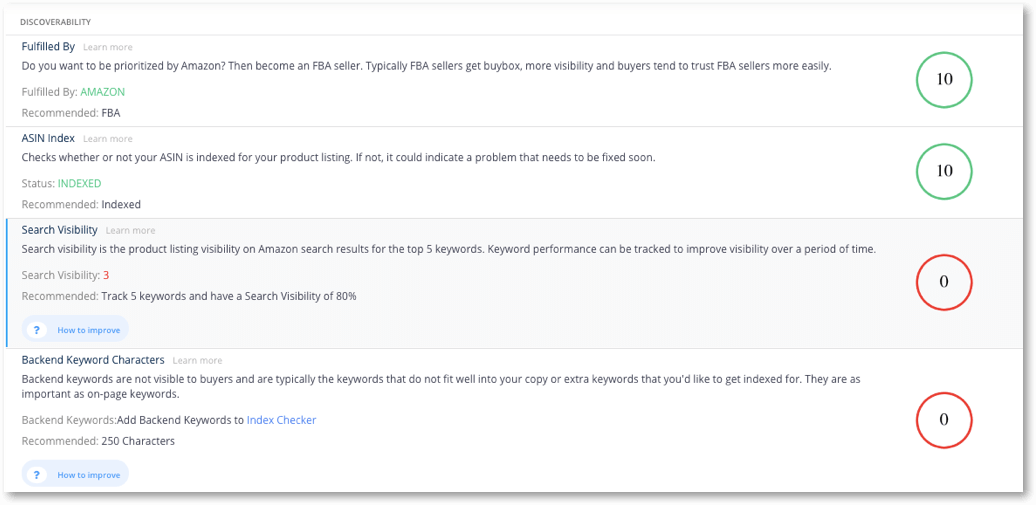 Let's get into each aspect of discoverability in detail.
Fulfilled by Amazon: The listing scored a total of 10 because the seller is associated with FBA. An FBA seller gains more visibility, trust from potential buyers, and gets a chance to win the buy box than other sellers who don't.
ASIN Index: The listing also scored a total of 10 on this factor because its ASIN was indexed. However, if your ASIN isn't indexed, then it only means that there is no way your customers can find you. It is indeed a big problem, which required immediate fixation.
Search Visibility: Now, this is where this listing failed. It scored 0. It is a metric, which estimates the visibility of potential keywords. Since none of its keywords are in the top 10 results, it scored 0 here. The best part is that the tool gives additional tips to improve.

Backend Keyword Characters: Again, the listing failed to make a good score for backend keywords. These keywords aren't visible to the buyers but are as vital as your on-page keywords. These are usually the keywords that don't fit into your copy and yet you want to be indexed for.

The desirability factor will look for the following aspects and give a score accordingly. As far as this example listing is considered, here's what the tool found: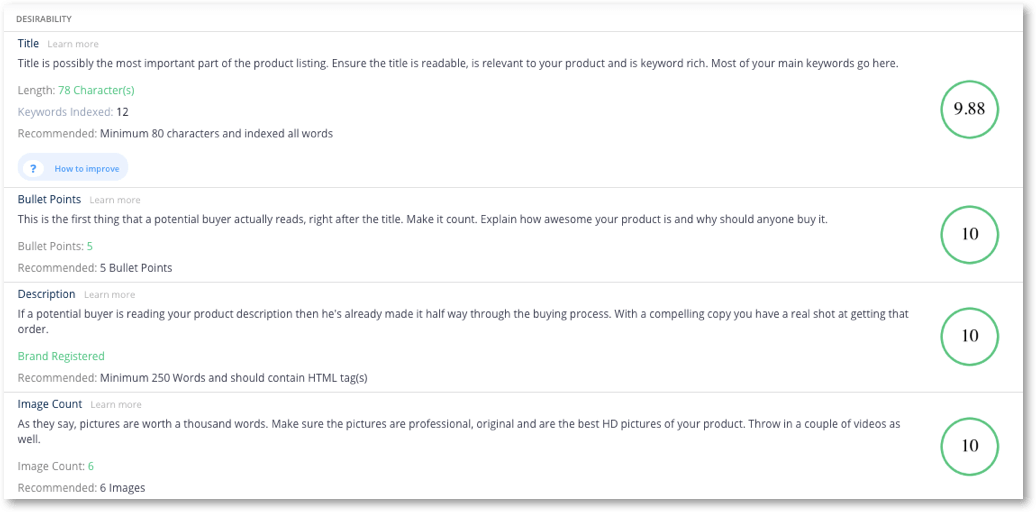 Let's get into each aspect of desirability in detail.
Title: As said earlier, your product's title is one of the key factors that the A9 algorithm looks for to help improve your listing's ranking. Make sure that the title has a keyword and is attractive enough for a potential buyer to click on it.
Also, to perform great on Amazon, we recommend you to use at least 80 characters in your title. As far as this listing is considered, it was close enough to score a total of 10 but couldn't because it utilized only 78 characters and hence, it got 9.88.

Bullet points: Since bullet points are something that most buyers read after the title, it is important that your listing has this section attractively written so that it converts. The listing had a clear bullet points section mentioned with 5 clear points, it hit a 10 on 10.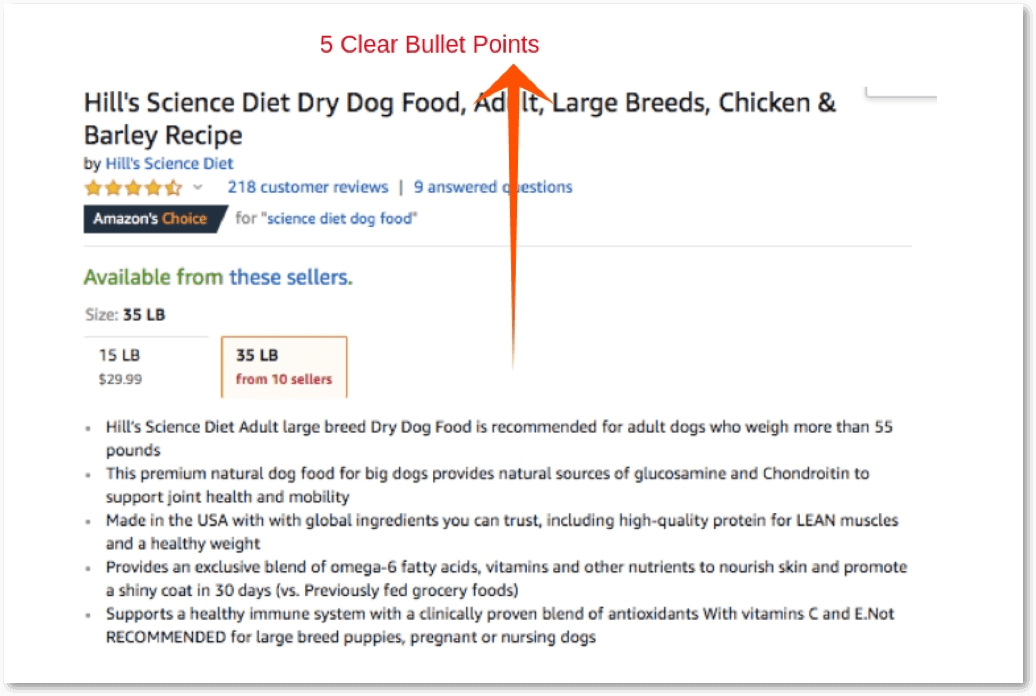 Description: As said earlier, if a buyer scrolls down and reaches the product description section, then know that he/she is highly interested in buying your product and is doing thorough research by reading through some more details. So, this is a good sign.
To increase your chances of ranking, we recommend you keep 250 words minimum.
When the tool analyzed this listing, it found that it had an excellent description with a video. So, undoubtedly, it had to score a 10.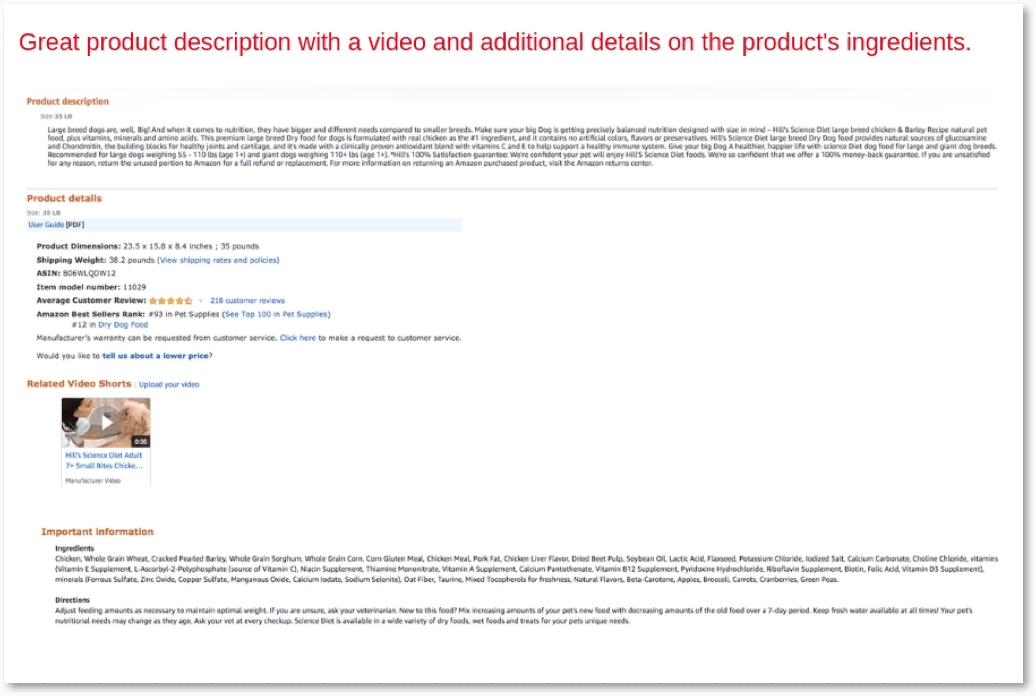 Image count: Images are one of the important selling points of a product listing. Therefore, keeping them of high quality is a priority. Also, adding a video is an added benefit because the buyer gets to see and learn how the product works.
To improve your chances of ranking on Amazon, we recommend you to use 6 product images, each of high quality and perfectly shot under great lighting.
The listing managed to score a 10 again because it utilized all the 6 placements that Amazon provides and included a video too.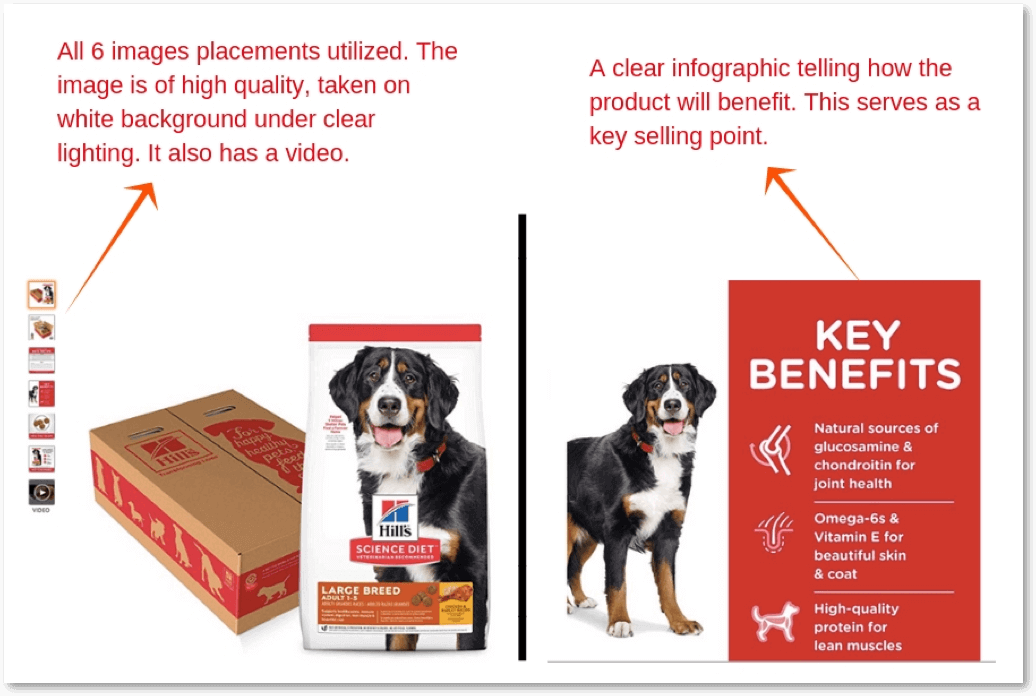 Ratings: We recommend you maintain a minimum rating of 4. Since the listing had a rating of 4.3, it scored at 8.6, which isn't bad. However, there is still room for improvement.


Reviews: Like ratings, reviews are another great way to generate more sales. People believe in referrals and the trust factor increases when they see more and more people buying the product and posting its pictures.
We recommend you to maintain at least 15 reviews with 2 reviews being the most recent. Since the listing had a really good amount of reviews, it scored 10 again.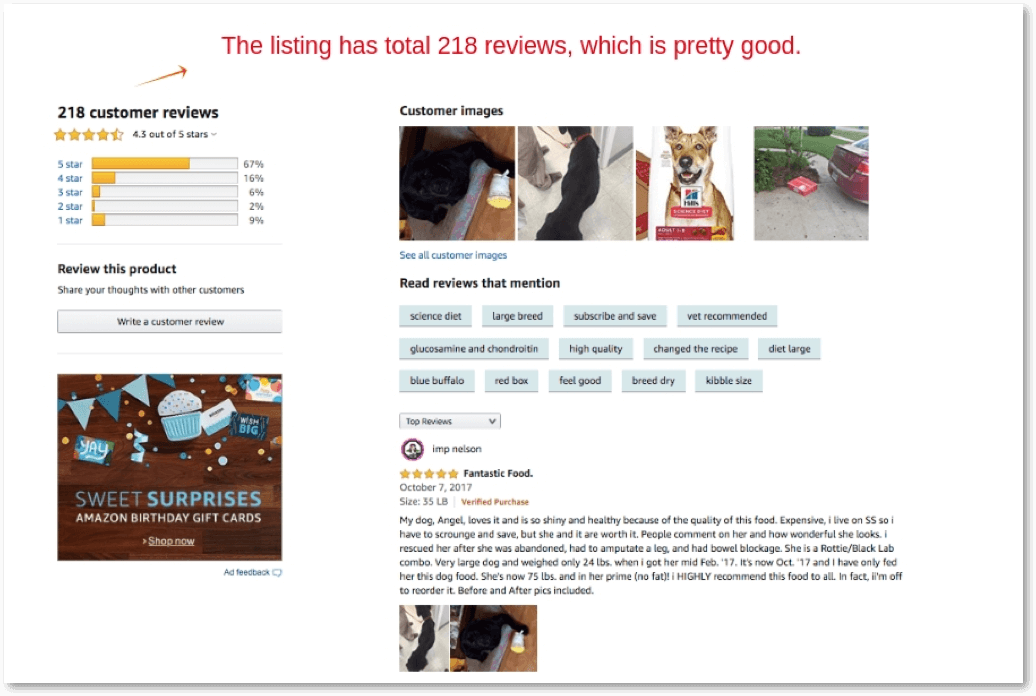 What else did this product listing miss?
After analyzing what this seller sold and checking its keywords, we came to know that it was trying to target two potential (but competitive) keywords:

When we tracked the positions of these two keywords, we found that they were not on the first page of Amazon SERPs, making it lose out on:
Product visibility
Organic rankings
Sales
Conversions
2. Amazon PPC Marketing
According to Wikipedia, PPC (Pay-Per-Click) is an advertising model popularly used on the internet to drive more traffic to a website. The process is simple. An advertiser pays (specific amount or fee) to a publisher (usually a website owner, search engine, or network of websites) whenever an ad is clicked. However, this is not just restricted to blogs and websites but can also be used in eCommerce too.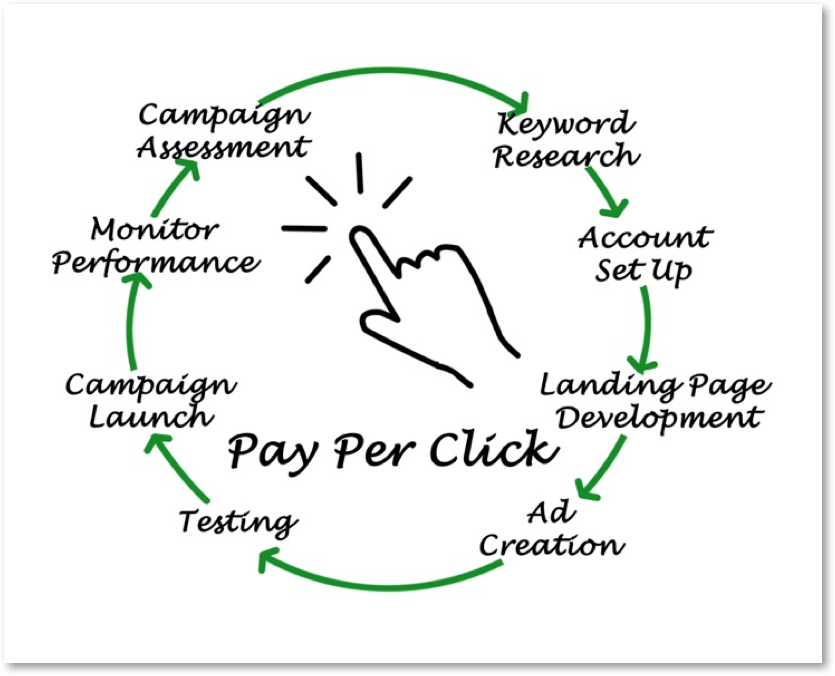 Each time your advertisement is clicked, you get a visitor to your website and when this happens, you pay a small fee to the search engine. When the PPC campaign works properly, the fee becomes trivial because the visitor count is worth more than what you're paying for it.
Let's say, you are paying $5 for an ad click, but this click ends in a $500 sale, then it means that you have made a great profit.
But know that building a successful PPC campaign requires proper knowledge, experience, and optimization.
The key factors include:
Researching and picking the correct keywords.
Placing those keywords properly in different ad groups.
Setting up the PPC campaign's landing pages.
Optimizing the landing pages for conversions.
Know that search engines reward advertisers who can craft intelligently-targeted and relevant PPC campaigns.
How?
Well, by charging less for ad clicks. Let's say that your landing pages and ads are satisfying as well as useful to users, then Google will charge you less for each click and this, in turn, generates higher profits for your business.
To use PPC, it is vital to know how to do it right.
Now, let's talk about Amazon PPC in specific.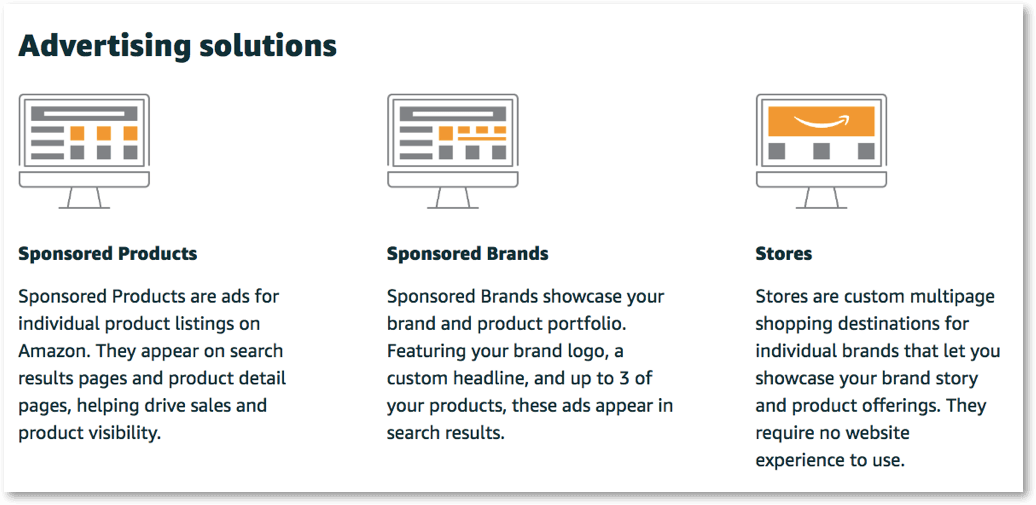 Amazon utilizes the PPC model to help sellers to generate more sales for their products. They call it "sponsored ads or sponsored product ads."
Why should you invest in Amazon PPC marketing?
There were times when investing your money and time in advertising was optional but not anymore. Since new sellers and businesses are opening their accounts on Amazon every other day, the competition has massively increased.
Moreover, the average CPC (cost-per-click) rates are inclining in every product category, so much that it has reached a point of unprofitability in certain cases, only to fend off some competitors. So, does Amazon advertising makes sense?
Recommended Guide: How Much Does Amazon Advertising Cost
The answer is still a big YES.
Quick Fact: According to a recent study done on 1000 shoppers in the U.S, 41% of them begin their product search on Amazon and then, end up buying there.
So, it is all about pursuing the shoppers.
But the question is why should you pay for advertisements on Amazon? Let's answer this question by asking you one simple question.
Do you rank for potential keywords in the top 3 results?
No?
Then, advertising is the only way to get your product into the limelight and start generating some sales.
Benefits Of Amazon PPC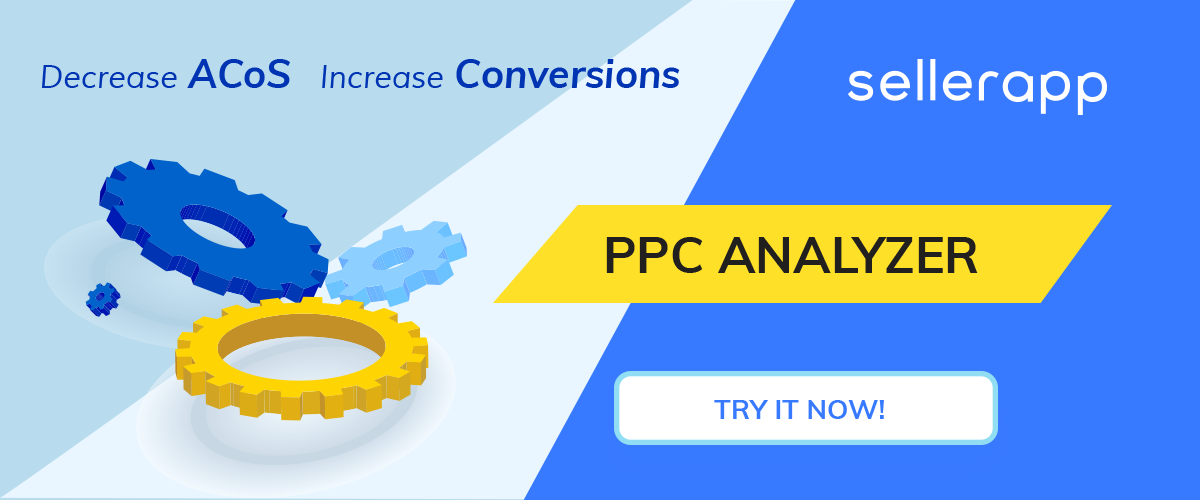 Here are some important reasons sellers tend to use Amazon PPC.
Greater visibility: There are chances that you might not have ranked for potential keywords on Amazon SERPs yet, making you lose out on traffic. However, by running optimized amazon ad campaigns, you can help acquire great visibility. Once you run ads, people will get to know your brand.
Pay for click and not impressions: One of the unique and unique features of Amazon PPC is that you don't have to pay for your listing's impression (An impression is calculated every time your advertisement is shown on the search engine results page). Sellers don't have to pay a separate fee for making your ad appear. Instead, you pay only when the user clicks on your ad, making it a trouble-free transaction overall.
Device-friendly: One of the benefits of using Amazon PPC campaign is that it is device-friendly. It enables your sponsored ads to be displayed on all devices – be it tablets, computer, or smartphones.
Reach buyers and not viewers: Since potential shoppers search directly on Amazon, you will find more people with an intent to buy. Undoubtedly, appropriate sponsored ads help in saving their time because the product that they are looking for appears alongside the targeted search. So, its just a click away. This is also one of the most effective Amazon marketing strategies.
Track your success: Amazon provides the feature of sponsored product ads reports to help sellers to optimize their ad campaign and track its success. It allows the sellers to know whether their products are being executed in the right direction.
Top Rankings: Since product ads are displayed above the organic results, they serve as a great advantage. People with an intent to purchase will tend to click on these ads first, given that they are attractive enough.
Recommended Read: Why You Should Outsource Your Amazon PPC Services.
Types Of Amazon PPC Ads
The Amazon PPC ads can be classified into 3 types:
Headline search ads
Product display ads (or product ads)
Sponsored product ads (or product ads)
1. Headline Search Ads
Headline search ads are best to use when you want to promote your brand. Amazon currently offers 2 methods for brand promotion, especially during seasonal times:
Headline Search Ads
Amazon Stores
Here's how a headline search ad appears: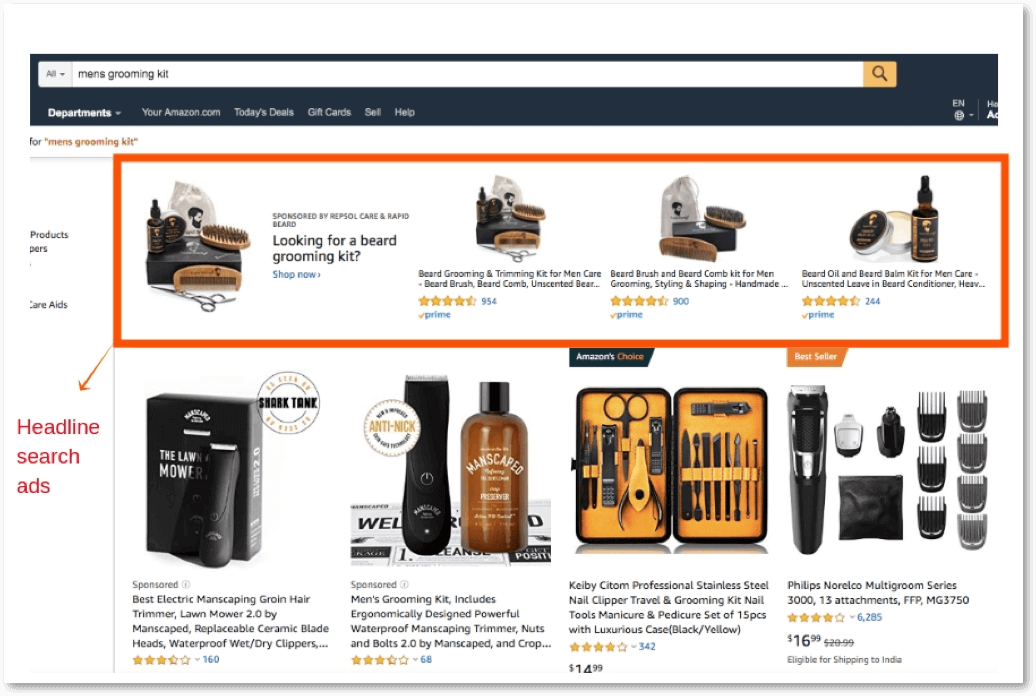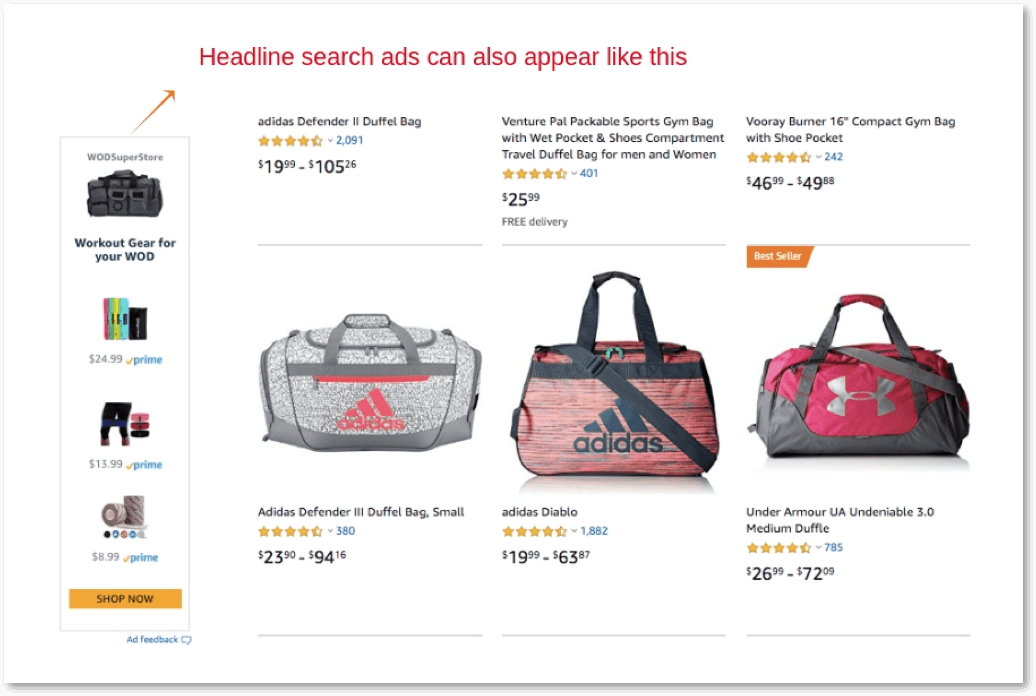 Amazon Stores & Headline Search Ads together can boost your branding and create a great awareness of what you sell. Besides this, it also builds customer trust and ensures that your products are rightly promoted.
By creating a promotional PPC campaign that pools Headline Search Ads, Amazon Stores, and Sponsored Products, you can easily reach a massive number of shoppers in less time. They work great during the biggest season sales!
A "headline search ad" is placed notably above Amazon's search results. This placement helps in increasing the possibilities of product visibility to a great extent, especially during holidays. It drives a good amount of traffic to your product listings.
A "headline search ad" features a customized design with your logo, a headline, and three of the products that you offer. The pricing works on the cost-per-click model, meaning that you have to pay only when the ad is clicked.
2. Product Display Ads
A "Product Display Ad" is another effective type of PPC ad, which is displayed on a product's detail page – either beside the product or in the "similar products" section. This ad type is exclusively designed to be a self-service option. It is combined with the product ASINs, giving sellers some amazing options to concentrate on the customer's behavioral segments.
Recommended Guide For Amazon Product Display Ads
Here is how a product display ad appears: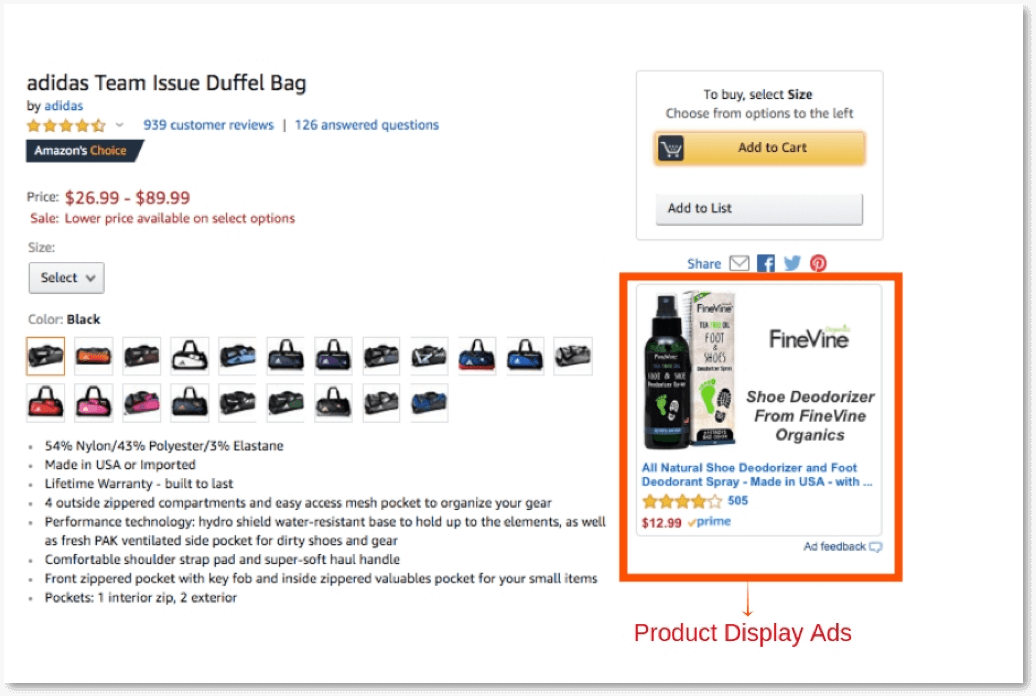 3. Sponsored Product Ads
A sponsored ad is one of the most effective ways to increase visibility and conversions for your products.
A sponsored product ad shows up exactly where customers see them – the top part of the search results page.
Here's how a headline search ad appears: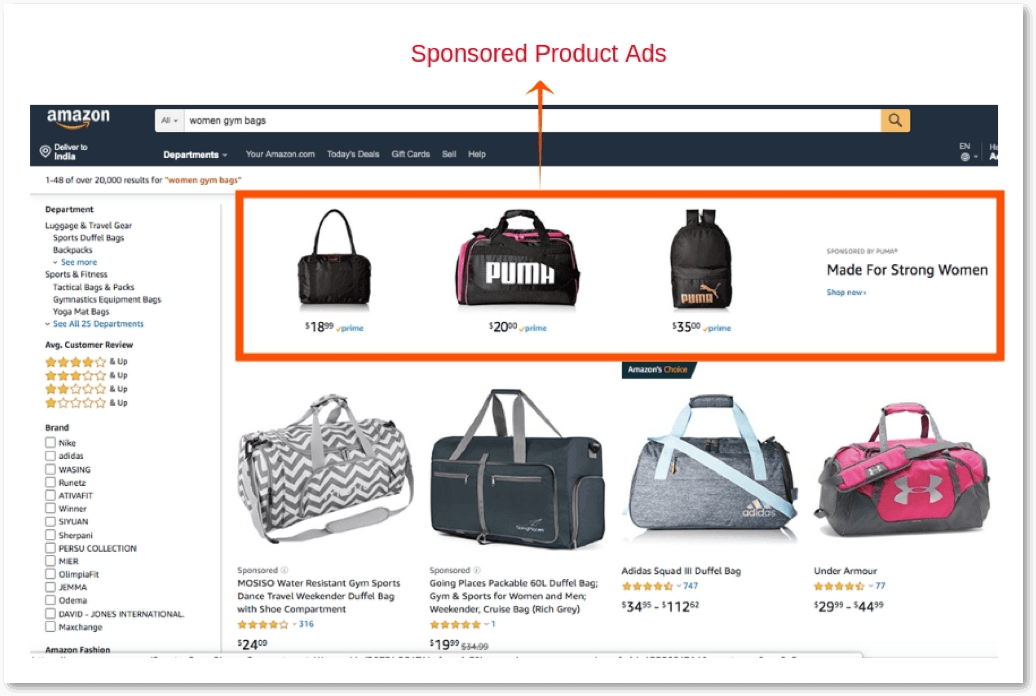 You just have to place your bid for relevant keywords. If your ad matches the searches and bid wins it, your ad is shown to the shoppers. Even these work on the cost-per-click model, meaning that you will have to pay only when your ad is clicked.
Note: Understand that every ad type features its own budget and screen placements. Though they look similar, they differ significantly when it comes to conversions and the way CTR (click-through rate) influences.
However, Amazon enables sellers to match up to your requirements with the help of ads. Sellers get to target their product's detail page, related interests, complimentary listings, and related categories.
No matter what ad type you pick for your product, keep these three things in mind:
Your goals
Your target audience
Your product type
What Do You Need To Run An Amazon PPC Ad?
To run a PPC ad on Amazon, make sure that you have these:
An active seller account
Ability to ship anywhere
For sponsored product ads, you have to meet the Buy Box eligibility criteria and win it.
For headline search ads, you need to meet the Amazon Brand Registry criteria. It helps you protect your registered/approved trademarks on Amazon. Also, it creates a trusted and accurate experience for your customers.
How To Create An Amazon PPC Campaign?
If you are starting out on Amazon PPC, we recommend you create two campaigns:
Automatic targeting: Here, Amazon decides which keywords to show for your ad.
Manual targeting: Here, you get to decide which keywords to show for your ad.
1. Amazon PPC Campaign: Automatic Targeting
Automatic PPC campaigns are pretty straightforward to create.
Enter the campaign name, start date, and appropriate budget.
Next, Amazon will decide what keywords your product listing can match to it.
Then, it runs the ad campaign on your behalf but within the budget limit that you have set.
If you are starting out, an Automatic campaign is the best but don't run them for too long. Let it run for 1-2 weeks and see your advertising report to check how has your listing performed. Have they fetched you good conversions?
You can use this data for your "manual targeting" next. But don't completely turn off the automatic campaign. It is still good to let it "run in the background" so that it continues to collect some good keywords to target.
2. Amazon PPC Campaign: Manual Targeting
A manual campaign allows you to upload your keyword list. You can either source them up from the "automatic campaign" that you have run or use a keyword tool that is exclusively designed to show what search terms are users typing on Amazon.
Needless to say, sellerapp's keyword tool perfectly does this job.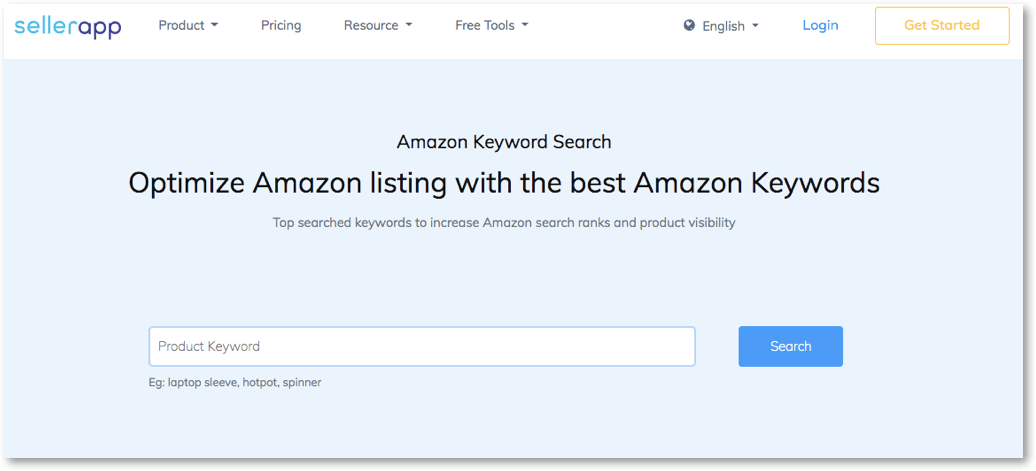 The best benefit of running a manual campaign is that it is more flexible than an automatic campaign.
Within a "manual ad campaign," you get 3 keyword match types to choose from:
Exact keyword match
Phrase keyword match
Broad keyword match
How To Find Good Keywords For Amazon?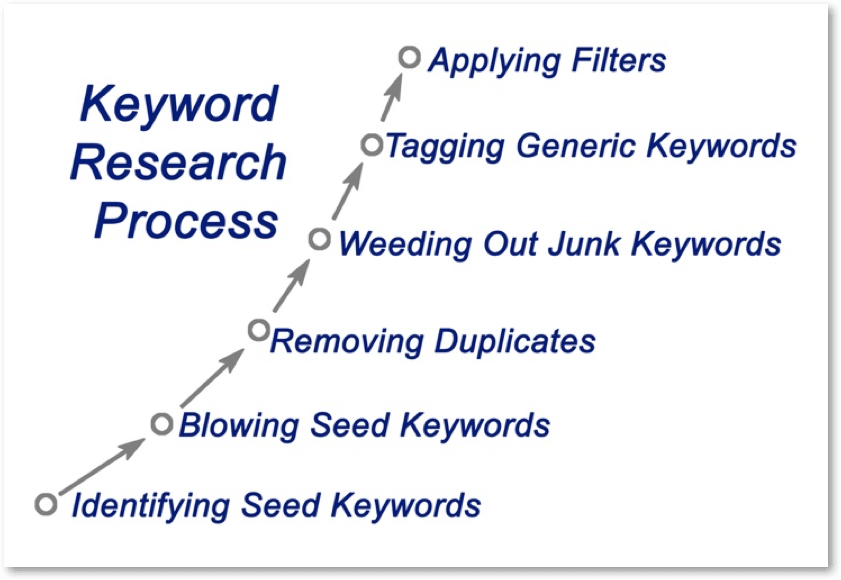 Though you might think of using Google Keyword Planner or any other tool for that matter, we will tell you what the exact drawback is. You want visitors with a "purchase intent" and not "view intent." Also, only an Amazon-based keyword tool will help you fetch the exact number of people typing and searching for different keywords on Amazon and not Google.
Since you will have the exact data of how many shoppers are searching for what kind of keywords, you will know what to target.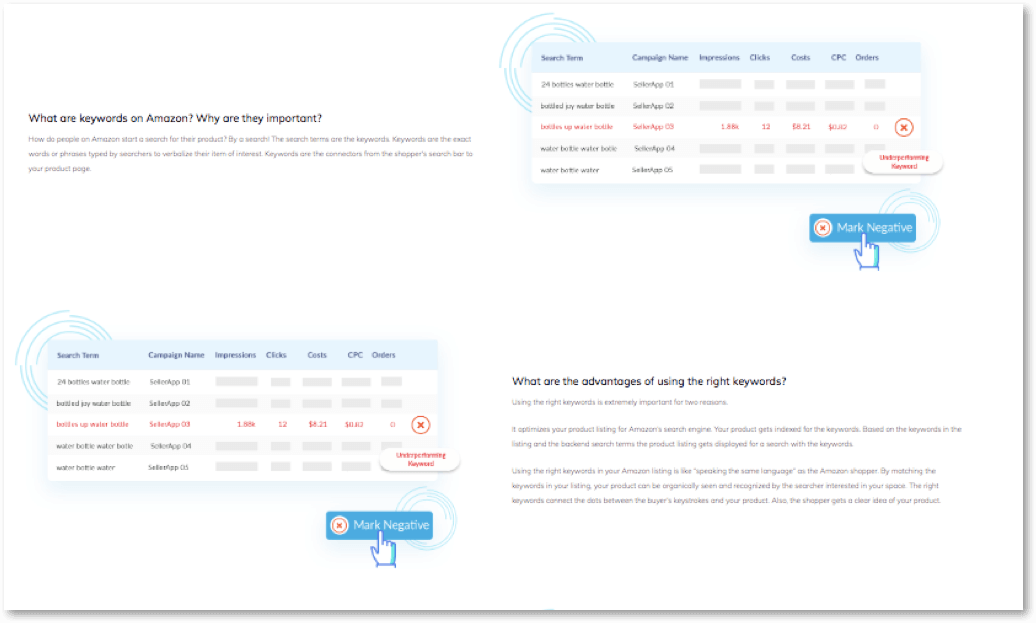 So, here's what you need to do:
Step 1: Navigate to your menu that says Free Tools and click Keyword Search.
Step 2: Type your desired keyword or search terms related to your listing and let the tool do the rest of the job for you.
Here's an example: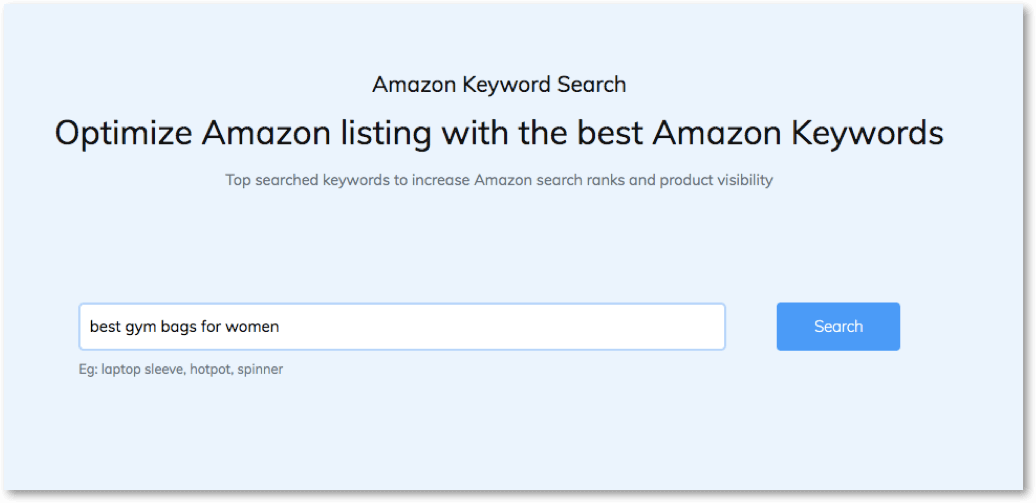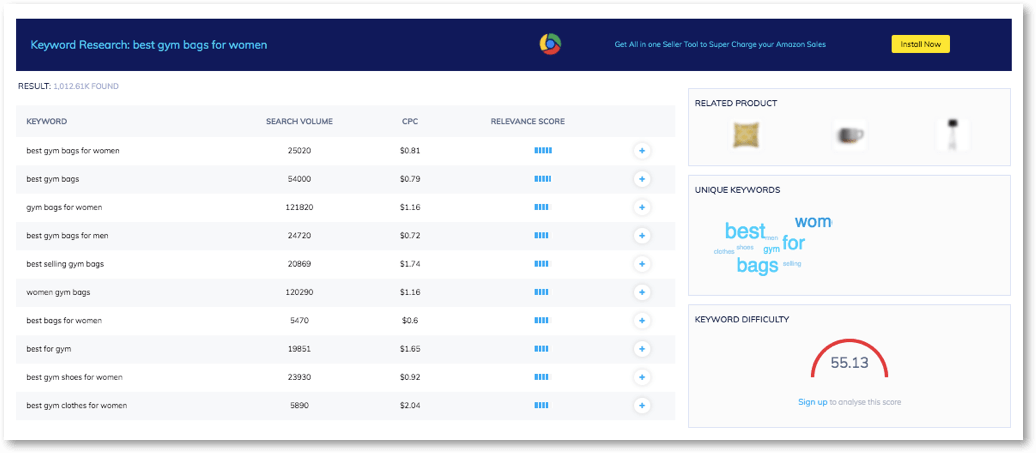 The best part – the tool automatically tells you if the keyword you want to target is hard or easy to rank for. Even if this keyword doesn't seem feasible, you can still target for other keyword variations. You can also lookup some long-tail keywords with decent search volume and yet that are of less competition.
So, don't blindly run your ads or pick your products. Always, do keyword research first to find out if you have a chance to win in the competition. With the right keywords, you can also come up with the right products to sell and become successful in this business.
Why Shouldn't You Advertise On Facebook Or Google?
Undeniably, Amazon PPC is one of the best ways to advertise your products than on Facebook or Google. Yes, both are huge platforms with massive audiences but Amazon has stronger and better buyer intent. This makes it a key reason to use Amazon PPC.
People are already aware of this big eCommerce giant and know what it does. Most users log in to their accounts and start searching for products directly there rather than searching on Google first and then getting into Amazon next.
This means that the possibility a buyer will purchase your item (often called "conversions") after clicking on the Amazon PPC as is very high. Usually, Amazon product ads have a conversion rate of around 10% – 20%, which is approximately 10 times greater than the average market range.
Yes, you might show your ads on Facebook or Google but the users might not have searched on these platforms intending to buy. They might want to just read some information about your product or might have reached a Facebook page to see what others are saying about your product.
Does Amazon PPC Marketing Help With Organic Rankings?
Yes, Amazon PPC also plays a key role in organic rankings. Though Amazon keeps the functionality of the A9 algorithm a secret, we know that apart from the factors we have listed above, it also looks for these three things:
Sales velocity: Besides having a greatly optimized listing, it is also important that it generates maximum sales. The higher the sales count, the greater are the chances of ranking higher on Amazon.
Conversion rate & relevancy: If your item is receiving good sales per click, then it means that your item is relevant and Amazon does see this factor seriously. Just like other search engines, even Amazon offers the best experience to its customers. So, it ensures that it shows the right and relevant products after a keyword is typed in its search box.
Product Diversity or Variety: Amazon SERPs aren't only about showing high-converting, relevant products but rather, offer multiple options too.
Hope you enjoyed reading this article and had fun knowing deeper about Amazon's marketing strategies and different ways to optimize your listings. Drop us in the comments and let us know how this article has helped you in terms of performance.
Additional resource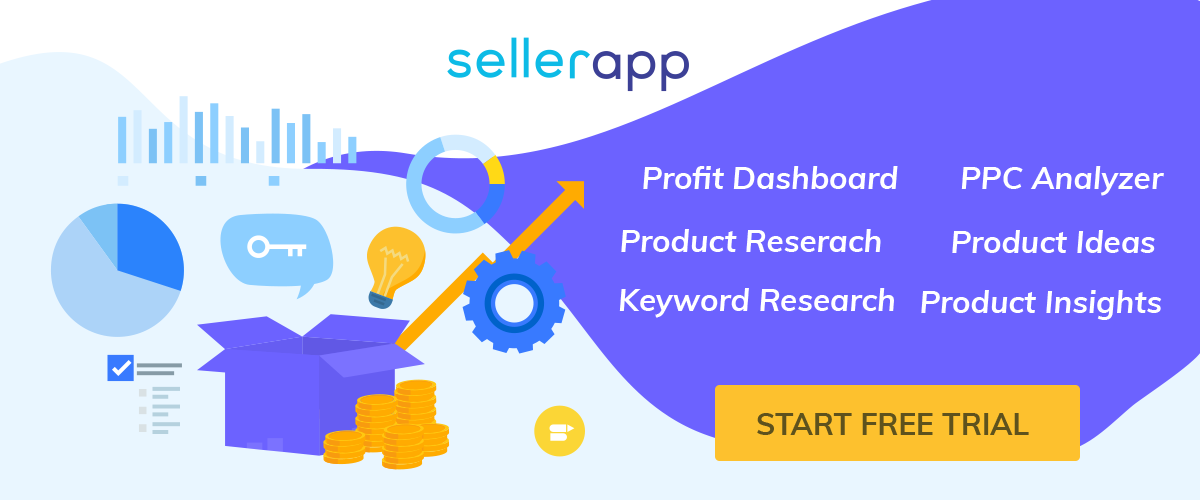 Was this post helpful?
Let us know if you liked the post. That's the only way we can improve.