Google is the world's largest search engine while Amazon is the largest e-commerce marketplace. Millions of people search on Amazon and Google. As a seller and entrepreneur, you need to be familiar with both search engines to scale your business. As you shape your SEO strategy, it's essential to focus on what works the best to rank your products.
Which is better for getting clicks, conversions, and finding the right audience? Let's look at all of it in this article.
For an average web user, Amazon and Google are two different entities that offer two different outcomes. Do you know that Amazon has surpassed Google as the largest search engine for product searches?
Well, that's true (Source). It seems that Amazon is customers' go-to search platform when it comes to finding products.
Let's see how they work.
A quick peek into the content:
How does Amazon work?
Amazon is a
popular online marketplace
. In fact, 90% of shoppers check Amazon even if they've found the product elsewhere. Though Amazon is
strictly for e-commerce
, a huge population turns to Amazon for product search. Therefore, it's essential for sellers to list the products in a way to earn more conversions.
Amazon search engine ranking is self-contained. It is only influenced by how the products are perceived by customers and the sales generated on Amazon. It is not dependent on how your website performs. Most of the factors influencing Amazon SEO are customer-centric like:
Relevant customer search terms
Conversions
Reviews
Ratings
If you want to position yourself for Amazon SEO, you need to follow the guidelines set by Amazon. In the end, you need to draw some decent conversions and reviews for your product.
Recommended Guide: Amazon review checker.
How does Google work?
For most people, Google is synonymous with SEO. After all, it's the largest search engine on the planet. Just like Amazon, Google uses keywords to rank search results. However, the factors influencing Google's search algorithm are different from Amazon.
Here are a few factors driving Google's SEO algorithm:
Backlinks to your website or blogs
Number of clicks to your websites
Page speed
Domain authority
You also need to handle the technical side of your website like crawling errors and act quickly to fix them.
Amazon vs Google: Similarities
On a broader scale, Amazon and Google may seem similar to most people. Here are a few things that are in common.
#1 Relevance: The more sales/traffic, the better ranking
While Amazon focuses on sales, Google focuses more on traffic. However, in both cases, the main objective is to rank high for relevant keywords.
#2 Systematic and constant optimization
Ranking on Amazon and Google can be improved by optimizing regularly. You need to follow a set of best practices to rank high on these platforms.
On Google, optimization of the page title, heading (H1, H2, H3, etc), meta description, URL, image, and image alt text form an important part of on page SEO. Read more."
As mentioned above, the ranking can be influenced by optimizing the listing or web pages regularly. However, the optimization needs to be long-term focused, and changes have to be made based on customer/user preferences.
#3 Two types of results: Paid and organic
Both Amazon and Google distinguish between paid and organic search results. They use an auction procedure to display the results. Advertising is a major income for both Google and Amazon. However, for Google, advertising is the biggest source of revenue, Amazon advertising is still in its infancy.
When it comes to ad targeting, Google ads are more advanced than Amazon ads. Google ads are very comprehensive and targeting ads can be pursued easily. On the other hand, with sponsored display ads, Amazon is expanding its funnel ads for sellers and vendors. There's a lot of catching up to do.
Amazon vs Google: Major differences
#1 Keywords
One of the major differences between Amazon and Google is keywords. If you want to rank your blog or landing page on Google, you need to follow a set of best practices like:
Focus on the long-tail keywords that enable quality traffic
Maintain good keyword density, meaning, repeat the keyword several times on your page (preferably in the title and sub-headings)
Optimize your images on the page according to the keywords
Use the keywords in the meta description
On the other hand, keywords on Amazon work in a different way. Users will not use long questions to search for a product. The main keywords and long-tail keywords are purely product-focused – keywords that talk about the product's benefits and features and cater to the top and bottom of the funnel.
How you should approach keyword optimization:
Single-use of keywords is sufficient – as long as they are relevant to the product.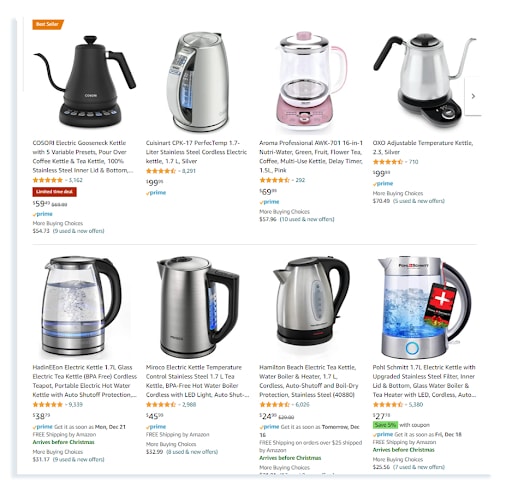 It's easy to find some keywords in the title like the portable, cordless teapot, fast boiling, speed boil, etc. These keywords are quite similar to customer searches when they are trying to find a similar product on Amazon. This is the reason why keyword research is paramount on Amazon. This isn't an exact science. You can choose a keyword research tool that gives relevant and accurate results tailored for Amazon SEO.
That is where the SellerApp Amazon keyword research tool comes into the picture. You will find relevant yet highly accurate keyword results based on customer searches, conversions, Amazon CPC, and search volume, etc.

Start with your primary keyword and find relevant keywords for your listing. Not sure of keywords? No problem. Find a similar product from a competitor, and add the ASIN to our reverse ASIN checker. SellerApp will give you the exact keywords for which the competitors' products are ranking high on Amazon. You will be able to find their search position, index status, etc. This will enable you to narrow down the potential keywords that you will need to use in the listing.
#2 External links
Having external links is one of the driving factors of Google SEO. The more quality links you have to your page, the higher your authority gets. Simply put, quality links determine the domain authority of your website. Thus it helps to secure top ranks in the SERPs.
On the contrary, Amazon's search engine does not include backlinking. In this case, the sales volume of the product plays a dominant role in the product ranking.
While you can't use links in your listings to improve your product's performance on Amazon, you can use them in a different capacity.
So how do you combine Google SEO and Amazon SEO to your advantage?
With the latest update in Amazon's SEO algorithm, you can use external traffic to influence your product rankings. One such way is to utilize Google SEO. For this, you need to create a blog and add direct links to your product listings on your posts. Write informative yet engaging articles in a way that stirs the interest of the audience. This will improve sales, and thereby, product ranking.
Recommended Guide: Amazon Posts.
There's a catch, though. Sending traffic directly to the product listing may not be ideal in all cases. If the number of views vs. total sales is lower, this may hamper your ranking on Amazon. Don't worry! This can be controlled by introducing a landing page. If you are a brand registered seller, you can create a custom landing page for the products that you want to highlight.
#3 Amazon SEO vs Google SEO – Optimization with insights
Focus
As mentioned, Amazon SEO focuses on different factors when compared to Google SEO. Amazon focuses on both conversions and CTR, while Google SEO focuses on CTR.
The reason is simple. Google can't always track what a user is looking for or what they are trying to pursue after landing on a web page. So Google considers CTR to estimate the relevance of an ad or organic result.
However, for Amazon, the goal is clear and direct – whether a customer bought the product or not. So customer satisfaction, CTR, and conversions take the central role in deciding the product rank.
Related Resource:
What is Geo Ranking on Amazon – Tips to Rank Higher on Amazon
Analytics
Google's search engine has evolved over time. It has managed to make a huge impact on the entire digital marketing industry. Google offers ample tools to get insights into your website or blog and act on them. Unfortunately, Amazon doesn't provide sellers with a lot of data about insights or traffic. Without optimizing tools, it's hard to succeed on Amazon. You have Amazon tools like SellerApp that will boost your visibility and sales.
Our product intelligence and keyword tools will provide you with accurate results along with the key ranking metrics like CTR, sales, price, etc.
Nonetheless, it's clear that Amazon optimization is still nascent. So it's fairly easy for a new seller to master SEO on Amazon.
Recommended Guide: Amazon Seller Analytics.
Amazon SEO vs Google SEO: Final verdict
As you can probably tell, both Google SEO and Amazon SEO are highly effective. However, it depends on how you use them and what you are trying to achieve. To achieve the best results, it isn't a bad idea to combine efforts. This way, you can build maximum traction to your listings, ensure visibility, and drive traffic to your product pages that will eventually boost your sales and conversions.
Additional Read:
Amazon Sponsored Display Product Targeting
Was this post helpful?
Let us know if you liked the post. That's the only way we can improve.