Amazon has revolutionized more than just online shopping. It has brought about a tumultuous change in the way digital marketing and advertising are carried out. Amazon ads drive high revenue for sellers and the competition is fierce. Every seller is striving hard to get his products in front of as many customers as possible.
Amazon Advertising is the most effective way to promote your products thanks to how cost-effective it is. It is a sure-shot method of generating brand awareness and sellers are allocating massive budgets to launch aggressive PPC campaigns.
Quick guide:
What are Amazon ads?
Amazon Advertising or Amazon PPC or Amazon Sponsored ads to refer to the Pay-per-click model of advertising that Amazon follows, whereby the advertiser pays only when someone clicks on his ad. Amazon ads serve a multitude of purposes like enhancing brand image, increasing sales, reaching a wider audience, etc.
Amazon offers 3 types of PPC ads to sellers:
Sponsored Products
Amazon Sponsored Product ads are the most popular ones. They are used to promote individual products and appear on amazon product detail pages as well as on pages of Amazon search results.
These ads are said to be very easy to set up and you can choose between manual and automatic campaigns. There's a lot that you can do with Sponsored Products and their targeting types which you can learn all about from this detailed blog.
To master your Amazon Sponsored Product ads click here.
Sponsored Brands
These ads are available only to those sellers who are registered on the Amazon Brand Registry. These ads are used to promote multiple products of a brand at a time and feature a tagline along with the brand's logo. These ads are more beneficial for building your brand presence and enhancing awareness and visibility.
Read SellerApp's blog on advanced brand ad strategies for information on how you can leverage and make the most of it. When customers click on them, you can choose to redirect them to your Amazon storefront thus promoting all the products in your portfolio or to a particular product listing.
Sponsored Display
These ads are very useful for retargeting. They are aimed at shoppers who have either purchased or viewed your items or viewed items that are similar to yours. These ads, unlike the other two categories, can be used to target customers both on as well as off Amazon.
Sponsored Display ads work toward improving your brand visibility and are displayed on product detail pages, Amazon SERPs as well as the home page. You can follow SellerApp's guide on Sponsored Display for an end-to-end understanding of how and why you need to leverage these ads.
According to a survey conducted among brands advertising on Amazon, 61 percent of respondents said they utilized Sponsored Products ads, followed by 54 percent who used Sponsored Brands and Sponsored Display (source).
What are the Amazon Advertising costs in 2022?
Amazon ads are an extremely popular and necessary part of selling on Amazon. However, you need to be well informed about how much these ads cost so that you can decide on your ad budget accordingly. So how much does it cost to advertise on Amazon? The cost will depend on a number of factors like what type of ad it is, the CPC (cost-per-click), your bidding strategy, the keywords that you bid on, the competition, etc.
Amazon Advertising follows a PPC model, so in simple terms, the average CPC for when a customer clicks on your ad is $0.81. But this is not a standard fee or cost as multiple factors influence the amazon advertising costs.
CPC is the amount that Amazon charges you for every click that your ad receives. Here's an example to understand how CPC is calculated – let's say you're spending an amount of $50 on an ad and the ad receives 100 clicks. So, your CPC = 50÷100 = $0.5 per click.
SellerApp's dashboard comes equipped with a PPC Analyzer which gives you insights on CPC which is calculated as an estimate of the average Amazon PPC of any given keyword along with the level of competition it comes with.
Amazon Advertising bidding strategies
Amazon PPC is like an auction where you have to bid on your targeted keywords and the seller with the highest bid wins.
There are different types of bidding on Amazon:
Dynamic bidding (down only)
This type of bidding is most suited to those who are not yet familiar enough with Amazon PPC. It helps optimize ad spending and what it does is lower your bids up to 100% if there is a low possibility of a click turning into a sale.
Dynamic bidding (up and down)
This type of bidding is when Amazon increases your bid by up to 100% if there is a high possibility of making sales or lowers your bid up to 100% when it seems like there isn't any room for conversions.
Fixed bids
With Fixed bids, you can choose a bid to be set as default, and no matter the conversions, the bid will not change irrespective of the adjustments made.
Rule-based bidding
Rule-based bidding is used to target a specific RoAS and the bidding is according to pre-set rules and conditions that sellers get to set themselves. The manual conditions that sellers can set are defined as "if/then" rules that can be used to trigger bid and keyword changes as and when the set conditions are met.
Check out this detailed guide to know more about Amazon's bidding strategies.
Where are Amazon advertisers spending most of their budget?
The amount that advertisers spend on ads also depends on what they're looking to achieve out of that campaign. Every format of ads on Amazon serves a different purpose. Sellers on Amazon have three different ad types to choose from. It is a well-known fact that of the three, Sponsored Products have been the most popular choice for advertisers.
This is because they're considered to be pocket-friendly and are a good and easy way to advertise your products However, advertisers are no longer focused only on the cost factor. They are focused on the multitude of other benefits that it brings them – exposure, brand awareness, sales, etc. Let's take a look at Sponsored Brands for example. They allow advertisers a lot of customization, and you can bid for the placement of the ad as well.
Sponsored Brands have the brand's logo, tagline, and the range of products that can be advertised in that ad which are all customizable. You can make these ads look as impressionable as you want and redirect shoppers who click on them to a designated landing page. All of this results in the highest RoAS which is a major plus point for sellers.
Sponsored Display has become popular and while they may work out to be slightly more expensive, this is where brands looking to grow their presence and visibility on Amazon are spending their budget. These ads have a lower RoAS but they are instrumental in promoting your products and targeting customers both on as well as off Amazon.
SellerApp for optimizing and managing the PPC budget
The SellerApp platform is robust software with specialized tools for PPC management and automation. It allows you to optimize your campaigns according to the number of orders, by filtering keywords based on ACoS, non-performing keywords, and more.
This type of filtering makes it easy to analyze the keywords that are driving traffic and generating conversions. This will help you to allocate more of your budget towards the high-converting keywords so that you do not drain out your resources on wasteful ones.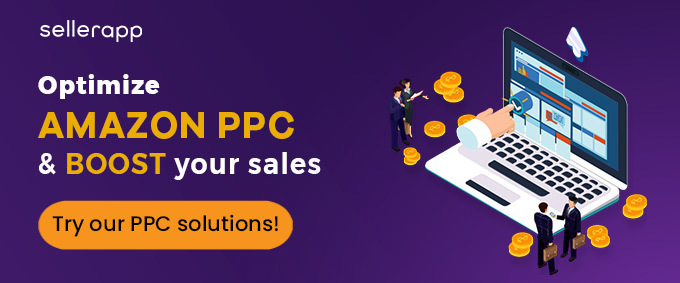 How to cut down on ad spend
While advertising on Amazon, you have to regularly keep track of all the important PPC metrics so you know how your ads are performing. ACoS (Advertising Cost of Sale) is a measure of your ad success and there are several things you can do to reduce it along with bringing down your ad spend on the whole.
Here are some of the things you can do to reduce your ad spend:
Consistent keyword research
The keywords you use are important as ads are displayed according to the keywords used and their relevance to customer search queries. After conducting keyword research and deciding on which ones you want to target for your ads, you will see that some of those keywords may be generating clicks but not bringing in any conversions.
This means that these clicks are costing you money and draining your budget without bringing in any sales. Stop bidding for these types of keywords and focus on the ones that are generating a good amount of conversions. For example – Amazon long-tail keywords generally have lesser competition but good conversion rates.
Automation and optimization tools
While advertising on Amazon, PPC is an essential part of the selling process. Managing your PPC campaigns can seem like a daunting task which is why you need the right Amazon PPC tools in place. These tools help you reduce your ACoS and control your ad budget with the help of AI-based algorithms.
One of the ways you can reduce your ad spend is by implementing Amazon dayparting. What does this mean? This basically means you can schedule your campaigns to run at specific times of the day, usually during the hours that have high traffic so that you have the chance of making the most sales at optimal costs. 
Additional Read: Turbocharge Your Business with Amazon FBA Automation.
Advertising the right products
While advertising products on Amazon, you have to be smart with which products from your catalog you're going to promote. The components of a product listing have a key role to play. The product images used the pricing, reviews and ratings, title, bullet points, and description.
Customers always look at product reviews before making a purchase. New products lack reviews that serve as social proof so if you're advertising them then their ACoS is likely to be high. So it makes sense to cut down on having new products in your campaigns because it is going to cost you higher. Using Amazon FBA and having the Prime badge on your listing, and having a competitively priced product increases the chances of conversion.
Streamlining
If you're selling products under different categories, the best way to optimize your ad cost is by placing products in campaigns according to the categories they belong to. Also, use all 3 types of ads – Sponsored Products, Sponsored Brands, and Sponsored Display with both types of targeting – manual as well as auto. Structuring your campaigns well will give you a clear idea as to what works out the best and is most cost-effective. Also, you have to make sure not to overlook the aspect of making your ad look enticing so that customers are tempted to click on it.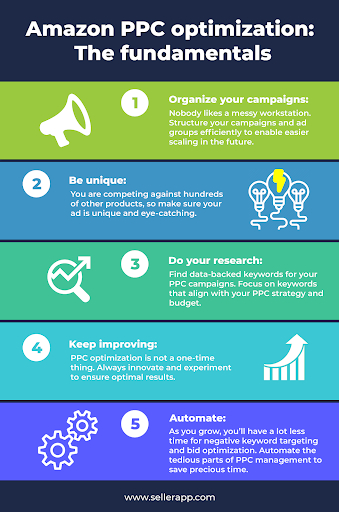 Final Thoughts
Amazon advertising is the most effective way to promote your products and the cost of advertising will depend on how well you optimize your ads. Use the right tools, target the right keywords and continuously optimize and check on your campaign performance.
Have a clear roadmap as to what goals you want to accomplish with your ads and allocate your budget accordingly. Make sure you test out all possible strategies to see which best fits your budget and gives you a good ACoS and RoAS.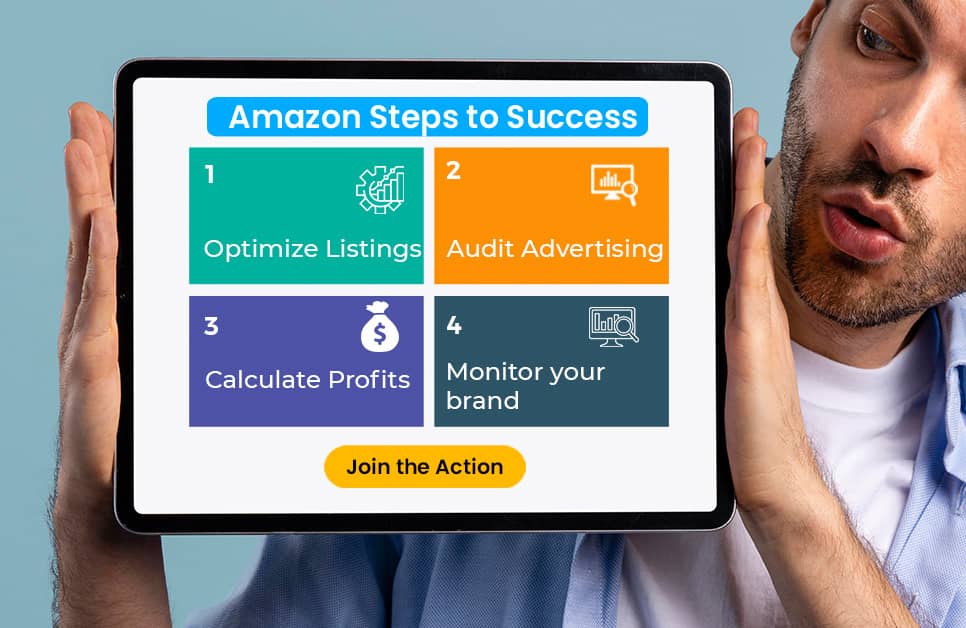 Additional Read:
What is the Relationship Between Amazon Search Terms and Keywords?
The ultimate guide to Amazon retargeting ads.
A Step-by-Step Guide to Full Funnel Amazon Advertising.
Was this post helpful?
Let us know if you liked the post. That's the only way we can improve.