People who shop online often will definitely have noticed bullet points on Amazon on product detail pages. Amazon product listings Require well-written content with the appropriate use of keywords. Shoppers on Amazon are spoilt for choice, therefore, everything you do as a seller to improve your listing will impact your product ranking.
As an Amazon seller, you must know how important Amazon product bullet points are to make your listing stand out amongst the sea of competitors. They have the ability to highlight the key features of your product. Amazon bullet points should be used to market the uniqueness of your listing along with its features to entice customers. It is a simple, yet very efficient way of communicating specific information to customers when they are planning to purchase.
Optimized bullet points are key to selling better on Amazon. Remember, compelling content on your product page has the ability to convert your page visits to purchases.
As a seller, you must already have several speculations over how you can level up your product listing with optimized Amazon bullet points or why they are so important, and so on. Hence, SellerApp is here to answer all your questions and guide you through the process with ease.
Quick guide
What are Amazon bullet points?

Amazon bullet points are a brief summary of the product's features presented in a scannable manner. As the name suggests, the text here is presented in bullet form, thus making it easier to read and understand. These points are used to highlight the specifications, dimensions, color, and other features of the product that are useful to customers. 
The content in these points usually denotes what the customers are looking for and helps them finalize their purchase. Amazon product bullet points can be found in different areas on the product details page depending on whether you're viewing it on desktop or mobile. You will usually find it under "About this item". If you're using Amazon on your mobile device, then you can locate the bullet points once you scroll down on the product page. In the case of desktop, you can view them adjacent to the product image, under the product title.
When shoppers are scrolling through the hundreds of product listings, it is important to make sure they stay on your page and read what you have to offer them. Amazon Bullet points are your best bet, and you can make them work in your favor, as long as you follow all the important guidelines.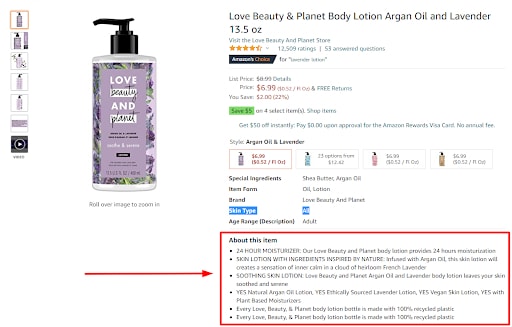 How to add bullet points on Amazon listings?
Bullet points for Amazon listings can be added while creating a product listing or even while modifying one. You can follow the steps below to add bullet points
Log in to Amazon Seller Central
Now, click on "Edit" under the product listing option
Point to the "Description" tab. You will see a field for "Key Product Features" and another for "Product Description"
Enter your bullet points in the "Key Product Features" field, and it will all be added.
That wasn't so hard now, was it? Well, the process of inserting bullet points is simple but what you insert matters more than anything. Before we dive into the nitty-gritty of it, let us understand why these bullet points are important in the first place.
Why do you need bullet points: Benefits
The benefits of Amazon bullet points are often underrated. Sellers need to take into consideration how vital these are in increasing sales. Bullet points enable sellers to market the USPS of their products. It can be used to convince customers that the product is a perfect fit for their requirements in every way possible.
Before making a purchase, customers look at reviews and bullet points. You also need to keep in mind that the time taken by customers to make buying decisions is rather short, only a couple of seconds. So bullet points are one of their go-to points to quickly skim through the points and decide whether to make a purchase or not. With the usage of all the right keywords in bullet points, you can easily grab your customer's attention and impress them with your listing's uniqueness. If you can succeed in doing that, rest assured, your sales volume will skyrocket in no time.
Bullet points are also important because they contribute to improving your visibility. How? On Amazon, Keywords used in bullet points are indexed along with the keywords used in titles and other parts of the product descriptions. Thus, optimizing product listings with keywords everywhere including bullet points improves your chances of a higher ranking on the Amazon SERP, which in turn increases visibility.
What are Amazon's guidelines for bullet points?
As with every aspect of selling on Amazon, there are guidelines for writing bullet points too. The information you provide and the structure of the content you maintain has to be in accordance with Amazon's requirements. If you do not follow these guidelines, then your listing may get flagged.
Here are some of the Amazon bullet points guidelines/rules
Bullet points must start with capital letters.
Sellers are allowed 5 bullet points and vendors are allowed 10.
Your bullet points have to list out 5 features of your product that are considered to be its key features or most important characteristics.
Ensure that all your bullet points have uniformity in length, not too short nor too long.
Steer clear of the usage of promotional content, information on pricing or sales, and discounts that you have on offer.
Bullet points should focus on facts and features relevant to your product and not sound like marketing material.
Amazon does not recommend the use of HTML and other kinds of coding to create any fancy symbols in bullet points.
Amazon description character limit – 2021
For every individual bullet point, there is a word and character limit which varies for sellers and vendors. It also varies with respect to the different categories that you sell in. The character count is 500 for sellers and 250-255 for vendors and one cannot exceed this. The provision of 10 bullet points, but only 250 characters per bullet point for vendors means they have to make judicious use of the limited space they have.
How to write Amazon bullet points: Best practices
Framing bullet points in accordance with Amazon's rules and ensuring they achieve the best results is not an easy thing to do. Simply jotting down benefits that point to your product doesn't cut it. There are some important things to keep in mind while writing bullet points for Amazon.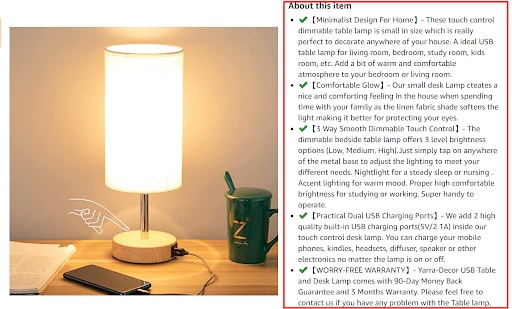 Here are valuable tips you can follow along with some dos and don'ts
Firstly, remember that you're writing these bullet points to get your customers to buy your products. Along with mentioning the features and technical aspects in the overall description, these points should focus more on the advantages and benefits so that they convince your customers to make the purchase.
Invest a good amount of time into keyword research. Your bullet points need to incorporate keywords, so your research should focus on finding top-ranking, relevant ones that you can use. This will ensure that you're more likely to rank higher on Amazon search results.
Do not be redundant with your keyword usage. If you keep repeating keywords with a view to ranking higher without paying attention to how readable the bullet points are, it will be regarded as keyword stuffing. Keyword stuffing makes your bullet points look less impressive, and you must stay away from this practice.
Avoid making exaggerated claims and using false information. Your bullet points should not sound like outright advertising where you declare your product to be the best in its category. This will set the bar very high in terms of customer expectations and if your product doesn't match up to their expectations, you're inviting a lot of negative feedback. Also, keep in mind that these bullet points should showcase the uniqueness of your product along with what distinguishes it from the competition.
Amazon has a character limit for bullet points. Whatever the limit may be, there is no need to utilize it fully. This means that just because you're given a character limit does not mean you have to stuff your bullet point to the maximum. If your bullet points are long, 200 characters or more, customers will only see the first two or three after which they will have to click on "More" and more often than not, they will not continue reading. Keeping it brief and informative always works better.
Your bullet points should be written keeping in mind how it's going to sound to the customers. Explain your product's uses and features like you're explaining it to a layman. If you use too many technical terms, not many people are going to understand what you're trying to communicate, and it will reduce the effectiveness of your bullet points.
Bullet points should address a customer's pain points and important questions. These things contribute to helping customers make a purchase. You must incorporate all the relevant information in the bullet points after looking at reviews and feedback. This is where competitor analysis also comes in handy. Especially when you're a new seller whose products haven't received any reviews yet, you can take a look at your competitors' bullet points and reviews for insights. This will reveal the customers' opinions on the products at hand, and how informative the bullet points should be. This will help with increasing conversions.
What do great Amazon listing bullet points look like?
In order to make your bullet points impactful, they need to sound like selling points that can convince a buyer that the product's features are beneficial to him/her. It needs to elaborate why and how they need this product along with how it can cater to their needs.
Great bullet points are also those that include the right keywords. Now when I say keywords, I don't just mean any and all keywords that are relevant. I'm talking about the keywords that customers are actually using to search for products. This is where the Amazon Search Term Report comes in handy. It tells you what keywords or terms customers are typing into the Amazon search bar which ultimately leads them to find your product. Bullet points that use these keywords are a great example because they directly address or match the customer's search query.
Another important aspect to keep in mind to make your listing look professional is to optimize it in such a way that it is also highly skimmable. The most important information will be mentioned first and foremost. Take a look at this product listing featured below. It is a perfect example of how great Amazon listing bullet points are supposed to look. It has followed the pattern of capitalizing the first word of every single bullet point. This works towards grabbing the customer's attention towards the USPs of the product. The length of each sentence looks concise and serves the purpose of skimming through quickly while also gaining knowledge on the product.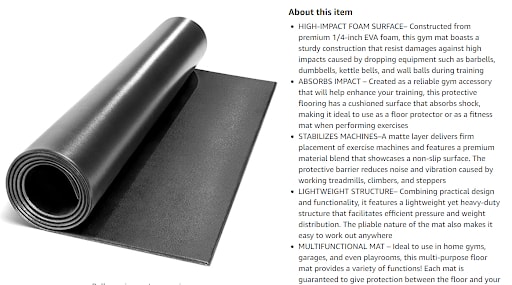 Final thoughts
Bullet points form an important part of your product listing and contribute to increasing sales. Owing to their placement, they are one of the first and foremost areas of focus on your product details page. Remember, your product's first impression can make or break your conversion rates, therefore, you must strive to optimize your bullet points along with its keyword relevancy. The language that you use in your bullet points and the way you frame them need to be innovative to make them stand out. Follow all the guidelines and tips mentioned above, and you will be well on your way to creating impressive bullet points that actually sell.
Was this post helpful?
Let us know if you liked the post. That's the only way we can improve.