Counterfeit – a word that conjures up a sense of fear in the minds of every brand. It means that there's someone out there selling cheap copies of your items, decreasing the credibility of our brand and stealing your profits.
Counterfeits have been a serious problem for as long as brands existed, and Amazon does not take this issue lightly. Fake products on Amazon incur the e-commerce giant a loss of about $323 billion every year.
There were several instances where manufacturers have shipped fake products under the radar on Amazon, thanks to its policy of first-sale doctrine that allows third-party sellers to resell a branded item in an unchanged state legally.
Selling low-quality, fake products not only leads to poor customer experience but also hampers both Amazon and the brand's reputation.
Hence, to better protect brands on its site and ensure that customers receive real products, Amazon introduced the Amazon Transparency Program. Here's a quick walkthrough over what all you need to know about this program –
What is the Amazon Transparency program?
Amazon Transparency Program is a product serialization service that is used to verify products before they are shipped.

Introduced in 2017, the program is crafted to detect and prevent counterfeit products from being delivered to customers.

Amazon launched the transparency program and tried it on its line of products as a pilot. When it saw some success there, it made it available for third-party sellers gradually.
Currently, the Amazon Transparency program is available in several countries including the United States, Germany, Canada, France, India, Australia, Spain, Italy, and the United Kingdom. The company plans to introduce the concept in other marks in the future.
The program is meant for third-party sellers and brand owners. For instance, if a third-party seller tries to "hijack" a product and sell counterfeit items, their products will be blacklisted and won't be delivered to the customer.
If you want your items to appear at the top of Amazon SERPs so that buyers don't confuse your brand with some counterfeited listing, leverage SellerApp's Product Intelligence tool to improve your product SEO and its organic ranking.
How does the Amazon Transparency Program work?
Transparency uses a complex product labeling system to systematically eradicate the threat of counterfeit products reaching customers.
Whenever a brand signs up for the Amazon Transparency program, they are given a series of unique T-shaped 2D barcodes. These codes are then attached to the product's packaging. Unlike UPCs or GTINs, which are specific to brands and usually deemed not very effective, the Transparency code is unique to the individual items.
Before sending any item to a shopper, Amazon will scan the barcode to verify its authenticity. Any item without the barcode or a failed authenticity test will be scrutinized and be marked as a potential counterfeit.
Amazon also provides a Transparency mobile app that buyers can use to easily cross-reference and verify Transparency-protected products purchased online. Once they scan the product QR code, the app will display a green checkmark if the code is valid and a red cross if it's not.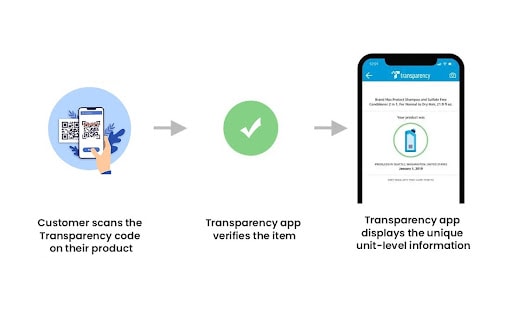 Brands can also provide important unit-level information such as manufacturing date, manufacturing place, and other detailed product information with customers through the Transparency app.
Recommended: Ultimate guide on Amazon product detail page.
According to the official FAQ, Transparency ensures a complete centralization generating unique barcodes that can be scanned by customers to verify the product's authenticity. This process prevents codes from being manipulated by dishonest third parties.
Also, the Transparency program keeps track of every code generated along with the products, so that the codes can be easily cross-referenced and verified for later use.
How does the Amazon Transparency Program work for FBM sellers?
Amazon offers two selling options to merchants for fulfilling their orders: Fulfillment by Amazon (FBA) or self-order-fulfillment through Fulfillment by Merchant (FBM). When sellers use FBA, they can hoard their products at Amazon's inventory. When a customer purchases their FBA-fulfilled product, it's Amazon that will pack and ship the item for them.
If you are an FBM seller leveraging the Amazon Transparency program, Amazon will ask you for a unique Transparency code for every transparency-enabled item you sell.
This way, Amazon can make sure that only authentic units are delivered to customers. Although Amazon will generate the codes for you, you must provide them with the codes that you are using for your FBM products.
Remember that each FBM item shipped will require a unique transparency code to be applied to the product packaging.
How much does the Amazon Transparency program cost?
Although Amazon does not disclose its pricing policy for the Amazon Transparency program, brands can expect to pay anywhere from $0.01 to $0.05 per barcode, depending on the number of transparency-enabled units.
Suppose you have 1,000 units of your product, then the maximum amount you have to pay for your products to get authenticated would be approx $50.
It's recommended to sign up for this program if you are selling highly-priced, luxury items to prevent any losses incurred due to counterfeits. Gradually, you may expand the transparency program for your other products as per your budget and need.
Another expenditure you must consider while using the Transparency program is your labeling cost. Transparency codes can be applied to units/items using sticker labels. Although you can simplify the process by getting the labeling done by your supplier during manufacturing, they usually cost more to apply during the manufacturing process.
Pro Tip: A good idea is to apply Transparency barcodes on your own using printers that implement those codes during the packaging process.
How to enroll in the Amazon Transparency Program?
To enroll in the Amazon Transparency program, sellers need to meet certain criteria set forth by Amazon. These requirements include:
You must be the legitimate owner of the brand and you must be able to prove the same,
You'll be required to display a Global Trade Item Number (GTIN), such as a UPC or EAN barcode, applied on your items.
You must be able to apply unique Transparency codes on every item you produce.
Related post: How to Diversify your business with Amazon Global.
If you can meet all the aforementioned criteria, go to Amazon's Transparency page and click on the "Get Started" button to begin.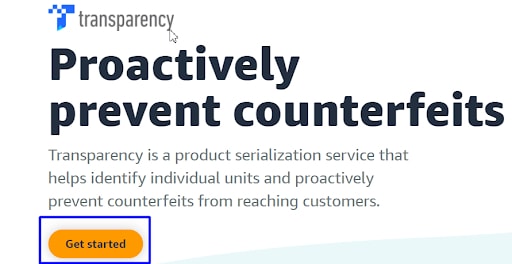 Here, you have to fill up a short form. Once you complete, click on "Request more information." to gather more information about your enrollment from Amazon.
If your application is accepted, you can select the products you'd like to authenticate using Transparency codes.
It is recommended to choose your high-priced products first, instead of enrolling all of your items altogether.

Benefits of the Amazon Transparency Program
The program is beneficial for both brands and customers. Here are some of the reasons why you should consider it:
Make more Profits
Counterfeit goods are goods, often of inferior quality, made under other companies' brands and sold to the unsuspecting public. Counterfeit goods are a big problem in the United States. According to the Department of Homeland Security, over $7 billion worth of counterfeit goods were seized by federal authorities in 2020. This is a major problem for companies that deal in branded merchandise. Counterfeiters steal sales from legitimate companies and, as such, are direct competitors.
Transparency prevents hijackers from selling your items, as they do not possess the unique codes generated by Amazon for transparency-enabled units. If another seller tries to sell your product and cannot provide the unique transparency code, that item will be marked as fake and will not be delivered to customers.
Therefore, by identifying and eliminating such counterfeit sellers, you can increase your sales as shoppers will have nowhere to go but to come to you.
Reduce Damage Caused by Counterfeiters
Counterfeiters are scammers who seek to disrupt online businesses. They create listings for products that they do not manufacture, and they try to get money from customers by selling these products. They usually earn profits by selling those imitations at reduced prices, or by selling the imitations to distributors who then sell the goods to end consumers.
This is hazardous to your business because these counterfeiters undercut you on your price, and take away all your potential customers. In addition, they also damage your brand's reputation as customers assume it's your brand selling duplicate products. Not to mention, this can even cause your business to shut down for further investigation.
Prevents bad reviews
It is obvious that customers will be unhappy if they receive fake products. The last thing you'd want them to do is to write a negative review on your social media handle or the product page. This could highly ruin your brand image as 84 percent of users trust online reviews. The Transparency program can protect you from all such mishaps and safeguard your brand's reputation for a streamlined Amazon business.
Final Thoughts: Protect your Brand
Counterfeiters are the bane of the e-commerce industry. They damage your brand's image, undercut on price, and lead to lost revenue on each sale. One of the best ways to protect yourself from getting caught in counterfeit traps is to enroll your items in the Amazon Transparency program. This way, you can keep your customers happy by making sure they receive the authentic products they expect.
If you're a brand-registered seller, go through the requirements to enroll in the Transparency program, and start protecting your brand reputation against counterfeiters.
Have you ever been a victim of counterfeiters as an Amazon seller? Tell us in the comments
Additional Read:
Is Amazon Pay Good For Sellers?
15 Practical Ways to Make Money on Amazon
Amazon Temporarily Prioritizes Products Coming Into FBA Centers

Was this post helpful?
Let us know if you liked the post. That's the only way we can improve.