The internet is certainly one of the biggest information sources to learn different things. When it comes to knowing more about eCommerce, social groups, forums, and communities come in handy. Considering this, we will talk about some of the best Amazon seller forums today.
Unquestionably, forums that are dedicated to Amazon sellers are a great place to connect with other sellers and grow your business. You must note the amount of value you get from these seller forums.
Forums are one of the most effective ways to:
Share experiences
Discuss common issues
Ask for help
Provide assistance to others
Make business contacts
Let's understand more about Amazon seller forums and the key benefits of using them in detail.
Quick Guide:
What Are Amazon Seller Forums?
An Amazon Seller Forum is a website dedicated to Amazon sellers, which provides a platform or space to communicate or discuss with other sellers.
With the help of Amazon Seller Forums, sellers can get to know more about its services and issues. If you happen to be a new seller, then forums can be of great help.
You can ask other sellers about their experiences in selling on the Amazon Marketplace or any doubt that you want to clarify.
Even if you have been an Amazon seller for quite a long time, you can still use these forums to share your knowledge & ideas or leverage them to build more business contacts.
However, there is one thing common in these forums though – posting guidelines, which you should always adhere to. Every forum will have its own set of rules and regulations, which every member joining it should obey. Violating any of its rules can lead to your account suspension. So, make sure that you follow the rules before posting anything.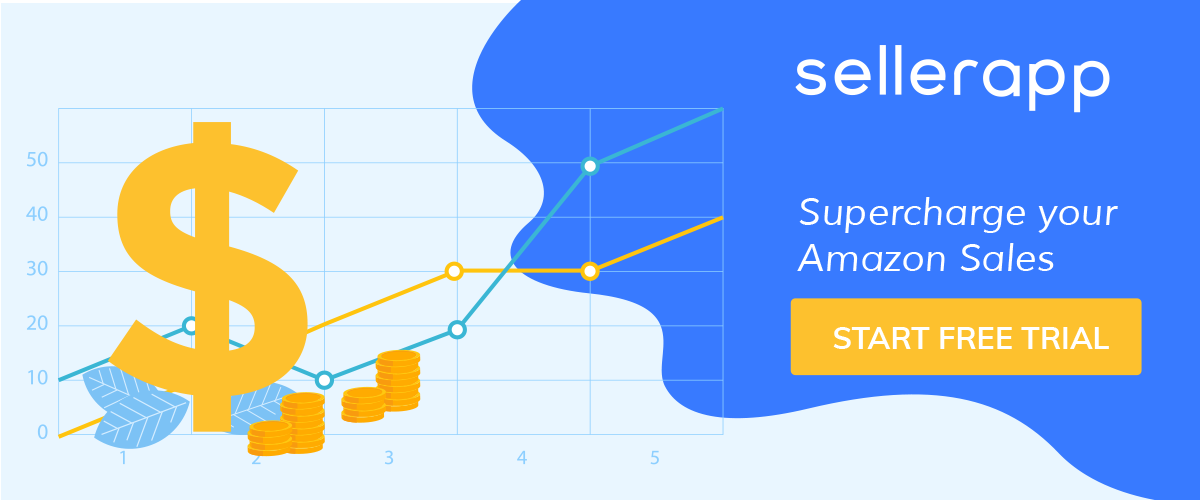 Amazon Seller Forums: The Categories
When it comes to Amazon Seller Forums, usually, most sites will feature 3 different categories:
Selling on Amazon
FBA (Fulfillment By Amazon)
Announcements
1. Selling on Amazon
So, this is a type of category where you will find selling & selling-associated questions featuring Amazon. Besides getting answers from other sellers, some forums will also have some Amazon representatives answering them.
Apart from answering basic selling questions, you can also find relevant information on these subcategories:
Listing management & reports
Help for sellers
Shipping, order management, returns, and feedback
2. FBA (Fulfillment By Amazon)
This category type answers questions about FBA service, which includes these:
General questions on FBA
FBA orders & customer service
Shipping & inventory
3. Announcements
This section is mainly intended to highlight any upcoming announcement from Amazon, especially for its sellers.
Why Should You Join Amazon Seller Forums?
Of course, you have a lot of help topics in Amazon Seller Central to refer to but there might be times when you may not find an answer that you are looking for. At such times, Amazon Seller Forums come in handy.
Here are key reasons to join Amazon Seller Forums:
1. Unveil different sales strategies
If you are a new seller, you should have a good knowledge of different ways to sell or market your products. Forums can be a great place to discuss or learn what others say about their selling techniques. This will help you improve your sales and make sure that you stand out from your competitors.
2. Be aware of new trends
Sometimes, the internet may be too saturated or crowded in terms of finding information about trending and new products. Also, the internet is highly biased. Information from different sellers & users via forums can help you acquire more information about a product's nature and the quality of budding products.
3. Build better network
For any business to become successful, building "contacts" is the key. Business contacts are more like a base, which determines your business success. They are more crucial, especially when you are looking for new ideas or facing challenges in business.
List Of Best Amazon Seller Forums
Amazon sellers Forums are certainly the ideal place to build connections with other sellers who think like you, ask for help, assist others, discuss problems, share experiences, and bring new selling ideas.
When you are trying to expand your business or probably, starting as a new seller, things become intricate. Moreover, as an Amazon seller, it is vital to keep yourself updated and these forums can be of great help: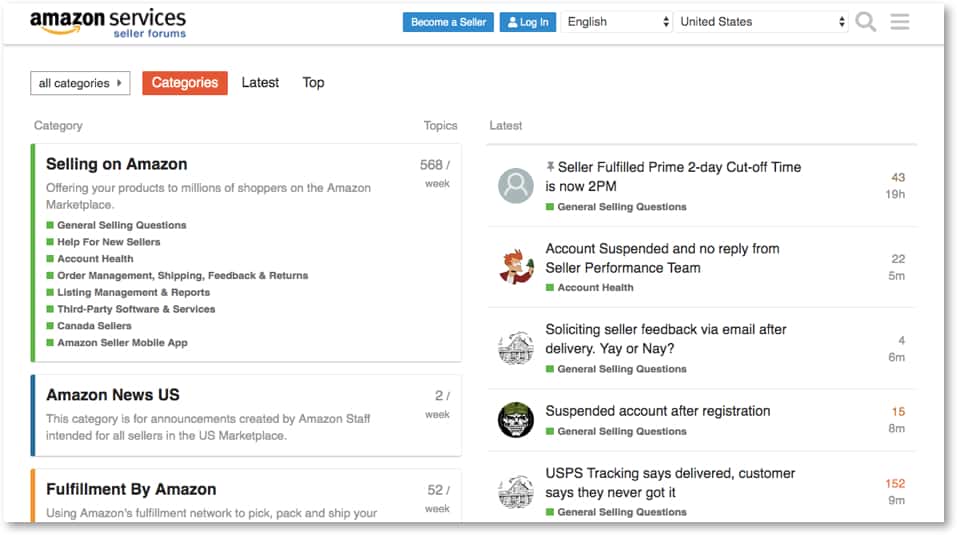 Amazon Seller Central allows you to discuss different things about Amazon services and selling on Amazon. The threads posted on this forum include basic selling questions, assistance for new sellers, Amazon payments, and FBA queries.
It also has some handy links to frequently asked questions and commonly discussed topics so that a seller or new member joining the forum can quickly access that information. This website is truly the best way to keep yourself updated with the latest events and industry news.
Amazon FBA Warriors forum is a Facebook group dedicated to helping Amazon sellers grow their business. This Facebook community is your best bet if you want to transform yourself into an FBA expert. The platform encourages every seller to share their stories and questions.
If you are willing to grow your Amazon business into a 7-figure or 8-figure business, the Amazon FBA Warriors forum is your destination.
3. Web Retailer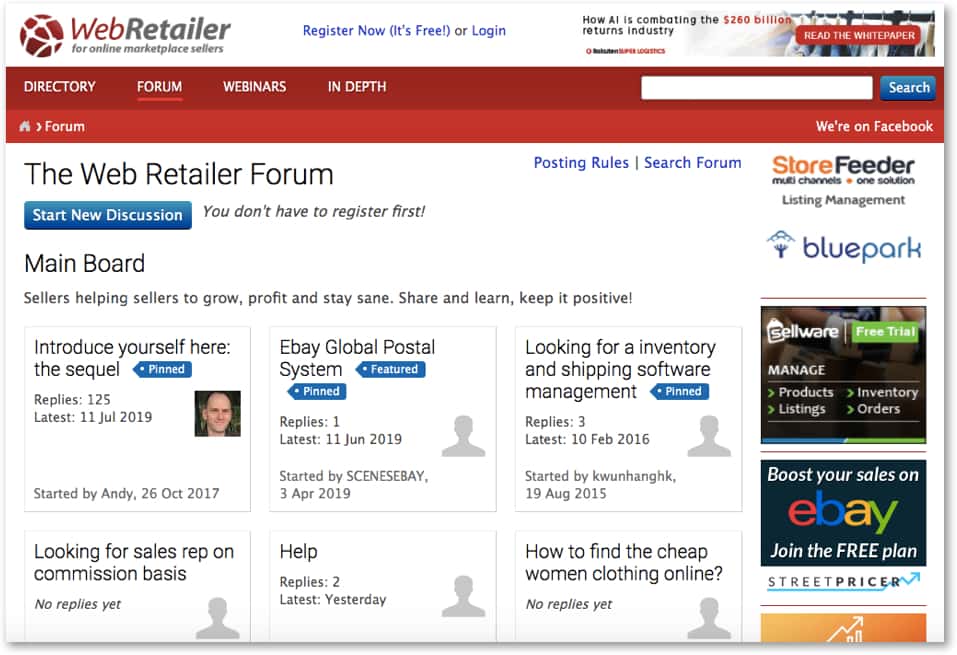 Andy Geldman founded Web Retailer, an educational community website for any business that sells on different online marketplaces like Amazon and eBay. It currently has more than 18,000 members throughout the world.
The website was built to help members discuss their issues, latest trends, know about different software, build their knowledge, and learn different selling strategies.
Web Retailer is one of the best places to find third-party services and software. Once you join the forum, every member receives newsletters every week, which covers eCommerce news, reviews, discussions, and new software.
Recommended Guide: Amazon review checker.
The website features 4 main sections:
Directory
Forum
Webinars
In depth
You will also find interviews with different bestsellers on Amazon who share their ideas and experiences about selling. They also feature well-researched and insightful blogs — a must-read for someone looking forward to selling online.
The best thing about this website is that they have a massive global readership, where a majority of members are based in the United States, followed by countries like the United Kingdom, India, Australia, Canada, Germany, Israel, China, Swaziland, and Fiji.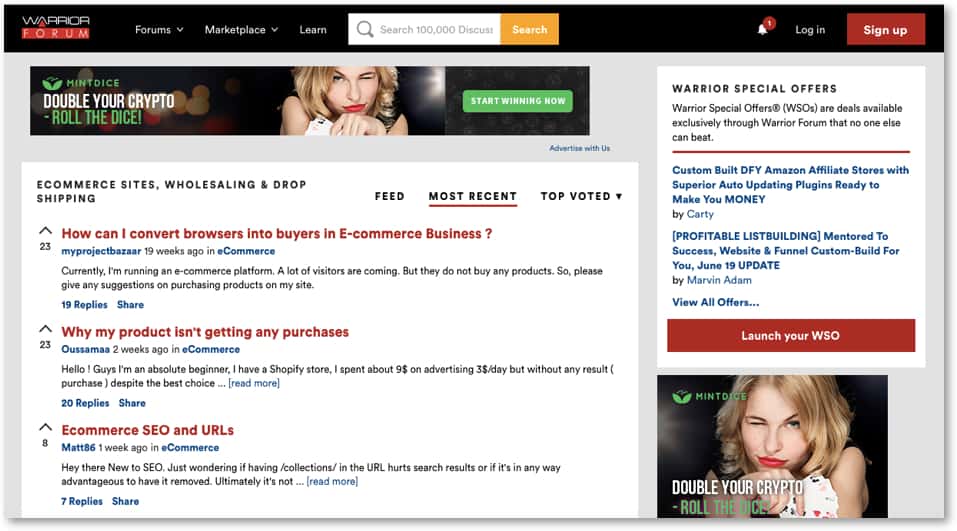 Warrior Forum is one of the oldest and biggest internet marketing communities & marketplaces where you can stay updated with the latest business trends.
It features more than 1.1 million active members with which you can find potential affiliates and partners to expand your business reach. It allows you to establish your credentials as a "pro" through your participation in different threads.
Whether you are looking for discussions about PPC marketing, email marketing, amazon services, eCommerce, selling strategies, or search engine optimization, this website has everything covered.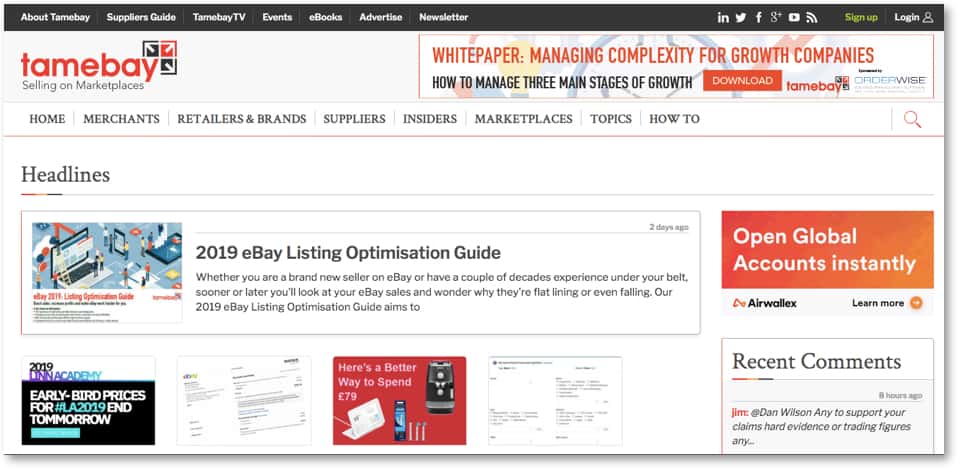 Two British sellers – Chris Dawson & Sue Bailey founded Tamebay in the year 2006. Today, it is one of the most popular websites and leading providers of news & intelligence for all businesses that ply their trading skills on online marketplaces.
Even though Tamebay isn't a forum, it is a wonderful resource for any UK seller selling on eBay & Amazon. Sellers can stay updated with all the latest trends, developments, and other announcements in the eCommerce world.
If you are looking forward to boosting online sales, bringing traffic, converting potential prospects, or looking for best practices, this is certainly a perfect source.
Originally, Tamebay was created to give eBay users the right tools to tame any seemingly impenetrable online marketplace (and thus, the name "Tamebay").
Ever since it has developed, it has catered to businesses and merchants, operating across the most popular online marketplaces and helping them to sell better and more. From selling books on amazon, eBooks to articles, webinars, and events, it is the perfect go-to resource, particularly if you want to grow your business.
Reddit is yet another popular online community that enables Amazon sellers to discuss, compare, interact, and share their experiences with selling.
Besides these discussions, it also features weekly Q&A sections. It features a clear status bar, which offers options like "hot," "controversial," and "rising" to help sellers quickly navigate to relevant sections.
Also, Amazon sellers can have access to thousands of "subreddits," which can be highly helpful for gathering tips and resolving selling issues.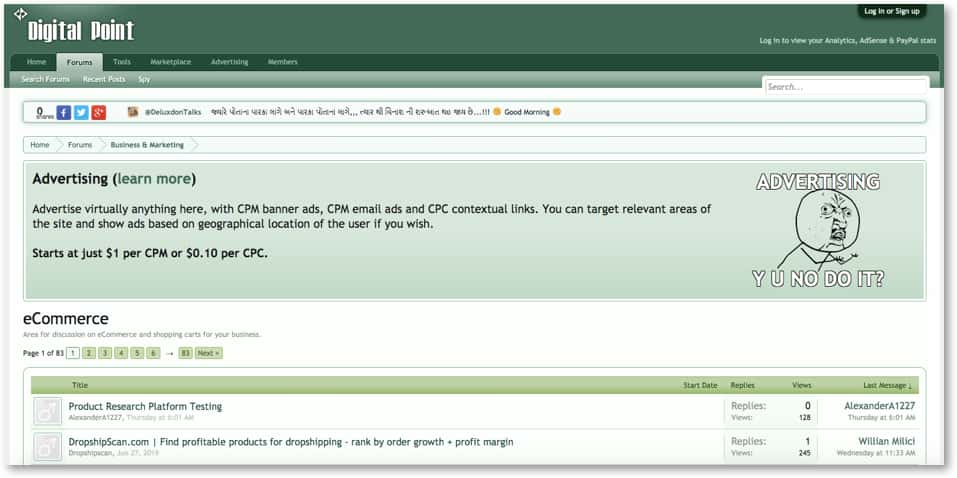 Digital Point is another popular forum, which is an incredible resource for Amazon FBA sellers. With this, you can browse through user questions by topic, by post, or by. Besides its online community, the website also features an online marketplace and other helpful online tools like Rank Checker and an exclusive "members" area.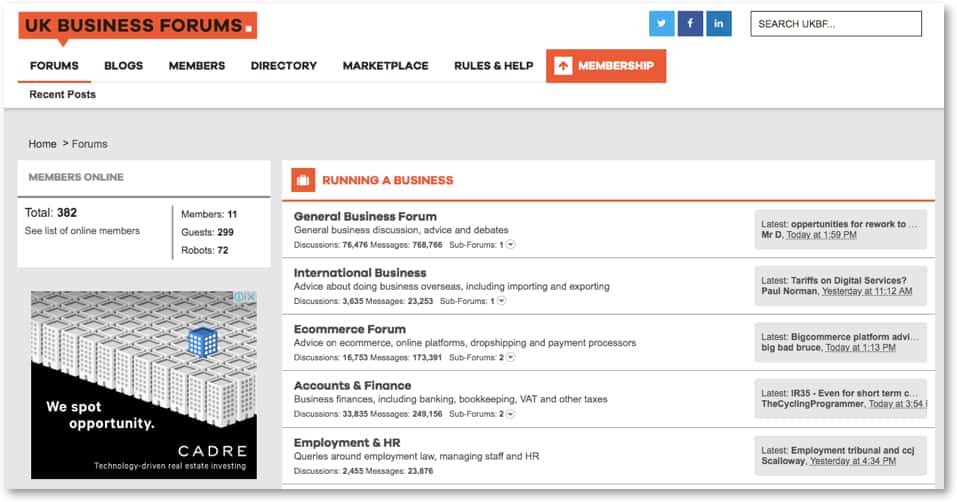 UK Business Forums (UKBF) is one of the best resources to have better knowledge about small business, debate, and advice, especially if you are selling in the UK or have a business in the UK.
It was started in the year 2004 by a popular entrepreneur named Richard Osborne who acquired a small website of only 30 members, which was none other than this website.
He focused more on establishing this as a brand, driving membership, and recruiting moderators to handle UKBF.
Currently, the website is evidence of the initial efforts of Osborne (who is still an active member of the forum, under the name Ozzy).
As of now, UKBF sees almost 9000 and more than ½ million users every month. Here, you will see how liberating and exciting running a business can be.
It is one of the best places to get tips from different people, based on their business experiences. If you are looking to test a business strategy, have an idea, or struggling to deal with suppliers, e-commerce sales, or anything related to business, you will find someone who will be able to assist you.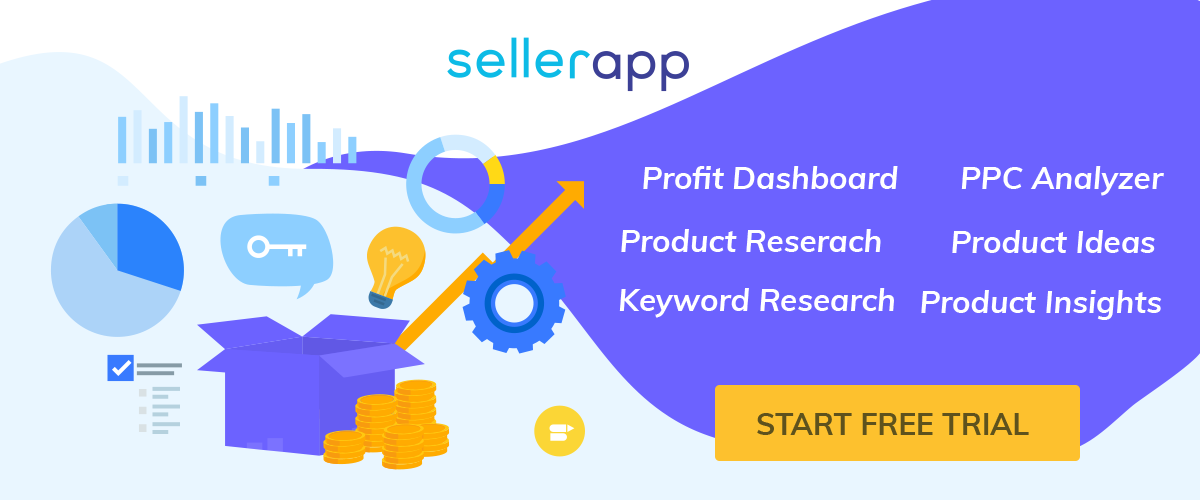 9. AMZ Tracker Community Forum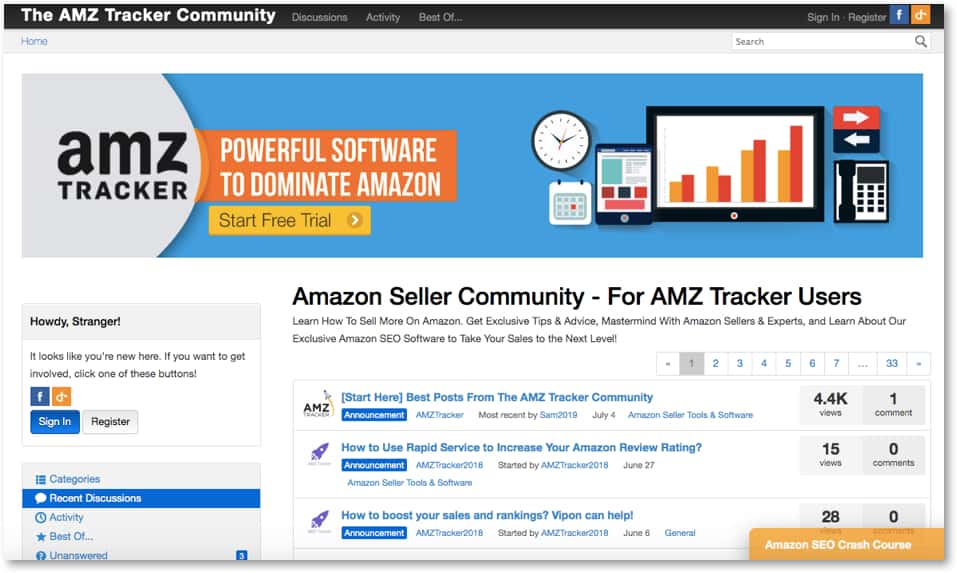 AMZ Tracker Community Forum is one of the best and dedicated online resources that gives information on Amazon selling, issues, and other questions.
It is an all-inclusive collection of tools, exclusively designed to assist Amazon FBA Sellers to improve and streamline their business. It also includes features like a sales tracker, blogs, revenue estimators, etc.
The members of this community can browse through different questions by topic, by post, or by date. They can even access unanswered questions to offer their advice.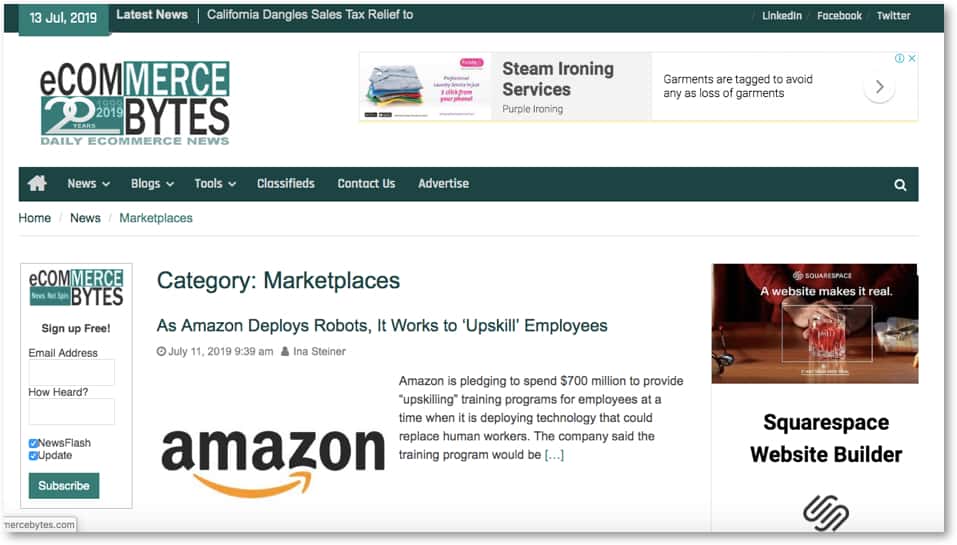 Ecommerce Bytes is another popular website with tons of podcast links, blogs, and other informational guides to assist you in your e-commerce journey.
It also features a forum that has a huge base of members discussing everything about e-commerce, the latest trends, announcements, news, and much more.
You can post your suggestions and questions at any time. While website designing is a prevalent topic, you can also discuss marketing, online fraud, shipping, and packing.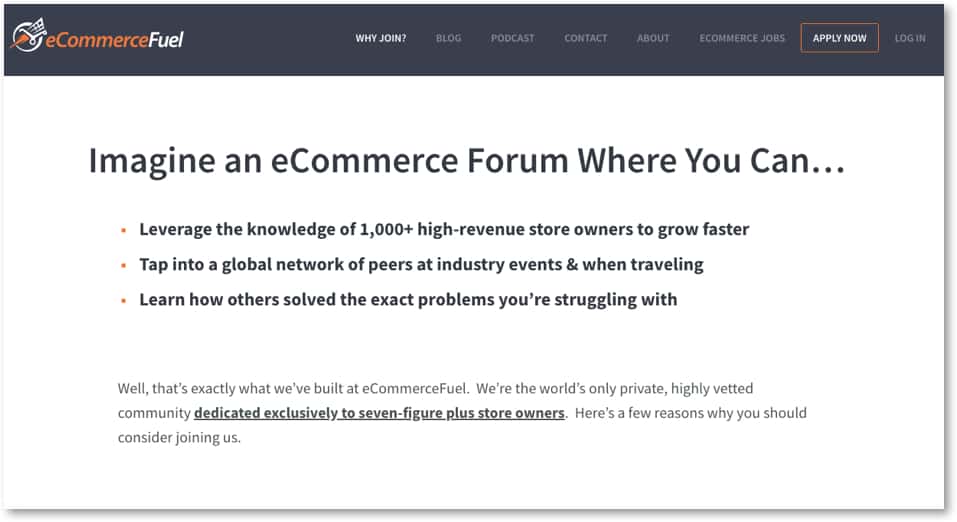 eCommerce Fuel Forum is exclusively designed to help established companies that bring in 6 or 7 figures revenue per year. This is mainly for experienced or professional sellers. It is one of the perfect places to look for information on how different online store owners scale their businesses.
However, you should have a membership in order to make sure that you meet their guidelines. Note that it costs $49 per month to join the forum, but once you have access, you will realize that most of their threads are packed with helpful details.
Conclusion
Often, Amazon sellers tend to work from home without any perk of discussing with colleagues or sharing ideas. When they face issues with selling or have any trouble implementing selling strategies for their business, forums, social groups, or communities can be of great help.
Becoming a member and involved in different forums, social media groups, webinars, and attending various Meet Ups is one of the best ways to interact with other sellers, build a strong business network, and take your business to the next level by making it successful.
Related blogs from the SellerApp
Shipping From China To Amazon FBA
Import From China To Australia
Amazon Marketing Services – AMS Guide
Was this post helpful?
Let us know if you liked the post. That's the only way we can improve.