Do you want to rank your products higher on Amazon SERP?
Then, you first need to learn about the Amazon A9 algorithm.
It's the brain of Amazon SEO that decides which products will appear on the customers' search page when they search for a query.
Since Amazon wants to show shoppers the most relevant products to maximize conversion, if your product isn't what shoppers are looking for, it won't sell.
So, understanding how the A9 algorithm work is essential to optimize your product listing and rank high on Amazon search results.
This article will talk about the Amazon A9 algorithm, what it is, how it works, and how you can make the most out of it.
Let's jump into it!
Here is a quick peek into the article:
What is the Amazon A9 algorithm?
A9 is Amazon's product ranking algorithm that decides which products to show on top of the search result based on customer search queries.
Amazon's goal is to sell products. So, the algorithm is trained to prioritize a product listing with good sales and conversion history over keyword-stuffed product listings.
It has a cumulative effect.
If your product has a good sales history, it's more likely to rank high in Amazon search results.
The higher it ranks, the more traffic it gets. And the more traffic it gets, the more sales it can make. It's like a self-sustaining cycle that can get a better share of organic sales.
What factors the Amazon A9 algorithm considers to rank a product?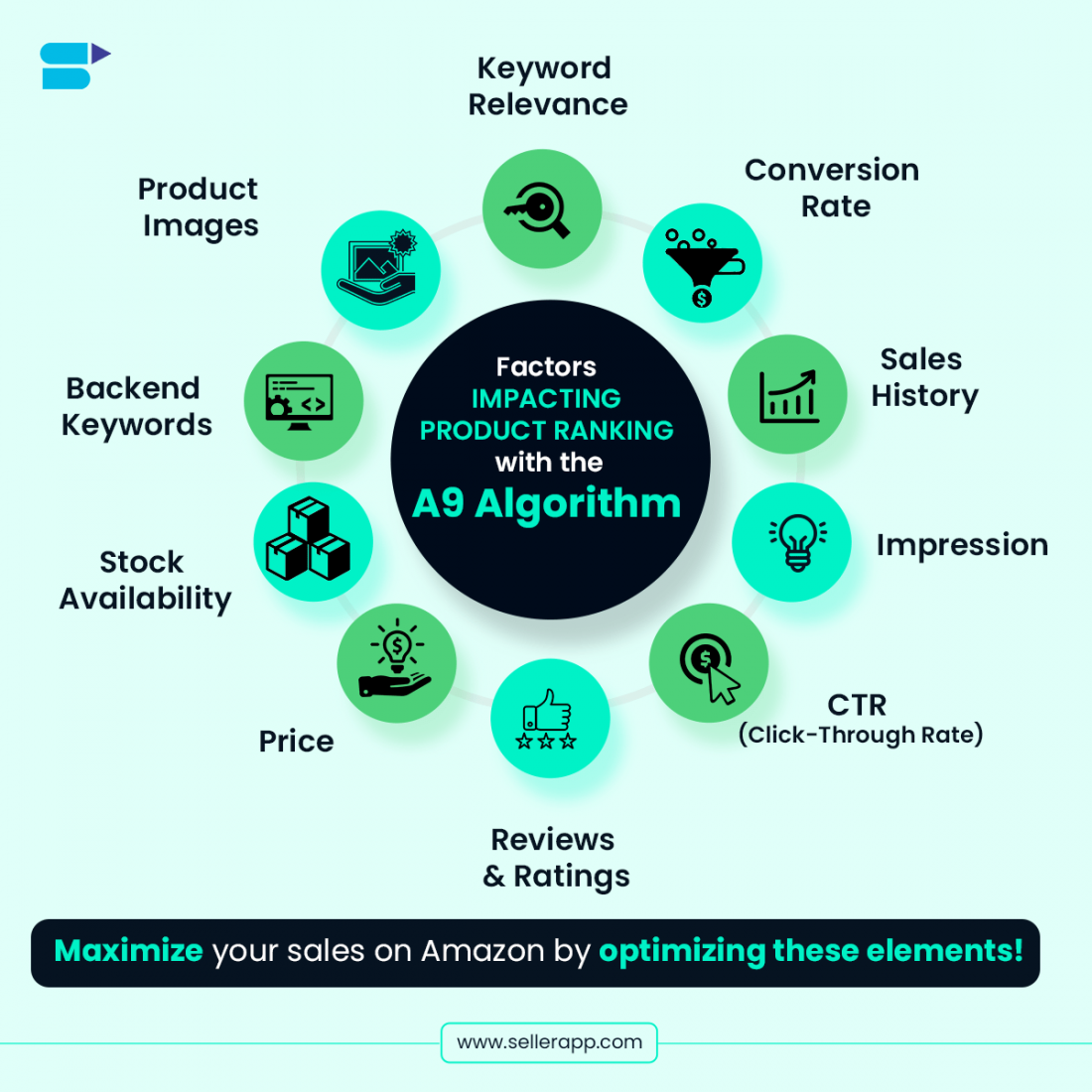 Like any other search engine, the Amazon A9 algorithm considers various factors for ranking a product.
Here are the key factors:
Keyword Relevance
If Amazon doesn't know what your product is, do you think it can rank the product for a search term?
No!
Amazon only ranks the product if the listing has keywords relevant to the customers' search terms.
Now the question is, how do you find the right keywords?
With the SellerApp Amazon Keyword Research tool, you can easily identify relevant high-volume keywords to add to your listing to improve SEO.
Use these keywords to optimize your product listing title, bullet points, description, and backend keywords to bring your product high on the Amazon SERP.
Conversion Rate
Let's say you're selling a phone case on Amazon, and you're getting good impressions (or views) on your listing for the keyword "iPhone case." from both advertisements and organically.
But not many people click on the product or make a purchase.
Amazon's A9 algorithm sees this as a problem because it wants to show customers products that will actually result in a sale.
So, if your conversion rate is low, the algorithm will understand that the product is not relevant to the search term and will further lower its ranking.
Now, there is no specific standard for product conversion rate. But aim for a high conversion rate for your products.
You can find the current conversion rate of your product from the Amazon Seller Central account.
Go to the "Reports" tab and click "Business Reports."
Next, click "Detail Page Sales and Traffic" and look for the "Unit Session Percentage" metric for conversion rate and Page views for views (or impressions) for each ASIN.

Now the question is, how do you understand if your product listing is well-optimized for conversion or not?
SellerApp has the solution.
SellerApp Amazon Listing Quality tool weighs product listings based on multiple factors and helps you improve the listing for better discoverability and desirability.
Desirability: It influences the conversion rate of your product listing.
The factors are
Product title,
Product images,
Product description,
Reviews & Ratings,
Q&A section
Discoverability:
It influences the search visibility of your product listing.
The factors are
ASIN indexing
Shipping Methods
Search Visibility
Log in to SellerApp Dashboard. Go to Product Intelligence → Listing Quality. Select your product, and see where you can improve your conversion rate.

Sales History
The sales history of a product plays a crucial role in determining its ranking on Amazon's A9 algorithm.
If the products have a strong sales history, the A9 algorithm understands that these products are the most relevant to customers' search terms and have a high likelihood of conversion.
So, it ranks the products at the top of the search results.
CTR (Click-through-rate)
The Amazon A9 algorithm also looks at the click-through rate of a product listing to rank high on the search result.
CTR is the number of clicks to the impression on a product listing for a particular search query.
Amazon A9 algorithm considers CTR because if people click on the product, it tells that the product is relevant to what the customer is looking for and has a high chance of conversions.
For example, if more shoppers click on a product listing for the search query "blue organic lip gloss," the A9 algorithm will think that the product is relevant for people searching for the same. So, it would show the product higher in the search results.
Use high-quality product images and product titles to improve the CTR of your products.
Reviews and Ratings
When shoppers shop on Amazon, they see star ratings and customer reviews next to each product. These little details play a big role in how Amazon's A9 algorithm ranks products.
If a product has a lot of positive reviews and a high star rating, like 4.5 stars or above, that's a sign that a lot of people liked it. And when lots of people like a product, it usually means it'll sell well.
So, the Amazon A9 algorithm ranks those products higher in the search results.
But it's not just about the number of reviews. The A9 algorithm also looks at the sentiment of the reviews too.
If lots of customers say they found a certain product review helpful, then the algorithm will rank it higher on Amazon.
So, if you're a seller on Amazon, it's important to encourage your customers to leave reviews and ratings. The more positive reviews and high ratings your product has, the better it will perform in the A9 algorithm. And that means more customers will see your product when they shop on Amazon.
Price
Pricing plays a big role in how the Amazon A9 algorithm ranks your product. In general, the lower the price, the more likely shoppers are to buy it.
And the more shoppers buy it, the higher the A9 algorithm will rank the product in Amazon's search results.
That's why setting the right price for your product is important. If it's too high, people might not buy it. But if it's too low, you might not make enough money.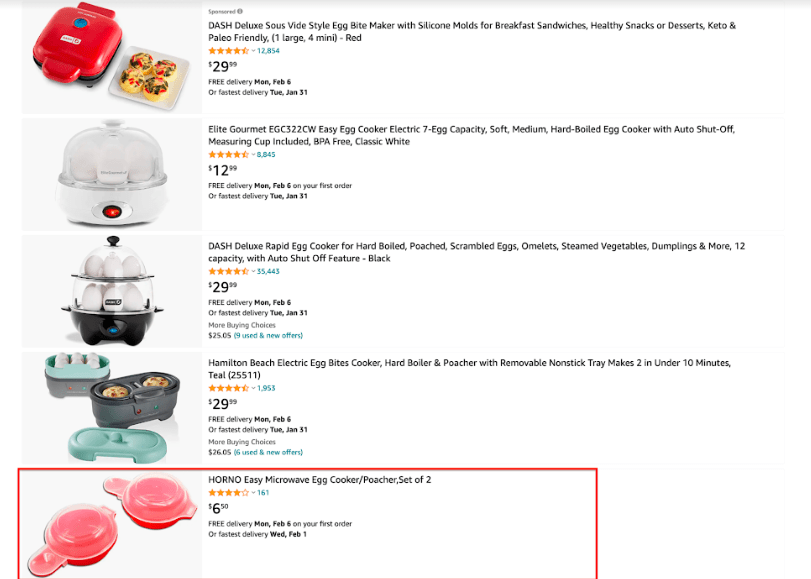 Notice the search result for the search term "egg cooker." The product HORNO Easy Microwave Egg Cooker has lesser reviews than other products in the result. It still ranks on the top 10 organic search results because it's priced way lower than the rest of the products.
So, if you want to sell more on Amazon, consider the pricing of your products. Make sure it's not too high or too low. And keep an eye on your competition to see what prices they charge. That way, if needed, you can adjust your price to stay competitive and keep your product ranking high in Amazon's search results.
Stock Availability
One of the most frustrating things when a customer shops on Amazon is seeing the out-of-stock message in the product listing.
And it's not just annoying for customers; it can also hurt your product's ranking on Amazon.
Since out-of-stock listings can't get any conversions, the Amazon A9 algorithm drops the ranking of these products rapidly on the search result.
So, if you're a vendor or a third-party seller, keep track of your inventory to maintain a high search ranking on Amazon.
Note: We recommend opting for "Fulfilment by Amazon" or FBA. If you're an Amazon FBA user, you can set replenishment alerts to notify you automatically whenever your product inventory goes down the threshold value.
On top of that, Amazon prioritizes FBA products over non-FBA products when ranking them on the SERP.
Backend Keywords
Product listings have multiple relevant search terms hidden in the backend.
Amazon A9 algorithm also takes these search terms to rank your product on Amazon. These search terms are called backend search terms.
Therefore, you need to identify and include high-performing backend keywords in the product listing to help the product show up in the search results.
Here are some examples of what you should include:
Keywords that you couldn't fit into the product description or title
Misspellings of the product keyword that people might search for
Translated words of the product into other language people search for
Synonyms for the product keyword that customers might search for
Note: Don't repeat your keywords in the backend search term, as frequency doesn't impact the search ranking.
Product Images
Never underestimate the strength of images in e-commerce.
Humans are generally visual beings. And a high-quality image creates a credible depiction of the product in the shoppers' minds.
Although they don't affect Amazon SEO directly, they do greatly impact the conversion rate and, in turn, improve the product ranking with the Amazon A9 algorithm.
For example, let's look at these two product images:
Product image 1
Product Image 2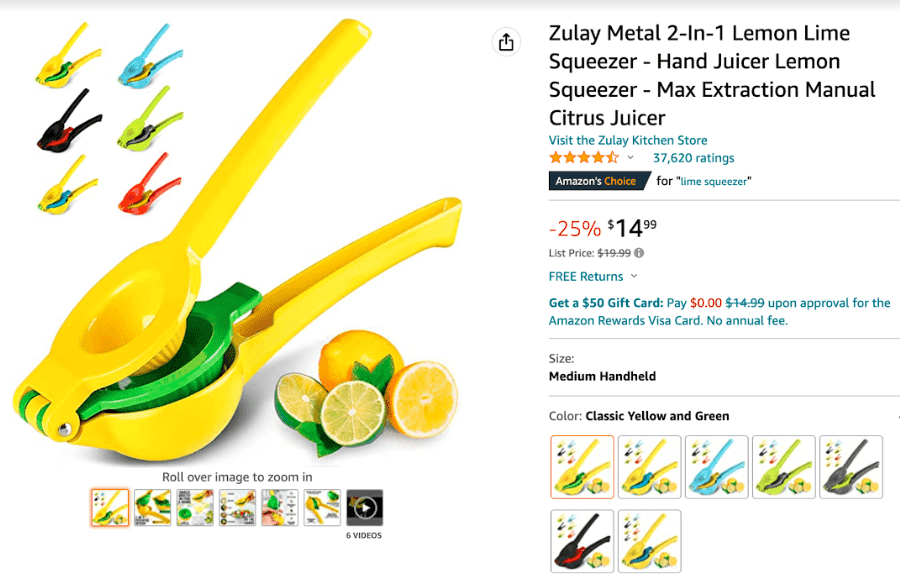 Which one do you think you will purchase from? The first one or the second one?
Obviously, the second one, since it's vibrant and compelling.
So, keep these tips in mind when optimizing your product images for the A9 algorithm:
Aim for six high-quality images and one video for maximum conversion
Make sure the image size is 500 x 500 or 1000 x 1000 pixels for better conversion
Ensure the product images are clear and have a white background.
What is the Amazon A10 Algorithm?
Now that you know what the Amazon A9 algorithm is and what factors effects the A9 algorithm, let's talk a little about the new buzz in the town, the Amazon A10 algorithm.
Amazon A10 algorithm is the updated version of the Amazon search engine. In this update, Amazon tried to give more relevance to customer searches. Since Amazon realized that shoppers look for more information than what's provided by the sellers, the made A10 Algorithm is more customer-focused.
What is the difference between Amazon A9 and A10 algorithms?
Amazon's A9 algorithm and A10 Algorithm both help sellers to rank their products high on the Amazon search result.
However, there are some subtle differences. Here are a few:
Organic sales
The conversion rate in Amazon PPC is one of the biggest ranking factors used by the Amazon A9 algorithm.
But Amazon A10 algorithm emphasizes organic sales and conversion to rank the products in the search result.
Pro Tip: To adapt to this latest change, run your PPC campaigns like before, but focus more on getting good ratings and reviews for your product; this will improve your organic ranking and conversion.
Geo Ranking
One of the biggest addition to the Amazon A10 algorithm is the Geo ranking – a factor that affects product ranking based on the customer's location.
The Geo ranking is based on two key elements – inventory availability and shipping time. If your product has good inventory and fast shipping in a particular region, the A10 algorithm will give it a higher ranking in that area.
So, identify high-converting regions, make sure you have a solid inventory level and lightning-fast shipping, and watch your product rankings soar to the top in those areas.
Off-site sourced traffic and sales.
Amazon A10 algorithm emphasizes driving traffic from external sources other than Amazon, such as Instagram, Facebook, Brand Websites, YouTube, blogs, TikTok, etc.
It indicates that the seller has a good brand presence outside of Amazon.
So, ensure to promote your listing with off-Amazon ads and content marketing to maximize off-site traffic and sales.
Internal sales
The Amazon A10 algorithm looks at more than just your search ranking sales. It also considers the sales made on Amazon but not from the search results. This includes conversions from the "Frequently bought together" or "Recommended products" section.
Seller Authority
Amazon A10 algorithm also ranks products based on Seller Authority factors such as listings, Buy Box, seller's feedback rating, seller's age on Amazon, product return rate, etc.
Also, if you have a good review on your product listing and you maintain your inventory well, it indicates to Amazon that you're offering good value to customers. Therefore your seller authority increases significantly.
Final Thoughts
Ranking your product listing on Amazon is not easy. It takes time, constant iteration, and monitoring to increase your product's ranking on the Amazon A9 algorithm.
The process doesn't end here! You need to keep up with the current trends, Amazon algorithm updates, and industry news to optimize your product listing consistently to protect your ranking.
However, we suggest putting your customer's needs in front of you and improving the customer experience first.
Besides, here are some key takeaways from the article:
The Amazon A9 algorithm primarily uses conversion rate, keyword relevance, and sales history to rank products high on search results.
Optimize your product listing with relevant copy and keywords to maximize conversion.
Opt for Fulfillment by Amazon (FBA) since Amazon prioritizes FBA sellers due to fast shipping.
If you find all these confusing, we're here to help!
SellerApp offers a comprehensive Amazon Listing Optimization Service to brands like yours.
Our listing optimization experts understand your requirements, conduct thorough keyword and competitor research, and create high-converting listings that meet all the Amazon A9 algorithm criteria.
We've already helped 20,00+ brands create 5,000+ product listings and generated millions in sales.
Additional Read:
Buy Now, Pay Later [BNPL]: How E-commerce Brands are Revolutionizing Payments.
Was this post helpful?
Let us know if you liked the post. That's the only way we can improve.