Amazon advertising options are a lot more effective than you think. Your shoppers may not be there yet, but Amazon advertising options can get you right in front of them. This is because their ad solutions are not limited to the platform.
Amazon has over 2 billion visitors per month (Source). If you are a brand willing to expand and reach new customers beyond Amazon, then Amazon demand-side platform (DSP) can be your answer.
What is Amazon DSP? How is it beneficial and why should you try it? Let's cover them all.
Quick Guide
Before we go into the details, here are some interesting facts about Amazon DSP.
Did You Know?
The number of brands that use Amazon DSP has increased by 50% this year.
The data from Pathmatics reveal that only Google has a high number of sites featuring its buy ads than Amazon.
About two-thirds of all the display ads in the digital world will be programmatic and will reach $84.9 billion.
What Is Amazon DSP?
Amazon DSP (Demand Side Platform) is a part of the
Amazon Advertising program
, which allows agencies and advertisers to reach diverse audiences through the web programmatically.
Before you understand this completely, you should know what programmatic advertising is.
Programmatic Advertising
Programmatic advertising is an automated way of buying and selling digital ads rather than buying directly from a publisher.
The main goal of programmatic advertising is to promote transparency and efficiency among publishers and advertisers through automation.
In 2022, it is estimated that around 88% of digital display marketing will be transacted through programmatic advertising. The rising effectiveness of programmatic advertising ticks all the boxes of advertisers' checklists. Advertisers can easily scale, consolidate and optimize their targeting, influence, and convert shoppers.
Programmatic advertising uses a dynamic Cost per thousand (CPM) model. A dynamic CPM model automatically adjusts the price of your campaign based on the ad spot and competition. So you will be able to bid on the best price feasible without going higher than the bid limit you set.
In a standard CPM model, on the other hand, regardless of the demand, advertisers pay the same price per thousand impressions.
Here are a few features of programmatic advertising to help you understand better:
The buying process is automated
Pricing is based on a dynamic CPM model
Advertisers bid on impressions rather than clicks
Supply is not guaranteed and competition affects the price
Coming back to Amazon DSP, it is one of the most sorted premium advertising available options out there. The Demand-Side Platform (DSP) is software, which provides centralized, automated media buying from various sources.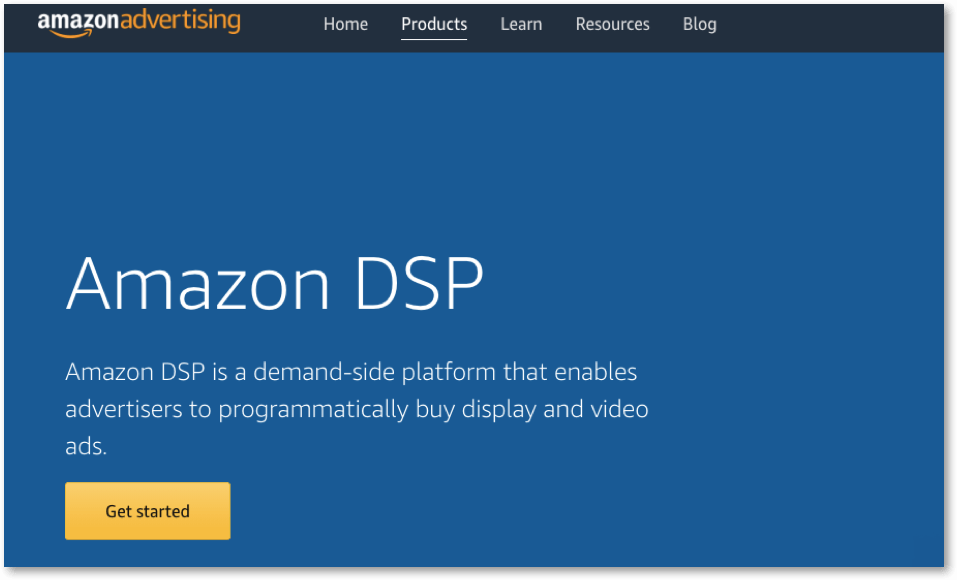 If you are new to Amazon Advertising and DSP, Amazon Advertising has two sides, which include:
Advertising Console – Geared towards "Pay Per Clicks (PPC)"
Amazon DSP — Geared towards "Display Ads (Pay for Impressions)."
With Amazon's Demand-Side Platform, you can leverage its customer data and target potential shoppers on Amazon websites – both in web and mobile app.
So, what has changed with Amazon Advertising now?
Rather than selling ad products via three different advertising services —AMG (Amazon Media Group), AAP (Amazon Advertising Platform), and AMS (Amazon Marketing Services), — Amazon has consolidated everything into a single marketplace known as Amazon Advertising.
Now, the Amazon Advertising Platform is renamed to Amazon DSP (Demand-Side Platform).
The Headline Search Ads are renamed to Sponsored Brands.
The AMS Console is renamed Advertising Console.
Currently, Amazon Advertising includes all ad products such as Amazon DSP, display ads, video ads, stores, sponsored brands, sponsored products, and Amazon measurement solutions.
How to use Amazon DSP to Optimize Your Marketing Funnel
Amazon DSP is designed in a way to reach audiences across Amazon sites, apps, like IMDB, Twitch, etc, and their publishing partners.
Marketers who are well-versed with Amazon's advertising console would sometimes wish that Amazon offers targeting options by:
Geography
Data and time
Segmentation capabilities
Demographics
Though sponsored products and brand ads may not have the same targeting options, Amazon DSP can offer more potential features including:
A/B testing creative
Mobile versus desktop specific ads
Ad frequency per unique visitor
Ad placement, above or below the fold
Specific domains (can exclude or include)
ZIP code
In-market audiences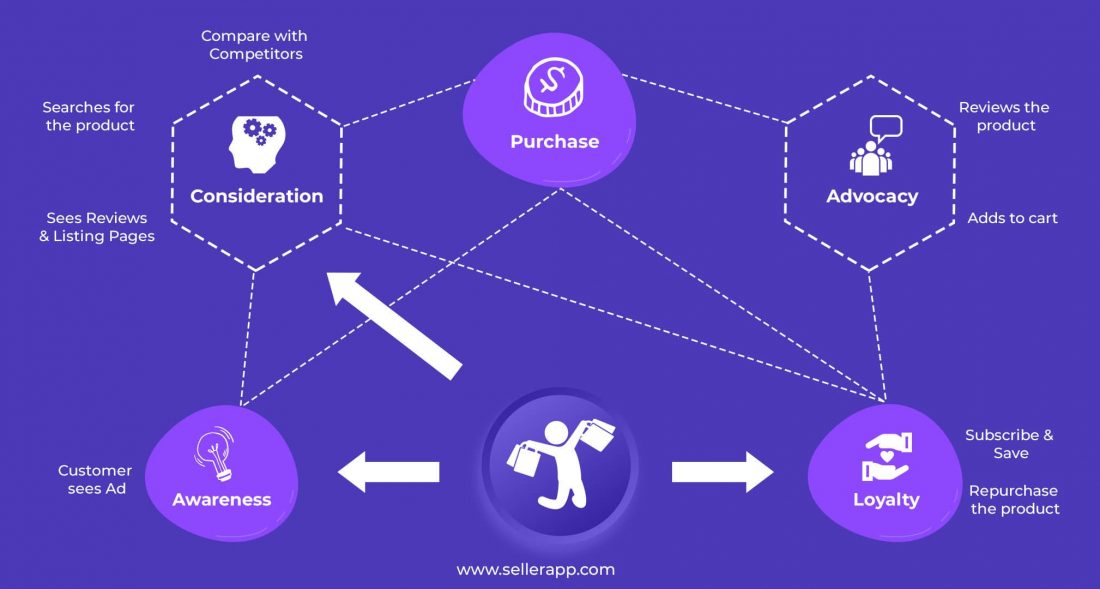 Advantages of Amazon DSP
The above-mentioned features come in handy while using Amazon DSP. Here are a few things you can achieve with Amazon DSP.
Precise targeting across devices
Amazon DSP ads appear on websites in the form of display ads on mobile and desktop. The mobile app ads and banner display ads appear on iOS, Android, and Fire Tablet. Mobile interstitial ads are displayed inside mobile apps for a short time period during natural transition points. A user can dismiss them by clicking the "close" button in the upper right-hand corner.
When it comes to video ads, Amazon plays them only on Amazon-owned properties like Fire TV offering a "brand-safe environment."
Dynamic targeting
Using data to determine where an ad can show up is a powerful thing in the current age. This is extremely effective. It will help you determine the shift in the landscape quickly and you can use it to tweak your strategy accordingly. You can use it to move your ad placements, redirect your spending on creatives, or move your domain ads in a way to reach the audience who are interested in your product. This is a potential yet flexible benefit of DSP.
Audience insights and analytics
Amazon's robust data capabilities will allow you to get in-depth insights into your campaigns before, during, and after campaigns. You will have access to key performance metrics like total purchases, add-to-cart rate, product units sold, and more, to help you understand what's driving results and what isn't.
Retargeting
Gaining new customers is essential to growing a business so as maintaining the existing audience. However, retaining the existing customer base is a cheaper way to spend your ad dollars than bringing new customers.
With Amazon DSP, you can generate brand awareness by educating your customer about your products. However, you can also reach out and retarget potential customers who have purchased or engaged with your product or similar ones within the category.
In a nutshell, you can use Amazon DSP for:
Top-conversion funnel – Improve visibility and drive attention to your brand
Mid-conversion funnel – Increase consideration of your product over a competitor
Low-conversion funnel – Re-engage and retarget shoppers to win a sale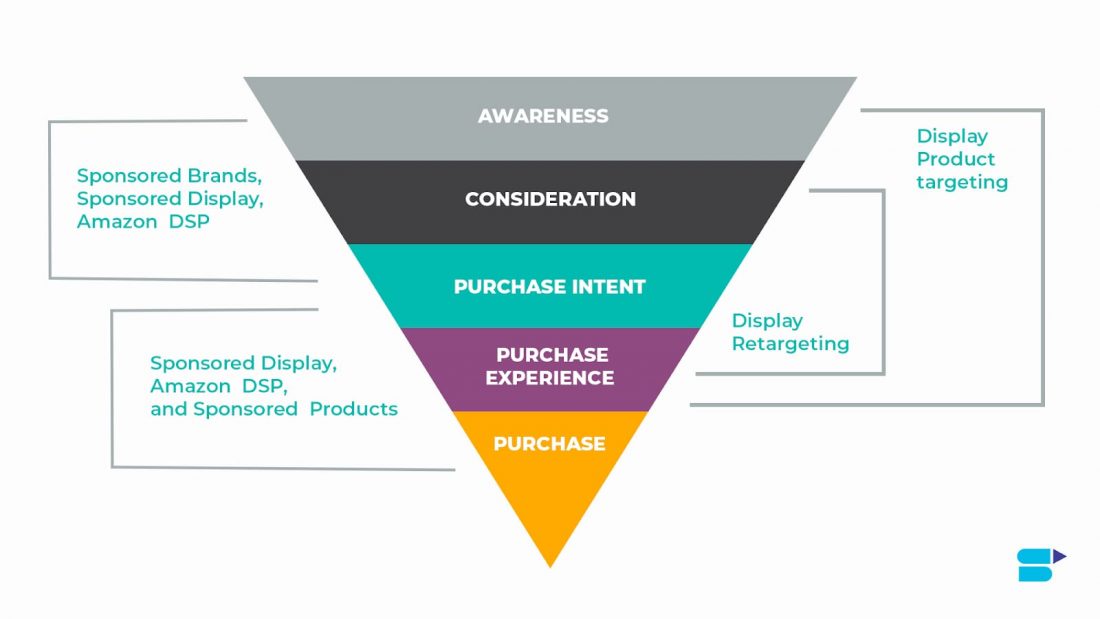 Here are some things you can do with Amazon DSP retargeting capabilities:
Behavioral: Audience who showed specific behaviors such as browsing similar products or products in a category in the last 30 days
Lifestyle: Audience who showed specific search and buying behavior associated with a common lifestyle. E.g, Veganism
Remarketing: Audiences who nearly bought your product or a competitor's, i.e., audiences who searched for, viewed, or added your product or a competitor's to the cart
Audience Lookalike: Audiences who display similar shopping behaviors as your customers or your competitor's customers
Contextual: Audiences who showed an interest in your product by browsing relevant products on other websites
Advertiser Audience: Audience given by the brand by using their website data with a tracking pixel, data from CRM database, or a hashed email list
You see, for all these reasons, Amazon DSP can be a great option for you.
What's the Difference Between Amazon DSP and Amazon Sponsored Display?
Most advertisers get confused among Amazon DSP and sponsored display ads. While both sponsored display and demand-side platforms are a part of Amazon, there are quite a few differences between them.
The sponsored display is a self-service advertising platform, while Amazon DSP is an advertising product that allows you to purchase programmatic ads that include, but are not limited to display ads.
Amazon DSP works on a dynamic CPM model, and Amazon sponsored displays are charged based on CPC.
Types of Amazon DSP
Amazon DSP desktop and mobile web static display ads
For Desktop
Ad Placement
Display Size
Creative Dimensions
Max. File Weight
File Format
Medium Rectangle
300 x 250 px
300 x 250 px
200 kb HTML, 40 kb static (50 kb FR, IT, ES, JP)
JPG / PNG-8
Leaderboard
728 x 90 px
728 x 90 px
200 kb HTML, 40 kb static (50 kb FR, IT, ES, JP)
JPG / PNG-8
Wide Skyscraper
160 x 600 px
160 x 600 px
200 kb HTML, 40 kb static (50 kb FR, IT, ES, JP)
JPG / PNG-8
Large Rectangle
300 x 600 px
300 x 600 px
200 kb HTML, 50 kb static
JPG / PNG-8
Billboard
970 x 250 px,
800 x 250 px (Germany only)
1940 x 500 px
@ 2X (required for onsite),
800 x 250 px (Germany only)
200 kb
JPG / PNG-8
For Mobile
| Ad Placement | Display Size | Creative Dimensions | Max. File Weight | File Format |
| --- | --- | --- | --- | --- |
| Mobile Leaderboard | 320 x 50 px | 640 x 100 px @2X (required) | 50 kb | JPG / PNG-8 |
| Mobile Detail and Search Results page | 414 x 125 px | 1242 x 375 px @3X (required | 100 kb | JPG / PNG-8 |
Along with these, there are other dimensions and specifications such as Medium rectangle, Wide Skyscraper, etc.
Amazon DSP: Mobile app static banner ads dimensions and specifications
This feature helps advertisers to reach mobile users on third-party mobile applications on Fire Tablet, Android, and iOS platforms.
Image banner ads
| Ad Size | Creative Dimensions | Max. File Weight | File Format |
| --- | --- | --- | --- |
| 320 x 50 | 640 x 100 px @2X (required) | 50 kb | JPG / PNG-8 |
| 300 x 250 | 600 x 500 px @2X | 40 kb | JPG / PNG-8 |
| 728 x 90 | 1456 x 180 px @2x | 200 kb | JPG / PNG-8 |
| 414x125* | 1242 x 375 px @3x (required) | 200 kb | JPG / PNG-8 |
Rich media ads (Third-party served only)
| Ad Size | Max. Initial File Load | File Format |
| --- | --- | --- |
| 320 x 50 | 100 kb | HTML |
| 300 x 250 | 200 kb | HTML |
| 728 x 90 | 200 kb | HTML |
| 600 x 90 | 200 kb | HTML |
| 1024 x 50 | 200 kb | HTML |
Amazon DSP video ads: OTT and OLV
This specific ad type allows you to capitalize on the effectiveness of rich digital media and audience targeting. These ads are an important part of a brand's media mix.
Recommended Guide: Amazon OTT.
Should I Try Amazon DSP?
According to eMarketer, video, social media, and native ad spend that are a part of programmatic advertising setup are fueled by double-digit growth. In 2022, advertisers will ramp up their programmatic average investments due to technological advancements, including connected TVs.
The best way to look at Amazon DSP is – it's the next step to grow your established brand beyond Amazon. However, Amazon DSP may not be an ideal choice for beginner sellers.
If you are a brand trying to grow your business on Amazon, you can consider SellerApp's PPC management services. Our experts know the best way to maximize sales and visibility with the allocated budget. Be it driving ACoS down, facilitating growth to increase sales and revenue, or using different sponsored ads to drive the best ROI, SellerApp got you covered!
Additional Read : TACoS Amazon Advertising – Decoded for You
Other Important FAQs About Amazon DSP
Here are some more important questions and answers associated with Amazon DSP, which you might be interested to make a note of:
1. What type of ads can you buy from Amazon DSP?
You can buy video ads and display ads using DSP.
2. Who can utilize Amazon DSP?
The platform is available for both – an advertiser who sells products on Amazon and even who does not. However, it is best suited for advertisers who wish to buy display ads & video ads programmatically at scale.
3. Where will the ads that you buy from Amazon DSP show up?
Amazon DSP delivers ads throughout its owned-and-operated apps & websites programmatically such as IMDb & Amazon.com. In addition, an advertiser has access to its inventory of various leading publisher websites via Amazon Publisher Services or big third-party exchanges. The inventory contains high-quality websites on mobile web display, desktop, video pre-rolls, and mobile apps.
4. How to use Amazon DSP?
There are two ways to use Amazon DSP:
Managed service
Self-service
With self-service, customer has complete control over his/her campaigns and the best thing is that there is no management fee.
On the other hand, the managed service is great for companies, which want to access the Amazon DSP inventory but with restricted programmatic experience. For registering with Amazon DSP, you have to contact Amazon's ad consultant.
5. What is the cost to use Amazon DSP?
To begin using Amazon DSP, you need to spend a minimum amount of $35,000.
6. How does Amazon DSP help you?
An advertiser can enhance his or her reach by leveraging the existing audiences with the help of DMP (Data Management Platforms), advertiser-hashed audiences, or pixels. With this, an advertiser can deliver as well as optimize relevant advertisements to his/her same audiences across various ad formats and devices to help improve relevance and campaign performance.
7. Where will the customers be redirected after they click the ads?
A display ad takes a customer to any of these:
Store
A product detail page
A customized landing page
External website
On the other hand, a video ad takes a customer to any of these:
An Amazon's product detail page
Your own website
Any destination on the internet
Additional Read:
How Much Does Amazon Advertising Cost
The ultimate guide to Amazon retargeting ads.
Was this post helpful?
Let us know if you liked the post. That's the only way we can improve.