Amazon Product Display Ads – Beginners Guide (2020 Update)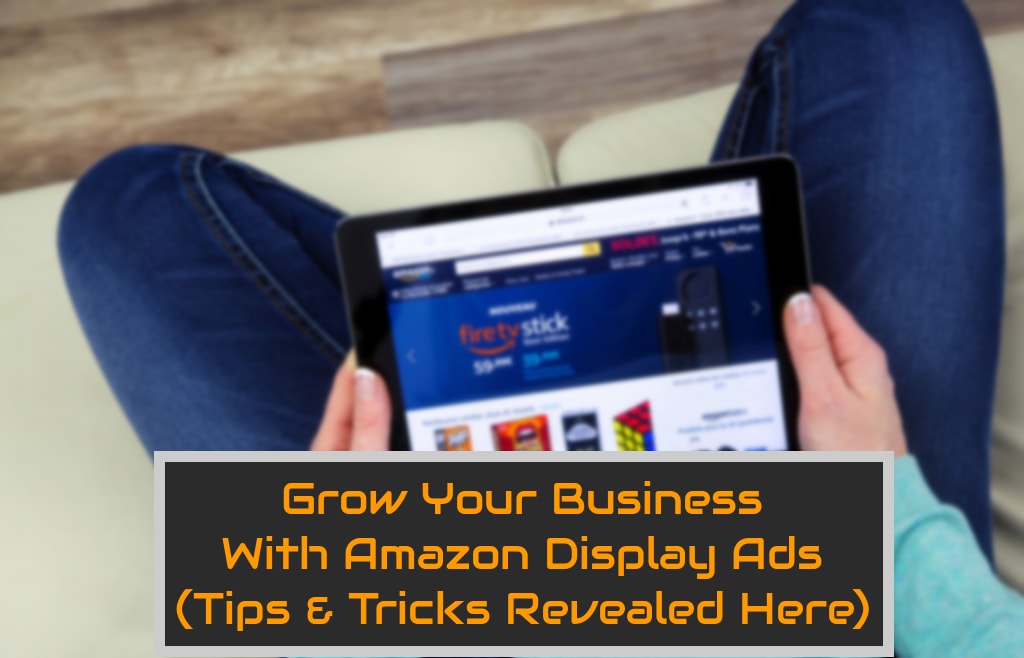 Ever wondered how other sellers get their advertisements on the sidebar under your product's "add to cart" option? Well, the answer is straightforward – Amazon Product Display Ads.
When it comes to AMS (Amazon Marketing Services), Amazon product display ads play a key role in boosting the sales, increasing the visibility, and bringing the brand to the limelight. The ideology behind this is to target relevant product categories and interest groups. However, only vendors can create these ads.
Unlike Amazon's Headline Search Ads or Sponsored Ads, which are exclusively designed to target the customers for specific search terms or keywords, Amazon Product Display Ads aim mainly on "shoppers interest" or "specific products".
Let's understand the key strategies behind this ad model deeper and unveil how brands drive more sales with it.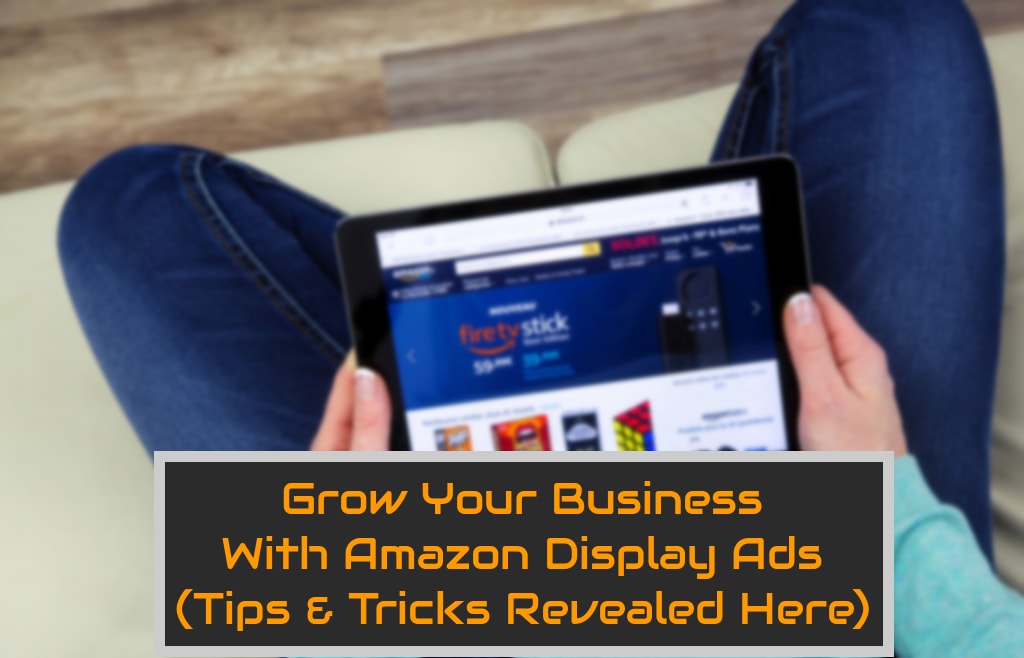 What Will We Learn?
1.What Are Amazon Product Display Ads?
Also known as Cost Per Click (CPC) Ads, Amazon product display ads help sellers drive more visitors and sales to their product listings. The main aim of these ads is to target:
Interests of different shoppers
The Sponsored Product Display Ad shows up in the sidebar right underneath Amazon's (or your competitors) add to cart button.
Let's put it in a simple way. Assume Amazon PPC advertising as sniper rifles – it places keyword-based content exactly at areas where the probability of conversion is high.
Display ads are efficient, and consequently, the CPC for such search ads are expensive. Display ads are more like shotguns – less accurate but spray broad enough to strike something.
Since sponsored amazon product display ads have high impressions, it reaches a wide range of customers a lot of people and makes it an incredible option for branding. Though the ad conversion rates are considerably low, the cost is also lower.
Rather than charging for a click, a display ads charges by CPM. The concept behind this is to bring the product(s) in front of a diverse customer base who may be fascinated by purchasing eventually.
These ads are basically interruptions, hoping to grab the interest of people who aren't involved in any active purchases on Amazon.
Learn how to get started with Amazon display Ads:
2.Where Do Product Display Ads Appear?
The Amazon product display ads generally appear on the right sidebar under the "add to cart" button.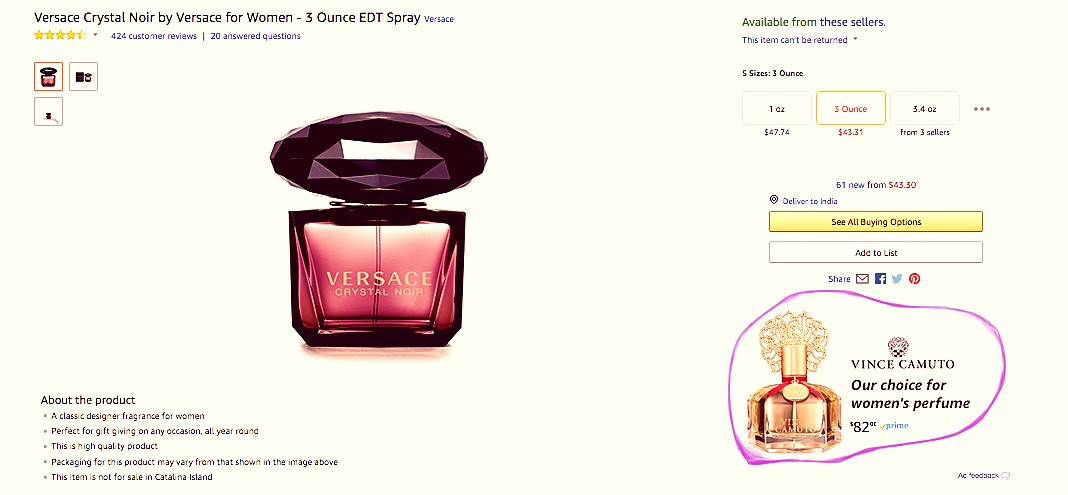 However, they also appear on:
Review pages of customers
The top part of the offer product listings
Top of the search results
These ads are frequently confused with items that appear on the "Frequently bought together" section. However, they are not.
3.What Are The Benefits Of Sponsored Display Ads?
Though there are various advantages of using these ads, the primary ones are as follows:
You can advertise individual products to a broader audience.
It helps you to create targeted advertisement campaigns.
Display Ads brings traffic to the detailed product page.
It lets the seller control his/her budget and bids.
It also assists in tracking the performance of ad campaigns.
Allows sellers to select the placement for ads precisely and target based on customer interests.
It features a robust dashboard to help gauge clicks, impressions, sales, considerations, and much more.
You can adjust and modify the bids and target the audience.
4.Why Should You Use Product Display Ads?
If you are someone who is already selling on Amazon and have your own shopping portal too but desire to boost the product's exposure that is already listed, then consider going with "product ads."
This type of advertisement directs shoppers to your site. Since you get to control the bids, budget, and branding, these ads give an opportunity to provide shoppers with a tailored experience.
Furthermore, people who buy from your website directly become your customers, with all the necessary data you need about them. This opens up a chance to advertise relevant products to them in the coming time.
5.How To Set Up Display Ads Properly?
Setting up a product a display ad is easy and has the same procedure just as you do while opening an Amazon account. You will give a comprehensive product feed with different product attributes like:
With this, a detailed description of the product is required so that customers find it easy in making a buying decision.
To you, "Amazon product description" might seem common but this is where the secret lies. This is one the most important and distinguishing features that can help convert clicks into sales. So, make sure that the potential buyers are informed about the products in a better way.
If this is done right, it helps:
Contribute to better Return on Investment (ROI)
Increase Amazon's abilities to target all your ads later
With product ads, Amazon allows a maximum of 5 keywords to target for every product that you want to advertise.
While selecting keywords, pay attention to what customers search and ensure to use key terms.
6. How To Create Product Display Ads On Amazon?
Creating an Amazon product display ads is very simple and requires completing only a few simple steps, which are as follows:
Step 1: Select A Targeting Mode
The initial step begins by choosing a method for "targeting." Amazon offers two options under this: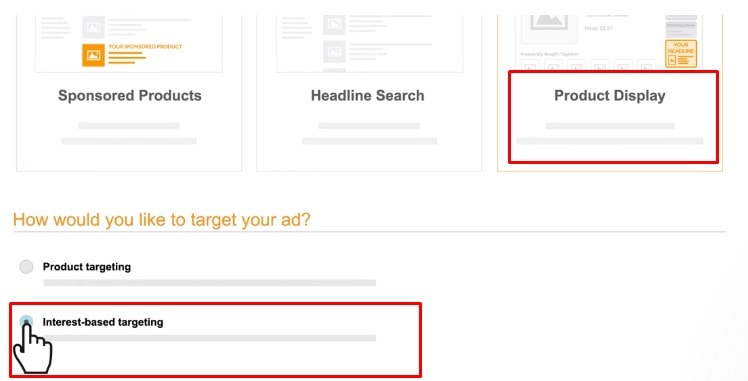 Product Targeting: If you choose this, you can manually choose what products to target (say, for instance, you might want to focus on competitors' products). Besides this, you also get to aim your own products but do this only if you promote complementary products (for example, promoting lenses for a camera).
Interest Targeting:

If you choose this, it automatically targets based on shoppers interests. This doesn't work well from a sales point of view but is a great option for brand marketing.
Step 2: Pick A Product(s) To Advertise
It doesn't matter what type of targeting mode you choose, you need to pick the ideal product that you want to advertise.
Note that Amazon allows only 1 product to promote with a Product Display Ad (PDA). Type the product's name on the search box and choose it for your ad campaign. You can even use the product's ASIN.
Step 3: Select One More Targeting Level
This is another targeting level that needs to be selected. You can either aim at other products directly or target people automatically based on the product categories they browse. If your goal is to increase sales rather than brand awareness, go for "product targeting."
The second-level targeting has two options:
Target By Product:

Search the product that you want to promote for and include them in the campaign. With this option, you can set the targeting either narrower or broader by checking the box named –

Expand targeting to other closely related products (recommended)

.
Target By Category:

This type of targeting is

automatic

and targets complete product categories on Amazon.
Note: You cannot aim at the product page, which you are promoting.
Step 4: Select The Settings For The Campaign
This feature highlights three fields:
Campaign Name:

Give a name that can be easily recognized. This is important when you are running multiple campaigns. This cannot be changed once you submit the campaign. Therefore, give it properly the very first time.

CPC (Cost Per Click) Bid:

Give the amount that you wish to pay for every click. This is the only place where you will set your bid because, with display ads, you do not bid or proffer for keywords.

Budget:

PDA lets you either set campaign budget or daily budget. In the daily budget, there is an option to choose the date range for the campaign whereas in campaign budget, with this date option, you also get to set the ad campaign with two additional features: deliver evenly / deliver as soon as possible.
Step 5: Create The Ad
This section features four important fields:
Headline:

Come up with a creative and attractive ad copy. You can use a maximum character of 50 by following Amazon's guidelines so that the ad is not rejected.

Brand Name:

Give the name of your brand. When the ad goes live, this will be displayed on various places in the format – Sponsored by YYY."

Product Description:

Though there are no limitations on the number of characters that you use, only some part of it becomes visible. Therefore, it is vital to not only describe your product precisely in the first few words but also be compelling enough for a shopper to click it.

Brand Logo:

Upload your logo. This will be displayed next to the product.
Step 6: Preview The Ad
The display ad that you have just created can be previewed in 9 different formats. Though you cannot get to choose what size to make it appear with, you can certainly control it with your bid and the budget that you have added.
The logic is simple. If your CPC and budget are higher, the probability of your ad getting a predominant space is higher as well.
Step 7: Submit The Ad Campaign
Once you have done all the steps correctly, you will have two options clickable:
Since you are putting your money and efforts into it, it is better to review your campaign properly before launching it because once submitted, you cannot change it. At the running stage, Amazon gives extremely little options to change. So, there is no much room for modification.
Amazon reviews your campaign and approves it within 3 business days if it meets Amazon Ads Policy guidelines. Once your ad is approved, it will be live automatically.
Conclusion
Unlike other CPC ad models, Product Ads give the option to set the budget on a daily basis and helps you check your spending. Such features not only prevent traffic spikes but also moderate your everyday Amazon PPC budget.
In short, you can test the waters before diving in. You can determine the amount to be allocated for your advertising campaign.
Related Post
How to Retarget your Customers with Product Display Ads?

Customer Success Head at SellerApp
Customer success leader with expertise in coordinating between cross-functional teams in product development and strategy, professional services, sales, marketing and content to deliver excellent customer experience and accelerate growth within the company by ensuring clients' success.
Subscribe to SellerApp Newsletter