In November 2019, Amazon launched Sponsored Display ads, replacing their Product Display ads enabling brands to access the display inventory.
When it comes to Amazon advertising solutions, sponsored display ads play a key role in growing your brand by re-engaging and retargeting shoppers across their shopping journey, both on and off Amazon.
Unlike Amazon's Sponsored Brand ads or Sponsored Product ads, Amazon Sponsored Display ads appear in different locations, and they are designed to reach audiences both on and off Amazon.
In this article, let's see how Amazon sponsored display ads to work, and how you can leverage its features to scale your business.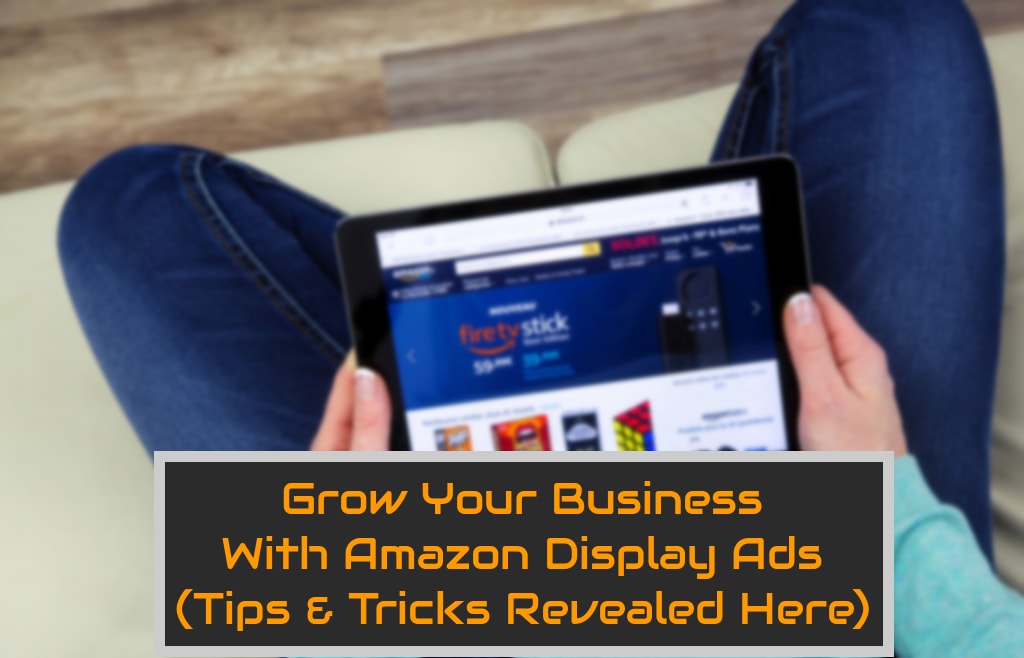 What Will We Learn?
1. What Are Amazon Sponsored Display Ads?
2. Where Do Sponsored Display Ads Appear?
3. What Are The Benefits Of Sponsored Display Ads?
Latest update
4. Why Should You Use Amazon Sponsored Display Ads?
5. Sponsored Display Ads – Eligibility
6. Amazon Sponsored Display ads role in your sales funnel
7. How To Create Sponsored Display Ads On Amazon?
Sponsored Display Ads Best Practices
So, let's get started.
1.What Is Amazon Sponsored Display Ads?
Sponsored display ads give advertisers a better opportunity to target their audience. They also appear off Amazon. The main aim of these ads is to target:
Interests of different shoppers
Complementary products
Competitors in the same niche
Amazon sponsored display ads are retail aware, which means they show up only when your products are in stock and the 'Featured Offer'. The ads will automatically stop if the products go out of stock or not the Featured Offer.
Display ads are efficient, and consequently, the ads are charged by CPC. However, you control how much you spend by setting the ad budget and bid per click. They are more like shotguns – less accurate but spray broad enough to strike something.
Since Amazon sponsored display ads have high impressions, they reach a wide range of customers making it an incredible option for branding.
Learn how to get started with Amazon display Ads:
Where Do Sponsored Display Ads Appear?
The Amazon sponsored display ads generally appear on the Amazon home page, search results pages, product detail pages as well as third-party websites and apps.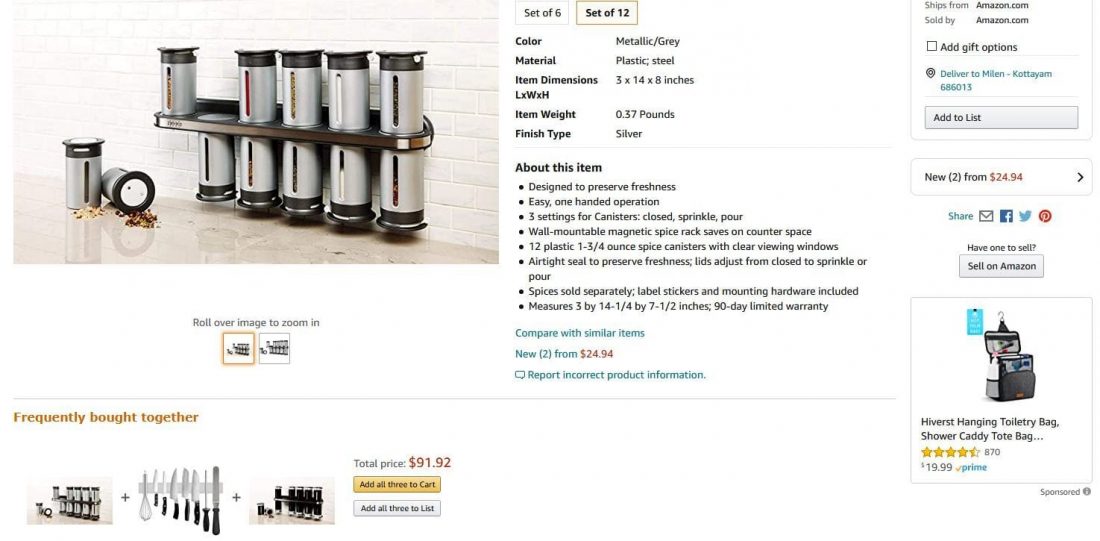 These ads are sometimes confused with Sponsored product ads.
3.What Are The Benefits Of Sponsored Display Ads?
Sponsored display ads are majorly used to reach a relevant audience who browse, search, or purchase products on and off Amazon.
You can advertise individual products to a broader audience
It lets the seller control his/her budget and bids
It assists in tracking the performance of ad campaigns
Allows sellers to select the placement for ads precisely and target based on customer interests
Increase brand awareness in your niche
Place your best product under your competitors' listing
Increase reach for new product listings
It has a robust dashboard to help gauge clicks, impressions, sales, considerations, and much more
You can re-engage and retarget your customers on and off Amazon
Latest update
Another potential benefit of Sponsored display ads is the 'views remarketing targeting mode. With this feature, advertisers will be able to filter targets by variables like star rating, brand, Prime eligibility, and price point.
Within a chosen category, targeting brands by refining categories is the best way to go after competitor products as targeting individual ASINs is currently not possible.
Sponsored display ads are essential if your goal is to reach maximum impressions for the product. This is an essential strategy that caters to the audience at the top of your sales funnel.
4.Why Should You Use Amazon Sponsored Display Ads?
Using sponsored display and sponsored brand ads along with sponsored products will have compounding effects on your new product's sales. You will be able to reach a wider audience in less time, allowing you to scale your revenue faster than ever before.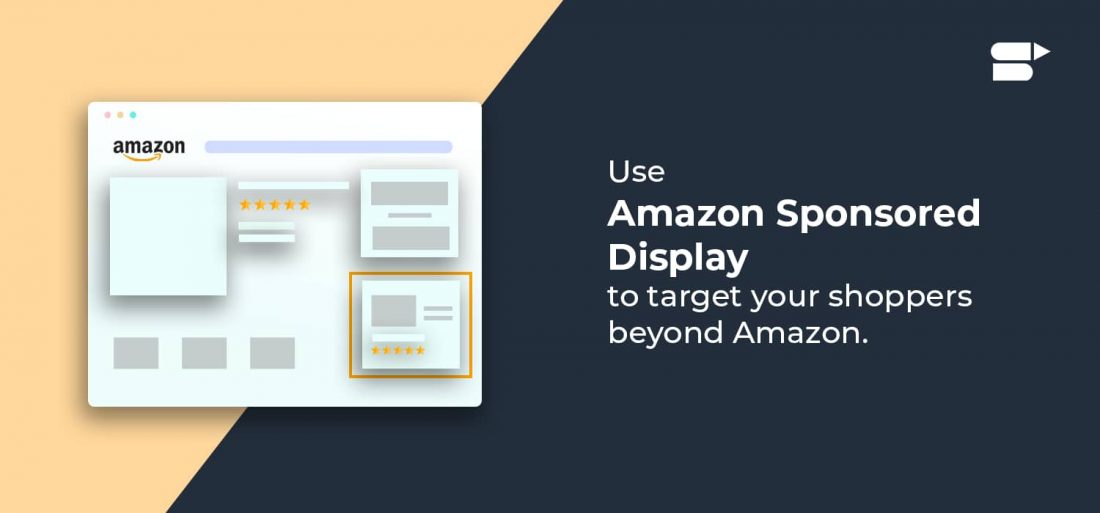 This type of advertisement directs shoppers to your store. Since you get to control the bids, budget, and branding, these ads allow providing shoppers with a tailored experience.
5. Sponsored Display Ads – Eligibility
Amazon sponsored display ads are currently available to professional sellers enrolled in the Amazon Brand Registry, vendors, and agencies with their clients selling on Amazon. To create a sponsored display ad campaign, your products must fall under Amazon's eligible categories.
Note: Within sponsored display ads, the audience: interests targeting option is currently available for vendors only.
6. Amazon Sponsored Display ads role in your sales funnel
As mentioned, sponsored display ads can be used to build the top and mid-funnel awareness and interest among consumers. Besides, they are used to retarget high-intent shoppers who viewed specific products on Amazon.
If you use the right targeting strategy, sponsored display ads can:
Increase quality traffic
Contribute to better Return on Investment (ROI)
Note: While choosing the keywords, pay attention to what customers search for and ensure to use those key search terms.
7. How To Create Sponsored Display Ads On Amazon?
Creating an Amazon sponsored display ad is very simple and requires completing only a few simple steps, which are as follows:
Step 1: Select A Targeting Mode
The initial step begins by choosing a method for "targeting." Amazon offers two options:
Product Targeting: If you choose this, you can manually select what products to target (say, for instance, you might want to focus on competitors' products). Besides this, you also get to aim your products but do this only if you promote complementary products (for example, promoting lenses for a camera).
Audiences – Views remarketing: If you want to target high-intent audiences, use this option. Views will help you re-engage your target audience who have viewed your product details page or similar products and categories. This option will have a look-back window of 30 days.
Audiences – Interests (vendors only): If you want to boost your brand awareness and recognition, this targeting mode is apt for you. With this option, you will be able to reach the customers who have browsed or are interested in similar products within the segment. The look-back window for this targeting is 90 days.
Step 2: Once you choose the targeting option, you need to select the bid and daily budget.
Step 3: Choose the products that you want to create the campaign for. Amazon automatically generates the ad creatives for your campaigns based on the targeting type.
Step 4: Preview your campaigns and then submit.
Amazon automatically takes the product image, pricing, and star rating from your product details page. The ad has a "Shop Now" button that redirects the shopper to your product detail page. This makes it easy for customers to browse or buy with just a click or two.
Amazon reviews your campaign and approves it within 3 business days if it meets Amazon Ads Policy guidelines. Once your ad is approved, it will be live automatically.
Sponsored Display Ads Best Practices
Here are a few best practices to keep in mind when optimizing your sponsored display ads:
Add all your products to the campaign and organize the campaign structure over time
Ensure your campaign has enough budget to stay live throughout the day. Track your campaigns regularly to check if they are running or missing out on potential impressions
Use campaign metrics to make informed bidding decisions
Always audit your campaigns. Measure their performance against your campaign goals
Points to remember:
Negative targeting is not available for views remarketing at the moment
You can optimize bids individually based on targeting options
Vendors can customize their views remarketing campaigns with a custom brand logo and headline
Conclusion
Well, that's a lot of information. However, now you know everything about Sponsored display ads! These ads are a great way to improve your top funnel and regain market share advertising and re-engage the targeted audience. Have trouble with Amazon PPC campaigns? SellerApp has got your back! Reduce ACoS and increase your ROI with our state-of-the-art machine learning algorithms. Our team of Amazon experts will strategize and optimize your PPC campaigns to ensure that your brand attains maximum profitability.
Related Post
How to Retarget your Customers with Product Display Ads?
Was this post helpful?
Let us know if you liked the post. That's the only way we can improve.