Amazon has more than 300 million active users. Ever thought about it for a second? They all have one thing in common – High purchase intent.
Yes! With high conversion rates and low cost-per-clicks, Amazon is an absolute gold mine for advertisers.
Most of the time, Amazon sellers aren't aware of all the advertising resources available. In this post, let's cover everything you need to know about Amazon marketing services (AMS) including:
Do you need Amazon marketing services? 
Since its first launch of advertising solutions, Amazon is only increasing its marketing options. It started with Sponsored Products, expanded to Sponsored Brands (formerly Headline search ads), and Sponsored Display ads (formerly Product display ads). Along with the advertising types, the targeting options within an ad type are also increasing lately. You can find many beta options inside the campaigns. So understanding all your options is essential to growing on Amazon.
The competition is fierce on a global marketplace like Amazon. Most of the online advertising platforms allow you to pay for impressions and clicks. However, Amazon takes a different approach. You get to choose how much you want to pay when a shopper clicks on the ads. This gives you granular control over your ad budget. Besides, the conversion rates are higher because of the strong purchasing intent of the audience.
Check out this guide to improve Amazon Advertising Impressions.
Secondly, Amazon started to streamline its advertising reports. They may not be the best ones to get deeper insights into customers' search patterns, but they are extremely useful to understand what works for you and what doesn't.
On the whole, Amazon marketing services save time and money, and generate brand recognition you want.
Types of advertising solutions offered in Amazon marketing services
Amazon Sponsored Products
At SellerApp, we have been managing hundreds of ad accounts, so we know, Sponsored products are one of the most effective ways to grow your sales on Amazon. These ads are the basic ad type available for Amazon sellers.
Here are some reasons why you should consider including Amazon sponsored ads into your marketing efforts:
They appear on almost every page of the buying journey, so they are extremely valuable for sellers.
They usually have higher conversion rates when compared to other ad types.
They appear on Amazon SERPs (search engine results page), and they look similar to organic results. So customers can find these ads easily.
Sponsored product ads are highly competitive. You should keep in mind that they only appear if you have the Buy Box.
Read this if you want to know what it takes to win the Buy Box.
Sponsored Brand Ads
Amazon sponsored brand ads are the first thing a customer sees after searching for a product. Sponsored brand ads are placed on top of the search results, alongside, and within the search results page. They help a customer discover your brand, it's products, and your brand store on Amazon. When used effectively, you can capture new audiences, increase consideration for your products, and brand awareness.
You can feature your brand logo, a custom headline, and up to three products with Amazon sponsored brand ads. All you need is:
A registered seller account under Amazon brand registry
A unique Amazon store
Top-selling products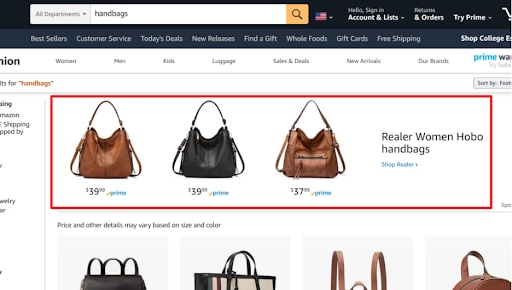 Why you should run Amazon sponsored brand ads
If you consider the number of active shoppers and sellers on Amazon, you might know the importance of branding. Driving brand awareness is a significant part of sponsored brand ads. Along with that:
You can drive traffic to your own store. This allows customers to explore all your product range.
If your ads are on top of the search results and displayed on the other prominent positions, it boosts your brand visibility. Better visibility = more sales!
Once you start running sponsored brand ads, take a look at your search terms report identifying the non-converting keywords. Target them as negative, and optimize the campaigns further.
Amazon Sponsored Display
Amazon sponsored display ads are CPC (cost-per-click) ads that are highly useful in your remarketing efforts. Amazon allows you to display your ads to customers who have viewed your products or similar products.
Sponsored display ads use customer demographics to target audiences based on their shopping behavior.
Advantages of Sponsored display ads
Sponsored display ads are beneficial if you want to:
Bring traffic to your product details page
Increase brand awareness among audience searching products in your niche
Gain exposure for newly launched products
Gain traffic from your competitor's listing
Sponsored display ads tend to have lower conversion rates as these ads aren't displayed on the Amazon search results page. So, they tend to be less competitive when compared to Sponsored brands and Sponsored product ads.
If you want to learn more about Amazon ad types, and how they will be useful in your marketing funnel, check out this post here.
Why you need to incorporate Amazon marketing services into your e-commerce business
The main idea behind running an ad campaign is to achieve a set of goals that grow your business. For this, we usually set a few objectives and a budget so that we won't exhaust our money and resources. You can take advantage of Amazon PPC campaigns in the following ways:
Create delightful shopping experiences
With millions of brands competing on Amazon, you need to make your brand stand out. So you need to create delightful shopping experiences for your customers, and Amazon marketing services will definitely help!
Get insights and optimize product listings
A well-optimized product listing has higher conversion rates. Higher sales lead to better reviews and better ranking. Identify top-converting keywords with lower ACoS (advertising cost of sale) from your ad campaigns and target them in your listings. Improve the core pillars of your listings – Product title, description, and question and answers. This attracts a loyal customer base.
Offer convenience
Customers have little control over the information they get from you. As an advertiser, it is your responsibility to offer more convenience to your customers. Perhaps, your top-selling proposition is the convenience you offer. Creating unique stores, landing pages, and easy return policies makes their life easier. This boosts the shopper experience.
What you need to know about Amazon Store
Amazon Stores is one of the most useful features of Amazon advertising. You can build customized landing pages with Amazon stores. You don't require coding skills. You can just find the drag and drop tiles with predesigned templates and use them accordingly. The best part? It's totally free!
All you need is a seller central account enrolled in the Amazon brand registry. On the other hand, Amazon agencies and vendors must have an advertising console account. Once you log in, you will find 'Stores' in the main navigation bar.
Having an Amazon store allows shoppers to discover products and recommendations on Amazon. You can share a readable URL and drive shoppers to your stores with advertising efforts on and off Amazon. These efforts will promote your brand and increase your sales quickly. By taking a deep dive into your store insights, you'll be able to optimize your ad campaigns.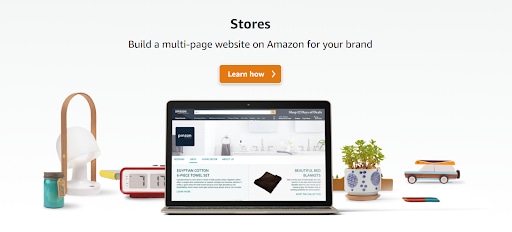 Once Amazon approves your application to open a store, you need to follow these below-mentioned steps:
Use the predesigned templates to create web pages.
Add relevant media such as images, text, and videos to display your products.
Submit your store and get it reviewed by Amazon within 72 hours.
Once your Amazon store is up and running, you will receive a custom URL from Amazon that you can use in your marketing campaigns.
Next steps to create a robust roadmap
There's so much to explore within the advertising landscape, right from targeting options to custom landing pages, and more. Let's just think about it – launching new products, handling inventory, processing orders, and addressing customer queries can consume a lot of your time. Besides, handling advertising on Amazon without much experience can only put you at risk. Sometimes, it costs both time and money. So don't let this happen. Focus on your core business and entrust your marketing needs with an expert like SellerApp.
Why should SellerApp be your growth partner?
At SellerApp, our PPC experts develop a holistic approach that consists of keyword research, Amazon SEO, audience targeting, PPC optimization, and more. Our industry-leading tools and techniques will help you stay on top of your selling game. We know every business is different, and we exactly know what it takes to win the game.
Additional Read: Amazon Marketing Services: Sales Strategies Revealed Here
Final Thoughts
There you have it. Amazon advertising is still a game-changer for any brand. It is one of the many reasons why small businesses scale up easily. I would still say that some old PPC campaign rules still apply, but there is a huge scope to experiment and learn. Whether it is Amazon PPC or Amazon SEO, we've always been about staying on top of the game.
For more updates, you can follow us on our Youtube channel where we talk about the latest PPC and SEO strategies, Amazon updates, and more. If you want more refined strategies, you can also schedule a call with our consultant and get tips to grow your Amazon business.
Happy selling!
Additional Read:
How Much Does Amazon Advertising Cost
Was this post helpful?
Let us know if you liked the post. That's the only way we can improve.