Amazon OTT advertising started gaining huge traction for its unique objectives. These unique objectives include enhancing brand performance initiatives and targeting a broader audience reach. And, it all started with Amazon advertising. Amazon Advertising has a great significance if you are selling products on Amazon.
The platform's advertising tools like Sponsored Product campaigns aid the sellers immensely, by increasing your product's visibility, which in turn increases traffic to your product listing and boosts product sales. Amazon 2018 rebranded all of its advertising services under one umbrella, called "Amazon Advertising".
Product Display Ads, Sponsored Product Ads, and Sponsored Brands Ads now come under "Amazon Ad Console". But there is one more branch that sellers should be aware of, which is the "Demand-Side Platform". Previously known as the Amazon Advertising Platform, it allows advertisers to buy video ads and display ad placements, and engage the audience within as well as outside of Amazon.
They launched Over-The-Top advertising in early 2019, amidst the ever-increasing popularity of video streaming services. So, let's take a look at Amazon OTT advertising and the importance of OTT advertising in this age of new media.
Here's a quick peek into the content –
What is Amazon OTT advertising?
Over-The-Top or OTT video services are essentially the online streaming services that we are familiar with today that don't need a cable or service provider. OTT streaming services are currently one of the most popular forms of media consumption. So, it makes a lot of sense for advertisers to make use of the rising popularity of this platform, especially for targeting the young audience.
OTT ads can be found in places like:
Popular video streaming apps
Streaming devices
Smart TVs
Gaming consoles
Online video streaming platforms are extremely popular now, especially among the youth. It is estimated that about 60% of young adults have video streaming services as their main source of content consumption. Let's take the example of the Amazon Fire Stick, which is one of the most used streaming devices right now, with over 40 million monthly active users. Amazon Fire Stick supports over 50 third-party apps that are ad-supported. It's easy to imagine the potential these streaming apps have for advertising.
How do Amazon OTT advertisements work?
Amazon OTT ads work on the Amazon DSP platform. These ads will reach millions of Amazon Fire Stick users every day. The ads are non-skippable and use a full-screen format. Advertisers are able to target their audience, which is a huge advantage over traditional tv ad spots. Do note that these are not clickable ads, so the advertisement metrics cannot be measured through
click-through rates
or direct conversions. Rather, it's measured through ad impressions. So, these ads are not paid per click like Sponsored Ad Campaign, it is paid per thousand impressions.
The Demand-Side Platform allows advertisers to buy video placements in ad-supported apps on Fire TV. For OTT advertisements, you can make use of Amazon DSP's automatic advertising and audience targeting features.
What are the advantages of OTT advertising?
Now that we have seen what Amazon OTT advertising is and the way it works, let's take a look at the advantages of using OTT advertisements.
Better targeting- Unlike traditional television ads, Amazon OTT ads allow you to target your audience more precisely. Amazon DSP will give you insights into your audience so that your ad gets engagements from the relevant audience, which creates more product sales.
Amazon DSP offers insights into your audience based on:
Product interests and shopping behaviors.
Demographics such as age, income, gender, and more.
Using Amazon OTT, you can combine the effectiveness of the visual format with the targeting features of Amazon's Demand-Side Platform.
Ad conquesting- In Amazon OTT advertising, you can direct your product ads targeting the audience who has also viewed your competitor's products. Currently, this feature is unique to Amazon OTT advertising. This will help you in gaining a few potential customers among the audience who are interested in your competitor's products.
Cheaper than TV ads- Amazon OTT ads are cheaper compared to traditional television ads. Since the viewership of traditional media like TV has declined, the cost of ad spots has risen quite significantly. This makes OTT ads a much more cost-effective way of visual advertisement, as the ad spend is much more controllable. And don't forget that OTT ads are easier to track, and is much easier to get relevant data after the campaign has ended.
Access to the audience who are difficult to reach – Amazon OTT advertisements will give you access to the audience who are not easy to reach otherwise. For example, users who have ad-blocker enabled, and the users that either have no active TV subscription or had canceled their existing subscription, are quite difficult-to-reach. By using Amazon OTT, you will have access to these audiences.
Latest changes and added features for Amazon OTT
Amazon had introduced a few changes in November last year that would enhance their OTT advertising. This includes new shows that would create opportunities for more ads and new tools that will aid the advertisers in building their brand. Let's take a look at these changes:
New content- Amazon has introduced new content to IMDb TV and Amazon Prime Video like new movies, and additional content for NFL Thursday night football that would create even more opportunities for advertisements to reach a larger and more diverse audience.
Genre blocking- Genre blocking is a feature introduced by Amazon back in September last year that would give the advertisers more control over where their ads are placed. With this feature, you can block up to 5 content genres, so that you can make sure that your ads will show up only in the relevant genres that would garner impressions from your targeted audience.
Audience guarantees- Amazon's audience guarantee will give you the option to buy advertisements for the audience you want to reach. Essentially, you would only pay for the impressions that will reach the audience which is relevant to your product and brand.
Video creative builder beta- The video creative builder beta will allow advertisers to create video ads from scratch, even if they do not have their own video assets. You can choose from its library of videos and templates so that you can experiment with different ad ideas, without the loss of time and money.
Check out this guide to improve Amazon Advertising Impressions.
*Note that genre blocking and audience guarantees are currently only available for advertisers who make use of Amazon managed-service advertising in the US.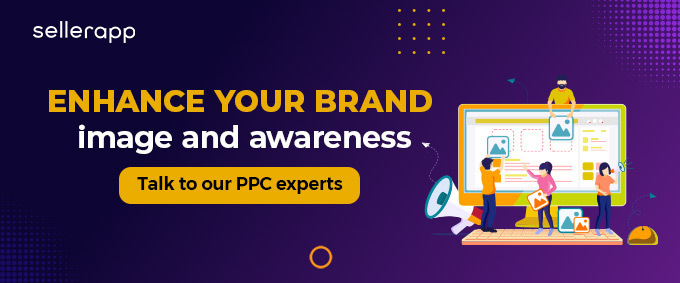 Conclusion
The present and future of visual content creation and consumption belong to internet-based video streaming services. The decline of traditional television and the increase in the user base of streaming services is a testament to this change. The good news for advertisers is that because we are at the beginning of this paradigm shift, advertising opportunities in these streaming services are relatively untouched. That is why Amazon OTT advertising makes more sense for any brand owner who is looking to make his products and brand visible. This is the perfect time to be one among the early adopters of this largely untapped advertising platform before everyone else realizes it's potential and starts to flock in.
Additional Read:
Amazon Prime Day 20221 surpasses
The Best Seller's Guide to Amazon Prime Day 2018
Secrets on How to sell on Amazon Prime 2020
Was this post helpful?
Let us know if you liked the post. That's the only way we can improve.