As advertising campaigns are scaling success more and more, short-tail keywords have become more prevalent than before. So, it became more prominent to use low-volume keywords and long-tail keywords to increase your ROI. In this blog post, let's see why we need long-tail keywords and how can you improve your conversions by finding the best long-tail keywords for your products.
What are the Long-tail Keywords?
For new e-commerce sellers, long-tail keywords are a group of keywords that are more specific for your products used by your buyers. Customers choose to use these keyword phrases if they are close to a point of purchase product of their choice. Also, long-tail keywords are more beneficial if customers use
voice search
to search for their product.
Importance of long-tail keywords
Keyword research is one of the primary steps for any eCommerce seller. Conducting additional research will help you go the extra mile in your business. Take a little time to niche down on your long-tail keywords. This helps to push your brand to the top. As customers get nearer to choosing their desired product, long-tail keywords increase your conversion rate. This, in turn, increases your product ranking on your marketplace like Amazon.
Typically, long-tail keywords are ideal for a new seller as they have:
Less competition.
Low CPC.
And, high buying intent.
Related Post: Perform Keyword Research For Amazon Products? – Using SellerApp
Uses of Long-tail keywords:
Implementing a long-tail keyword strategy is considered a tactical move for the eCommerce businesses that want to rank higher for their buyer keywords.
Let's see why you need to implement a long-tail keyword strategy in your Amazon PPC campaigns.
Less competition – As mentioned, they have less competition because long-tail keywords are relevant for fewer sellers. So, it is easier to rank organically and a higher position in the search results will attract more traffic.
More Conversions – Customers searching with long-tail keywords have high purchasing intent, and they are considered as more qualified leads. So, a customer visiting your listing has a huge chance to buy your product. This boosts your conversions and improves your organic search ranking.
Related Post: Top 12 Tips to Rank Higher on Amazon in 2021
How to Find Long-tail Keywords for your Ad Campaigns?
You can find relevant long-tail keywords using keyword research tools like SellerApp keyword research tool and search term reports from Google or Amazon (if you are an Amazon seller).
Google Search Term Report
Google keyword planner is a go-to tool for most marketers and eCommerce sellers. On the other hand, we have Google Search Term Report to find out which search terms are performing well for your ads within Google's search network.
Using this report, you can find out search terms have huge potential, and also you can find out search terms that are not relevant to your business and mark them negative in your ad campaigns.
Amazon Search Term Report
If you are selling on Amazon, then you should use the Amazon search term report for long-tail keywords.
Let's see how to find out the Amazon search term report from seller central.
Go to your Amazon seller central account and hover over to the Advertising tab.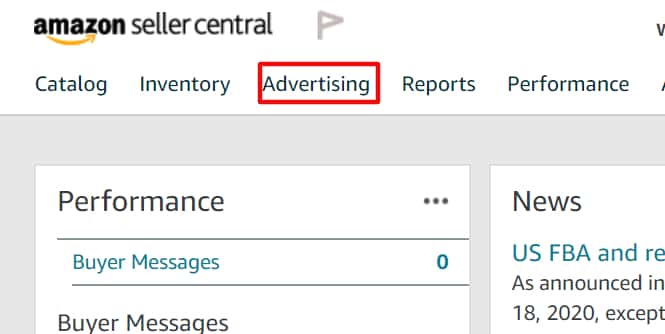 Here, click on Campaign Manager. On the next page, you can find the Advertising reports section.

Now, click on Create Report.
On the next page, you will find Configuration and Report Settings. Ensure you select the search term in the report type.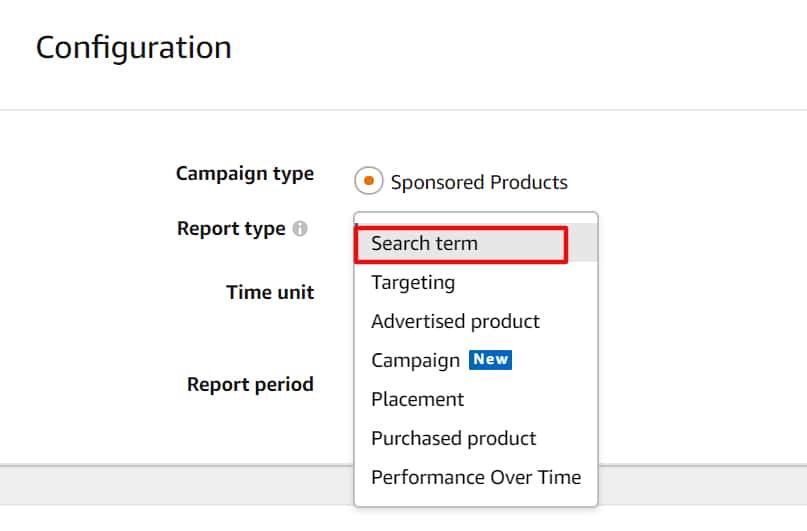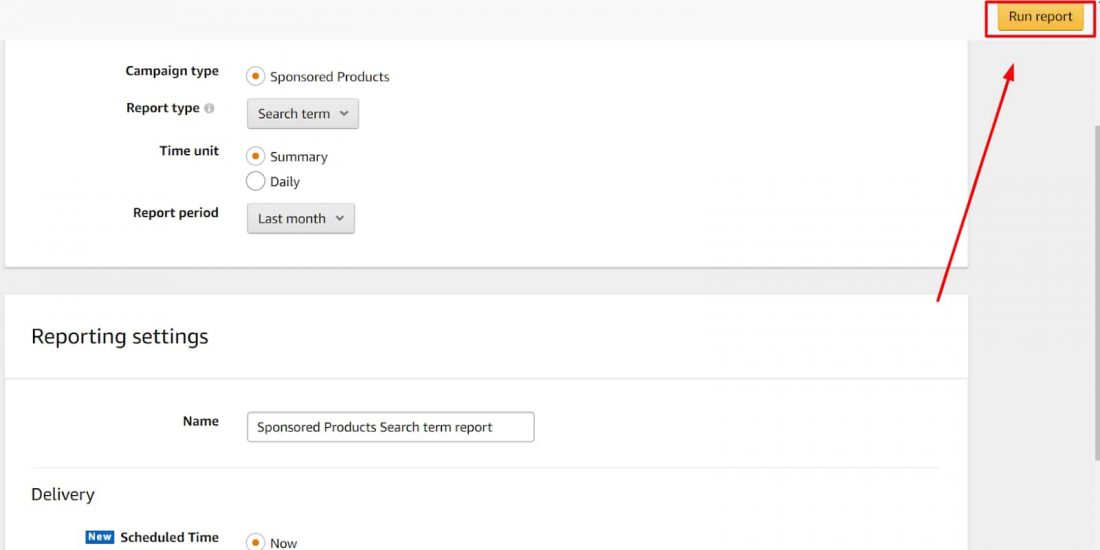 Now, give a name to the report in order to differentiate from other reports. Set the time period of the report as needed. Typically, it would be 30-60 days.
Next, click on the Run report.
Download the file which is available in .xlsx format. Open the report to find the search terms and Amazon long-tail keywords.
How can you use the search term report for long-tail keywords?
Open your search term report and look at the search term volume. Now, sort the report based on the number of orders. You can find potential long-tail keywords that can increase your conversion rate and will get your higher organic rank.

Alternate ways to find long-tail keywords
If you are a new seller trying to understand how long-tail keywords work or a potential seller looking to ease your job, then you can use the SellerApp keyword research tool to find potential keywords.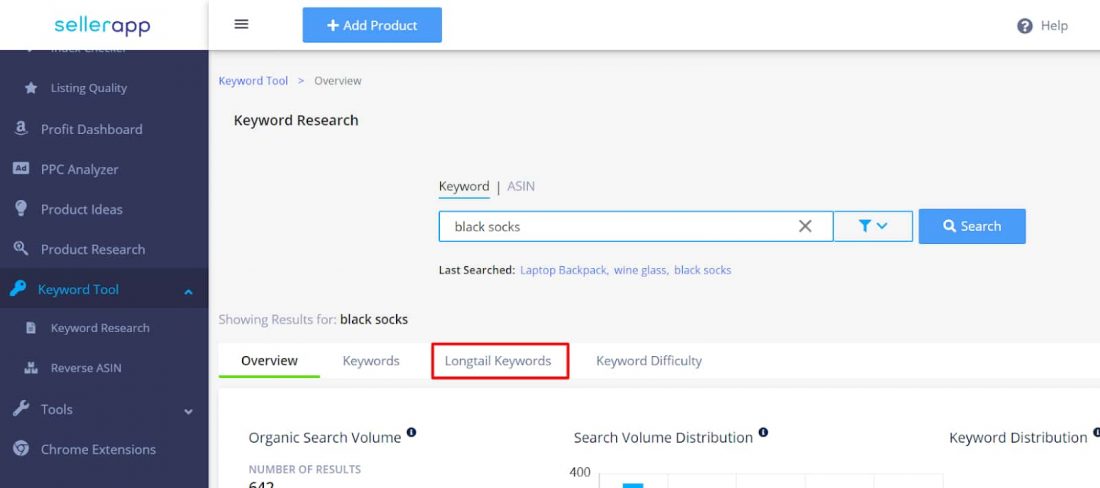 All you need to do is log in to your free trial account and click on the keyword tool. Add the keyword of your choice and select the Longtail Keywords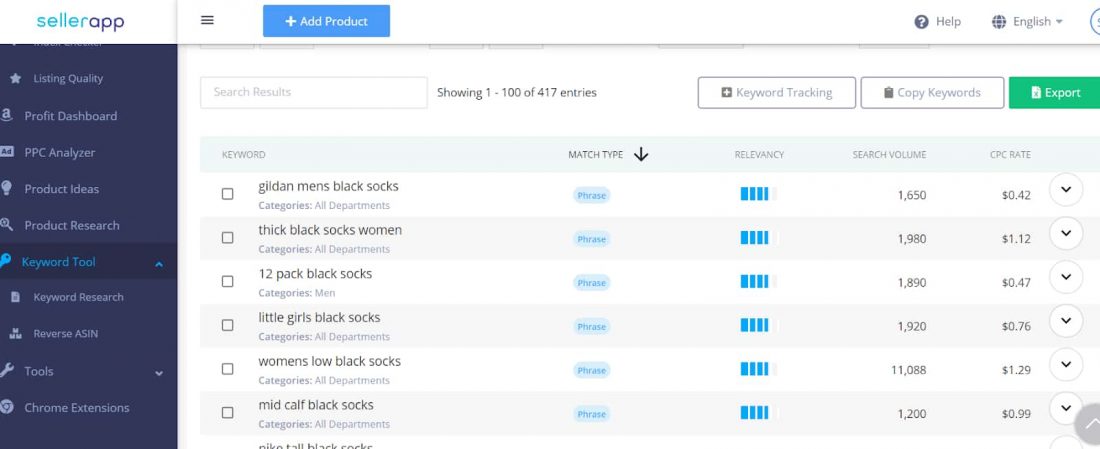 You can see the list of long-tail keywords with the match type, relevancy, search volume, and CPC rates.
Choose the long-tail keywords which are highly relevant to your product and start bidding higher on them in your PPC campaigns. Once you start having more clicks and conversions for these keywords, your organic search rank gets better for the same keywords.
Final Thoughts
Often, long-tail keywords are the most overlooked and under-utilized ones in improving your conversion rate. Not all long-tail keywords are relevant to your business. You can narrow down the best long-tail keywords and phrases that align the most with your products/services. Target those keywords and improve your other customer metrics such as shipping rate and customer service. This helps you scale your business growth in the longer run.
Additional Read :
Why You Should Outsource Your Amazon PPC Services.

Was this post helpful?
Let us know if you liked the post. That's the only way we can improve.