Whether you are selling or buying an item on Amazon, it's essential to keep track of the product prices. Instead of checking the product details page every now and then, there are a few Amazon price trackers that will help you track the price changes of a product.
Let's take a look at the best pricing trackers available out there.
What is a price tracker?
Simply put, a price tracker is software or a tool that is used to track the price fluctuations of products and sends notifications in case of a drop or increase in price. Besides, they help you in comparing the prices of different products so you get the best bang for your buck.
Here are a few requirements that you should keep in mind while choosing a price tracking software.
The tool must:
Offer you a full view of your competitors' pricing changes
Include mobile apps or preferably have a chrome extension
Should allow you to track any product on Amazon and must not be restricted to a selection of items
Best Amazon price trackers in the market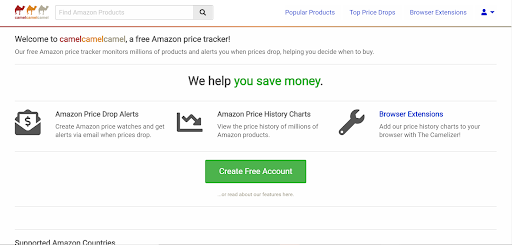 Camelcamelcamel is one of the most popular and effective Amazon price tracking software in the market. Ease of use and unlimited statistics are a few of the popular and handy features of this tool. It comes as a browser extension for Chrome, Safari, and Firefox.
This price tracker tool will show you Amazon price history charts for millions of Amazon products. Besides, you can create an alert when your product experiences a dip in price.
The best part? Camelcamelcamel is free to use. All you need to do is register and get email alerts or stay anonymous and watch price alerts on your newsreader.
This Amazon pricing tracker supports various marketplaces including the US, Canada, Australia, France, Germany, Italy, etc.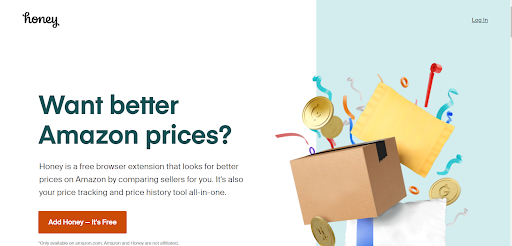 The Honey extension is available on Google chrome. It looks for better product prices by comparing from a whole bunch of retailers, including Amazon. You can create a drop-list, which notifies you if the prices drop for an item on your list.
Honey is a likable Amazon pricing tracker for a few reasons including its ubiquity and ease of use. Besides, it provides a free exclusive service to its users. In addition to tracking prices based on a product's history, Honey also finds promo codes for whatsoever items you are looking for.
Honey is available on Chrome, Firefox, Edge, Safari, and Opera. Besides, Honey also finds promo codes and applies them to your cart automatically when you're shopping on a retailer's website.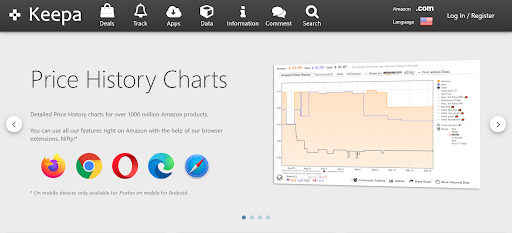 When looking for the best Amazon price tracker, Keepa is a big name that one would come across. It has a smooth interface and once you sign up for their free trial, you will be able to access almost all of the features. However, you will need the premium version to access their interactive graphs, API, and price increase alerts or you can also opt for their monthly subscription. Using their API, you can access important product information like price history data, new and used items, category details, best sellers list, etc.
Based in Europe, this pricing tool works across different countries including Australia, Brazil, Canada, India, Japan, Mexico, Spain, France, Germany, Italy, the UK, and the US. No matter what option you choose, you can still add their extension to your browser, which is available for Chrome, Edge, Opera, and Firefox.
If you are not willing to miss out on a bargain, Waatcher is the one solution that is worth checking out. This price tracker not only sends you pricing alerts but also places an order on your behalf when your target price is reached.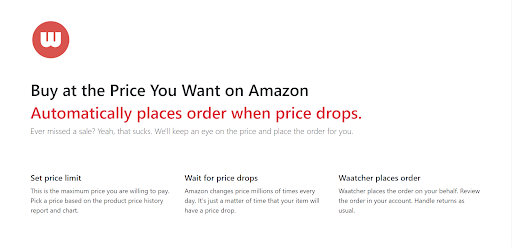 All you need to do is set a maximum price that you're willing to pay for a listing. Pick a price based on the product history report. The watcher will monitor the item's price history on Amazon and will place an order for you. This is a great price tracking tool for daily deals, holiday deals, Black Friday, and Cyber Monday deals.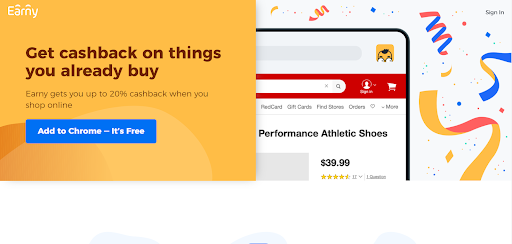 Earny is slightly different from the other tools on the list. While most of the price trackers in the list will save you money, Earny tracks your purchases and alerts you when the price of the product you bought drops.
How does Earny work? It'll scan your emails to search for previously-bought items so you can price-track items off of Amazon and on other online stores. It creates a database of all online transactions that you made and features all the store receipts that you have received via email.
One of the best things about Earny is you can get a cashback on the products that you've already purchased if their price goes down. Yes, you will get a refund on the difference for a product you've already bought if Earny finds that the price has dropped. You can now avoid the frustration you get when you have seen the item going on sale just the next day after you have purchased it at a full price. Of course, the app is not entirely free, you need to pay the subscription cost to access the premium features.
You can download the app for both iOS and Android or just add it to your Chrome browser.
There you have it! These are a few Amazon price tracking tools that will help you keep track of price changes of a product.
Additional Read:
11 Amazon Black Friday Selling Tips to Boost Sales in 2022
Was this post helpful?
Let us know if you liked the post. That's the only way we can improve.