More than 45% of Amazon sellers think managing their advertising strategy is challenging for their business. With the Amazon platform growing at an unprecedented rate, it takes time, effort, and money to drive profits through advertising.
This is where you need the help of an expert or software to improve the overall effectiveness of the campaigns depending on your business needs.
In this post, we'll go over the reasons for you to outsource your Amazon PPC business, the guidelines you should follow before outsourcing your advertising campaigns, the benefits of outsourcing, and much more.
Quick Guide
Why you should outsource Amazon PPC services
There are multiple reasons why you should outsource your Amazon PPC management. From budget optimization to growing market share, here are a few reasons you should outsource your Amazon campaign management.
Cutting-edge solutions for complex problems
Amazon's platform and advertising options are more evolving than ever. As a seller, you must stay updated with the latest options available on the platform. You need to know how to use options like Amazon DSP, day-parting, product targeting, and competitor strategies to win an edge in the marketplace. Amazon experts will leverage these features to solve complex problems as they have intensive subject matter expertise and stay updated with industry trends.
Growth at a scale – Increase market share
Different businesses have different needs. Based on your end goal, you need to optimize your amazon advertising campaigns.
Let's say your goal is to increase your market share on the platform. We'll take an example from one of our clients, Cardology, a UK-based pop-up card store.
Cardology's primary goal was to cut off the wasted ad spend and scale its revenue from Amazon. The team did not have a strategic approach to capitalize on the advertising avenues. Their products were not ranked well on Amazon, resulting in poor conversion rates.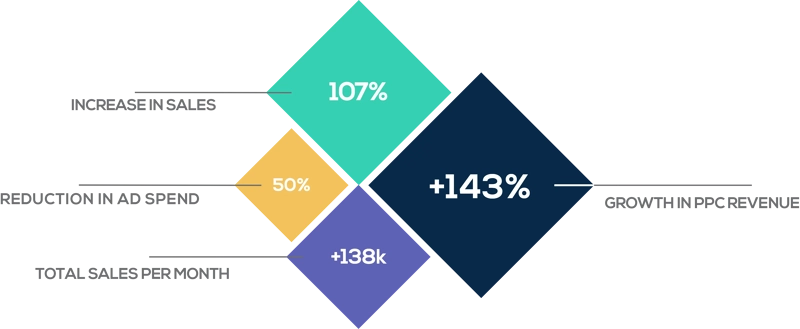 How we achieved a 107% rise in sales for Cardology
SellerApp created a step-by-step plan to achieve the end goal.
Fine-tuned Sponsored product campaigns by adding negative keywords and optimizing targeting to boost conversions
Increased brand presence and positioning through Sponsored Video Ads and Sponsored Brand Ads
Re-engaged customers at different parts of the funnel by leveraging other ad options
Leverage automation to simplify tasks like optimizing bids, tracking keywords, identifying negative keywords, etc.
The Result
Within three months, Cardology's sales grew by 107%, and wasted ad spending had reduced by 50%. Besides, their sales from loyal customers increased by 20%.
If you need more details, check out these case studies to learn more about SellerApp PPC management services.
Save time
You need to monitor and optimize your campaigns to deliver meaningful results constantly. From keyword research to tracking wasted ad spend, you need time to generate the results. If you're short on time, consider outsourcing your Amazon PPC, as your campaigns need constant monitoring to deliver results and avoid unwanted risks.
Increased competition
In May 2021, the average CPC was up by over 50% YoY in the US (source). Winning ad placements against the competition is essential, along with optimizing spend. Besides, manually optimizing bids is a daunting task. This can also be tricky if you are not well-versed with the nitty-gritty of Amazon PPC. Therefore, if not an expert, you would still need technology or tools to automate these PPC tasks.
Advertising prices have changed in most marketplaces, not only in the US. More and more established brands are increasing their ad budgets on Amazon, and the marketplace is getting highly competitive. So your advertising effectiveness is crucial for your business and the key to staying ahead of the competition.
Additional read: Spend the right amount at the right time with Amazon Budget Rules.
In-depth data and insights – Specialized analytical tools
How many of your customers are new to your brand? What keywords are your customers using to reach your product? How are your brand campaigns and generic campaigns performing? Are you evaluating your competitors and gaining insights to stay on track?
As an advertising manager or a business owner, these are recurring challenges in the world of Amazon. Unless you love data and are experts like us, it can be hard to look at the data constantly and derive insights on the go. Though Amazon offers the Amazon Brand Analytics feature to sellers who own the brand, it is insufficient if you want to fill gaps in your business.
If you have a decent knowledge of the PPC tech stack and can manage on your own, the SellerApp data analytics platform can help you automate mundane tasks. Besides, you can get periodic reports related to your campaigns, seller events like Prime Day reports, and more.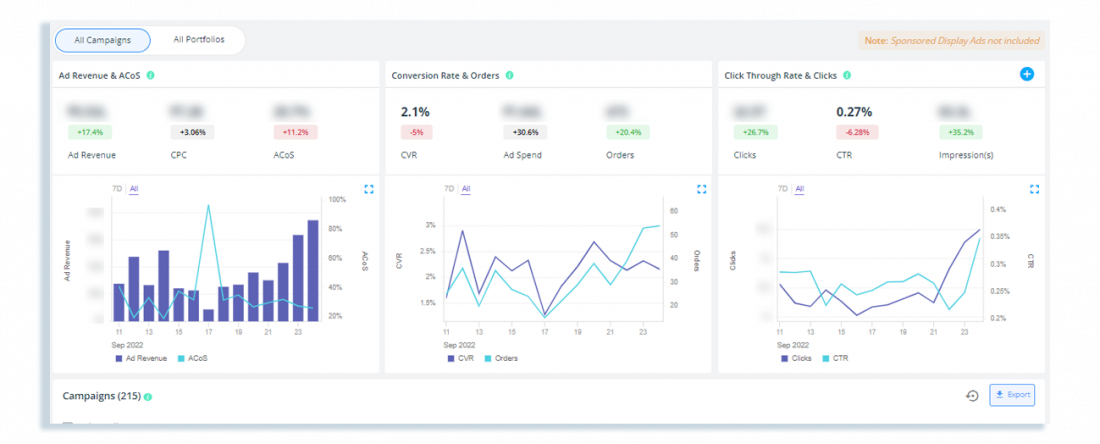 A cost-effective way to manage your campaigns
Managing your ad campaigns works well if you put in enough effort and time. It is cost-effective if you learn the A-Z of Amazon advertising. But you're losing money and your customers if you are not managing your campaigns appropriately.
If you opt for an agency or software to manage your campaigns, you can:
Increase the campaign efficiency, thereby reducing wasted ad spend
Increase monthly profit and revenue
Improve ROI by testing different strategies
Optimize daily budget effectively
If you look at the big picture and are willing to scale your business, having an advertising partner or a PPC tool would garner better results.
Customer support
Partnering with an Amazon advertising agency means you get customer support from day one. Ensure you get access to resources to help you sell well on Amazon.
If you opt for a PPC management expert, schedule regular calls with your Account Manager to understand the progress of your advertising campaigns.
Value add-services
Marketing consultants support your business in diverse ways. In addition to campaign management, you also get services like designing creative assets, listing optimization, off-channel marketing, etc. This, in turn, will add value to your organization.
2. Different types of Amazon Advertising Management Services for different needs
There is no one size fits all approach when deciding how to manage your Amazon advertising. It depends on the market you are selling in and how important Amazon PPC is for your business.
Do it yourself
The first choice is to manage your advertising account yourself. This option works for you if you are a small business owner and don't expect a significant business impact from advertising. Moreover, if you already know how advertising on Amazon works, you will be able to scale your business in no time.
Since you manage PPC all by yourself, you would keep the costs down. But you should also remember that running ad campaigns without expertise is like gambling on budget.
Freelancer
If you are looking for a dedicated Amazon PPC expert, opting for freelancers with Amazon marketing experience would work for you. These freelancers will offer flexibility when compared to large service providers. However, they often lack dedicated tools and technology to scale a business.
Self-service platform provider
If advertising strategy plays a significant role in your Amazon business, you should consider investing in platforms that give you an edge over your competition.
A self-service platform like SellerApp will arm you with the right technology and analytics to ramp up your business growth. These business intelligence tools will take the guesswork out of your PPC optimization process and maximize your ROI.
Managed ad services
Partner with an Amazon advertising agency if you are:
An organization willing to achieve exceptional marketing results in short-term and long-term
A brand without much workforce to manage your marketing efforts
A seller who is new to online marketing
An established e-commerce company that is interested in launching and operating a business at a scale
If you want to avoid the hassle of setting up and running an in-house team, which can be a long, cumbersome process
Investing in a high budget to reach more shoppers doesn't necessarily guarantee success on Amazon. You also need a well-optimized marketing strategy and expertise to achieve your desired results.
You can also check out SellerApp's PPC-managed services to see if we are an ideal choice for your marketing needs.
3. How to outsource your Amazon PPC management
Before you outsource your Amazon PPC management, you need to keep in mind certain things:
Get account audit
The first thing a PPC expert or a consultant has to do is to review your account. Conducting an advertising audit can be tricky, but it helps formulate customized strategies for your account.
Overpromising and under-delivering
If something sounds too good to be true, it most likely is.
Let's say you are a shoe brand owner with a 2% conversion rate at present, and you have a vague idea that the category trends at a 3-5% conversion rate. It is not realistic if the PPC consultant or the agency promises you a 30-40% conversion rate without a proper roadmap. Think about it twice.
Get your expectations straight
This is one of the common problems for brands who want to outsource their PPC campaign management. Before you get started, ensure your team and the agency have common goals, budgets, and metrics.
For instance, let's say you want to improve your brand awareness through ads.
Ensure both parties have a common understanding of the following:
Plan – Initial audit, budget allocation
Execution – Keyword research, campaign structure, etc.
Outcome – Sales and campaign metrics like ROI, ACoS, and Sales growth
Analysis – Reports and analysis
The above-mentioned points should guide you through what your brand and the agency want to achieve collectively.
Familiarity with industry jargon
Amazon PPC can get very technical, so you should look for industry-specific jargon when speaking to an expert. If they know less technical terms than you, they may not be the subject matter experts you think they are.
Leveraging automation
Manually managing campaigns can be tiring and time-consuming. So PPC experts opt for some part of automation to get their tasks done. Superior technology will help campaigns deliver optimum results that save time and money.
As Amazon advertising options evolve, the tools and technologies supporting ad campaign management are also advancing. Automation rules like day-parting will help you change bids, optimize the budget, find negative keywords, etc. You can also use our rules to automate your campaign management based on your campaign goals, like increasing ROI, boosting visibility, reducing ACoS, etc.
Transparency
Be proactive and ask for a strategic plan to achieve your targets. Besides, ask for data when you want to understand campaign performance and results. The agency or the service provider should offer transparency regarding data and processes. Avoid working with companies that are not open enough to discuss strategies and cannot deliver results.
Verify Credibility
Find Amazon agencies and managed service providers who ensure realistic business growth with Amazon advertising. Try to find partners that are trustworthy. If you're unclear about choosing your advertising agency, check the Amazon marketplace for trusted partners. You also get an additional layer of data to protect your sensitive information by choosing these partners.

4. Strategic benefits of outsourcing Amazon PPC services
Advertising agencies are acquainted with best practices and technology to drive meaningful results. Here are a few strategic benefits of hiring an Amazon growth partner for your PPC needs.
Tailored solutions for your goals
What is your business goal? Increasing visibility, improving conversions, or liquidating inventory?
Depending on your goals, agencies or consultants will provide custom strategies. Besides, you need suitable advertising types and campaign structures for your custom goals – be it retargeting existing customers or targeting new customers and increasing your impressions, an expert helps you with just that.
Seamless execution
Amazon has a broad set of rules to ensure all sellers have a level ground to play. Some brand guidelines include dos and don'ts, proper use of logs and images, and co-branding. Not abiding by these guidelines will result in the termination of your ad campaign. An agency will be familiar with the process and ensure the operations are running smoothly.
Brainstorming strategies
After auditing your campaigns, the PPC expert will devise different strategies to achieve your goals.
These strategies have to be incorporated into different aspects of your e-commerce business like catalog, campaigns, brand store, and others. Let me highlight some of them.
Keyword strategies
To optimize your campaigns for relevant keywords, the expert conducts keyword research and finds search terms with high purchase intent. Once they refine the search terms, they are added to your campaigns.
Based on the audience you want to target, the campaign manager would choose from broad, phrase, and exact match types.
If the products have to appear in front of a large audience, they will choose a broad match type
They'd choose a phrase or exact match type if they want to narrow the targeting
If you want to learn more about match types, check this article here.
Additionally, the advertising flywheel would help the products to improve their organic search ranking for the relevant keywords, which, in turn, boosts the organic visibility of your products. This way, organic sales of the business grow over time.
Split testing and Cohort targeting
With so much data coupled with different factors involving supply chain, competition, pricing, and shipping, it is imperative that e-commerce managers use split testing and cohort targeting to drive decisions about their business.
The advertising managers will set up split tests on multiple campaigns to try different ways to increase conversions. On the other hand, cohort targeting is valuable for understanding customer behavior and making crucial decisions related to your campaigns, customer retention, CAC (customer acquisition costs), etc.
5. Choose the right growth partner for your business
In your e-commerce business, there are several crucial tasks that you need to do to operate, scale, and maximize your business profits. Outsourcing your Amazon PPC management is a wise choice if you want time to focus on other crucial aspects of your business and need professional help managing your campaigns.
Happy selling!
Additional Read:
Amazon Q4 Mastery is Back! Here are all the deets!
10 CPG Trends to Watch in 2023.
Was this post helpful?
Let us know if you liked the post. That's the only way we can improve.