Which is a better business opportunity – Dropshipping, or Amazon FBA? Let's break it down for you!
One of the fastest and easiest ways to start a business is to sell online. If you're ready to join the bandwagon, the two most popular business models to choose from are Dropshipping and Amazon FBA.
By the end of this article, you'll be able to pick the right model that fits your business needs.
Here is an outline of what I will be covering:
What is dropshipping?
Dropshipping is an e-commerce model in which you (the seller) will directly place an order with your wholesaler (or the vendor). Your suppliers will ship the items directly to your customer. 
So it's basically a storage and fulfillment service which allows you to start the business quickly and easily. Most importantly, you don't require massive investments to scale using the dropshipping model.
All you have to do is to list and advertise your products through a Shopify store, or Amazon, eBay marketplace, or any other relevant e-commerce platform. You can sell specific products that are stored with suppliers at different locations.
When a customer places an order, you contact your dropship supplier, and they will ship the order to your customer. The customer will think that the order got dispatched from you. You will need to pay for the product once you get paid by the customer. It really is that simple!
Dropshipping is often considered a quick way to make some easy money. However, you need to know, like any other business model, there is some real work involved. You need to strategize a plan and work with the right suppliers to turn it into a successful e-commerce business.
What is Amazon FBA?
Amazon is a marketplace where you can list and sell your products. You can choose from two models: FBA (Fulfillment By Amazon) and FBM (Fulfillment By Merchant).
In Amazon FBA, you send your inventory to Amazon's warehouse and list the products on the Amazon website. When a customer orders your product on Amazon, Amazon picks-packs, and ships the order from their warehouse for you. In addition, they deal with customer service and returns, just like dropshipping.
Amazon's FBA program is a great opportunity for sellers who cater to a large audience. It's a perfect business model for those who want to scale their business quickly.
Amazon FBA vs. Dropshipping – A comparison
Before we delve into the details, the table below will help you get an overview of the Amazon FBA and dropshipping model.
Factors
to
consider
Dropshipping
Amazon FBA
Risk
Low
High
Investment
Low
High
Profit margin
Low
High
Direct customer
contact
Yes
No
Customer base
Small
Higher
Shipping
High
risk
Low
-no risk
Freedom to
customize store
Yes
No
Drive external traffic
Hard
Easy
Amazon FBA vs. Dropshipping – Pros and Cons
To help you pick the right model between Amazon FBA and dropshipping, let's look at the pros and cons of each model.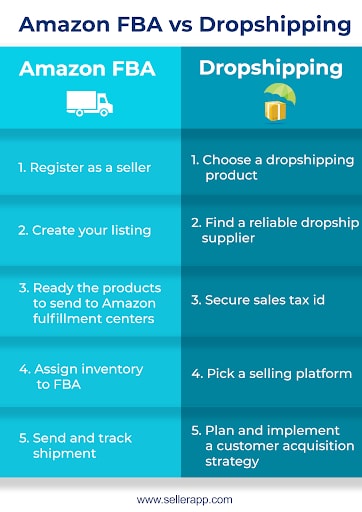 Pros and cons of Dropshipping
Pros
1. Lesser Investment
Dropshipping doesn't require a hefty investment to start a business. It is pocket-friendly and you don't have to make lump sum investments. This is definitely an advantage for entrepreneurs who are not ready to invest huge capital.
2. Lesser management
In dropshipping, when a customer places an order, all you have to do is place the same order with the supplier. Your supplier will handle everything from packaging, shipping, and returns.
3. Minimal risks
As a dropship seller, you receive the difference amount between what the customer pays and the price charged by your supplier. Meaning, you buy at the wholesale price and sell at the retail price. Since the difference amount is your profit margin, if a transaction did not turn up so great, you hardly lose money. Maintaining your e-commerce store is all the expense you bear.
4. Product diversification
When compared to maintaining your own inventory, dropshipping allows you to diversify your product range with lesser investment.
5. Time-Saving
In any product-oriented business, you need to put a certain amount of time and effort into product packaging, shipping, and managing your inventory. However, with the dropshipping model, you will save precious time.
6. Operate from anywhere
Another potential benefit of dropshipping is you don't have to be in a particular city or country to operate your business. All you need to do is maintain proper communication and operations among your customers and suppliers.
Cons of Dropshipping
1. Less profit margin
We have already established that dropshipping doesn't require huge investments, however, the returns are also comparatively lower than the other models like FBA.
Since you are not only the one selling the products, you cannot afford to increase the price of the products. Customers will often look for sellers who offer a cheaper price. If the market is competitive, then it's hard to generate higher profits.
Learn more about Amazon Competitor Conversion Rates here.
2. Issues with customer service
Dropshipping allows you to enjoy greater freedom when it comes to managing your products, but the situation can go out of control when it comes to handling customer complaints. You have to rely on your suppliers to get things done. So unless you have strong support, you may not be able to manage customer concerns effectively.
3. Promotions and PPC campaigns
Since your profit margins are slim and you don't purchase the products in bulk, you may not be able to offer amazing discounts, deals or run PPC campaigns for your products. Nonetheless, you can bundle your products and sell them in your online store.
4. Huge competition
Competition in dropshipping is quite fierce. There are a huge number of sellers who are trying to sell using the same business model. A few sellers might even try to compromise their profits while trying to sell their products.
5. Limited product knowledge
Sometimes, suppliers may not provide you with all the product details you need. Therefore, chances are high that you might find it hard to answer customer queries regarding your products.
Pros and Cons of Amazon FBA
Now let's compare the pros and cons of Amazon FBA.
Amazon FBA – Advantages
1. Focus and scale your business
Amazon handles your packaging, shipping, and customer service. So you have enough time to focus on scaling your business.
2. Larger Customer Base
With more than 300 million active customer accounts, Amazon has a huge customer base. With FBA, you will enjoy fruitful results and have access to Amazon's massive customer base.
3. Brand recognition
One of the major advantages of Amazon FBA is that it allows you to focus on establishing your brand identity. Amazon tools such as A+ content, brand stores, and brand analytics comes quite handy to boost your brand recognition and strengthen your online store.
Learn more about eCommerce Analytics Software here.
4. Returns and replacement
Returns and replacement is the best part of the Amazon FBA model. You don't have to bother about anything. Customer service returns and replacements are taken care of by Amazon. It ensures a hassle-free process and will allow you to maintain a loyal customer base.
5. Better profitability
Amazon's brand image and huge customer base will allow you to capture a larger set of audience. Not only will this model allows you to sell more products, but will also help you to sell for a good margin.
When it comes to driving external traffic, Amazon FBA has a clear advantage. It's hard to get visibility for your dropshipping store without backlinks or PPC campaigns. On the other hand, with Amazon's authority, customer base, SEO algorithm, you can easily drive external traffic to your product details page.
Cons of Amazon FBA
1. High competition
Undoubtedly, Amazon's FBA program is quite competitive. With more and more sellers turning online to sell their products, you are not the only one trying to take advantage of the FBA model. If you sell in a competitive niche, it is hard to scale.
2. Product mix
It's important to carefully consider your product portfolio. Not all products sell equally on the Amazon marketplace. It is unlikely that every product in your portfolio will reap profits for you.
3. High dependency
Things will take a turn for the worse if Amazon decides to suspend your account or remove your storefront from its platform. All your work would go in vain. This is one of the reasons why you need to consider multi-channel selling.
4. No contact with customers
Customer base is something very important for an e-commerce business. However, in the FBA model, Amazon is the one to hold the record of your entire clientele, not you. Though Amazon provides you with customer insights in the form of search term reports, etc, you would never get a hold of the customer details. This is troublesome if you wish to sell the same products to the same (or similar set of) customers or understand your loyal customer base. You are too dependent on Amazon to get a grip on that.
5. Fixed capital
Unless you have a decent amount of capital, you wouldn't be able to start your e-commerce business using Amazon FBA. You also need to pay a fixed amount to avail of the services, not to mention the total amount gets complicated if you consider inventory and storage fees.
Final thoughts
There you go! That's everything you need to know about Amazon FBA and dropshipping model. Selling on Amazon FBA and running a dropshipping store are both excellent ways to succeed as an e-commerce entrepreneur. If you are a risk-taker who is willing to grow your brand, Amazon FBA would work just fine. On the other hand, if you are risk-averse, dropshipping is your go-to choice. In some cases, attempting both models can also be possible if your financial situation permits. It is up to you to make an informed decision by evaluating both sides.
Happy selling!
Read More :
How to smartly negotiate the Amazon Vendor Agreement
FBA Onsite: The Ultimate Resource For Amazon Sellers
Was this post helpful?
Let us know if you liked the post. That's the only way we can improve.