The amazon holiday season is upon us, and it's raining celebrations and gifts everywhere. With the pandemic bringing about a change in the way we purchase gifts, many people have moved to shop online.
This, in addition to the usual surge in sales during the holidays, has urged sellers everywhere to adopt more advanced strategies to navigate this busy time of the year. Making sure there's enough inventory, setting up the right kind of promotions and discounts are all key to coming out victorious from this season.
Quick guide
Holiday selling strategies to maximize sales

Deals, promotions, and coupons
Keyword Research – holiday keywords
Anticipating supply chain disruptions
PPC strategy for the holiday season
Preparing for post-holiday sales is equally important
Why is it important to prepare for holiday promotions in advance?
Everything needs to be planned down to the T when it comes to holiday promotions. It is an insanely busy time for everyone and sellers are always scrambling to stay on top of their game. Before planning helps sellers boost their sales and conversions.
Promotions also cost sellers money when they offer vouchers, half price off, etc., to sellers. Thus, it is important to budget appropriately for them. Not every product is a good fit for advertising so advertise only those products that have the most profitable margins.
Perhaps, the lack of preparation this year is what resulted in sellers putting out deals for their products that were considered subpar during Black Friday and Cyber Monday. The discounts and deals were not attractive enough for shoppers to go ahead and make as many purchases as they normally would have.
This resulted in a dip in the Black Friday and Cyber Monday sales in 2021 when compared to last year. According to Adobe Analytics, there was a 1.4% decline in Cyber Monday sales along with Black Friday also recording a decline from last year's sales records. However, Amazon still recorded unsurpassed sales in the period between Black Friday and Cyber Monday.
Some top-selling categories sold by Amazon this holiday season are:
Clothes and apparel
Home goods
Toys and games
Electronics
Books
Camera and photo
Electronic devices such as the Fire TV sticks and Apple AirPods stole the spotlight for the most popular holiday item purchases.
Holiday selling strategies to maximize sales
With a plethora of strategies to adopt and implement, let's take a look at everything that you can do to scale your holiday profits to the next level.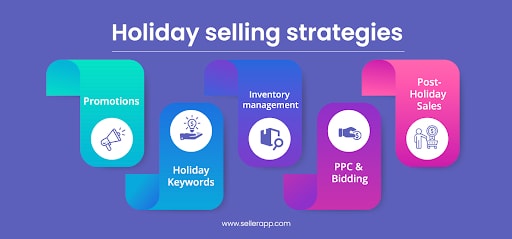 Promotions, Deals, and Coupons
Promotions:
Promotions on Amazon are used by sellers to sell their products at a price lower than normal. The lower prices make it easier to persuade a larger number of customers to buy your products and give your brand a wider reach. Amazon is known for economically priced products and shoppers are always on the lookout for the best promotions.
These promotions can be created very easily on Seller Central by selecting them from the "Advertising" section. You can select the kind of promotions you want to run and for which products as well.
The different kinds of promotions are as follows:
"Discounts" are a very popular option and sellers can create whatever kind of discounts they want like – 20% off, 50% off, etc.
Sellers can choose to promote their products with a BOGO offer. A Buy One, Get One Free or Buy Two, Get Two Free offer is great if you want your products to sell out fast. It easily convinces customers to buy multiple products at once.
Another easy way to promote is by offering "Free Shipping" when shoppers buy items for a certain price. For example, "Shop for a minimum of $50 and get free shipping on the whole order".
Coupons:
Coupons are another way to attract customers when they visit any product detail page or Amazon SERPs. These are easy to use and bring your products out into the spotlight amongst your sea of competitors during the peak holiday shopping season. However, a base amount of $100 is required as the budget for running coupons.
Coupons too can be created very easily on Seller Central by clicking on the "Create a new coupon" option under "Coupons" from the "Advertising" section. Similar to how Amazon ads follow a Pay Per Click model, coupons too will cost the seller a certain amount for every coupon that is redeemed by shoppers. A $0.60 fee will be collected from you every time a customer purchases a product by redeeming your coupon.
Deals
You can't go wrong with running deals on Amazon as they are a sure-shot way of driving traffic to your listings and increasing your sales. That is because these deals are promoted by Amazon not only onsite but offsite as well via social media channels and email promotions. But keep in mind that all products don't qualify. You have to check which ASINs meet the eligibility criteria. You can then choose between 7-Day deals and Lightning Deals.
"Deals" too are created by clicking on the option from the Advertising section on Seller Central and then choosing the "Create a new deal" option, just like Promotions and Coupons. Sellers are liable to pay a fee for running deals, and they depend on what type it is. The fee for 7 Day deals amounts to $300 and the fee for the Lightning Deals amounts to $150. The Deal dashboard will give you all the information you need on which products have qualified, and allows you to make any updates or changes to your listings.
Keyword Research – Holiday Keywords
Keyword research forms an integral part of every seller's strategy to optimize his listings and direct maximum traffic to boost conversions. Amazon keyword research Is something that sellers need to keep conducting throughout the year. Usually, the generic and other high-converting keywords will be used in product listings throughout the year. However, during the holiday season, sellers will need to incorporate holiday-specific keywords into their listings. Optimizing the product descriptions, bullet points, etc., with these kinds of keywords will help get your product in front of the right audience and increase your sales.
Leverage SellerApp's Reverse ASIN feature to uncover the season-specific keywords that your competitors are using. This will give you a good idea as to what keywords you should also be targeting and start including them in all your product listings as well. You can target and attract your competitors' audience with this strategy.
Holiday keywords are not just for product listings but PPC campaigns as well. With all the keyword research you would have conducted so far, you will now have a comprehensive list. This list should contain keywords or search terms that customers would be using to search for products during the holiday season.
Make sure your PPC campaigns target such keywords which are synonymous with gifting and all the festivities. For example, you could be a seller of fairy lights who sells them all year round. During this season you could use keywords like "Christmas lights", "Christmas tree decorations", and more such combinations.
Holiday inventory management
Effective inventory management and prevention of stock-outs are of prime importance during the busy seasons. With inventory restrictions in place, FBA sellers have more reason to streamline inventory management at a more advanced level. Seeing a product go out of stock is very disappointing so what you can do is showcase exactly how many units of one particular item are left in the inventory. For example – showing "In Stock" or "2 items left in stock" to make customers aware of the available quantity. This pushes the customer to make the purchase right away instead of postponing the purchase, especially when it says "Only a few items remaining in stock".
While managing the inventory you are already storing in the warehouse, ascertain which items have enough stock and run PPC campaigns only for those products. There is no point in running ads for products that are going out of stock soon. If that is the case, then you should stop running ads for such products immediately because it is only going to drain your profits. You should get rid of any inventory that has been lying around in the warehouse for a long so that fresher items can be accommodated.
Recommended Guide: Amazon Supply Chain Management
PPC strategy for the holiday season
Advertising on Amazon Is very important to drive conversions, but it's not enough if you run them only during the holiday season. To make the most out of them, you need to start your PPC campaigns before the start of the holiday season. Amazon PPC experts say campaigns that have been running for longer durations are more favored than fresh ones. Also, including holiday keywords in your campaigns is very important as mentioned earlier. This means your ads stand a better chance of gaining more impressions, clicks, and thus conversions if they have been running for more time and with season-specific keywords for the holiday season.
The Amazon bidding strategy that works well for the holiday season is Dynamic bids – Up and Down. Everyone is competing for top placements of their ads. So this type of dynamic bidding will increase the chances of your ad displaying for specific keywords like holiday keywords that are guaranteed to drive conversions and boost sales. Obviously for all of this to work, what you need to do is expand your PPC budget during this peak season. Without sufficient budget, you may bleed out your ad budget at crucial times of the day when your ad has the best chances of winning top placements.
Preparing for post-holiday sales is equally important
We've talked about everything you can do during the holiday season, but it shouldn't stop there. You have to continue selling and scaling your business post the holiday season mania. While the holiday season comes to a close, it's delightful to the customers to find that there are still offers that are running, or new offers have been introduced. You can never go wrong with extended offers There could be a lot of inventory that you stocked up to meet high demands which you will need to get rid of.
Items like clothes, apparel, and electronics will not be that much of a cause for concern, but the perishable goods need to be sold as quickly as possible if they have shorter shelf lives. Bigger discounts work wonders here as you can still sell them at a lower profit rather than having to dispose of them. The prices of items that you lowered for the holiday season must be recalculated so that you don't end up draining your profits in the face of reduced competition. This is because your competitors will also be restoring higher prices to products that move easily.
While promoting your products during the holidays, you will also need to add promos for after the season. This will not only help bring in higher sales but also boost the organic ranking of those products. Amazon's algorithm favors and ranks products higher when they have active promotions like coupons, lightning deals, and best deals.
Activating these deals a few weeks before a major holiday and a few weeks post-holiday will prioritize their placement will generate sales that can create a flywheel effect. Keep in mind that this strategy does not necessarily entail having big discounts. Even a small discount will significantly help your brand outpace competitors who usually turn their discounts and deals off as soon as the holiday season comes to a close.
Conclusion:
Planning a holiday selling strategy takes time and patience, and it is a process that you need to get started on much in advance. You will have to plan what you are going to do during the holiday season as well as after. Price calculations, stocking up on inventory, optimizing product listing pages, and running PPC campaigns are all vital parts of the holiday shopping strategy. Pay attention to every single aspect and constantly monitor everything to have a successful holiday season.
Happy Holidays!
Additional Read:
Is Amazon Pay Good For Sellers?
Amazon Prime Day 2021 surpasses
The 5 Pillars of Successful Amazon Advertising Strategy
15 Practical Ways to Make Money on Amazon
Was this post helpful?
Let us know if you liked the post. That's the only way we can improve.