Trading with Amazon is a profit making and easiest business strategies. To work with Amazon has become easier with time and now with Amazon Australia and Amazon Turkey being launched, the world's biggest e-commerce giant is truly going global. They have opened many channels to make it flexible for traders to trade with Amazon. The payments gateway networks have now become more porous but also safe at the same time. For Amazon customers, the international payment methods are fast and safe(Pay With Paypal). They also provide the option of cash on delivery. For traders, there are several payment options and all of them are tried and tested.
In this article, we will tell you in some details as to how safe is the Amazon's pay for sellers and International Payment methods for the trader and what options are available in the newly opened Amazon Australia.
Amazon accepts many internationally acknowledged credit cards and debit cards but in addition to that, it also has its own payment method called the Amazon Pay.
By using a safe and easy in-house amazon online payment method, you make it easier for the customers thus encouraging your business. Effective use of Amazon Pay help in business growth.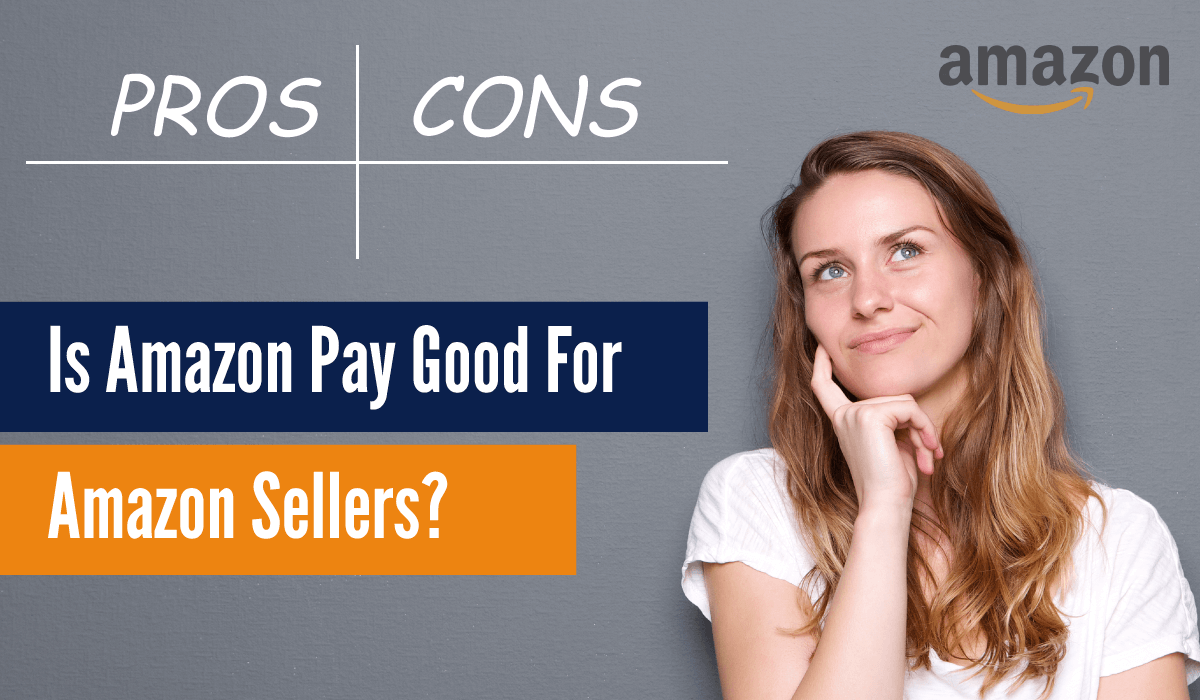 What is Amazon Pay?
It is a subsidiary of Amazon.com and was specially designed to make payments by providing multiple options for both traders and customers. It offers free registrations and the headquarters for the same are located in Seattle, Washington s its parent company is Amazon.
Due to the fact that when you are trading with Amazon, paying through its own channel becomes an easy and risk-free mechanism. It was launched in 2007 and since then its journey has been a roller coaster ride.
The current version of Amazon Pay is the most updated one as it has incorporated all the check mechanisms for all the possible problems that were noted during the trial and error period. This service uses the consumer base of Amazon.com and gives the users the option to pay with their Amazon accounts with external merchant websites.
There are multiple payment channels in Amazon Pay and so you always have the option to choose from. These channels include credit cards(Amazon Credit Cards Payment), Amazon Visa Payments, debit cards (except Amex cards) and the other newly launched apps that facilitate the transfer of money.
The new options on Amazon support digital purchases and allow Amazon to accept Amazon Pay Balance as an Amazon and other payment methods. This does not require a delivery address like earlier.
How will Amazon Pay benefit for traders?
Amazon Pay services were available in the United States of America, Japan, Germany, Japan, Spain, United Kingdom, France, and India. However, now these services will be extended to Amazon Australia to expand the business. For local traders, this will make it easier as it opens up many international payment options, whereas, for those foreign traders too, Amazon Pay becomes a safe and dependable channel.
Can I use Amazon Pay, if sell a small number of products?
Yes. Amazon Pay's extended version of Amazon Pay Express is a payments processing service and does not require full e-commerce integration. It is best used by traders selling the lesser number of products and with a single item in each order. If you have an Amazon account then there is no need to register again and you can use Amazon Pay on any third party merchant website/app.
What if I am not an Amazon Customer?
Even if you are not an Amazon Customer, you can use Amazon Pay, provided you need an Amazon account first. To do so click on the Amazon pay on any third party website or app, then go to the 'create your Amazon account' link and sign up. Once you are registered with an Amazon account you can start using Amazon Pay.
How do I use Amazon Pay?
The 'Money' on Amazon Pay balance is a feature which is added from your account. This fund can then be used at partner websites and apps which is easy and convenient to use. This is not the same 'money' under your Amazon gift card section which is reflected in 'Gifts and credits' in your Amazon Pay balance. The process to use Amazon Balance is the same as Amazon for third party websites or apps. The 'money' shown in your Amazon Wallet Balance can be used for payments on all payment methods that show Amazon Pay as a payment option. This can be accessed by entering the Amazon account details.
You can rest assured that all the payment information under Amazon Pay is never shared with anyone. As consumers, the information is not even shared with the merchants who use Amazon Pay as a payment method on their websites or apps. Also, any changes that you make to your Amazon account are automatically reflected in your Amazon Pay Account as both are connected. So do not worry about leaking information as it is a secure payment method.
To make the payment on Amazon Pay, click on the Amazon Pay button and log on to your Amz Pay account. Then select your payment method as mentioned in the list.
Initially, I did click on 'I accept' but now I do not want any merchants to know my payment mode or any other information? Can I change this?
When you first log on to the screen, you are asked for your consent to the terms and condition whether you would like to share your payment mode information with the traders. Most of us do not read the entire list of T&C* and simply click on I agree, however, if later you realize that now you do not want the merchant to have any of your information then there are some tricks to do that too. You can click on the list of merchants you have agreed to share your info (email address and name) with on your Amazon Pay account and then remove that particular merchant from the list. However, this does not mean that the merchant will have removed your information from his database. You can also unsubscribe from the marketing communications as well as you do not want the trader to contact you at all. In addition to all this, you will be happy to know that due to the Merchants agreement the trader cannot misuse your information even if he has, so there is nothing to worry about.
Can I use 'Cash on Delivery' (COD) option on Amazon Pay?
Due to the technical issues and security concerns, the current version of Amazon Pay does not support Cash on Delivery (COD) option.
Is Amazon Pay free to use?
Yes. Amazon Pay is a free to use option. However, in some cases, the traders do tend to levy a certain charge for using this service which is evidently displayed by Amazon before you opt for this option. This visibility makes the service user-friendly.
How do I top up my Amazon Balance account on third party websites or apps?
To top up or reload the Amazon Pay Balance, you can do it only through Amazon website or app. This is accepted across all third-party merchant websites or apps that accept Amazon Pay.
Amazon Pay also gives you the option to combine and use various payment methods to buy a product. For example, if there is not enough 'money' in your Amazon payment account and if you want to buy a product with a higher price, then you can fill in the rest of the amount with an external payment option like a debit card and use the Pay account balance.
Is Amazon Pay mobile friendly?
Yes, It can be downloaded as an app on your Android or iOS mobiles. Or it can also be accessed through the mobile browser for all the apps that accept Amazon Pay. Once you make your first purchase then you can use the payment methods that you have saved in your Amazon App without having to re-enter it every time you make a purchase. This stored information will be validated by Amazon, the next time to sign in. the Amazon app is rather easy to use when you are using a third party payment option.
Is there any hidden charge to use?
There are no charges hidden for using hidden charges for using Amazon Pay. The $1.00 charge which is reflected in your account is only a step for verification of your payment card. It is a one-time deduction. This is deducted from your payment card when you use it for the first time or place your first order.
The Amazon Pay might also contact your payment card issuing bank just to verify your account and card number's validity. It also helps in a way that Amazon checks whether our card is safe with you or stolen or lost. This $1.00 is as an authentication for confirmation. This deduction will not be reflected on your statement as a charge and the authorization lapses after 10 business days.
Here Are Best Resources For Amazon Sellers
Amazon Search Rank Optimization (SEO)
Amazon Pay Per Click Ultimate Free Guide
Guide To Find Top Selling Items On Amazon
12 Steps to Improve Amazon Sales Rank (BSR)
Why should I prefer? (Pros & Cons)
Amazon Pay is a highly valued feature of the Amazon and there are many reasons to know why. Some of them are:
Amazon Pay helps you build loyal customers who keep coming back to you. Through this feature, you can maintain close relations with your customers and also control the shopping experience right from check in to check out. As it is one login, so it becomes easy for the customer every time they shop for anything. Due to the image of Amazon, consumers are a 100 percent sure that Amazon Pay is a safety feature.
Proven to increase conversion: This feature has helped to increase conversion evidently due to the Amazon check out experience. The transactions are completed on the website and the CRM i.e Customer Relationship Management is integrated with Amazon Pay.
Amazon Pay always grows: Amazon Pay is always on an innovation way which is why you will always see newer and better features being added to the payment service as and when the merchants and consumers are demanding the same. It is universal now and portable as it is mobile friendly too.
Amazon's fraud detection: In addition to building customer faith, it also helps you detect fraud thud reducing and debts for you. It also protects your customers with the Amazon A-Z guarantee with no extra charges.
Amazon's international payment options are as diverse as the countries they trade inside. There are no boundaries when it comes to trading with Amazon both for traders as well as customers.
Read More From Amazon Seller App Blog
Was this post helpful?
Let us know if you liked the post. That's the only way we can improve.