Thanks to the advancement of technology, it is more than possible to automate several aspects of your Amazon business, allowing you to focus on more critical things. From setting up business alerts to optimizing your PPC campaigns, you can pretty much allow data-driven machine learning algorithms to do the heavy legwork for you.
Amidst such a scenario, it was only a matter of time before we got introduced to automated Amazon review software, which makes feedback management easy and improves your review statistics.
Table of Contents:
The Need of the Hour for Amazon Merchants
It is a well-known fact that online reviews are among the top factors that Amazon shoppers consider before buying a product. Numerous market surveys and studies have stated that over 80% of buyers read online reviews when they are shopping on e-commerce sites. These staggering numbers alone should tell you the important role that reviews and feedback play in creating a thriving business online.
At the same time, however, there are not that many customers who are inclined to leave feedback while shopping online. The percentage of people who leave reviews after making a purchase is extremely low, well in the lower single digits. At SellerApp, we have observed that for every 100 sales, Amazon sellers potentially get two-three reviews – four, if they are lucky. Hence, it goes without saying how difficult it is to get reviews and feedback for your Amazon business, let alone an e-commerce business.
It leads to a vicious cycle where a lack of reviews will hinder the growth of your business. So, the question remains: how do you break this cycle? How do you improve your feedback gathering rate? The answer to this lies in being proactive.
As a seller, you need to employ a feedback management system that automatically sends review requests to Amazon customers after they have made a purchase. Now in an ideal world, you would be sending these emails to your buyers manually but if you are landing plenty of orders every day, it becomes quite impractical to do so. Hence, an automated Amazon review software is the best way to go. Here are some of the characteristics that the best Amazon product review software should meet:
It should be strictly compliant with Amazon's Terms and Conditions
The emails utilized by these Amazon review tools should not include any links to external websites, marketing messages/promotions, or incentives to leave reviews
Should provide A/B testing feature to find out which templates work the best
Ideally, it should also provide negative feedback monitoring
Can be easily integrated with the Amazon Seller Central account
With that in mind, we have compiled this list of the 10 best Amazon feedback software preferred by Amazon merchants. These feedback management systems have been around for quite some time now and have earned the trust of countless Amazon sellers across the world. On the surface, these tools offer similar features but as you dig deeper, you are likely to find unique functionalities that may elevate your review metrics to new heights. Let's take a look:

Feedback Express has been an integral part of the e-commerce industry for more than 12 years now and is truly the best when it comes to managing Amazon feedback and product reviews. Together with its sister site Repricer Express, they have empowered thousands of sellers globally to significantly improve their review statistics and consequently improve their sales and Buy Box win rate. They do not only specialize in gathering Amazon feedback but also in eBay. To date, they remain one of the best Amazon review tools in the market.
Features Offered

Feedback Express allows you to set up automated emails for customers who purchased from your Amazon store. You can configure three types of messages: customer service email, request for seller feedback, and request for product reviews. These messages can be edited, fine-tuned, and personalized to make them more relevant to your buyers. Lastly, Feedback Express also helps you act on negative feedback by sending you notifications through SMS and email whenever you receive negative reviews/ratings.
Pricing
The pricing with Feedback Express depends solely on the number of emails you need to send every month. If your business is just starting, you can opt for the basic plan of 1,000 emails at £14.95 a month. On the other hand, if your Amazon business is at the top tier, then you may want to go for their priciest, the £59 per month plan that lets you send out 25,000 emails!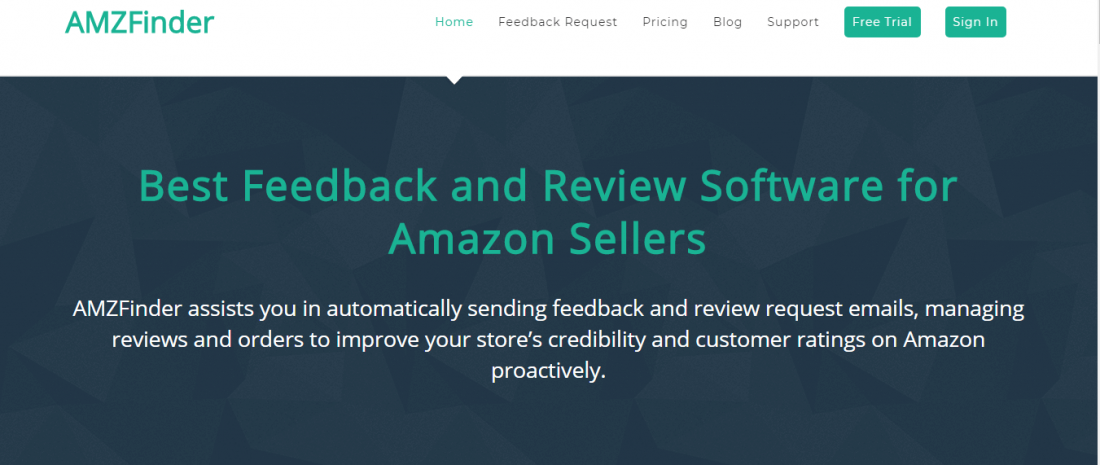 AMZFinder is another powerful Amazon review management tool that comes with a host of features. Available in 8 Amazon marketplaces without any additional costs, AMZFinder allows sellers to efficiently connect with their customers and ask them to share their shopping experience. To make things convenient, AMZFinder has split its services into two halves: Feedback Request and Review Management.
Features Offered
In addition to providing Amazon sellers with the option to craft customized email templates for product review requests, AMZFinder also allows them to send these messages in multiple languages at a particular time or through a particular channel. This customization for relevance is also supported by an automated invoice generator, that will send invoices to the customers as per the rules of different marketplaces. Lastly, you can also track multiple ASINs and manage the reviews on them to improve the reputation of your Amazon store.
Pricing
The review management plan starts at $29.99 a month wherein, you can track up to 50 ASINs. From there on, you can proceed up to observe the reviews on 2,000 ASINs and more at upwards of $169.99 a month. Coming to the feedback request plans, you can send 500 emails every month for free. For more than that, you may need to switch to the Basic plan or above, starting at $19 a month.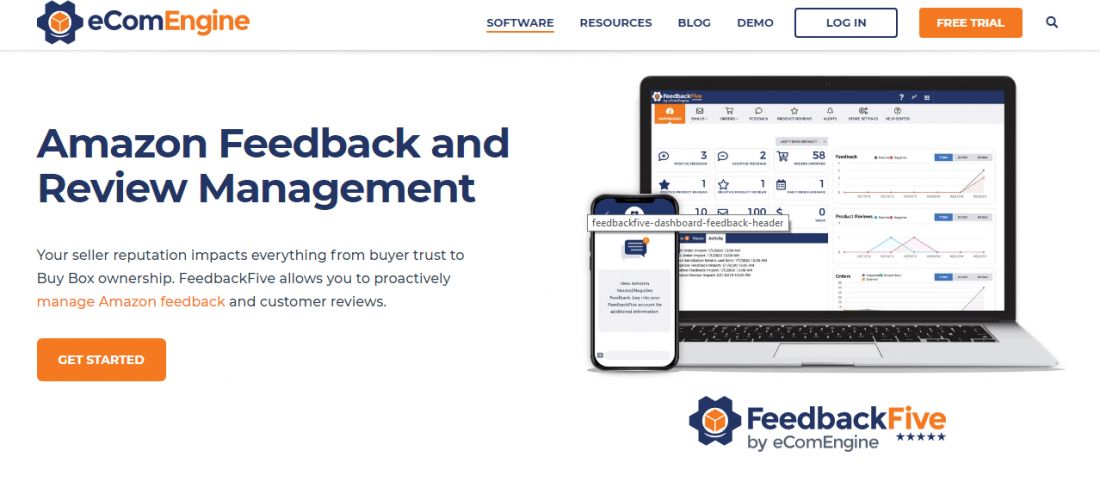 FeedbackFive is quite similar to AMZFinder, except this Amazon review tool has been around for roughly a decade now. Amazon merchants can make use of FeedbackFive to send customized messages to their buyers at a time of their choosing. These messages can also include images and emojis to improve the odds of getting the much-needed seller feedback and product reviews.
Features Offered
Increase engagement with your customers with the help of existing templates or design your own template to add a more personalized touch. You can also add specific information in the email to make it more relevant for your buyers. Thanks to these automated emails, you will not spend a lot of time requesting feedback. With that, you will also get actionable inputs into the performance of your email campaigns along with the ability to monitor negative feedback on multiple ASINs in different marketplaces.
Pricing
In the Lite plan, you can send up to 50 emails every month. For more, you will have to switch to the Basic plan or above, starting at $9.99 a month. You will pay more depending on how many emails you need to send every month – again, this depends on the scale of your Amazon business. As for the review management tool at FeedbackFive, the prices start at $9.99 for 50 ASINs.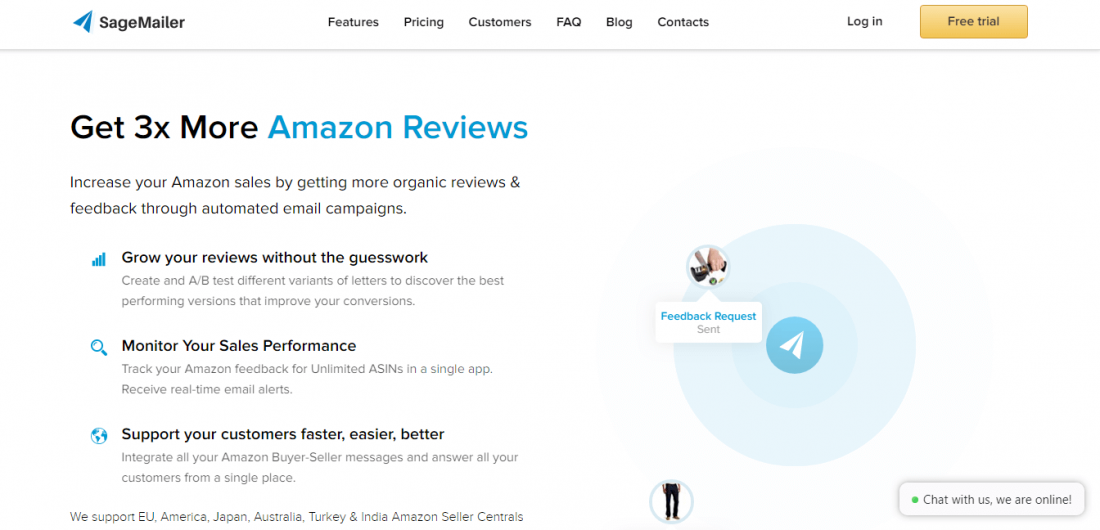 SageMailer has done a fantastic job when it comes to creating a powerful review tool preferred by Amazon sellers. Thanks to its incredible suite of features, it is one of the best Amazon feedback request software in the market and is right there on the top with the other players. SageMailer also supports VAT invoicing on the EU Amazon marketplaces and allows users to monitor the reviews of their product ASINs, all in the same plan!
Features Offered
Right off the bat, you can personalize your product review and seller feedback emails with existing templates or by using your creativity. You can make use of images, company logos, and other details with the help of dynamic tags in your emails. Moreover, you can perform A/B testing here with up to 9 variations to see which ones work best for you. To make things more convenient for you, you can manage your Amazon buyer-seller messages on the same platform, thanks to seamless integration. You can even respond to queries with customized templates.
Pricing
While there is a free plan at SageMailer, you will get all the features in the Pro Plan, starting at $25 for up to 2,000 emails a month. VAT invoicing, review monitoring, and A/B testing will be a part of this plan. As you scale up, switch to a higher plan to ensure that you reach out to all of your customers.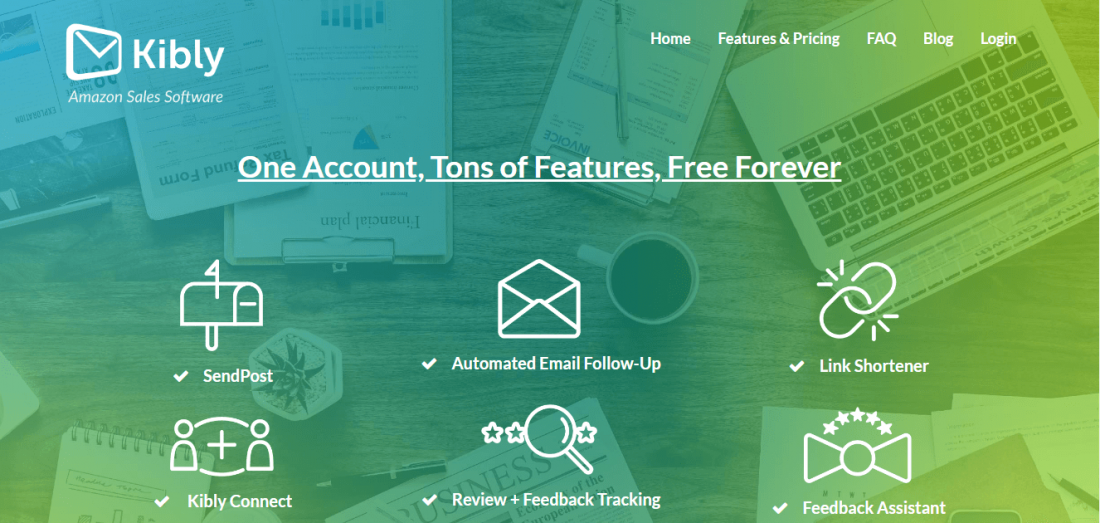 With its powerful, dedicated suite of features, Kibly is changing the way we gather Amazon reviews for our businesses in a big, big way. It is known for its impeccable personalized templates with conversion rates in line with those available with other review tools. Of course, Kibly is also quite reputed and trusted among Amazon sellers, and it is for this reason that it makes the list of our top Amazon review software tools.
Features Offered
With Kibly, you can send automated, customized follow-up emails to your customers, requesting them to leave you feedback and product reviews. You also get the option of sending a postcard directly to your clients – that's right, we are talking about a real letter here. Needless to mention, Kibly will do this task for you, along with empowering you to monitor the feedback and reviews on your products. You will get alerts in real-time so that you can act on it immediately. The rest of the features are pretty similar to the ones available in other Amazon review software.
Pricing
The pricing plans at Kibly depend on how many emails you send every month. As for the rest of the automated features, they are pretty much free. You can visit their pricing page for more information.

Zonguru already offers a comprehensive set of Amazon seller tools, including the ones that assist with feedback management. If you are looking for software that will assist you with all the aspects of your Amazon business, then Zonguru makes for a fine choice. On the flip side, its automated email tools may not be as powerful as the ones we saw above, but they are certainly worth a try.
Features Offered
Using Zonguru's Email Automator feature, you can follow up with your customers with the help of pre-existing templates or your own. You can check with them to get valuable feedback that will improve your business, in addition to requesting them to leave you a product review. The emails can also be personalized with product images and logos and can be sent at a time decided by you. Last, but not least, you also have the power to see what your customers are saying about you through the negative feedback management option.
Pricing
The basic plan starts at $49 a month using which, you can send 100 emails a month. Remember that in the same plan, you will get access to other seller tools too. If you are looking to send more emails, you may opt for the Plus plan priced at $199 a month.

Bqool is another review software that makes the list, thanks to its pretty powerful features. Dubbed as BigCRM, the company offers this product along with other services like repricing, product tracking, and seller service. Operating out of Taiwan, Bqool prides itself on its commitment to providing software and products that will make Amazon sellers successful. BigCRM is definitely in line with that vision and the prices aren't that bad either.
Features Offered
Bqool has done well to create a one-stop automated help desk solution for Amazon sellers that simplifies customer service. Its autoresponder feature is quite versatile as it can be utilized to respond to customers' queries in practically no time. It employs a broad spectrum of email templates applicable to different customer service situations. With that, you also have the option to send out automated feedback and review requests – either by using your own content or tweaking the ones they provide. And if you are catering to the EU marketplace, you can also generate VAT invoices automatically with Bqool.
Pricing
Available in all leading Amazon marketplaces, the BigCRM subscription plan starts at $10 a month for 500 emails. Once you exceed your quota, you will be levied an email overage charge. Similar to other feedback software we saw above, the pricing increases in line with the number of emails you need to send every month. However, to get the best of all the features, you will be better off with their $50 plan.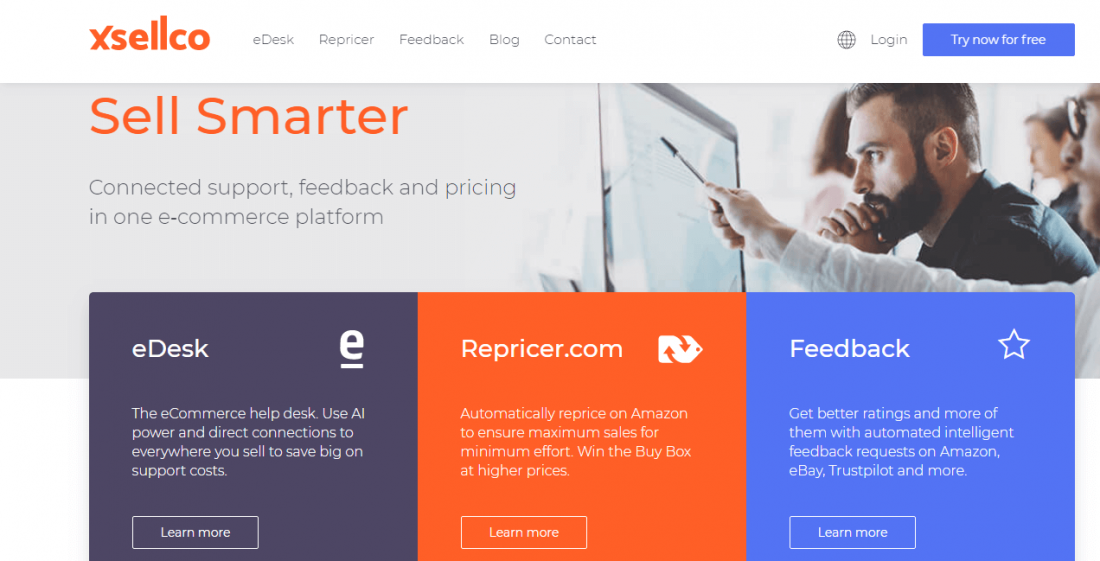 xSellco makes the cut as one of the leading Amazon feedback management software in the market for the simple reason that they know exactly what needs to be done to help sellers elevate their reputation in the e-commerce industry. Winner of the Deloitte Technology Fast 50 2022 Ireland, xSellco's main area of expertise lies in providing three things: a consolidated platform to respond to customer queries, feedback management, and repricing.
Featured Offers
Whether it is Amazon, eBay, Walmart, it doesn't matter where you are selling. With xSellco's eDesk feature, the customer queries from all the sales channels will be streamlined and consolidated into one platform for you to work on. You can expedite the process of responding to your customers further by using their custom-made text snippets and templates. In addition to this assistance in customer support, xSellco helps with garnering reviews and feedback by sending out automated feedback requests to your buyers. Needless to mention, these requests can be fine-tuned further for relevance and personalization.
Pricing
xSellco's basic plan starts at $54 a month that comes with a quota of 5,000 requests per month. Their most popular plan is the Professional plan, priced at $110 per month, and using that, you can send up to 25,000 feedback requests!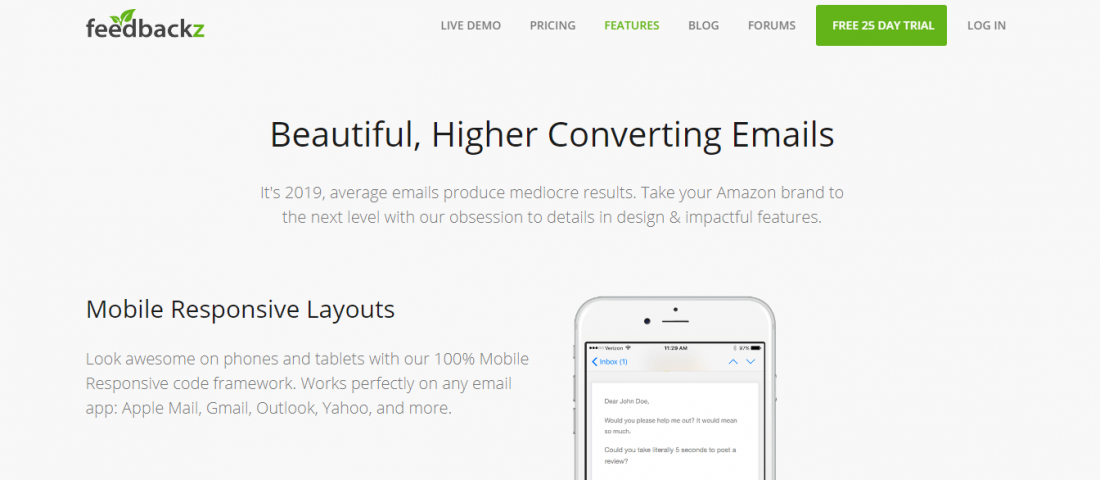 FeedbackZ is a dedicated platform designed for the sole purpose of helping sellers concentrate on gathering feedback and improving their review metrics on Amazon. The premise is pretty much the same as the other providers of this service: send automated feedback and review requests to Amazon customers. But the edge here lies in their mobile optimization feature. FeedbackZ has done a brilliant job of capitalizing on the fact that a lot of Amazon customers are browsing the marketplace on their mobile phones.
Features Offered
The templates you get here are not only customizable and 100 percent compliant with Amazon's policies, but they are also mobile-friendly. Each mail can be personalized as per your liking to ensure that you are sending out review requests optimized perfectly for conversions. With that, you can also decide their timings to take advantage of that right moment when buyers open your emails. Lastly, you can also track product reviews to act on the negative ones and ensure that your reputation on Amazon remains flawless.
Pricing
The subscription plans at FeedbackZ depend on the number of orders you process every day. For instance, if you are processing 30 orders a day, you will most likely send 500 emails every month and that will set you back by $9, billed monthly. For over 100 daily orders, they're $49 per month plan will be more beneficial for your business. FeedbackZ also offers customized plans for those sellers bringing in over 3,000 orders daily.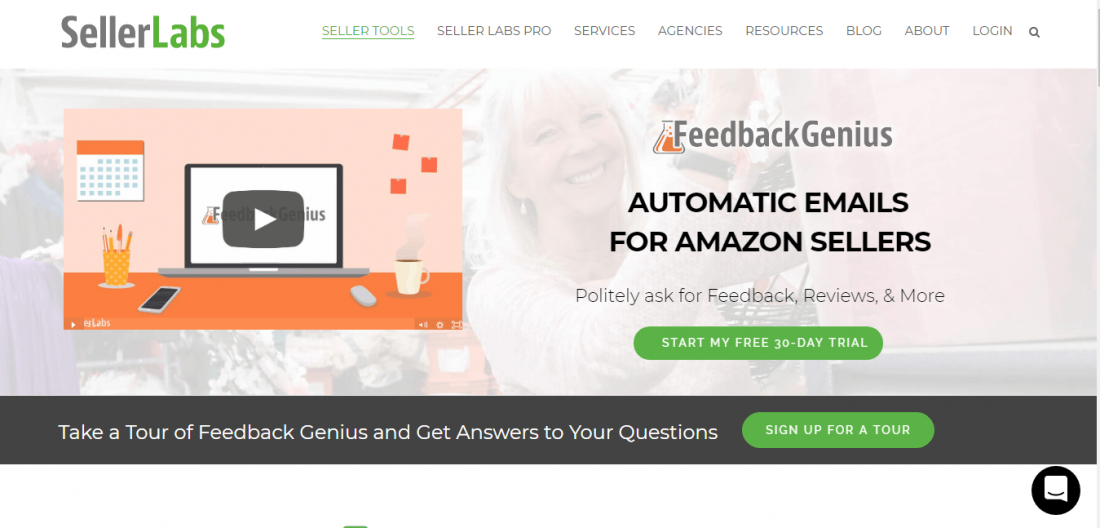 Powered by SellerLabs, Feedback Genius is a critical part of their features which specifically focuses on, as you may have guessed, automatic emails for Amazon sellers. There is a lot that you can do with the help of Feedback Genius, starting with automating buyer-seller messages on Amazon, to contacting the buyers with requests for seller feedback and product reviews. You can also set up notifications when you get a review or feedback, avoiding the trouble of checking it all on Amazon manually.
Features Offered
Feedback Genius will allow you to save time by dealing with Amazon buyer messages in an easy, convenient manner. Once you have taken care of responding to the questions placed by your customers, which will hardly take any time, you can go about setting up the email campaigns to increase your chances of landing feedback and product reviews. The automated messages employed by these campaigns can be crafted with the help of existing templates, provided by SellerLabs. You can even perform A/B testing to see which campaign works the best for your business.
Pricing
At $40 a month, you can send up to 3,000 emails every month to your customers. For additional Amazon Marketplace, you will be levied a charge of $10. In case your business is not at that stage yet, you can always opt for their Startup plan, priced at $20 per month.
Amazon Review Software Comparison Table
| Features | Price Range (per month) | Emails Supported | A/B Testing | Review/Feedback Monitor | Free Trail Period | VAT Invoice Generator |
| --- | --- | --- | --- | --- | --- | --- |
| FeedbackExpress | $15 - $62 | 1,000 - 25,000 | No | Yes | 30 Days | No |
| AMZFinder | $19 - $799 | 500 - 200,000 | Yes | No | Unlimited | Yes |
| FeedbackFive | $9.99 - $899.99 | 250 - 1,000,000 | No | Yes | Unlimited | No |
| SageMailer | $10 - $100 | 500 - 25,000 | Yes | Yes | 21 days | Yes |
| Kibly | $0.003 - $0.5 per email | - | Yes | Yes | Unlimited | No |
| Zonguru | $49 - $199 | 100 - 40,000 | No | Yes | 7 Days | No |
| Bqool | $10 - $100 | 500 - 20,000 | No | Yes | 14 Days | Yes |
| xSellco | $49 - $199 | 5000 - 60,000 | Yes | Yes | 28 Days | No |
| FeedbackZ | $9 - $249 | 500 - 60,000 | No | Yes | 25 Days | No |
In a Snapshot
Well, that was quite a bit of information to process. As you can see, we have compiled our list of the best Amazon review management tools to help you land those reviews and drive your sales to new heights. Thanks to these tools, it has never been this easy to actively follow up with all of your customers and request them for feedback and product reviews. These tools also go a long way in creating a world-class customer service experience for your shoppers. At the end of the day, you want to choose a tool that is best catered to your business requirements and scale of operation.
At the same time, you should also ensure that your listing is perfectly optimized for conversions so that you don't have to work super hard to land those sales.

Was this post helpful?
Let us know if you liked the post. That's the only way we can improve.