In an online marketplace like Amazon that is becoming increasingly competitive, it becomes imperative to have an exceptional marketing strategy. You may have an excellent product offering backed by a meticulous optimization for the e-commerce platform but until and unless you market your brand effectively, you will have a tough time making sales.
As a seller on Amazon, your primary goal should be to make your products stand out from the rest. One of the easiest and effective ways to go about doing this is through Amazon Pay-Per-Click, also known as Amazon PPC.
In our previous article, we explored the importance of Amazon PPC and the critical role it plays in boosting your sales. In this article, we will take a look at the budgeting part of it, that is, how to set an optimum budget for your PPC campaign on Amazon while ensuring that your profit margins remain intact. So, let us get started!
A Few Important Metrics to Remember
Our job of crafting the budget for our Sponsored Products Campaign becomes a lot easier if we are familiar with Amazon's key metrics. While some of us may already know this, let us take a look at how Amazon defines them:
Impressions:

Impressions can be defined as the number of times your advertisements were displayed within the search results. In other words, it gives you an idea of the number of people your ad is reaching to.

Clicks:

Clicks is essentially the number of times your ads were clicked on.

Cost-per-Click:

Cost-per-Click, in the context of Amazon PPC, is the amount you are paying for every click that your advertisements get. For example, if you are spending $30 on an advertisement for your product which gets 60 clicks, then your CPC, in this case, would be:
CPC = 30/60 = $0.5
This means that you are paying Amazon $0.5 every time your ad is clicked.
Click-Through Rate:

Click-Through Rate is defined as the rate at which your advertisements are clicked. It is the percentage of people who see your ad impressions and then move on to click on the ads.
It is calculated as:
Click-Through Rate= Total Clicks / Total Impressions
Advertising Cost of Sales (ACoS):

Advertising Cost of Sales can be understood as the percentage of sales you spend on advertising. It is calculated by the following formula:
ACoS= Amount Spent on Product / AdTotal Sales Generated
For example, if you spend $2,000 on advertisements for a product which, in turn, generates $8,000 in revenues, then your ACoS, in this case, would be 25%.
Based on these metrics, we can now go about setting up a budget for our Amazon Sponsored Ad Campaign.
Use this Awesome Amazon Acos Calculator for AcoS Calculation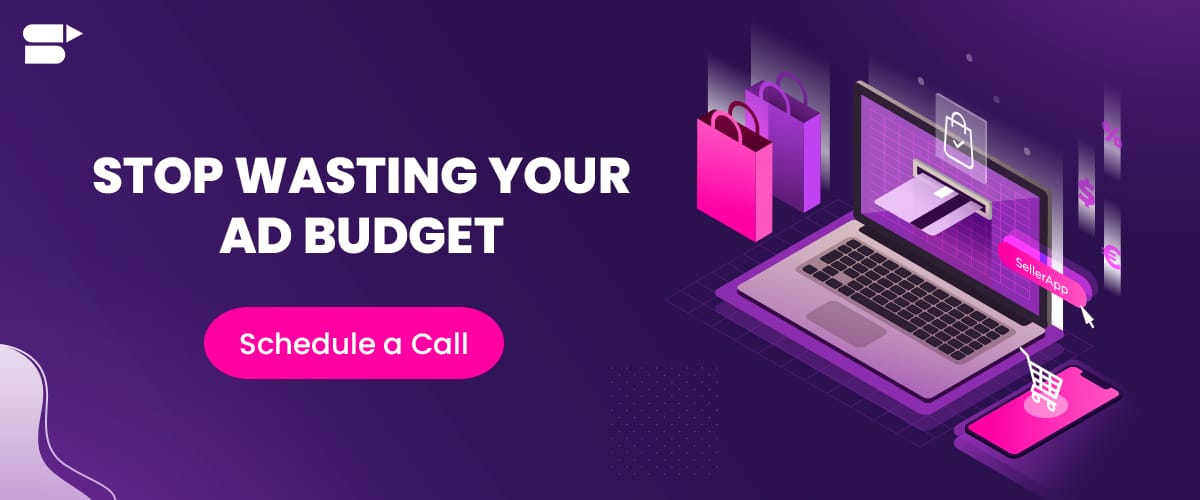 Using the Following Steps Set Your Amazon PPC Budget
Step 1: Identify Your Ideal ACoS
Before you go to your Amazon dashboard and set up your campaign, you first need to ask yourself how much you can afford to spend on advertising. You need to have a figure in mind which will allow you to create an effective marketing campaign on Amazon, without eating into your profits. To help you do so, consider the following example:
Assume that you are selling portable chargers on the platform. The following are your costs per unit:
| | |
| --- | --- |
| Selling Price | $30 |
| Cost of Buying the Product | $7 |
| Amazon FBA fees | $10 |
| Miscellaneous | $3 |
| Profit | $10 |
Upon doing simple math, you will see that your profit margin is $10. That is, after considering your total cost of goods, you are left with $10 in profit per unit. This means that you can spend up to $10 to get a sale and still be profitable. Therefore, your ACoS here would be:
$10/$30 = 33%
To interpret this, you have to understand that if you bid on any keyword which costs 33% of your sales or less, you would still be making money. If you cross this number, then you will be in the red and your profits will be impacted negatively.
That's why, before you design your ad campaign, you need to run the numbers carefully and ensure that you are spending an amount on advertising which will not eat into your profits. As a rule of thumb, it is advised to keep your ACoS initially at 30-35%.
All of this can be effectively tracked in our SellerApp dashboard. You can find ACoS for different keywords and products and accordingly, analyze them.
Step 2: Budget Allocation – Average Daily Budget and Fixed Daily Account Budget
After you have identified your ideal ACoS, you will need to determine your average daily budget for individual ad campaigns. It is compulsory to set a daily budget for every ad campaign that you create on Amazon. It is calculated over the calendar month using the following formula:
Maximum Expenditure per Calendar Month= Daily Budget x Number of days left in the Calender month
It is important to that this daily budget can be carried over to the next day, that is, if you do not use your entire daily budget in one day, then the unused amount can be rolled over to the following days.
Considering the following example:
You start an ad campaign on the 15th August with a daily budget of $8. The total budget of the campaign for the remainder of the month (17 days remaining) will be $136. If you end up spending only $5 on the 18th January, then the remaining $3 can be used the next day.
By allocating a fixed budget towards your ad campaigns, you ensure that you are spending evenly across all the campaigns. It also makes it easier for you to track your ad budget. Furthermore, you can determine your budget for a particular campaign, depending on its profitability.
In addition to setting an average daily budget, you can also set a fixed daily budget for your entire advertising account. This budget essentially puts a cap on how much you can spend on advertising, daily for your Sponsored Products Account.
For instance, consider that you have set a daily budget of $40 for advertising for your entire account. In your account, you are running three distinct ad campaigns, each with a budget of $15. The moment your overall expenditure on ads reaches $40, your ads will stop running for all the three campaigns until the next day.
Having a daily budget for your Sponsored Products account is optional. However, it can be useful if you have a fixed marketing budget for your Amazon account. Otherwise, you are better off paying more importance to the average daily budget for the individual ad campaigns.
In addition to this, you should not look into putting a cap on your advertising budget at the account level as long as your campaigns are profitable. If you restrict your budget, then your ads may stop running for the day which, in turn, may lead to a potential loss in sales.
Step 3: Calculate Your Default Bid
This is where things get quite interesting. After you have set your daily budget for advertising, you need to calculate your default bid. This is the amount that you are going to bid for the keywords for which you want your ads to rank. You will be paying this amount every time a user clicks on your ad and therefore, it can be perceived as your cost-per-click, or CPC.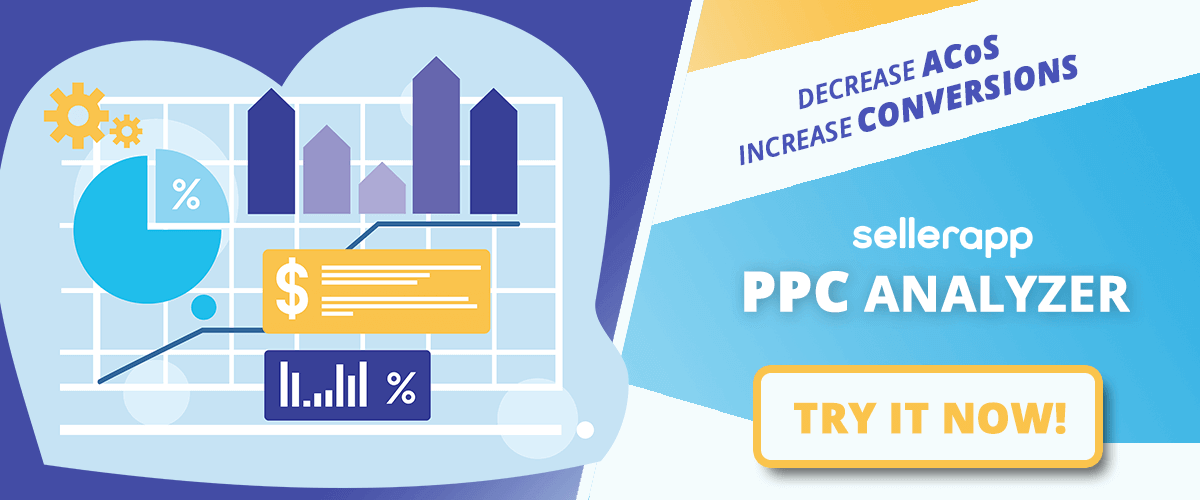 To calculate your default bid easily, let us make a few assumptions:
Your ACoS is 30%, that is, you are going to spend a maximum of 30% of your sales on advertising.
The conversion rate for your product on Amazon is 10%, that is, out of every 10 clicks that your product ad gets, only one of them leads to a conversion.
Therefore, your default bid needs to be calculated by taking these factors into consideration. Since you need 10 clicks on average to make a sale, you should be looking to spend your money on a per-click basis, which is exactly what Amazon needs!
In a scenario where your ACoS is 30%, your cost-per-click should not be more than 3% of your sales, assuming that you need 10 clicks on average to get a conversion.
Of course, for campaigns where ACoS is 20%, you should be looking at a CPC of not more than 2% and so on.
To boost your chances of winning, what you can do further is add another 20-30% to your default bid. By taking a slightly aggressive stance on bidding, you are increasing the chances of landing the keyword that you are looking for. Additionally, by setting your default bid a little over its ideal value, you are providing a buffer against unexpected costs and scenarios that you may incur.
After taking these factors into account, your default bid formula will look something like this:
Default Bid=ACoS * Selling Price * Conversion Rate
Assume that you are selling a product on Amazon for $30 whose conversion rate is 10%, that is, 10 clicks on average are needed to make one sale. The ACoS for this is 30%. Based on these parameters, we get our default bid as:
Default Bid=30% x $30 x 10%=$0.9
Therefore, in this example, you can expect to pay $0.9 per click for your keyword.
Things to Remember:
One important thing to remember here is that your ACoS doesn't have to be 30%. If you have a higher profit margin to work with, you can always increase your ACoS and market your products more aggressively. While a bigger advertising budget usually translates to fewer profits, it will be eventually negated in the long run as you are driving in more sales for your products!

Knowing the conversion rate for your product keywords will help you a great deal in calculating your default bid. Generally speaking, the lower the conversion rate, the more clicks it will take to make a sale. For example, a product with a conversion rate of 5% means that it will take 20 clicks on average to make one sale.
How To Reduce ACoS On Amazon
Ankitha suggests some of the things you can do when your ACoS is way higher than the Target ACoS.
Additional Resources
For an Amazon PPC Step By Step Guide launch this free tutorial.
For more interesting ways to improve BSR, give the Amazon Sales Rank page a read.
How can I manage my Amazon PPC Budget effectively?
The best way to manage your Amazon Sponsored Products Budget is by using SellerApp. We offer meticulously designed solutions which will help you supercharge your sales on Amazon. Some of the key features that we offer are:
Keyword Research

– One of the most important ways to become a successful seller on Amazon is by frequently researching for new keywords. Sellers who continuously do their keyword research and implement the insights into their Amazon PPC campaign budget not only end up earning massively, but they also dominate the respective product categories.

Using our Amazon keyword tool, you will be able to generate a list of keywords based on the ASINs and keywords you enter. Then, you will be able to see which keywords are converting well and once again, put them in our keywords tools to come up with a new set of keywords. Then, all you have to do is put these keywords into your Amazon PPC campaign and watch the magic happen.

Of course, you will have to frequently repeat this process to see which keywords are working well for you!
Amazon PPC Cost Estimation: Another great thing about using SellerApp is that you can easily determine the average pay-per-click cost of keywords that you are looking to bid on. All you have to do is enter the ASIN or the search term and hit Enter! Use this Reverse ASIN Tool. You will then be provided with results, including how much you can expect to spend to advertise for that exact keyword.
Performance Dashboard to Analyze Trends:

The success of an Amazon Sponsored Products Campaign depends on your ability to interpret the results and make the necessary changes. Keeping this in mind, we have created a simple solution that will help you review the performance of your campaign without any complications.
You will be able to optimize your Amazon PPC campaign by filtering keywords based on ACoS, orders received, non-performing keywords, bids, et cetera. Furthermore, you can look at other metrics like sales, impressions, clicks, spend, click-through-rate, and CPC, and compare the same to draw meaningful insights.
For example, if you filter your keywords based on orders received, you will be able to see which keywords are driving the most traffic and converting well. In turn, you can shift your focus on these converting keywords and invest more in advertising the same. Similarly, you can also compare ACoS with sales to see how your Amazon PPC campaign is performing.
Final Thoughts
By having a budget for your Amazon PPC campaign, you are protecting yourself from incurring high advertising costs. Additionally, you are also ensuring that you distribute the funds evenly across all your individual ad campaigns.
However, more than the budget itself, it is the performance of your campaign that matters more. Once you have taken care of the budget, you should look into managing and optimizing your campaign to achieve your business goals. It is an iterative process which, if done correctly, will bear excellent results.
In our next blog, we will take a look at how to set up an Amazon PPC campaign and the important things that you must consider while doing the same.
Additional resource:
How Much Does Amazon Advertising Cost

Was this post helpful?
Let us know if you liked the post. That's the only way we can improve.