Amazon promotions are incredible. People love them, and they have proven to be one of the sure-shot ways to attract new customers. Over 80% of people have stated that they are more likely to do business with a brand that launched promotional products. Amazon promotions help sellers such as yourself increase the visibility of their items on Amazon and promote their brands on social media in a variety of ways. In this article, we will take a look at how to go about setting up a promotion for your Amazon products, along with a few proven strategies to make the most of it. So, let's get started!
Table of Content
Criteria for setting up Amazon Promotions
Creating promotions on Amazon versus other platforms

The Good and the Bad
Effectiveness of your Promotions

Understand the Type of Promotion You Wish to Pursue
Manage Your Product Selection
How many units should you give away on Promotion
Creating Amazon Products Promotions
– Giveaways
– Percentage Off
– Social Media Promo Code
– Buy one, Get one Free
Strategies to Boost your Product Promotions
Final Thoughts
Criteria for setting up Amazon Promotions
Since Amazon promotions are meant to help buyers promote their products on the marketplace, there are generally no prerequisites to meet, except for Social Media Promo Codes.
From what we have observed, this feature is available to those sellers who have positive reviews and feedback, and/or are enrolled with the Amazon Brand Registry. As for the other promotional features, they should be accessible to all the sellers.
At the same time, to make the best of these promotions, you can enroll in the Amazon FBA program and make sure that you are selling high-quality, in-demand products to attract more people to your listings. With these two factors alone, you will significantly boost your chances of becoming visible on the Amazon Marketplace.
Creating Promotions on Amazon versus Other Platforms
Here is the deal with promotions on Amazon – it is quite easy to create, launch, and manage them. Being the largest e-commerce marketplace in the world, Amazon has gone to great lengths to ensure that sellers like yourself can easily handle all the ins and outs of promotions.
That said, there are a few things you need to keep in mind before you get started. Many sellers have made such mistakes time and again, and you should strive to learn from them.
The Good and the Bad
The good thing about Amazon promotions is they are effortless to track. You can create customized promo codes for each of your promotions and schedule them accordingly to monitor their success. The interface is simple, making it convenient for you to add the products you wish to promote. As we will see later, you also get the option of customizing the text on the checkout page to cater to your target audience. Furthermore, you won't have to pay a dime to Amazon to run these promotions.
Coming to the advantages of these promotions, there are many:
People become more aware of your brand in the market
Drive more traffic to your listings
Get the much-needed early sales that add to your product's sales history on Amazon
Obtain reviews and ratings to drive subsequent sales
Needless to mention, you can make a discernible dent in your Amazon sales with the help of promotions. They will help you improve your product's ranking in the marketplace. But on the flip side, you need to be on the lookout for the following errors:
Not planning the budget correctly: For any promotion to be successful, you will be required to take a small hit on your margins. Whether it is percentage off, giveaways, or BOGO, your margins will be impacted – it is up to you to decide how far you are willing to go. Before you begin, sit back and calculate how much you can afford to invest in these promotions.

For each product you plan to promote, identify how much you will make after the discount is applied. Ideally, you should be in the green zone, that is, operating under a profit, albeit, a small one.

Running Promotions for Too Long: Promotions are meant to be exclusive, not something that goes on for days together. An ideal timeline to run promotions is 5-7 days. Anything beyond this may lead to lower profits for you and may also give the impression to your customers that your brand is a generic one. There needs to be a sense of exclusivity, an urgency among the buyers.

Not Setting up the Promotions Correctly: This one is way too important, and we have emphasized this time and again throughout this article. Many sellers often make this mistake – they don't set up the promotions correctly and when that happens, they end up losing a lot by giving away the products for free.

It can be something as trivial as using 'Group' claim codes – the same code can be used repeatedly, to something more complicated like not making the codes exclusive, that is, the codes can be used in combination with other offers. Therefore, when you are setting up your campaigns, you must pay attention to these little details.
Effectiveness of Your Promotions
The success of your Amazon promotions depends on how well you promote your products on social media and other platforms. With this, you will also have to make sure that your listing is optimized correctly for conversion (more on this later). Ideally, any person who visits your product page through these promotions must end up purchasing the item – this can be achieved with a top-notch listing page.
To begin with, identify the top keywords for your products and target them in your listings since your end goal here is to rank for the said keywords. The keywords need to be relevant and must be associated with your product. Otherwise, it may lead to a low conversion rate.
Then, you also have to consider the discount percentage itself. It needs to be good enough to attract people but not that high to impact your margins severely. Once your listings are ready, promote the coupon codes and discounts aggressively on Facebook, Twitter, Instagram, et cetera. You can also tie-up with social media influencers to cast a wider net.
With this, you must also look into the timing of your promotions. Promoting your products during holiday seasons or Black Friday may lead to more exposure than any other time of the year. But then, it also means more competition. On the contrary, running promotions during the offseason may be beneficial as the competition is low, and you stand to benefit from improved visibility.
To measure the impact of your promotions, there are a couple of ways to go about it:
Number of reviews: Review count is a good metric to measure the success of your Amazon promotions. You can aim to obtain five-six reviews for every 50-60 units promoted on Amazon, and so on. Of course, you will have to do your part by asking customers to leave you feedback. If the number of reviews on your products has increased considerably after the promotion, then it is a prudent investment.

Change in Keyword Ranking: For the products you plan to promote on Amazon, track the top keywords and identify their rank and position in the search results. Start the promotions, and after they are done, check the keyword rank again. If the product is ranking well for a particular keyword after the promotion, then it implies that your strategies were effective.

Track Best Sellers Rank: BSR is another figure that you can use to gauge the effectiveness of your promotions. If the BSR has improved post promotions, then it means that your efforts have paid off.

Tracking other metrics like average order value, sales history, and revenues.
Understand the Type of Amazon Promotion You Wish to Pursue
As an Amazon seller, there are multiple ways to promote your products online. In addition to the strategies for Amazon PPC, you should most definitely look into these.

For instance, you can create a simple promo code for your products and promote the same on social media directly. Then, you also have the option of giving away freebies, offering products with free shipping, discounts, et cetera.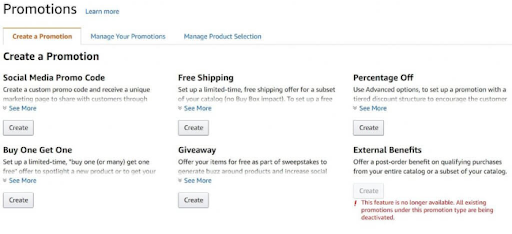 The type of promotion to target here will depend on your marketing goals, budget, and your margins.
If your brand is new in the market, then a good way to generate hype about your products is by conducting giveaways. Since they are free, people will accept them happily, and word of mouth will then spread. It will give your products the much-needed visibility and exposure to drive subsequent sales. Similarly, if there is an awareness, and you are looking to drive traffic, then going with discount deals, free shipping, and other such options makes more sense.
However, you need to make sure that you don't go overboard with these promotions. Chances are, your margins will take a small hit and while it is good for a few products initially, it can be quite detrimental to the health of your business in the long run. This is where the discount/percentage off comes into play. You need to find a number that looks good to the customers and at the same time, isn't large enough to undermine your margins.
Manage Your Product Selection
This is the section where you select the products you wish to promote in a variety of ways. You can choose the products based on ASIN, SKUs, Brand Name, et cetera. A lot of sellers prefer going with the ASIN route.

After you have selected the option, click on the 'Create Product Selection' tab, and you will be directed to another page where you can add the ASINs you want to promote, tracking ID/product selection name, and internal description for your reference. Be sure to cross-check the details again to ensure that you have selected only those products you wish to promote. Once you are satisfied with the details, hit the 'Submit' button.
Alternately, you also have the option to select the products you want to promote at the time of creating the promotions.
How many units should you give away on Promotion
This one is a tricky question. If you give away a lot of units, then you may run into losses. On the other hand, too little and it may not be enough to generate a good hype about your products in the market.
The answer to this question ultimately boils down to your budget and your goal. If you are just starting and are looking to increase your brand awareness in the market, then you may want to be a bit more aggressive. However, if you are launching a new product within your brand, then you can afford to scale down your promotions and focus on generating sales through discounts and promo codes.
Additional read: Spend the right amount at the right time with Amazon Budget Rules.
Another good strategy would be to analyze your top competitors and gauge their daily sales for your products. If they are selling 500 units on average every day, then you can plan to give away, say 10% of that number daily. If you are running a promotion for seven days, that translates into 350 units. Of course, for many sellers, this may be a massive number, given the impact on profit margin and other constraints.
You can certainly reduce this number by a huge chunk, but you would have to invest your time and efforts in promoting your products heavily on social media sites to generate buzz in the market. By trying to make this giveaway exclusive and available only for limited units, you can compensate for the lack of units.
Creating Amazon Product Promotions
Now, we are coming to the fun part – creating promotions for your products on Amazon. In this section, we will take a close look at each of these promotions and how you can go about setting them up in your Amazon Seller Central account.
The first thing you need to do is sign in to the Seller Central account visit the 'Advertising' section on Amazon and select the 'Promotions' options. You will be directed to a page where you can view the different options you have to promote your products.
Giveaways are among the most popular form of promotion out there in the market. It is a terrific way to get more exposure and sales for your products. The best part – it is quite easy to create a giveaway.
Click on 'Giveaway' option in the Promotions page. You will then be prompted to select the products you want to give away. You can search it based on ASIN, SKU, or just the title of the product. Remember that you can select only one ASIN/product per giveaway.
After you have selected the products you wish to give away as prizes, you need to enter the relevant details like the quantity, the name of the product, image, et cetera. You can select up to 30 products to give away. You can also do A/B testing here and see the number of units for each product that would work well for you and your customers.
Once you have sorted the nitty-gritty of the giveaway, the next step is to select the type of giveaway. You have three options to choose from Sweepstakes, Random Instant Win, Lucky Number Instant Win, and First-Come, First-Served.
You can select these options depending on how you want to promote your products. In Sweepstakes, the winner(s) will be chosen at random. In Random Instant Win, you get to decide the odds for the participants to win – each participant may have a 1 in 200 or 3,000 chance to win the prize. The winner will then be decided at random.

In the same manner, the Lucky Number Instant Win feature will allow you to decide which entrant wins the prize. You can pick a lucky number, say 13, and the rule will be something along the lines of every 13th entrant wins.

You are almost there! Once you have established the rules for the giveaway, you also have the option to set certain requirements that entrants must fulfill to be eligible. You can have them watch a short video on YouTube or follow an author.

Post this; you will need to set the duration of the giveaway. You need to find that magic number where you get enough traction for your products, and at the same time, the customers are not saturated.

Lastly, you can also offer discounts to all the entrants who enter the giveaway. This is a terrific way to promote your product as it gives the customer a chance to purchase the item at a discounted price, if not for free. It also shows that you care about the people entering the sweepstakes.

You will need to enter the valid promotion ID – the promo codes your customers will use to avail the discounts (make sure that they are accurate).
Finally, preview the giveaway and proceed to checkout. Start keeping track of your orders and sales the moment you launch the giveaway so that you can strategize your subsequent promotions accordingly.
Percentage Off promotions are exactly what they sound like – you offer your products on Amazon to customers at a discounted price. Of course, you should set certain rules and conditions for your promotion to ensure that it is a win-win situation for everyone.
The procedure is the same as before: on the Promotions page, select the 'Percentage Off' option to get started.
The first thing you need to take care of is setting up the conditions for your customers to get the discount. There are a few options here, such as:
Buyer needs to purchase at least 'X' quantity of the item
Buyer needs to buy products worth 'X' dollars
Get a discount for every 'X' quantity of items purchased, and so on.
Then, in the 'Purchased Items' section, you need to select the items you wish to promote through percentage offs. Following this, you specify the discounts, in percentage. That is, if you want to promote your products at a 20% percent off, you need to mention 20 in the field provided. Do not enter the dollar amount.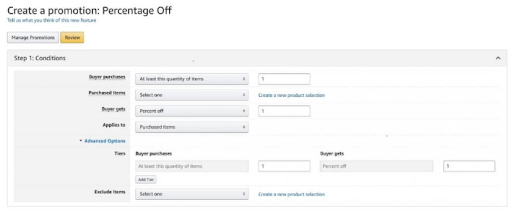 In the advanced options, you get more flexibility and control to design your percentage off promotions.
Following this, you need to create a schedule plan for your promotion. Specify start date and time along with end date and time. Remember that it can take up to four hours for the promotion to be started.
In the same tab, you will also have the option to set up claim codes for your Amazon percentage off promotion products. It will help you track the profitability of the promotional campaigns better. However, there are a few things that you may want to keep in mind like the usability of the code – single use or multiple uses, can the codes be combined, and such things.

This is important as failing to pay attention to this may result in you giving away more products at a discount than previously anticipated.
Once that is sorted, you can also go about creating customized texts. This feature can be accessed through the 'Customize Messaging' tab and there is a lot that you can do here. You can prepare the text you want to show your customers for different sections like the checkout page, detail page, purchased items, terms and conditions, et cetera.

Once again, the last step here is to review your promotion and hit the submit button. Once again, check and recheck every aspect of your promotion to ensure that everything is in order. A minor typo here and there can seriously lead to blunders. The internet is full of many such stories where people have ended up spending thousands of dollars over a simple mistake.
This promotional feature is fairly similar to the one that we just saw, except it is more customized for social media platforms. With this Amazon marketing tool, you can drive traffic to your product listings directly from Facebook, Twitter, email, influencers, et cetera, through lucrative discount deals. It is fairly easy to manage this type of campaign, and the best part is you get a dedicated marketing page where you can send your customers. You can share the link to this page directly with your audience and set the parameters of the promotion, as per your requirements.
Once again, basic steps remain the same. You can access this feature in the Promotion's section under 'Advertising.' Then, click on 'Social Media Promo Code' to access the promotion set-up page. Enter the basic details of your campaigns like buyer conditions, discount, purchased items, et cetera.

In the next step, you will schedule the promotion by specifying the start and end date, along with the timings.

In the last and final step, you have the option to specify the number of redemption that each customer can make using the promo code. You can either set it to only one unit per customer in one checkout, or unlimited units in unlimited checkouts. With this, you will also need to look into whether the codes can be combined with other offers and so on. This is also the step where you can generate your promo code or go about using the one mentioned by Amazon.
After everything is sorted, recheck your promotion details and submit them for review and approval.
Buy One Get One
Buy one, get one, also known as BOGO, is another popular promotion strategy where your customers will get an item free for every item they purchase. While this is the basic idea, you refine it further by setting up specific conditions of the deal, as we will see below.
Access the Buy One Get One promotion set-up page from the 'Promotions' page in the Advertising section.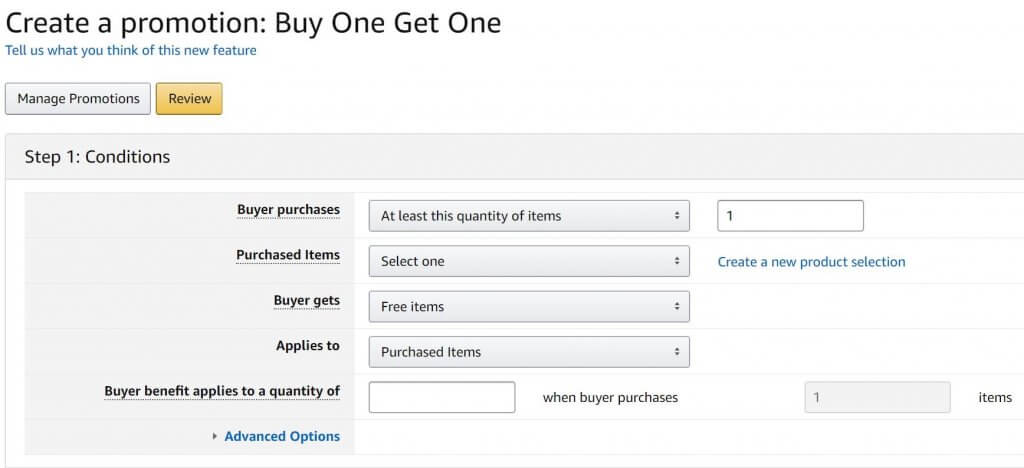 The first step is to set up the conditions for the deal. In the 'Buyer Purchases' segment, there are three options to choose:
Buyer needs to purchase at least 'X' quantity of the item to get one unit for free
Buyer needs to buy products worth 'X' dollars to get the free item
For a particular amount of items purchased, they get the product for free
In the 'Purchased Items' tab, you will select the products you wish to promote through BOGO. The next couple of segments are fairly straightforward. In the 'Buyer benefit applies to a quantity of' tab, you need to enter the number of products your customers will get for free when they buy a certain number of units.

For instance, if you want them to get one unit for free for every item they purchase, you will simply enter 1 and 1. If you want them to get two units for free for every one unit they buy, you will enter 2 and 1 respectively, and so on.

Then comes scheduling page where you set the time parameters for your Amazon promotion offer. In the 'Additional Options' segment, you need to set up the redemption options for your buyers. You can also set up your claim code, customize the text on your checkout page, and decide on your display preferences.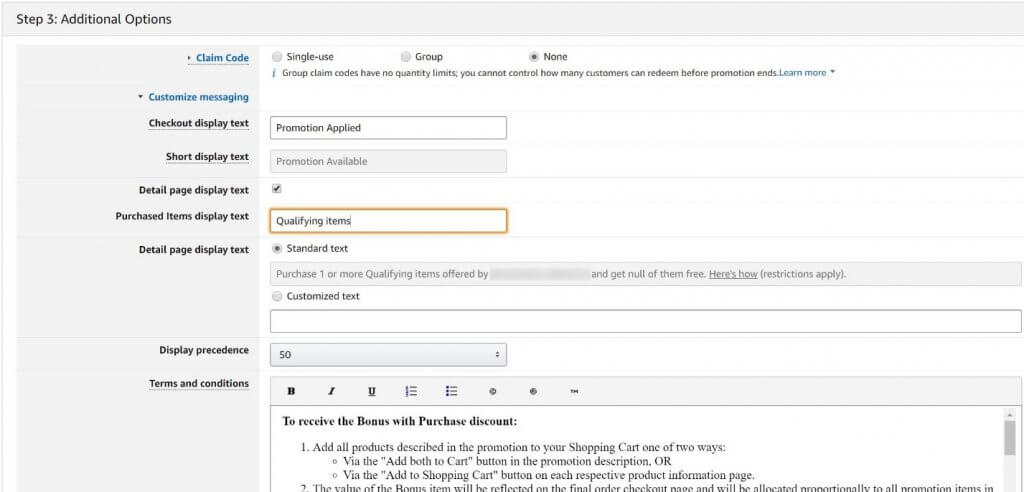 As usual, review your Buy One Get One promotion details once again and submit it for review.
Strategies to Boost your Product Promotions
To help you make the most of these Amazon promotions, we have prepared this short strategy guide.
Optimize your page for conversions. You are spending a lot of time and effort on driving people to your product page on Amazon. You need to ensure that they are optimized for conversion. The listing page needs to be such that people will be compelled to buy your product. It needs to have all the relevant information, right keywords and must be creative – just like an excellent sales copy.

Stock Your Inventory. The last thing you need when running these promotions is to run out of stock. It will not only disappoint your customers, but your visibility on Amazon will be seriously impacted. It is well-known that Amazon's A9 algorithm doesn't give preference to those listings that are out of stock. Therefore, track your inventory smartly and make sure that you don't lose sales to costly stock-outs!

Promote Your Promotions on Social Media. Make use of sentences and key phrases that drive people to act. The message you send out there needs to be consistent and must be in line with what your market/customers expect.
Final Thoughts
Amazon Promotions are a blessing for online sellers. It works superbly when it comes to driving conversions and promoting your brand in the market. However, while setting them up, you need to be sure of the conditions and redemption options so that you don't end up losing a lot of money. Sellers have often mistakenly set up their promotions and as a result, have lost a great deal in the process. You can also sign up with SellerApp for expert data-driven solutions and assistance in taking your Amazon business to new heights.
Additional Read:
How to Beat Your Competition on Amazon – Strategies Revealed
An Expert's Guide to Scheduling Ads on Amazon.


Was this post helpful?
Let us know if you liked the post. That's the only way we can improve.