Amazon is the leading e-retailer in the United States, with net sales amounting to close to 470 billion USD in 2021.
To achieve this growth, Amazon always had a unique business structure and strategy that allowed them to capture almost half of the U.S. eCommerce market.
So, how did they manage to achieve such stupendous growth?
The answer is the Flywheel.
Amazon Flywheel, also known as Amazon Virtuous Cycle, is a founding model for the growth of the Amazon marketplace.
Amazon Flywheel is a strategy in which various values work together to promote traffic and overall growth. An intentional feedback loop to drive growth and profitability is the core aspect of Amazon Flywheel.
So here's an article that gives you a detailed analysis of Amazon Flywheel that can help you to grow every aspect of your e-commerce business.
Quick Guide
Amazon Flywheel – Explained
In general, the Amazon Flywheel model is based on the idea of a heavy mechanical wheel, which builds momentum over time. It increases momentum and provides stability to the machine. Once it starts moving, eventually it makes the wheel turn by itself. Thus, it will grow its own momentum through a self-reinforcing loop.
The same concept applies to Amazon Flywheel.
The Amazon Flywheel is a business model that Amazon uses to focus on customer satisfaction, loyalty, and long-term growth. The cycle begins with the customer purchasing from Amazon, which is then fulfilled by Amazon's warehouses and shipping centers.
This creates a positive feedback loop in which the customer is more likely to make more purchases from Amazon, creating more demand for Amazon's services and products. The increased demand creates more opportunities for Amazon to improve its services, which further increases customer satisfaction and loyalty.
Amazon Flywheel cycle creates a win-win situation for both Amazon and the customer, as Amazon is able to increase its profits. On the other hand, the customer is able to benefit from improved services from Amazon.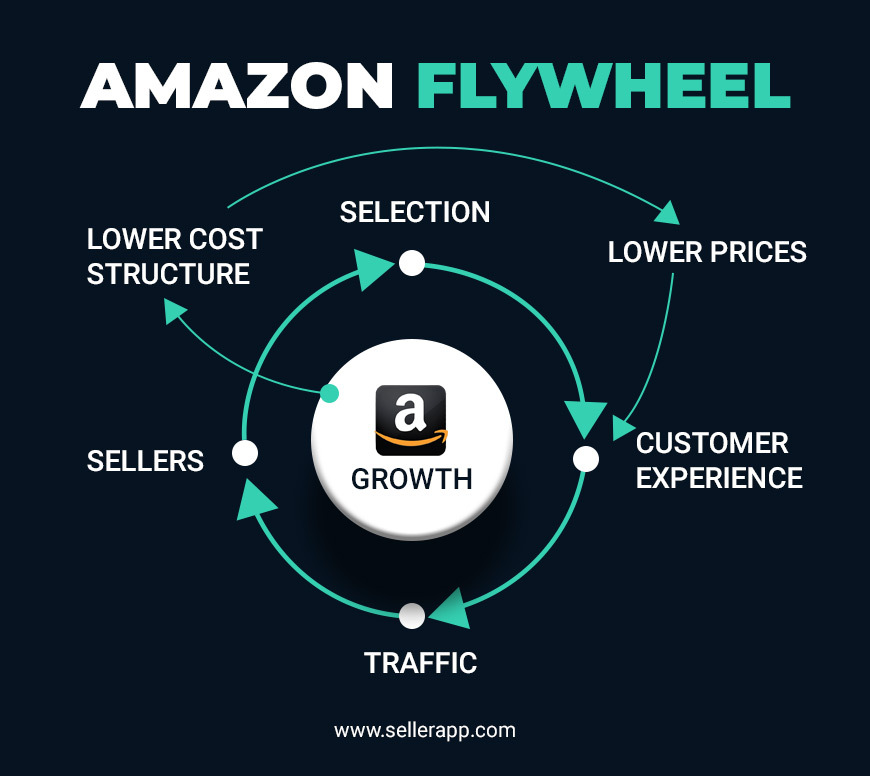 Delivering a customer-centric experience – The story behind the Flywheel
Amazon is committed to providing customers with the best possible experience. Besides, Amazon strives to be Earth's most customer-centric company,
In fact, this e-commerce behemoth is guided by four core principles (source: Amazon):
Customer obsession rather than competitor focus
A passion for invention
Commitment to achieving operational excellence
Long-term thinking
This includes ensuring customers have a positive, customer-centric experience when interacting with the company. To do this, Amazon offers a variety of customer-focused initiatives, including its Amazon Prime membership, Amazon customer service, Amazon Prime Video, and its Amazon Prime delivery service.
What you can learn from Amazon Flywheel
The Amazon Flywheel strategy can be beneficial for sellers in more than one way. This strategy emphasizes customer satisfaction and long-term relationships with customers and suppliers.
By providing a high-quality customer experience, you can strengthen customer loyalty and increase sales, which can benefit your business. Additionally, it helps you focus on building relationships with suppliers that can help ensure a reliable source of inventory and help you lower additional costs.
Three pillars of a successful Amazon flywheel
When you apply the Amazon Flywheel strategy to your business, you need to have certain aspects in mind to ensure success. Here are three pillars of the flywheel strategy and ways to boost them.
Focus on customer experience
Customer experience is one of the essential pillars of a successful Amazon flywheel. As a seller, you should focus on making the shopping experience as convenient and enjoyable as possible for customers by offering a wide selection of products, competitive prices, fast delivery, and easy returns.
Amazon also provides personalized recommendations and helpful customer support. They encourage customer loyalty through its Prime membership program, which offers access to free shipping and streaming services. Similarly, you can try offering discounts, Amazon lightning deals, coupons, and expedited shipping to your customers to delight them.
These crucial factors contribute to a positive customer experience, which drives customer loyalty and repeat purchases.
Five ways to boost your customer experience
1. Retail-ready listings
To enhance customer experience, you should ensure that the listings are retail-ready and optimized with accurate product information and high-quality images. This will help the customers to make informed decisions before making a purchase.
For example, in the below image, you can see the seller has added six images and a video. Besides, the title looks appealing to the customer. These will help the customers decide whether to purchase or not.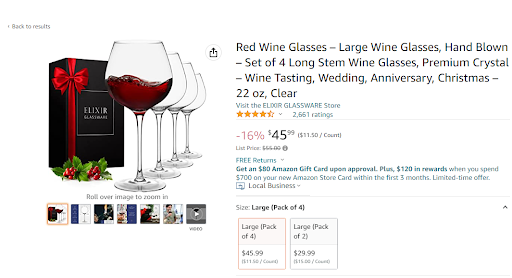 2. Increase branding efforts
As a seller, you should scale your brand recognition by optimizing your Amazon storefront with the right ASINs, product descriptions, and high-quality images. You should also create a captivating and consistent brand experience across your catalog and storefront.
A product catalog can keep your customers engaged for a longer time which boosts your conversions and generates repeat purchases. Your product catalog covers the category, price, and detailed description of your product. It's crucial to give the right information in an appealing way to the customers so they can make a buying decision.
On the other hand, use Amazon Brand Store to drive customer engagement. It is free and interactive. With Amazon Brand stores, small and intermediate sellers can get their products in front of a larger target audience. Brand store creation can get your product some good revenue.
3. Sustain a high seller rating
One of the most important ways to improve customer experience is to maintain a high seller rating. This will give customers the confidence that they are dealing with a reputable seller and reinforce their purchase is safe and secure.
You can check your seller rating on Amazon Seller Central. Go to your Amazon Seller Central Dashboard > Performance > Feedback
Here you can see your overall performance for the last 30 days, 90 days, and 365 days, and your lifetime ratings.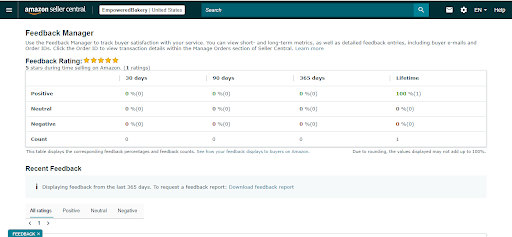 4. Get good reviews
Positive Amazon reviews from customers can help build trust and increase sales. Sellers should provide excellent customer service to ensure that the customers are satisfied with their purchase and are happy to leave a positive review.
Let's take the below images as an example, you can see the customer ratings 4.6 out of 5. Besides, you can see that happy customers have posted images of the product. This means the customers are satisfied with the product.
A shopper who sees these positive reviews are likely to purchase the product compared to a listing with negative reviews. So try to gain positive reviews, which can promote customer experience and increase sales.

5. Use Amazon FBA
Amazon FBA enables sellers to offer their customers shorter delivery times. Besides, Amazon handles customer service on your behalf if you opt for the FBA method. This can really help to enhance customer experience and encourage customers to purchase from the same seller again.
Generate traffic to your listing
It is essential to leverage resources both inside and outside the Amazon platform to drive traffic. Within Amazon, you can use tools such as Amazon Advertising and Amazon Seller Central to promote your products.
Outside Amazon, you can use various marketing techniques such as content marketing, influencer marketing, Amazon search engine optimization (SEO), and paid advertising to reach new audiences. Additionally, you should focus on improving product rankings by optimizing your product listings, leveraging customer reviews and ratings, and providing superior customer service.
How can you drive better traffic to your listings?
Optimize listings for SEO
To increase Amazon traffic, you should optimize the listings with relevant keywords, titles, and descriptions. This helps customers find the products they are looking for and increases the probability of their purchase.
You can learn how to drive more traffic to your listings here.
Promote products with deals and coupons
Amazon offers a range of promotional tools, including deals, coupon codes, and more. By leveraging these tools, sellers can increase the visibility of their products and boost sales.
Use ads to rank for specific keywords
Through Amazon's keyword-targeted ads, you can increase the visibility for specific terms and phrases. This helps the listings to appear higher in search results and attracts more customers. So there are three Amazon ad types – Sponsored Product ads, Sponsored Brand ads, and Sponsored Display ads.
Sponsored Product ads use keyword targeting to target specific keywords and product targeting for advertising on specific products. They appear on the search result page or on the product detail page.
Sponsored Brand ads use keyword targeting. It advertises a few products of the same brand. This ad usually appears at the top of the search result page.
Sponsored Display ads lead to the product detail page. This ad appears on the right side of the search results page, product detail page, and customer review pages.
To make it easier, you can use the SellerApp dashboard. In the dashboard, under the Advertising section, you can see Insights.
Once you sync your advertising account and add your target ACoS, SellerApp automatically analyzes your search terms. You will be able to find the search terms that are increasing your sales and search terms that are bleeding your ad spend. You can check this under positive and negative search terms.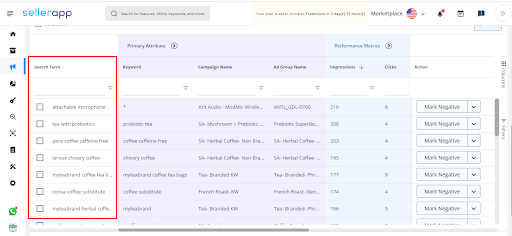 Amazon Posts
Amazon Posts are short-form social media posts that sellers can use to promote their products. They appear on the Amazon website and can be used to attract customers and increase sales.
Additional read: Ultimate Guide to Amazon Posts
Social media
Social media is one of the most effective ways to promote products and increase Amazon traffic. Sellers should take advantage of platforms like Facebook, Instagram, and Twitter to build an audience and share content about their products.
Examine your products' performance
It is important to have a thorough understanding of the products you are selling on Amazon, including their features, potential customers, competition, and market trends. This will allow you to create an effective marketing and pricing strategy that will maximize your sales and profits.
You should also pay attention to customer reviews and feedback to identify areas of improvement and develop better products. Finally, you should use analytics tools to understand what products are performing well and what can be improved.
4 strategies to analyze your products' performance
Identify top sellers and underperforming SKUs
By analyzing customer interactions, such as reviews and comments, you can identify which products are performing well and which are not. Additionally, you can track ad visibility for each product in order to assess how effective your marketing strategy is for different products.
Once you analyze the top-performing and under-performing products, capitalize by targeting them in your campaigns and find ways to cross-promote them with the existing products.
Monitor sell-through rates
By tracking sell-through rates, you can determine how quickly products are selling and if there is a need to adjust inventory levels. Additionally, tracking sell-through rates can help you identify any trends in customer demand.
Monitor inventory availability
By monitoring inventory availability, you can ensure that there is sufficient stock of each product available and that customers can buy what they need. This also helps to avoid any losses due to stockouts.
You can learn different ways to increase profitability with Amazon inventory management here.
Track pricing
Tracking pricing is important in order to assess profitability and to make sure that you are competitive in the market. Additionally, you can use price tracking to test out different repricing strategies and find the most optimal pricing for each product.
Monitor sales growth – The final step
Once you apply the strategies mentioned above, your flywheel is set in motion. The success of the Flywheel cycle can be monitored through sales growth. You can achieve this by tracking the total number of sales and the revenue generated over time.
By tracking the sales growth, you can identify any areas that need improvement and change your marketing and sales strategies. This ensures that the virtuous cycle continues to be successful.
Track sales growth to identify market trends and changes in customer behavior. Make necessary adjustments to ensure that your business can maximize sales and revenue.
Conclusion
So if you want to grow your business, use the Amazon Flywheel model. It is all about the idea that these components work together to generate more traffic, more sales, and more repeat customers.
As customers are satisfied with their experience, they are more likely to return and make future purchases. This further creates a Flywheel that promotes growth and success for your business.
Additional Guide:
Strategies CPG brands need to market new product launches on Amazon.
The Power of Digital Shelf Analytics for E-Commerce Success.
Was this post helpful?
Let us know if you liked the post. That's the only way we can improve.