E-commerce advertising trends keep changing constantly. With online sales increasing, Amazon marketing services emerged as one of the most powerful advertising platforms online.
Selling on Amazon provides you with multiple fulfillment options. One of which is deciding to sell on Vendor Central (1P) or Seller Central (3P). Today, more and more brands are selling both on Amazon vendor central and seller central. Advertising options vary depending on the type of interface you are using to sell. With the recent changes, Amazon allows both sellers and vendors to access the Amazon advertising console. However, the options slightly differ from one another.
You can take a look at Amazon seller central detailed guide if you want to know what it is and how it works.
If you are an advertiser who wants to tap into more customers and fortify your presence on Amazon, you should know all the ad types available. In this article, let's take a look at different Amazon vendor central advertising options and see how you can incorporate them into your marketing strategy.
What is Amazon vendor central – Quick recap
If you are an Amazon seller willing to know about vendor central, this section is for you. If not, you can scroll to the next section.
Amazon Vendor Central is an invite-only program available to a few elite brands. As a vendor on Amazon, you will sell directly to Amazon. This means you are a supplier to Amazon. Amazon buys your products and sells them directly to consumers.
So, how can you be a part of vendor central?
This is possible if you are:
An existing brand that has a large consumer base
An exhibitor with attractive products who participate in trade shows and fairs
An Amazon marketplace seller who is performing exceptionally well
Related Post: How to smartly negotiate the Amazon Vendor Agreement
How does the Amazon Advertising console work?
Amazon pay-per-click (PPC) ads are managed through the Amazon advertising console. With more brands turning to Amazon, the e-commerce giant has become a powerful platform to capture a broad audience. Advertisers will have access to the advertising console to create PPC campaigns. 
However, the merchants interested in being a part of Amazon vendor central advertising services should become members of the vendor central platform. As mentioned, this is an invite-only program currently.
Amazon Advertising – What are the ads available to vendors?
With Amazon vendor central, you'll have more choices to create ads. Below is the list of ads available for vendors.
Amazon Sponsored Products
Sponsored products are the most basic ad type available on Amazon. This category is common for both sellers and vendors. These ads are displayed on Amazon search results or a product details page. These ads feature one major product. You'll have two targeting options: Automatic and manual targeting. In automatic targeting, you don't need to perform any keyword research and set bids. Amazon automatically picks the search terms based on your product description. You need not create any setup to run the campaigns as the Amazon algorithm defines the keywords. On the other hand, manual targeting allows you to customize keywords as well as individual bids.
Related: Amazon bidding strategies.
No additional creative assets are required to create ad campaigns.
When do you need these ads?
Sponsored product ads create basic awareness of the product and generate more sales when the product has a huge demand. But you need to win the Vendor Buy Box if you want to use Sponsored product ads.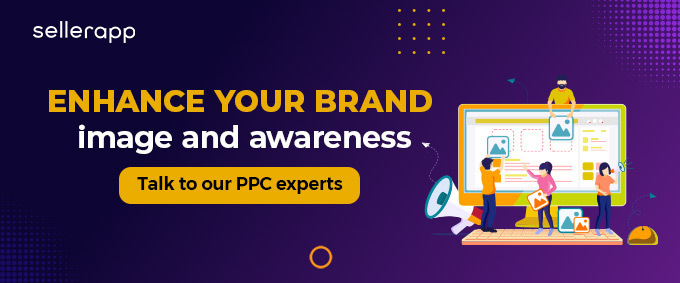 Amazon Sponsored Brands
Earlier called Amazon headline ads, Sponsored brand ads highlight your brand. This ad type was only native to vendor central, but recently Amazon introduced this option to seller central.
As part of this ad, you can include a headline, logo, and three featured products and link them to listings. You can also redirect these ads to your Amazon store or a customized landing page.
How to use these ads?
Potential buyers who click the banner ads are generally at the top of their purchasing journey. So use Amazon-sponsored brands as part of your top-of-funnel ads. By redirecting them to your Amazon store or an amazon landing page, you will create product awareness among your target customers.
If you are a brand selling on Amazon, check out this video. In this video, Ram Menon, Director of Sales at SellerApp, talks about the strategies that brands should adopt to thrive on Amazon.
Amazon Sponsored Display
Amazon sponsored display is also a self-service CPC advertising solution offered by Amazon. With sponsored display ads, you can target your shoppers in multiple ways. You'll have access to views-based targeting, product-based targeting, and interest-based targeting. Here, the availability varies depending on the targeting type.
Views-based targeting – You should go for views-based targeting if you want to focus on retargeting and remarketing. You can re-engage buyers with high-purchasing intent who have visited your product details page or a competitor's product listing.
Product-based targeting – If you are willing to promote cross-selling, product targeting is the right strategy for you. With this option, you can promote awareness among buyers who are browsing for or purchasing similar or complementary products and categories. These ads will usually appear on the relevant product details page.
Interest-based targeting – If your campaign goal is to drive brand recognition, the interest targeting type will work for you. These ads target customers looking for a similar product or a product that falls under the same category.
Amazon vendors or advertisers have access to all three ad targeting types, while sellers have access to product targeting and views targeting only.
Things to keep in mind when opting for Sponsored display:
Amazon Sponsored Display ads vary from Sponsored brands and Sponsored products in terms of their placement, position, and intent.
Often, advertisers may confuse between the Sponsored display and Amazon DSP. Here's the difference – Sponsored display ads are generated automatically and launched quickly, while Amazon DSP allows advertisers to purchase ads at scale. Secondly, sponsored display ads are purchased based on CPC (cost-per-click), while ads purchased through DSP vary by format and placement based on the prices.
What's changing with Amazon Advertising?
Amazon started to unify all its advertising services lately. In the first half of 2020, Amazon notified sellers that it will merge the self-servicing advertising platforms of seller central and vendor central into a single platform, calling it the Amazon advertising console. Earlier, both the services (Amazon marketing services and Amazon Advertising Platform) were diverse. Both Amazon vendors and sellers have different advertising capabilities to grow their business.
This new change seems to be a part of the Amazon advertising unification strategy.
How will sellers benefit from this?
The goal of this transition is to improve customer experience and create better navigation. Amazon is separating advertising operations from account operations.
This helps merchants centralize their activities and take a better look at their advertising metrics and optimize performance.
Final Thoughts
Staying on top of Amazon advertising can be tiring, especially if you don't see any commendable results. You may need to use a combination of all three advertising options depending on your end goals. In addition, you need to optimize the existing campaigns to achieve better results constantly. Without that, you are losing money and the opportunity to reach new customers.
If you are not sure where to start or how to optimize your campaigns, get in touch with our experts or drop us an email at support@sellerapp.com. Our growth consultants will be happy to help you.
Happy Selling!
Recommended Reading:
Understanding Amazon Vendor Central Reports
What's new with Amazon vendor central
How Much Does Amazon Advertising Cost
Was this post helpful?
Let us know if you liked the post. That's the only way we can improve.