Most sellers expand their operations and leverage Amazon's offerings by listing sponsored products, becoming an FBA seller, and lending from Amazon.
But there's one prominent opportunity Amazon offers that most sellers aren't aware of – Amazon Renewed.
But what does Amazon Renewed mean and is it good for your business? Let's take a quick look at all the things that will be covered about Amazon's latest service offering – Amazon Renewed –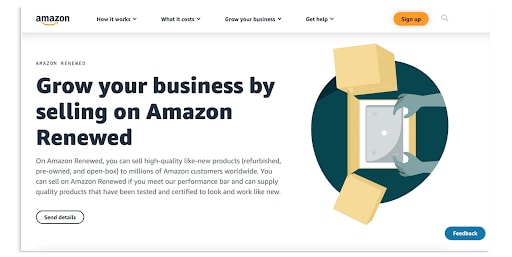 What is Amazon Renewed?
Amazon Renewed is one of the latest initiatives of Amazon that allows sellers to sell items "like new". There are three categories of products eligible for Amazon Renewed. They are:
They are:
Refurbished: Products that have been used, but the customer returned it because it was faulty, or they didn't want it anymore.
Pre-owned: Similar to refurbished products, these products have been used too, but happen to be in better condition than refurbished products, when returned.
Open-box: Products that were unpackaged, but the actual item wasn't used by the customer.
All Amazon Renewed products have been inspected, tested, and cleaned by qualified Amazon Renewed sellers before repackaging and reselling so that they look and work like new products.
Amazon Renewed products do not usually come in their original packaging and some of them may have minor physical defects like a scratch or mark, but they usually work like new – as promised. Therefore, most of the time, it is difficult to differentiate between a Renewed product and a brand new one.
Amazon Renewed products usually come with Amazon Renewed Guarantee, a limited warranty that guarantees that the renewed product should work absolutely fine until 90 days after purchase; otherwise, the customer is eligible to opt for a free refund or replacement.
What products can you sell on Amazon Renewed?
Amazon Renewed program allows sellers to sell products as "new" only if they are in a high-quality condition that not only meets Amazon standards but also customer expectations.
Not every product category is eligible to be sold through the Amazon Renewed program, but refurbished/renewed products in the following categories do:
Automotive Parts
Watches
Home Appliances
Television Sets
Tablets
Kitchen Appliances
Laptops & Computers
Musical Instruments
Outdoors & Sports
Office Equipment
Smartphones
Home & Industrial Tools
Headphones & Audio
Video Game Consoles
Cameras.
How to join the Amazon Renewed program?
We have outlined the steps for entry into the Amazon Renewed Program below. Follow these simple steps and get started today –
Become a Registered Seller on Amazon
If you want to sell refurbished, pre-owned and open-box products on Amazon Renewed, you must be a registered seller on Amazon.
If you're new to Amazon, you can create a Seller Central account and become a qualified Amazon seller.
Here are some of the things you would require signing up for Amazon's Seller Central:
a business email address,
a credit card,
a government ID,
tax papers,
a valid phone number, and
an active bank account.
While you're at it, you may also try enrolling yourself on Amazon Brand Registry, which provides sellers with versatile tools for a hassle-free business on Amazon.
Understand the Requirements
Amazon does not allow every seller to join the Amazon Renewed program.
There are certain criteria you must meet to become a qualified Amazon Renewed program member. You have to apply and be accepted. In order to be eligible, you must be able to prove that your refurbished products look and work like new. Below are the important requirements you must meet to join the Amazon Renewed program:
Provide invoices for the refurbished products you have purchased that meet Amazon's minimum order number: either 500 units or units worth $5000. The invoices must consist of a total value of at least $50,000 and shouldn't be older than 180 days (for products under Home Improvement, Lawn & Garden, Outdoors, Kitchen, Sports, Toys, or Automotive categories), or 90 days (for other categories).
To sell refurbished Apple products, you must provide invoices with a total value of at least $2.5 million. You may blur the unit purchase amount if you want.
Provide a minimum warranty period of 90 days for your refurbished products.
If you are an existing Amazon seller, you have to maintain an order defect rate (ODR) of 0.8% or less in the trailing 90 days.
If you want to sell factory-refurbished items that have no manufacturer warranty, you must provide at least 8 images of a sample refurbished product for review. The images must display the box that will be used to ship the item(s), packaging inside, and the product from the top, bottom, and all four sides.
Recommended Post : What is the Amazon Manufacturer Part Number?
Find Product Opportunities
It is important to show Amazon that you have enough inventory, which is why you must find a product that has high demand and less competition.
Of course, you don't want to fill your inventory space with just anything. You have to analyze several factors before purchasing the right product. Some of them are:
High demand and low competition: You must choose the product that isn't sold by a lot of sellers at the moment. Do not forget to check its demand in the market too.
Not sold by Amazon: Make sure that the product you want to sell isn't sold by Amazon directly. If you choose a product that is sold by Amazon as well, you won't be able to compete with the rankings and end up making hardly any sales.
Competitive price: Set the price of your product within 2% of the product's current Buy Box price. Any higher than that will make it difficult for you to sell.
The easiest way to find such products is to use SellerApp's Product Research tool that helps you find the most appropriate products with low competition and high demand. Not only that, but it also displays several other crucial metrics that will determine your final decision.
Here's a quick step-by-step guide on how to research products with SellerApp:
Use the Product Research tool to identify and categorize product opportunities based on the filters of your choice (e.g. estimated sales, rating, price, etc.). If you are not sure about the filters, click on the "Smart Filters" button and let the platform's powerful algorithms sort the most appropriate product opportunities for you.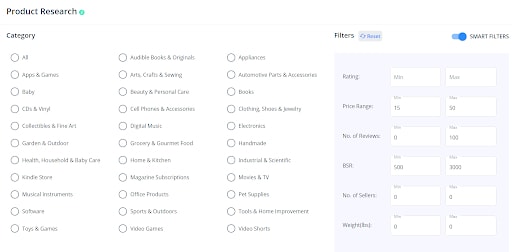 Next, click on "Search" to begin the process.
Once the tool has filtered and categorized your search results, analyze the product prices, opportunity scores, and ratings to identify the most appropriate product(s) to source and sell.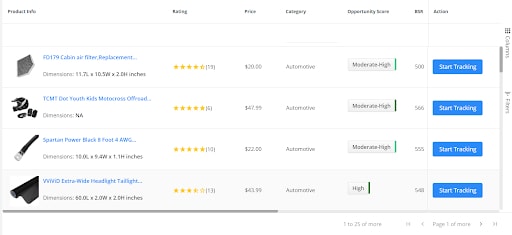 Finally, when you've found several products that are appropriate for selling, use the Product Intelligence tool to check their overall listing quality and keywords and determine their conversion potential and rankings.

To understand better, click on this detailed report and learn how you can research the right products like a pro.
Source Products
Once you've figured out what you want to sell, you need to source your products. Here is a list of ways you can source your products:
Liquidation companies: Manufacturers often sell their excess merchandise to liquidation companies, who then refurbish those items and resell them to other third-party sellers like you.
Manufacturers: Third-party sellers and retailers often buy merchandise directly from manufacturers and sell them as refurbished.
Alibaba: If you prefer the private label process, you can opt to buy wholesale certified-refurbished goods on Alibaba.
Apply for the Amazon Renewed Program
Now that you have already figured out what to sell and how to source them, visit the Amazon Renewed page and apply there. After the completion of your Amazon Renewed application, wait for 10 business days to hear back from them.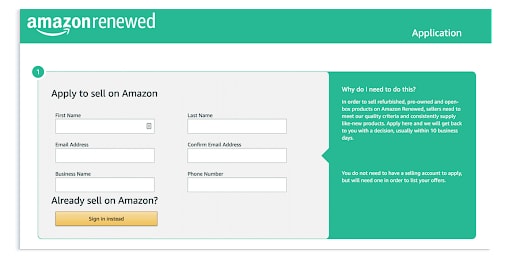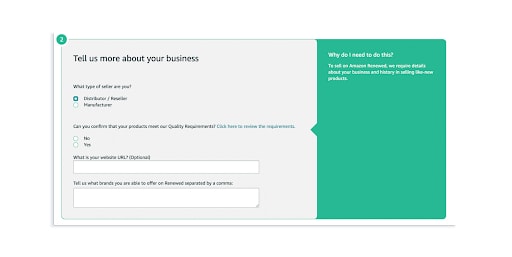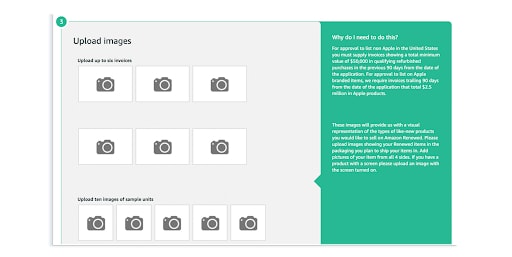 Why should you join the Amazon Renewed program?
There are several benefits you can avail of while selling renewed or refurbished products on Amazon Renewed. However, along with benefits, the Amazon Renewed program has certain drawbacks too. Find out what are the pros and cons of joining the Amazon Renewed program and decide what's the best for your business-
Pros of Amazon Renewed
Less competition
Not everyone can sell renewed products on Amazon. Only sellers who can qualify the Amazon Renewed program standards and can consistently maintain the quality of their items like they are new are eligible for the program. This means there is a huge opportunity to succeed for the few who are accepted.
A huge pool of customers
Amazon's U.S. marketplace gets over 2 billion visitors every month with the highest conversion rates as compared to any other e-commerce giant. Hence, it's a huge market where you can display your renewed products and enjoy high customer satisfaction in no time.
Leverage Amazon's proven e-commerce solutions
Amazon's lending facilities, Amazon Buy Box option, and FBA offerings enable sellers like you to grow their business like no other. It allows you to sell your refurbished products across Amazon's entire global marketplace.
Cons of Amazon Renewed
Impact on Brand image
The Amazon Renewed program may not be the right option for your brand if you are too cautious about your brand image. This may especially be the case with luxury items that depend heavily on elite customer experience and building brand credibility. Hence, such brands wouldn't want to substitute their premium products with renewe3d ones.
Cannot be detected easily
A major drawback of Amazon renewed products is that they appear in search results along with new products. Therefore, sellers must ensure that their renewed products can be easily differentiated by customers to avoid confusion and loss of credibility later.
Too high discounts
If you offer too high discounts, there is a high chance that arbitrage sellers may purchase your products at lesser prices and resell them on other platforms like e-Bay and Facebook Marketplace.
How to drive sales using Amazon Renewed?
Grow your business using these simple tips for selling refurbished products on Amazon:
Final Thoughts
If you're looking to sell refurbished products, or you want to expand your current Amazon business, Amazon Renewed is the ideal program you need to grow and build your business.
To begin with, simply search for product opportunities on SellerApp and track them for detailed insights on their sales potential over time.
Additional Read :
The Amazon Wish List – Everything You Need To Know
Amazon Sponsored Products vs. Sponsored Display Ads
Top 5 Problems Encountered by Newbie Amazon Sellers
Was this post helpful?
Let us know if you liked the post. That's the only way we can improve.