The Amazon supply chain is undoubtedly one of the most efficient in the world. The e-commerce giant is infamous for its large-scale operational efficiency. It makes one wonder what it takes to have everything planned down to a T, doesn't it? So how does Amazon's supply chain work? We thought it'd be illuminating to elucidate on the workings of the Amazon supply chain model and the technology and management techniques involved.
Amazon went from renting their first warehouse in 1996 when they were selling only books, to currently having about 185 fulfillment centers all around the world for products of all categories. They've come a long way since then, and it is important for sellers and customers to know what goes on behind the scenes along with the Amazon supply chain challenges
From the time a manufactured product is sourced to a warehouse where it is stored, to the time you place an order and until it is delivered to your doorstep, it's a complete process. The personnel, time, and technology involved are of paramount importance.
Quick guide
What is Amazon's supply chain strategy?
The Amazon supply chain optimization applies to the activities of storage, delivery, inventory management, and so on. To understand this better, let us first take a look at the two fulfillment options used by sellers and vendors –
FBA and FBM.
FBA (Fulfillment by Amazon)
With Amazon FBA, sellers don't have to worry about anything fulfillment-related as Amazon takes care of every aspect. Numerous third-party sellers use this fulfillment option. All they have to do is have their sourced products sent to an FBA center. From the time it reaches the fulfillment center, Amazon will preside over storing the products systematically, packaging, and shipping them to customers. All delivery aspects will be taken care of. The returns and exchanges of products and customer support for any product-related issues are also handled by Amazon.
FBM (Fulfillment by Merchant)
Some sellers prefer managing warehousing, packing, and delivery of their own products and this is called FBM. They will carry out all the fulfillment activities for their products on their own.
They have state-of-the-art logistics and their own Amazon supply chain software in place to conform with the super-fast delivery options they offer their customers. With an Amazon Prime membership entailing same-day shipping and 2-day shipping options, Amazon has advanced technology and equipment like robots and other mechanisms in place to ensure customer satisfaction.
How does Amazon supply chain management work?
What we need to primarily understand now are Amazon's warehousing and delivery operations.
From the time a customer places an order for a product on Amazon, the process begins at the FBA center. The product is picked and matched with its order barcode, and it is then packed and on its way to being delivered to the customer. Amazon has large warehouses everywhere that are of different sizes and serve different purposes.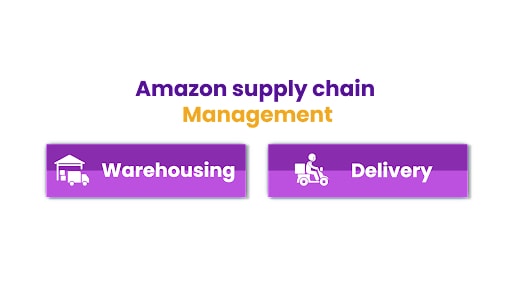 Each of their warehouses has the following storage areas that are uniform to all:
Random storage – This is meant for the storage of small items that have moderate demand
Reserve storage – This is meant for the storage of products that are irregularly shaped and have lower demand.
Pallet Prime storage – This storage area is for high demand and full case products.
Case Flow Prime storage – This storage area is meant for broken case products and those that have high demand.
Library Prime Storage – This storage area is meant for books and magazines.
Furthermore, these are some of the warehouse types that Amazon has:
Prime Now – These are warehouse facilities for storing products that fall under a limited category but have high demand. They require delivery within a 1 to 2-hour time frame from when the order is placed.
Pantry warehouses – these warehouses are meant for dry grocery, perishable, and frozen food items.
Sortition centers – This is where packages are sorted for one particular geography.
Delivery stations – These deal with last-mile logistics from where products are sorted and delivered straight to the shopper.
Amazon's warehouses have a lot of their functions already automated in addition to having workers on-site. The advanced technology they use also includes robots that simplify the sorting, picking, and packing process.
Delivery
Amazon offers a variety of delivery options for customers to choose from depending on whether they're Prime members or standard customers. As of the first quarter of 2021, Amazon reported 200 million paying Prime members worldwide, up from 150 million paid Prime members around the world at the end of the fourth quarter of 2019. Since 2014, Amazon Prime memberships have not ceased to increase (source). Prime members can choose from same-day delivery, one-day and two-day delivery, or delivery within 1-2 hours.
They also offer No-Rush Shipping which is ideal if you don't need your order urgently. This option allows for 6-day product shipping along with a discount. There is also Designated Day delivery, Release Date Deliveries, first-class and free super-saver delivery options to choose from.
For delivery and transportation, Amazon uses trucks and even has something called a cargo Amazon Air which is used for air transportation of their packages. Amazon's trucks form a huge part of their package transportation system and their fleet of trucks is only growing by the day. A futuristic approach to speeding up delivery has been achieved with the use of drones as well. In addition, they have bikes and vans too.
When a customer places an order on Amazon, the products are picked at the FBA center and have to pass a quality check before they can be packed. It's a well-known fact that Amazon is big on quality and customer satisfaction. Once the quality assurance is done, the products are then ready to be packed. There are different sizes of boxes available for products according to their dimensions and the sealing tape is also measured accordingly.
What are the key success factors in the supply chain of Amazon?
The Prime membership option is pivotal to the success of the supply chain of Amazon. The 2-day and 2-hour delivery options made Amazon stand out from the competition and claim the winning spot in the e-commerce world.
Amazon's warehouses are now starting to be in closer proximity to the main centers of the major cities. This makes sure that the time taken for the order to be delivered to the customer is significantly reduced. The fulfillment centers are also super-efficient and equipped with robots. This type of automated equipment that works round the clock to pick the products and package them quickens the process a great deal.
Strategically using transportation that is suited to the level of demand and with the help of the most convenient way to reach the product to its customer is one of the reasons behind Amazon's success. The use of Amazon Air has further hastened the movement and delivery of products from point A to point B along with other carriers like UPS.
The global supply chain by Amazon aided by the Amazon European Fulfillment Network has also been largely successful. It has made it easy for sellers from different countries to sell in foreign marketplaces with ease, thus giving their businesses a monumental boost. Shoppers everywhere trust Amazon and sellers get access to a large customer base overseas. All this along with great potential and without having to spend too much money on building brand image and awareness.
The challenges facing Amazon supply chain
As efficient as it may be, everything comes with a host of problems or there are always some risks involved. Let us take a look at some Amazon supply chain issues.
While the Prime service is great for customers, it works differently for sellers. FBA sellers' products qualify for free shipping, but they have to bear the shipping costs of their products. They don't have the option to choose which of their products to offer with free shipping. Since all their products come under this service, the shipping costs tend to eat into their profit margins.
There is the issue of delays in the time taken for Amazon to log all the inventory into their system. This in turn causes delays in the packages being ready to deliver. This sort of delay has a direct negative influence on customer satisfaction which results in negative star ratings and reviews. Unforeseen delays of this sort result in sellers' capital being affected.
The Amazon supply chain risks also include the chance of your product getting lost in the sea of products that are dealt with on an hourly basis. Amazon compensates sellers for any items that may get lost, but they decide on the amount irrespective of how much you spent on it. This results in sellers suffering losses. Find out more about FBA reimbursements from our detailed blog.
There are times when the demand for some products is incorrectly forecasted by Amazon supply chain analytics and this affects consumer satisfaction. The problem is that the forecast depends on a product's sales history and prevailing trends. This cannot always be relied on while making decisions related to stocking up for the peak shopping seasons. You can use a tool like SellerApp's Profit Dashboard to get accurate sales insights and carry out effective inventory management. This way, you will never face any roadblocks in terms of stocking up just the right amount.
Last-mile order deliveries during busy shopping seasons sometimes wind up having problems in logistics. This results in a lot of unhappy customers who don't receive their orders as planned. However, it has prompted Amazon to take over this aspect as well on their own so the problems with last-mile deliveries are reduced.
Final thoughts
The Amazon supply chain has stood the test of time and is undoubtedly one of the most efficient in the world. It has taken the e-commerce world by storm and prompted other companies to level up and provide fast delivery to their customers. Of course, it has its pitfalls, but its success far outweighs the problems it faces.
Was this post helpful?
Let us know if you liked the post. That's the only way we can improve.