With over 12 million products, Amazon's product catalog is ever-growing. Thousands of new ASINs are created every day for these products.
So what is Amazon ASIN, why is it important, and how to get one. Let's understand all of these in this article.
A quick peek into the content
What is Amazon ASIN?
ASIN stands for Amazon Standard Identification Number. It is made up of 10-characters: numbers, alphabets, or a combination of both. It is a unique identifier assigned by Amazon.com and its partners. This means each product has its own unique code with which customers can identify the product that they are looking for. You cannot find two items having the same ASIN. 
ASINs are only unique within a marketplace. So you may have different ASINs in different marketplaces, for the same product.
Note: For books, the ASIN is the same as the ISBN.
Where is Amazon ASIN used?
Amazon's ASIN is unique and is not only used on Amazon.com but also the other marketplaces such as Amazon.ca, Amazon.co.jp, Amazon.cn, Amazon.de, Amazon.co.uk, Amazon.it, Amazon.fr, Amazon.es, and so on.
Check out this guide to know about Seling on Amazon UK.
When should you create a new ASIN or use an existing one?
For each product sold on Amazon, there will be only one ASIN on the product page. So this makes it easier for customers to identify them. If Amazon finds any duplicate ASINs, they are merged.
So, let me give you a few cases where you should consider an old ASIN or get a new one.
Use an existing ASIN:
Before you sell a product on Amazon, check if an ASIN exists for your product. If it exists, you can sell your product under the same ASIN. By doing this, you share the same product page with other sellers who offer the same product. In general, resellers and retailers come under this category.
When to create a new ASIN
When you check an ASIN on Amazon, if you don't find one, you'll need to create a new one. You need to create a new product in Amazon's product catalog first. Once you create the product, Amazon will assign a unique ASIN to help you start selling the product. Private label sellers, brand owners, and sellers with exclusive distribution rights follow this path.
In a nutshell, you need to create a new Amazon ASIN, if you want to sell a product that isn't listed on Amazon.
How to find an ASIN on Amazon?
You can find an ASIN in three ways.
Product URL
Search for your desired product on Amazon. Click on the product in the search results and open the product details page.

You can find the ASIN in the product URL.
Product Information
Scroll through the product information section to find the ASIN on the product page.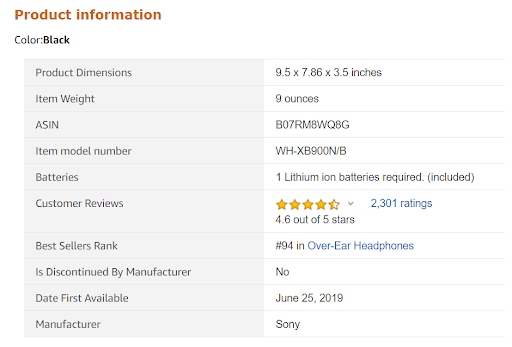 Along with this, you can also find ASIN details while adding a product on Amazon. Search for the ASIN in Amazon's catalog.
Why is Amazon ASIN important for your business?
Amazon ASIN is important both for you and Amazon because it is used to track your inventory, as a reference for catalog data, and to index product catalog pages to search and browse.
Your Amazon ASIN number is the bedrock for the catalog's structure, as it allows shoppers more room to search through multiple product categories. Customers can also type the product description or ASIN into the search box and find the exact product they are looking for.
A product's ASIN helps Amazon to display the exact product in the search results. Therefore, as a seller, it is important to add the right ASIN identifier for your products. If not, Amazon won't show up your products in search results.
Make sure to match your product with an existing ASIN or create a new one if you can't find it in Amazon's catalog.
Amazon ASIN requirements for your product
Amazon has a few restrictions when it comes to adding an ASIN.
If you want to sell a product that already exists on Amazon, you cannot create a new ASIN. You need to match your product to the existing ASIN in seller central.
Depending on the sales history, listing details, and other factors, Amazon may limit the number of new listings you can create. Amazon also suggests you prioritize the product you are listing. This is to increase your sales quickly.
Check Amazon ASIN creation policy details here.
What is the product variation policy?
Amazon sellers often deal with product variations (or parent-child relationships) while adding an ASIN. This allows shoppers to compare and choose products based on certain product attributes like size, color, etc.
Below is an example of different product variations.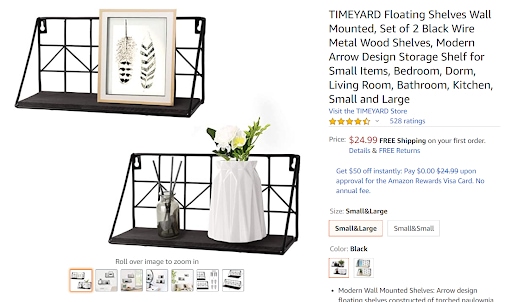 In such cases, you'll have only one parent ASIN and different child variations. However, Amazon has a set of rules to list parent-child variations. This is to restrict sellers from misusing the variations. Read more about this topic here.
How to add unique Amazon ASINs with UPCs, ISBNS, GTINs, and EANs?
As mentioned, manufacturers or brand owners need to add new ASINs for their products.
Using the 'Add Product' feature, you can create an ASIN and product page, and start selling it. For this, you need to know your product GTIN (Global Trade Item Number).
Now, what is GTIN?
A few of the common GTINs include EANs, UPCs, and ISBNs.
EAN (European Article Number): 12- or 13-digit product identifier code.
ISBN (International Standard Book Number): 10- or 13-digit unique commercial book identifier barcode.
UPC (Universal Product Code): 12-digit bar code used for retail packaging across the US.
These codes are generally found near the barcode on your product packaging. If you don't know these codes, you need to check with the manufacturer. If you are the manufacturer, you need to register your product through the ISBN Agency for ISBNs and GS1 US for UPCs.
Recommended Guide: Amazon Manufacturer Part Number.
Amazon uses these universal product identifiers to create and match its own unique ASIN codes.
Amazon Seller – Next steps
Identifying the ASIN is the first step of your seller journey on Amazon. Once your ASIN is listed, you can accelerate your selling process by tracking your ASIN or your competitor's ASIN.
SellerApp can help you with the next steps. You can:
Find out your competitors' ASINs
Find their top-ranking keywords
Find which keywords they are ranking higher than you
Track their products to find the ones that have good BSR, high volume sales, and other key metrics
You can also find better product ideas from competitor analysis and add them to your portfolio.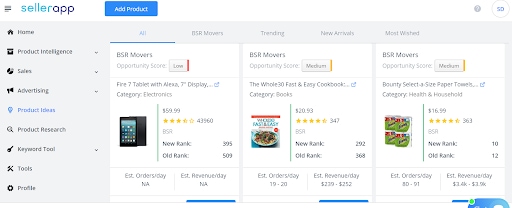 Want to know how? Sign up for SellerApp's 7-day free trial and supercharge your Amazon sales.
Conclusion
Amazon ASIN is a critical part of your selling journey. So you should know how to get one and its importance for your Amazon business. You need to configure a proper identifier for your product, and you will be able to sell more efficiently on Amazon.
Additional Resource:
Was this post helpful?
Let us know if you liked the post. That's the only way we can improve.