Growing Amazon impressions is a crucial part of your customer's purchasing journey. 
The frustrating cycle of low impressions and clicks results in a low sales volume. Besides, a campaign that's not well-executed results in negative ROI and wasted money. Amazon Ads may look like child's play, but it isn't.
There are instances where you are only concerned about raising product awareness such as during an Amazon product launch. During such times, gaining impressions play a crucial role in making your products visible to the customer.
Let's understand how impressions play a crucial role in a customer's purchasing journey and the steps to increase impressions on Amazon.
Quick Guide
If you're well-versed in the basics of impressions and you're here to find out ways to analyze and increase your campaign impressions, skip to this section.
What are advertising impressions on Amazon
Impressions are the number of times your ads appear on Amazon be it on the product listing page or search results page. The total impressions of your Sponsored Product ads, Sponsored Display ads, and Sponsored Brand ads can be seen on your AMS dashboard.
Based on the bid price, budget, targets, and relevance, Amazon's algorithm shows your ads and generates impressions.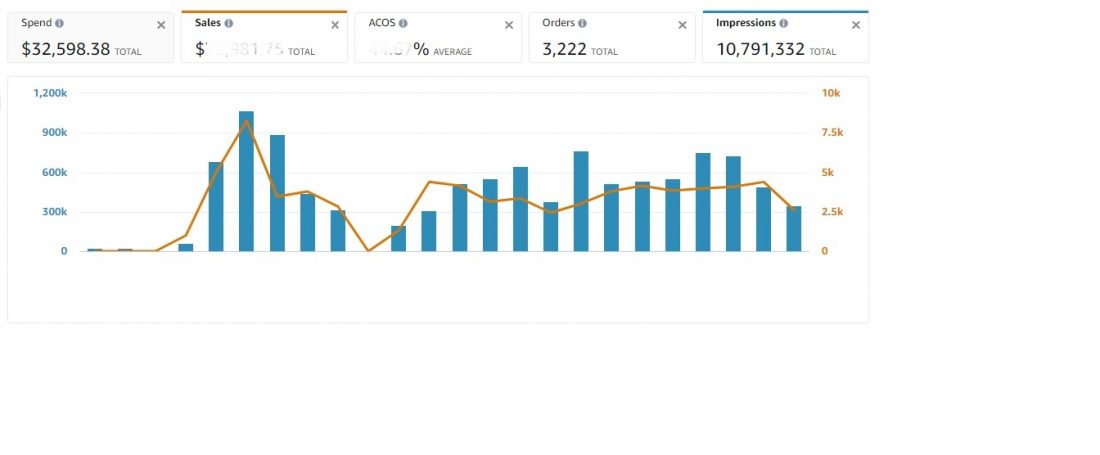 Why are impressions crucial for your Amazon business
Every brand owner desires to place his product in front of a relevant audience. Especially during times of new product launches, they want to showcase the products to as many customers as possible. In such cases, you want to maximize impressions and allow the ads to reach as many buyers as possible.
In a broad sense, impressions are an essential advertising metric because they tell us how far your ads are reaching customers. Impressions cater to the top of your marketing funnel, and you need to monitor this metric in order to increase the efficiency of your campaigns.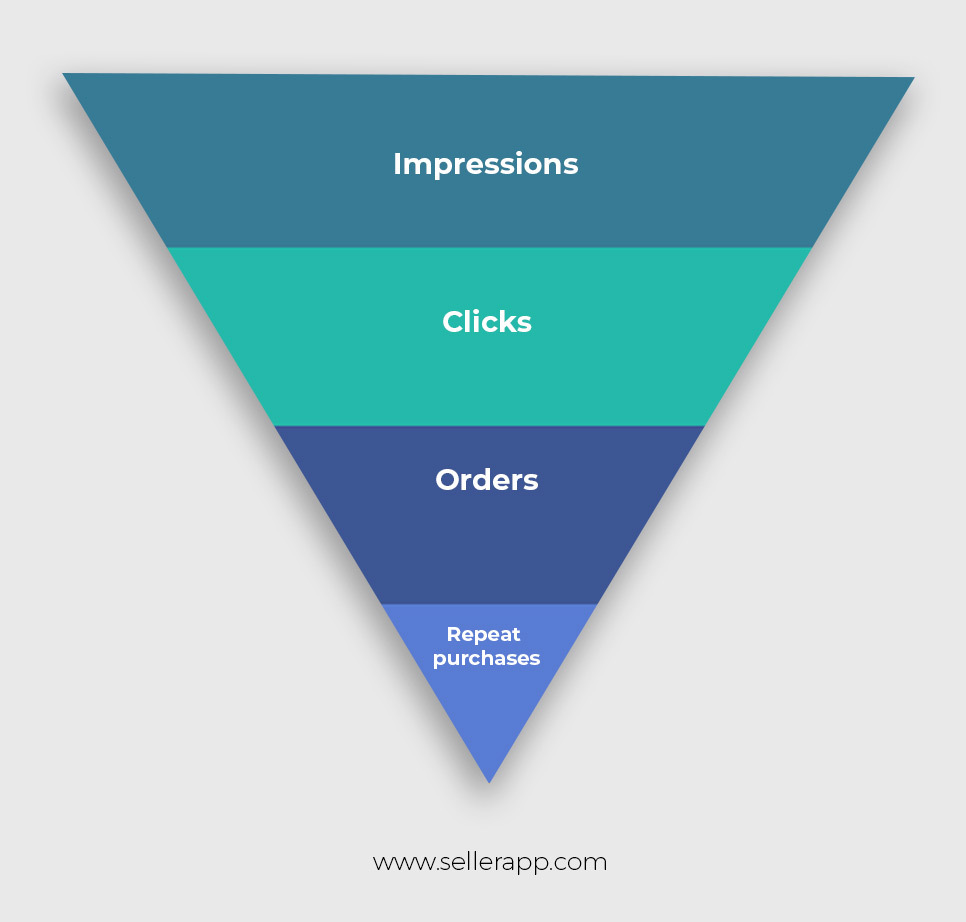 More impressions aren't always better; it's sales and profits that matter to the seller, isn't it? So it's important to set goals for your campaigns and work towards them.
Four ways to increase your impressions on Amazon
Increasing impressions by targeting the right customers are crucial to growing sales. Below are the three ways you can achieve high impressions on Amazon.
Have at least one automatic campaign
Set up at least one automatic campaign to expand the list of high-performing keywords to drive relevant impressions. Auto campaigns allow you to find potential keywords that are relevant to your products.
This is also called keyword harvesting. Take these keywords and target them in your manual campaigns. Have a look at customer search queries in your manual campaigns periodically to filter the ones that have a higher number of orders. Target these search terms in your campaigns to further increase your campaign relevance and impressions.
By using automatic and manual campaigns together, you can increase your campaign reach to the right audience who have an affinity to buying your products.
Right keywords are the key
Know how your customers search for your products. For example, you call your product 'trousers', but the customers search for similar products as training pants or jogger pants.
In this case, you should add training or jogger pants in the product listing title, description, bullet points, or backend keywords before you target them in the campaigns. This helps you generate relevant impressions for the right audience.
Expand your keywords and adjust match types
This is an extension of the previous point. Let's say you started one of your manual campaigns with 15 keywords initially. By enabling keyword harvesting with automatic campaigns and adding the keywords to manual campaigns, you will increase your keyword reach and thereby maximizing your relevant impressions.
When you target these keywords, ensure you include broad and phrase match types along with exact wherever relevant. You don't have to target broad match types if the keywords are not completely relevant to your products.
Does this sound like trouble to you? Use SellerApp's free Amazon PPC audit tool to determine your Amazon keywords' performance and eliminate wasted ad spending.
Budget allocation – the optimal way
If you want to ensure that you are not missing out on potential impressions, you must monitor your campaign budget. Ensure the daily budget of campaigns is assigned properly so you don't run out of it. Track your spending to see how they are consuming the budget.
You lose traffic if your campaigns run out of budget during the day. This hampers the campaign history, and you will miss out on impressions from potential customers due to budget constraints. So assign a proper budget to campaigns to drive traffic and conversions.
Common issues with Amazon impressions for advertisers – How to solve them
Amazon advertisers potentially face two common problems when dealing with their campaign impressions.
1. Impressions are not increasing
Why are my campaigns not getting impressions? This problem is not uncommon among Amazon advertisers. Your keywords or campaigns may not generate enough impressions when you are just getting started.
However, if the campaign generates fewer impressions even after 15 days or 30 days period, there could be an underlying problem with the campaign that needs your attention.
Here are three steps to troubleshoot this problem
Insufficient data
Did you observe that your keywords or campaigns have not generated any impressions? One probable reason is that your bids are not competitive enough to generate impressions in the first place. Hence the ads are reaching few or no customers on Amazon.
Solution: Bid competitively so your ads are coming up on the search page or listing page wherever relevant and are visible to shoppers on Amazon.
check out this blog to know about Amazon bidding.
Impressions for synonyms and long-tail keywords
The keywords in your ad campaigns should be relevant to your product listing page for the ads to appear and generate impressions. It's true for synonyms and long-tail keywords.
Amazon is a marketplace that's bound to offer the best shopping experience to its customers. It wants to ensure that the products they show to the customer are relevant. So unless Amazon algorithms know that your ads are relevant to the customer, they would not show them to customers. This includes keywords in your ads.
For instance, let's assume you are selling shoes on Amazon and your product can also be called sneakers. You included sneakers keywords in the campaigns, but they are not generating many impressions though you have placed sufficient bids.
However, you have not mentioned 'sneakers' in your listing page – title, bullet points, description, backend keywords, etc. In such a case, you may end up seeing low to no impressions for this keyword in your campaign unless Amazon can tell sneakers are relevant to your product.
Solution: Build relevance by including the right customer search terms, keywords, and synonyms in your listing page or backend keywords. Then use similar keywords in your campaigns. This makes it easier for the ads to be visible on Amazon.
Too many keywords
We cannot emphasize enough the importance of proper campaign structure. If you have included too many keyword targets in one campaign, you may end up receiving zero to low impressions.
You should also check if your keywords are overlapping. For instance, if you have the keyword 'shoes' in the campaign, another keyword like 'blue shoes' may not generate as many impressions as they would be covered under the previous 'shoes' keyword with a phrase or broad match type.
Solution: It's important to properly structure your campaigns and include keywords appropriately.
2. High impressions but low clicks
Another specific problem Amazon advertisers face with impressions is campaigns often result in high impressions but get fewer clicks, thereby low CTR (click-through rate).
CTR = Clicks/Impressions
In the Amazon advertising console, you can see that your campaigns as well as keywords have a specific CTR. Often, a high CTR means more traffic to your product listing page on Amazon, which can result in higher sales depending on the product.
Target the right keywords
You need to pick the right keywords and search terms that are likely used by your customer. This improves your chances of winning a sale. If your ads are generating lower clicks, this could mean that the shoppers aren't finding your ad relevant. So you need to revisit your keyword strategy and try new ones that can increase your sales.
Optimize your ad copy
When you create an ad on Amazon, there are several metrics involved to measure the success of your ad, like bid, budget, and keywords. Winning the PPC auction doesn't necessarily guarantee a sale. When your ads are generating impressions but not clicks, it's time to observe the effectiveness of your ad copy. Find ways to enhance the ad copy for conversions.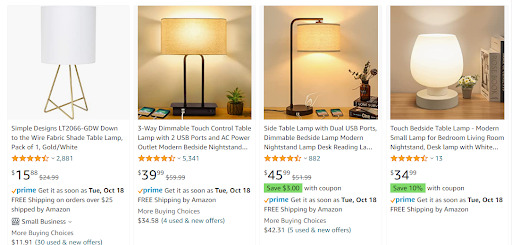 Suppose, a customer is looking for a table lamp and is not completely aware of what kind of product he/she wants to buy. The first things they notice are the image, title, ratings, and price.
As a brand owner, you need to ensure that these factors are well-optimized when fared against the competition. Ensure your listings are fine-tuned as per customers' interests.
Along with that, observe if the competition is offering any coupons or deals for the customers.
Still unsure how to optimize your ad impressions? Navigating through Amazon ads and researching tactics, testing, and implementing them is crucial for the success of your ads.
If you don't have enough resources or time, you can reach out to the SellerApp team where you get a dedicated Customer Success manager who can help you with your ads and listing optimization. The team brings years of experience in Amazon and has worked with over 210,000+ sellers and brands across several Amazon marketplaces.
Amazon Search Term Report – How to use it to your advantage
Analyzing data for actionable insights is a cornerstone of any successful business. If you want to stand out in a marketplace like Amazon, you have to look into the nitty-gritty of the data. Want to increase your Amazon impressions strategically? Amazon search term report can help you with that.
This report gives impression share for each search term compared to other advertisers' who received impressions for similar search terms. You get the overall percentage of impressions your search term received against the competition over the time period you selected.
You need to look at two critical metrics in the Amazon search term report.
Search term impression share – This is the percentage of impression share you received for a specific search term. For instance, if your search term received 20% of the share for the specific timeline, it means the ad for that search term appeared 20% of the time.
Search term impression rank – This metric can be tricky. If your search term rank is 2, it means you are ranked 2nd in terms of impressions for that specific search term. If you have the same search terms in multiple ad campaigns, the rank you see is considered by aggregating all impressions in your ads.
By looking at the Amazon search term report, you will primarily understand where your impressions are growing and where you have opportunities to increase impression share.
Analyzing impressions on Amazon
If you are an advertising expert, you would already know how to analyze impressions. However, if you are just starting out, you should analyze your campaign impressions week-over-week (WoW) or month-over-month (MoM) to measure the growth. This way you can understand if the PPC actions that you're taking on the campaigns are effective or not.
Month-over-month Impression growth (MoM) = This month ImpressionsLast month Impressions 100
Follow the above troubleshooting steps mentioned in the article to boost your ad impressions growth. Most importantly, ensure you keep track of ACoS or ROAS while taking these insights into consideration because it doesn't make sense if your impressions are growing without an increase in sales.
Conclusion
Advertising is only a part of your overall sales growth on Amazon. You need to look at the organic and inorganic traffic and sales contribution to your business. Compare your campaign impressions growth with the overall sales picture. Look at Amazon seller central traffic and sales reports to see if your campaigns' traffic and impression growth are adding incremental value to your business.
Additional Read:
A Step-by-Step Guide to Full Funnel Amazon Advertising.
Was this post helpful?
Let us know if you liked the post. That's the only way we can improve.