An effective Amazon advertising strategy includes sponsored brand ads.
When used properly, Amazon sponsored brand ads capture new-to-brand customers, increase consideration for a brand's products, and thereby enabling awareness among customers. Since 2019, Amazon advertising has been transforming significantly. Within Sponsored brands, we have seen more new targeting options and beta additions lately.
When it comes to your advertising, sponsored brand ads sit right in the middle of your funnel. Let's discuss the best ways to use sponsored brand ads along with the core strategies and ad formats.
Here's a peek into the article:
Let's cover the basics a bit.
Amazon sponsored brand ads – A brief introduction
As I mentioned earlier, Sponsored brand ads cater to the middle of your advertising funnel. In this part, you will find customers who are not ready to buy your product but are familiar with the category you sell in. They intend to purchase a product from that specific category. This is where sponsored brand ads come into the picture. They will allow shoppers to discover your products and increase your brand awareness. This, in turn, will drive conversions as your prospect customer goes farther down the funnel.
Amazon sponsored brand ads to allow shoppers to discover your products in the most prominent places on Amazon, helping you create brand awareness and acquire new customers.
Who can use Amazon sponsored brands?
Amazon sellers who have a verified Amazon Brand Registry account can opt for sponsored brand ads. These ads are visible on both mobile and desktop, and they aid brand visibility while promoting your products.
Amazon sponsored brand ads – 3 core strategies
Here's how you can use the sponsored brand ads.
Grow your brand
Sponsored brand ads create awareness by showing your ads in prominent placements. Use them to your advantage to create awareness among your shoppers. Allow them to discover your brand and products.
Why this is crucial:
Engaging existing customers and allowing them to discover your brand are crucial part of your sales funnel. In a long run, this process helps your brand stand out.
Sponsored brands drive traffic to your Amazon store. These stores are a free customizable way to build traction on Amazon.
Things to implement:
Amazon stores: The subpages within the stores give your customers a good idea of the brand's catalog without the need to browse around. It allows shoppers to connect to the exact sub-page you want them to see. This makes it easy for you to create a more streamlined and brand-centric experience.
To build brand awareness, you can create ads to include generic short-tail keywords with a selection of three of your best-selling products.
Tip: Avoid combining branded and non-branded campaigns as it can be difficult to understand the actual performance of your non-branded and branded campaigns.
Related Post : Amazon Sponsored Products vs. Amazon Sponsored Brands
Optimize search terms
Optimizing search terms will get maximum results with exact match PPC bidding. Target, track, and test outcomes of your campaigns.
Identify high-converting search terms from your campaigns, and move them to exact match type.
You can use SellerApp's 'Target Improvement' for better optimization. Login to our dashboard, go to 'Advertising' and 'Insights.' You will find 'Target Improvement' feature. This helps you find top-performing search terms based on clicks, spend, ACoS, sales, orders, etc.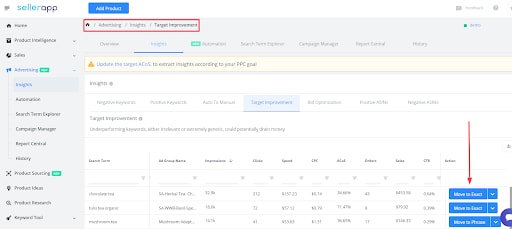 Refine keywords by moving the high-performing search terms to exact match type. This will reduce bid costs while improving conversions. As a result, your ACoS will reduce while boosting total sales. This is one of the crucial strategies for all amazon advertising types, including sponsored brands.
Why this is crucial:
The keywords you pick for your ads should be highly relevant to the products you are advertising. Narrowing down the keyword selection lowers the amount spent on the campaigns. A search term optimization strategy helps you target ads with maximum efficiency and minimize the cost of bids.
How to execute:
Take broad match type keyword campaigns and find high-converting keywords. Then, move them to exact match campaigns for further optimization.
Align metrics with goals
If you want your Amazon sponsored brands to deliver effective outcomes, you need to align your ad spending with your goals and relate them to your product and brand margins. So focus on your KPIs like Amazon CPC, ACoS, sales, etc.
Why this is crucial:
Your CPC may vary for different ad placements. So take strategic measures about ad spend.
Target a specific ACoS for each campaign. If you're new to setting ACoS, make sure you check out this blog.
How to implement:
Here, you need to work on two things.
Break-even ACoS: It is the tipping point between a profit-making and a loss-making campaign. You can refer to the above blog for more details on this topic.
Determine customer lifetime value
Your campaigns will need to have two goals – Short term and long-term.
These long-term goals include your customer lifetime value (CLV). Understanding the customer lifetime value associated with different products will help you craft long-term strategies for customer acquisition and retention.
Align your ACoS with these long-term revenue goals to make strategic decisions and drive profits upfront.
Get help when you need
To work out and maintain your ACoS targets, you might want to take help of business intelligence tools that uses machine learning to analyze data from reliable sources.
Putting our cards on the table, SellerApp can do just that. You can drop an email support@sellerapp.com or get in touch with us if you want to learn more.
Few things to consider:
Customization: Customize your ads in a way to drive potential customers to your Amazon store. Get them to discover the products that you want to sell.
Why this is important:
To drive brand awareness, you will want to create ads that generate impressions. If your goal is more sales, you will want ads that up your conversion rate. Different ad types excel at delivering different outcomes, and selecting the right ad for the job is important to maximising your success.
New-to-brand metrics: Sponsored brand ads offer unique reporting metrics called "new-to-brand." These inputs help sellers to measure the first-time customers for products, total first time sales your brand acquired on Amazon, along with the percentage of total sales that are 'new-to-brand' within the past 12 months.
Formats
The main ad formats available in sponsored brand ads are:
Product collection ads
Store Spotlight ads
Sponsored brands videos
Product collection ads:
The product collection ads will help you grow your reach of top-selling items within a category. One of the major benefits of these ads is they drive product awareness when your products are less visible organically.
Like sponsored products, we can opt for amazon product targeting and keyword targeting within sponsored brand ads.
Store spotlight
Store Spotlight (Beta) is a new ad format which is intended to drive shoppers to your Amazon store rather than a product detail page.
Eligibility Criteria
You need to register your brand under the Amazon brand registry. Have an Amazon storefront with at least three sub-pages, and within each sub-page, you must have at least a unique product. So even if you have two sub-pages, then you cannot access the Amazon store spotlight feature.
Sponsored brands video ads (beta)
The advent of sponsored brand video ads are a real game-changer. This format allows sellers and brands to feature a product with an auto playing video. As the video plays automatically, it is better to have the product in plain sight within the first few seconds of the video. This video is played at the top of search, product detail pages. These tend to have a higher conversion rate.
So, these ads are worth investigating and adding it to your strategy.
Keep up to date with new ad types and formats
With the changes ramping up in the Amazon advertising space, new ad formats and features are expected to show up. So staying up to date with them would give an edge.
Final thoughts
If you're a seller or brand interested in growing your Amazon business, you can sign up for a 7-day free trial and try our features for free, or check out our managed services.
Not sure where to start? Our account management team will give you the right direction you need. Drop us an email at support@sellerapp.com.
SellerApp is happy to help!
Additional Read:
Sell More with Amazon Action Plan
Was this post helpful?
Let us know if you liked the post. That's the only way we can improve.