Hey Amazon sellers! If you agree with the point that videos are one of the best forms of Amazon advertisements, you are right! Video advertisements are one of the most contributing advertising elements on Amazon. A customer can understand a lot about a product just from a few seconds on the video. Did you know the average click-through rate (CTR) of a good Amazon video advertisement is 7.5x higher than display ads!
There are multiple parameters a video has to abide by before it is approved by Amazon. We will also grasp the Amazon advertising best practices to boost your brand awareness on Amazon. So, let's get started!
What is an Amazon advertising video?
Amazon advertising videos are attractive representations of a specific product that a seller wants to display on Amazon. You will be able to see the Amazon video advertisements once you scroll down halfway through a results page. Amazon advertising videos take on the job of concise storytelling. This can create an everlasting impression on your audience if you are an Amazon e-commerce seller. Once you're a seller registered on the Amazon brand registry, you are now allowed to upload an ad video.
What are the different types of Amazon advertising videos?
Amazon DSP video advertisement
Amazon DSP video ads present one of the most versatile and targeted advertising choices. Amazon Sellers and Vendors can now display ads off-Amazon and drive visitors to both on- and off-Amazon destinations). Brands that don't sell anything on Amazon can use aggregated and anonymized Amazon consumer data to target ads programmatically.
Amazon Sponsored the brand's video advertisement

Use Sponsored Brands video to stand out in Amazon's shopping results on desktop and mobile devices, and to help shoppers discover your brand and items as they purchase. Ads are keyword-targeted, pay-per-click, and direct customers to product detail pages where they may learn more and buy.
Templated Amazon Video ads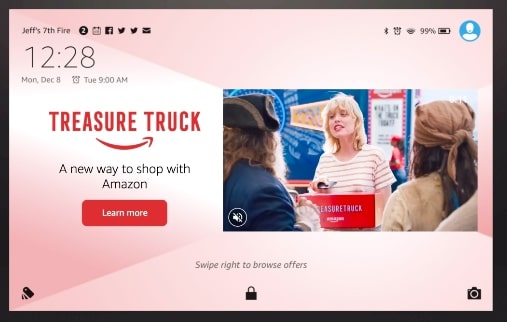 Templated Amazon video ads can be observed on the Amazon Fire device. Once the device is switched on, the advertisement is automatically played. You can unmute the sound of the ad easily by tapping on the unmute icon. The duration of the advertisement will be for 15 seconds. Here, you will be able to see the video advertisements that will display an array of different products or services. This will include apps, movies, products, and other Amazon services.
Amazon Advertising video ads
On Amazon's websites, mobile apps, and Fire tablet wake screen, advertisers may reach Amazon customers with customized video advertising. For an engaging Amazon advertisement video experience, use out-stream autoplay video to convey your brand message. This is a very common video advertising that you can see throughout the different platforms run by Amazon.
Recommended Read: Why You Should Outsource Your Amazon PPC Services.
What does the Amazon seller aim for through Amazon advertising Video?
Amazon advertisement videos are gateways to a quick product introduction. If you are a seller on Amazon, having a video advertisement is extremely important to get more clicks on your product page. The Amazon video ads help in introducing what the seller wants to convey to you through his product. Amazon sellers utilize this opportunity to produce their brand story to the customers who visit different result pages.
Once the customer is aware of the product and its brand story, they will be influenced to make an option to get that specific product. Although this does not happen every time a customer sees an Amazon advertisement, the chances are higher than normal. Amazon sellers aim to add more value to the product by making an emotional connection with the target audience.
Amazon video ads were added to the Amazon platform in the year 2020. Amazon's advertising video targets to create a unique impact on the customers. A good advertisement video can easily increase the sales of a product. Sellers depend on video ads to increase the conversion rate of a product. To reel in these numbers in, the sellers have to create the video with certain constraints and quality benchmarks. These quality guidelines can vary from video size, quality, and the specific content that is displayed in it. SellerApp can help you optimize the Advertisement video with the help of the top-end Amazon listing quality analysis tool.
Amazon advertisement video specifications and quality regulations
Amazon wants every seller to follow strict quality and regulatory guidelines to offer the best customer experience. If you follow these guidelines, your video will help you have a better Amazon conversion rate.
1. Amazon DSP Video & Audio Specification
| Type of Ad Serving | First-party or third party |
| --- | --- |
| Maximum size of the file | 500MB |
| The aspect ratio of the video | 16:9 |
| Duration | A duration of 15 seconds, 20 seconds (Only for the UK), or 30 seconds is mandatory for Amazon Publisher Services (APS) and Amazon O&O. Any duration is accepted for 3rd party exchange inventory. |
| Minimum size of frame | 1920x1080 |
| Minimum bitrate for the video | 4mbps |
| Recommended bitrate for the video | 8mbps |
| Frame rate for video (fps) | 23.976 (recommended), 24, 25, or 29.97 |
| Frame rate mode for video | Constant |
| Audio bitrate (Minimum) | 192kbps |
| The sample rate for audio | 44.1kHz or 48kHz |
| Formats that are supported | Video: H.264, MPEG-2, or MPEG-4; Audio: PCM or AAC |
| Audio Channel | 2-Channels (Minimum) |
2. Amazon sponsored brand video regulations.
| Video duration | Video duration should be in between 6 and 45 seconds. (30 seconds of below is preferred) |
| --- | --- |
| Video dimensions | 1920 x 1080px, 1280 x 720px or 3840 x 2160px |
| File size | Below 500MB |
| File format | .MP4 or .MOV |
| Aspect ratio | 16:9 |
| Video codec | H.264 or H.265 |
| Video profile | Main or Baseline |
| Frame rate | 23.976fps, 24fps, 25fps, 29.97fps, 29.98fps, or 30fps |
| Video bitrate | 1 Mbps (Minimum) |
| Video scan type | Progressive |
| Audio codec | PCM, AAC, or MP3 |
| Audio format | Stereo or mono |
| Audio bit rate | 96 kbps |
| Audio sample rate | Minimum 44.1khz |
| Letterboxing or pillar boxing | Black bars on the side of the video are not permitted.  |
3. Templated Amazon Video Ads Audio & Video Specs
| Name of components.  | Requirements |
| --- | --- |
| 1. Image for Logo | Minimum dimensions: 600x100px (width x height)Maximum dimensions: 700x200px (width x height)File format: JPG or PNG |
| 2. Video | Resolution: 1280x720px (Higher resolution is accepted)Video aspect ratios: 16:9 or 16:10File format: .mp4Max Duration of video: 15 secondsFile size: It should be less than 500MBAudio: It is requiredLetterboxing is not allowed |
| 3. Headline Character Limit | 50 characters are permitted (maximum) |
| 4. CTA - Button | Choose from the following options: Shop now learn moreSee details-order nowBuy ticket sent now rent or buy now Get a quote watch now |
| 5. Video content rating | Content rating is only required for 12/13 years or of higher age. E.g. TV-PG, PG-13, and Teen (ESRB). |
d. Amazon Advertising video ads
| Requirement for the video asset | |
| --- | --- |
| Dimensions of the video | 1920 x 1080 pixels (16:9) recommended |
| Frame rate | 15 FPS (Minimum) |
| Audio | 128 kbps / 44 kHz |
| Bitrate | 2 MBps |
| Preferred codec | Video: H.264, MPEG-4 or  MPEG-2 ; Audio: MP3 or AAC |
| Size of file | Below 500 MB |
| Video duration | Mobile & Desktop - 3 minutes is permitted. The best recommendation is to do 15 seconds or less. Fire tablet - Video duration can be at a maximum of 15 seconds. |
| Letterboxing | There should not be black bars on any side of the video. |
Amazon Video Advertisement rules and regulations.
Amazon DSP advertisement video rules
Amazon prohibits the use of content related to alcohol, astrological or psychic advice.
In the case of charities, the content should only be focusing on the positive impact of the movement.
In terms of dating, the content should only focus on friendship, commitment, and relationships. It cannot display sexual innuendo or promote meeting people for sex.
Content rated PG/TV-PG will be day parted and only displayed to the audience between 6 AM to 6 PM.
The advertisement must include the age rating of the content.
Amazon Sponsored brand video advertisement.
There should be no black frames or empty screens at the starting or the end of the Amazon advertisement video.
Do not abruptly edit the videos. This will affect the total experience of the customer.
Avoid adding Amazon trademarks or elements.
The videos should not include customer reviews as a part of it even if the reviews are genuine.
The on-screen text should be eligible and should be a minimum of 30 pts.
The videos should be easily understandable by the customer. The language of the video should be related to the locale and portray the brand or product.
Amazon templated video advertisement rules
Even if the trailer is appropriate for all audiences, ads containing trailers for content categorized as appropriate for early adolescents (12-15) or older teens (15+) will be filtered from devices with active parental controls.
This placement does not allow trailers for content rated as appropriate for older teens (15+).
Audio must be included in videos.
Call-to-action buttons are not permitted in videos.
Important content (such as logos or fine print) should not be displayed in the video's bottom-left and top-right corners. A mute/unmute button and a countdown timer are added to the video player during production; these are fixed and cannot be changed. Check if the vital information overlaps with the mute/unmute button or the countdown timer using the Photoshop template.
Please keep in mind that Amazon cannot change or modify your film. Sellers should submit finished video assets. Audio must be included in all video files.
Amazon advertising video ads rules.
Make sure that your video advertisement does not contain any call-to-action cues.
Use a short video clip and make sure to deliver the story about your product in the very first 5 seconds of the video.
Show the product instead of a person trying to explain the product. This increases the impact and relevance of the product.
Use high-definition videos so that customers can get a clear understanding of the product.
Make sure to deliver the brand story in an alluring method.
Also, make sure that the product poster image aligns with the aspect ratio of the video. Another recommendation would be to use a frame from your video to be used as a poster image.
Amazon advertising video best practices
Amazon advertising video best practices can help you to make your Amazon business stand out in the millions of sellers on Amazon. Ensuring to include these best practices will help you achieve your Amazon goals quicker.
Inspect the need for an Amazon advertising video
All Amazon products do not need an advertising video. Products that are undersold but have a better scope of bringing in bigger numbers in terms of revenue should be targeted. Amazon has many sellers who already have their advertising videos on the platform. If you do not have the necessary quality standards for your videos, then you may fall back on your credibility.
Capture the scroller's Attention
Amazon recommends making the first two seconds of your video as interesting as possible. This will act as a hook for the customers who are scrolling through a results page. Your Amazon advertisement video should be able to make the customer stop scrolling and pay attention to the video.
Research for the best keywords
Add the most relevant keywords to your Amazon SEO. Even though this is a separate entity from Amazon video advertising, both point towards a similar goal. Make sure that you have a healthy quantity of keywords in your on-page Amazon listing to help you get more views.
Understand How the Video Plays
The Amazon advertisement videos always start playing on mute. To deal with this situation, always place the product at the beginning of the video. Customers also sometimes unmute the advertisement sound for an enhanced experience. It is always best to include sound along with the video. Another idea is to have on-screen text to support the start of the video experience.
Align your goals
What are your goals with the Amazon advertising video? Having a good ad video should be able to communicate well with the customers. Adding elements of emotional connection with the product will help you make that connection with the customer's problem. Once the customer feels that your product is their solution, it will be easier for you to get more sales.
Include the Brand Logo

Having your brand logo in your Amazon advertisement video plays a major role. There are a few ways that you can display the logo in your Amazon advertisement video.
Display it at the starting and the end of the advertisement video.
Display it throughout the video.
When you show your logo to your amazon customers at the end of the video, you can help them recall your brand. Ensure that you use a high-quality logo so that it doesn't look pixelated in the video.
Final word
Amazon advertisement videos are adopted by sellers to showcase their products and increase their brand awareness. The videos are high-resolution explanations of how the seller wants to solve a customer's problem with the help of their product. Once a seller is able to create a video in accordance with all the parameters, it will help add value and recognition to the brand.
Optimizing your page with the help of an optimization tool will increase the quality and discoverability of your video. SellerApp is a well-known entity that will help you understand the overall quality of your Amazon advertising video. The listing quality analysis on Amazon will help you to understand where your Amazon advertising video qualifies with the standards.
Once your Amazon advertisement video is qualified and approved, it will be displayed on Amazon. So sellers! Get your cameras going for that perfect snippet and increase your customer's excitement.
Was this post helpful?
Let us know if you liked the post. That's the only way we can improve.