If you are eager to build marketing momentum and grow your brand awareness, you should start using Amazon-sponsored ads effectively.
Amazon advertising has experienced phenomenal growth in 2019. Its market share has risen, occupying 50% of the total share in the e-commerce industry. For brands, Amazon sponsored product ads and brand ads are the most powerful advertising tools to increase their discoverability and drive more sales.
With recent changes in sponsored ads, Amazon's footprint in the digital space is accelerating. At present, Amazon offers three different types of advertising solutions.
Amazon Sponsored Products
Amazon Sponsored Brands (formerly called Headline Search Ads)
Amazon Sponsored Display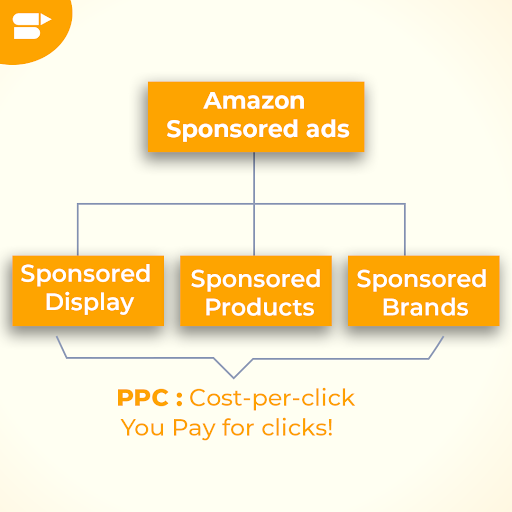 As more and more sellers start their business on Amazon, it has become extremely crucial for them to outsmart their competitors using paid advertising campaigns. This article will give you an in-depth analysis of how Amazon Sponsored Products and Sponsored Brands work, and everything else you need to get started with sponsored ads.
Quick Guide:
What are Amazon Sponsored Ads?
For those of you who are new to selling on Amazon, sponsored ads are pay-per-click (PPC) ads based on keywords, ASINs, or contextual targeting that allows you to drive traffic to different sections like product listings, or search results within the Amazon platform.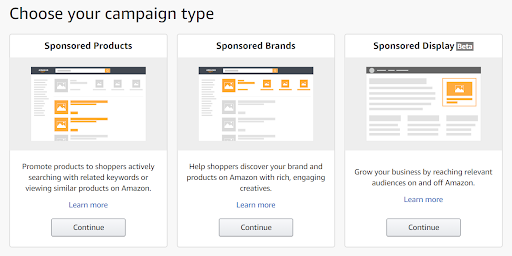 Getting Started with Amazon Sponsored Products and Amazon Sponsored Brands
Amazon Sponsored Products
Amazon Sponsored Products are PPC ads that will enable you to drive traffic to your product listings on Amazon. You can achieve a set of diverse goals with Amazon Sponsored Products and measure your performance too.
Amazon Sponsored Brands
With sponsored brand ads, you'll pay only when a shopper clicks on your ad. However, these ads carry higher CPC (cost per click) than sponsored product ads as they have higher prominence than the latter.
Depending on the bid amount, Amazon determines where the ads will appear.
Related Article: Amazon sponsored products vs. sponsored display ads
How to be eligible for Amazon Sponsored Products and Amazon Sponsored Brands?
Eligibility criteria for Amazon Sponsored Products
One of the most important criteria to be eligible for Amazon Sponsored Products is that you need to be eligible for Buy Box. Along with that:
You must have a professional seller account.
Your product categories should fall under one or more eligible categories.
Your products should be new, as used or refurbished products are not eligible for Amazon sponsored products.
Eligibility for Amazon Sponsored Brands
First, you need to be a brand-registered seller to access Amazon Sponsored Brands. Along with that:
You must be able to ship to all US addresses.
Similar to the Sponsored Products, your product should be new, and they should fall under one or more eligible categories.
You are eligible for Sponsored Brands even if you don't have the Buy Box.
List of categories eligible for Amazon Sponsored Products:
Appliances
Automotive
Arts, Crafts, and Sewing
Baby Products
Consumer packaged goods
Mobile and accessories
Clothing and accessories
Collectibles
Computer and electronics
Fine art and Furniture
Grocery and Gourmet Food
Health and Personal care products
Home and Kitchen
Industrial and Scientific
Luggage
Movies and TV
Music and Musical Instruments
Office products
Patio, Lawn, Home and Garden
Pet Supplies
Shoes
Sports and Collectibles
Software
Tools and Home Improvement
Toys and Games
Video Games
Watches
Note: The list may be subject to change as per Amazon's sponsored products update. We'll keep you posted.
Amazon Sponsored Ads – Current Scenario
Amazon sponsored ads have always played an important role in the ad strategies of sellers and marketers. Their demand and value have significantly risen for the past few years. This increase in value has pushed the CPC rates to be higher. As the rates increase, the value of sponsored ads is rising further. Brands are paying more and more money for their sponsored ads, and of course, the trade-off is worthwhile!
The CPC tends to be higher during the seasonal sales, but the conversion rates are also on the higher side. This increased the importance of sponsored ads during seasonal sales like Cyber Monday and Black Friday.
How to create Amazon sponsored product ads?
Log on to your Amazon seller central account.
Go to 'Campaign Manager.' Click on 'Create Campaign.'
Open Sponsored products campaign settings.
Give a campaign name
Select the start and end dates
Enter a daily budget
Select your targeting strategy. You can pick manual or automatic targeting options.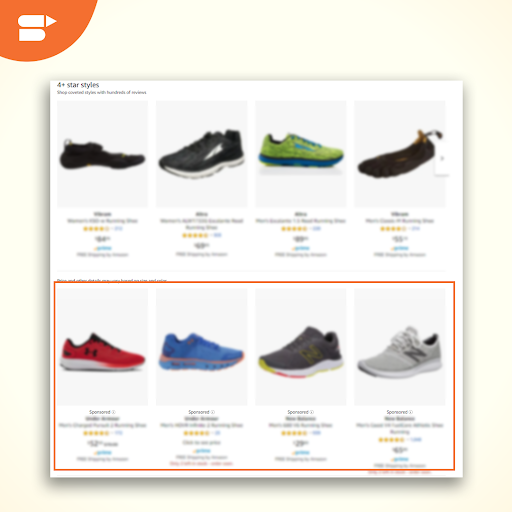 How to create Amazon sponsored brand ads?
Log in to your Amazon seller central account (or) Amazon advertising console at advertising.amazon.com.
Go to your 'Campaign manager.' Select 'Create campaign' and click on Sponsored Brands.
Create a campaign under sponsored brand campaign settings.
Enter a campaign name.
Give start and end dates.
Choose your daily budget or lifetime budget.
Choose a landing page for traffic. Amazon redirects customers from your ads to your Amazon store, custom URL, or product listing page. Select your Amazon store and pick a subpage you want to promote. Also, for advertising, your landing page must have at least three products, but no more than 100 products. You can create a product list page too.
As for the ad placement, one placement will be on the top of the search results, and the rest of them are below the fold. Sponsored brand ads are displayed on the top of the results are vital to growing your search visibility.
Recommended Guide: 10 ways to reduce your Amazon pick and pack fees.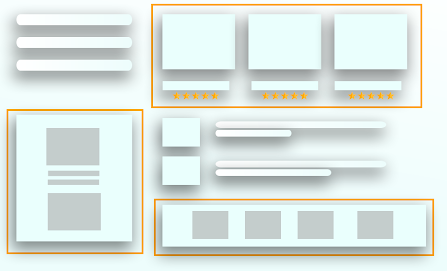 Amazon Sponsored Products and Amazon Sponsored Brands – New Updates in 2020
Sponsored Product Ads Updates
Auto-targeting Campaigns – Negative keywords
Amazon Negative keywords were available earlier within manual campaigns. Now, this feature is available for auto-targeting campaigns. You can set the keywords at the campaign level or the ad group level. With the new change, Amazon sellers will be able to make better use of auto-targeting campaigns. 
Ad Group changes for Vendors
Amazon is trying to unify ad platforms for both sellers and vendors. Earlier, ad group segmentation was not available for vendors, it was only available for sellers. Now, vendors will get overall control and group products across different categories.
Sponsored Brand Ads Updates
Taller Mobile Carousel
Sponsored brand ads changed the way they appear on the mobile platform. The ads have increased in size and are available in the mobile carousel format. And, this format is a bit similar to the format available on the Facebook platform.
Suggested Bids
In sponsored brand ads, the win rate is changed to suggested bids. Suggested bids will give an insight into the visibility of the keywords that have at least one click and how they performed. The suggested bids will enable you to identify the keywords that fit well with the buyer search criteria.
Amazon Store Spotlight
We all know that Amazon storefronts are a mini-version of your websites. Therefore, you need to create brand stores with equal importance.
Amazon store spotlight is a new creative ad format that highlights a brand's store. With this new ad type, you will be able to drive more traffic to your brand's store and subpages of that store. Now, it's up to you to decide which pages or categories you want to drive more traffic to.
Amazon Sponsored Brands vs. Amazon Sponsored Products – Performance
How to get the most out of Amazon sponsored products?
We saw that the increase in CPC had become the new trend in 2019, and the trend continues in 2020. Amazon sellers can get the most out of sponsored product ads by determining specific goals.
Sponsored Products ads are ideal if you want to:
Increase visibility – Sponsored product ads allow you to place your ads on the top of search results. This increases your visibility substantially. If you use the right keywords to target these ad placements, you can convert more potential buyers.
Pay only when your ads are clicked – You only pay when your ads are clicked. Therefore, you can avoid the risk of paying hefty amounts when your ads aren't clicked.
Also, you can use sponsored products as part of your new launch strategy and brand awareness.
Amazon sponsored products – How to optimize your campaign?
The default bid you set should reflect how much you are willing to spend on the PPC campaign.
Try to start low and adjust the bid amount to reach an optimal level. You always need to keep in mind that the PPC strategy should align with the goals you set. Setting a higher bid to get to the first page may not be the right strategy always. It can hurt your conversions and your product ranking in the long run.
How to get the most out of Amazon sponsored brands?
Consider sponsored brand campaigns as part of your 'top of funnel' marketing process. Use these campaigns to build brand awareness and target new buyers to improve your product discovery.
First, determine how much you want to spend on the campaign, your goals, what products you want to advertise, and the keywords you want to target. Sponsored brand ads are usually structured with specific keywords in mind.
How to capture new customers with Amazon sponsored brands – A SellerApp case study
To help you understand Amazon sponsored brand ads in a better way, let me give you an example of what worked well with one of our clients.
Our client was an organic coffee brand that wanted to boost its awareness among consumers and get more traffic. The company has a range of superior coffee products with some decent traffic to its website. However, this isn't enough to increase their market share. They knew that they should bring Amazon into the equation as it is well-known for its large customer base. But, they didn't know how to do it effectively. That's when they reached out to SellerApp for guidance.
The company explored Sponsored Brands with the help of SellerApp. Our team was successful to define their targeting campaigns the way they would add value to their marketing funnel.
By implementing SellerApp's PPC strategy, our client was able to tap into a gold mine of a new potential customer base. They saw the results in the form of increasing sales every week and building brand value. With a lower ACoS, their ad sales grew by 109.54% and year-on-year orders grew by 79% during the Q2. Furthermore, with the increase in ROI, they expanded their offerings on Amazon and established themselves as one of the renowned organic coffee brands among their targeted customers.
If you're a seller or brand interested in growing your Amazon business, you can sign up for a 7-day free trial and try our features for free, or check out our managed services.
Not sure where to start? Our account management team will give you the right direction you need. Drop us an email at support@sellerapp.com.
SellerApp is happy to help!
Related Posts:
Amazon Sponsored Products vs. Sponsored Display Ads
How To Improve Your Amazon Mobile Conversion Rates.
11 Amazon Black Friday Selling Tips to Boost Sales in 2022
Was this post helpful?
Let us know if you liked the post. That's the only way we can improve.